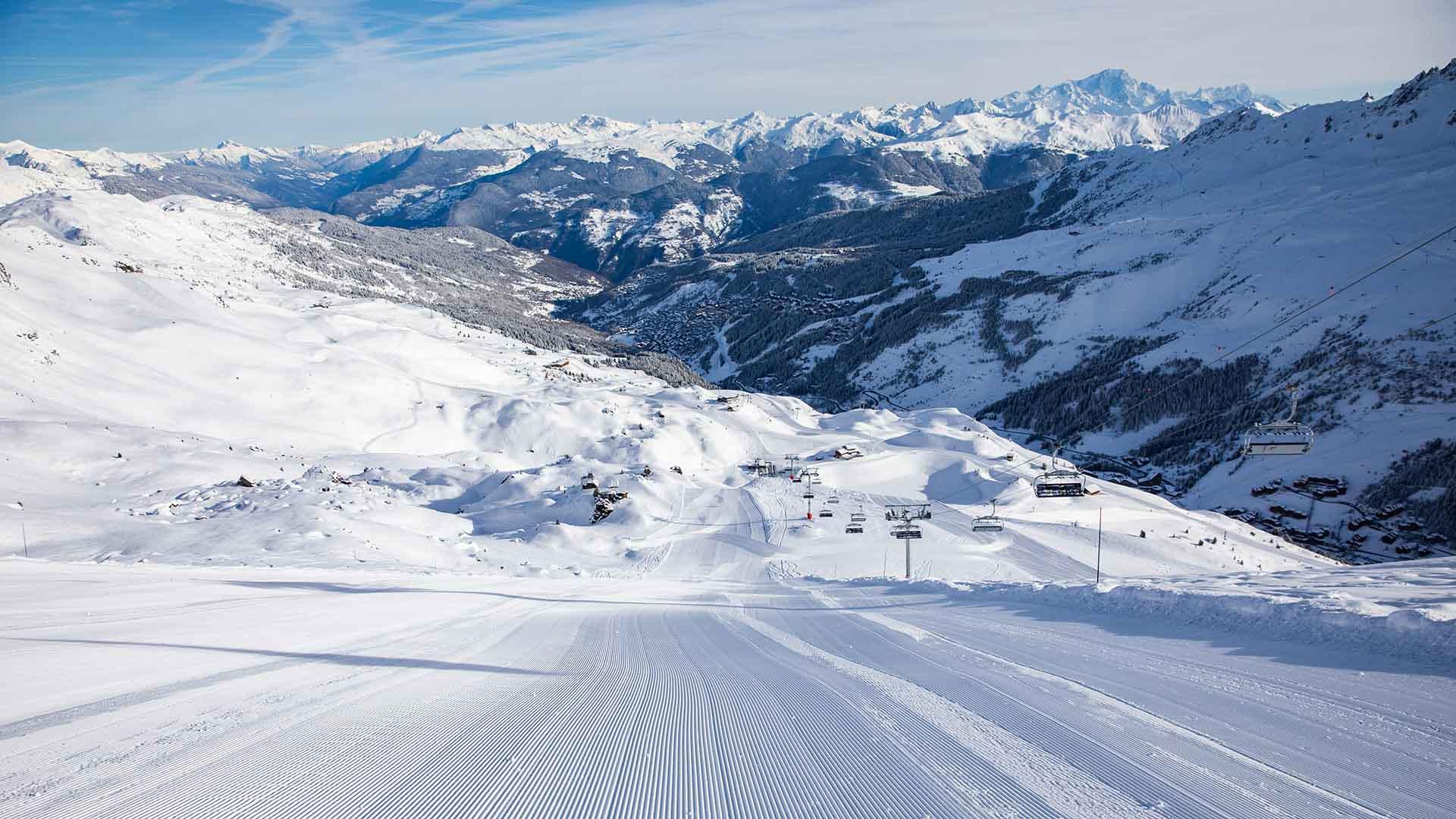 10 good reasons to ski in Les 3 Vallées
Why ski in Les 3 Vallées ?
Les 3 Vallées' reputation stretches far beyond French and European borders and has done for some time.
Every winter season, Les 3 Vallées ski area attracts enthusiasts from all over the world, who are eager to get going on this multi-facetted, limitless playground. Snowsports lovers seeking the reassurance of a skiing and snow cover guarantee throughout the winter season…
Welcome to Les 3 Vallées ski area.
Welcome to the world's largest ski area!
Open from 10th December 2022 to 28th April 2023
1. Enjoy 5 months of guaranteed skiing
5 months, 150 days, 1,200 hours…
For 20 years now, skiers from all over the world have enjoyed everything Les 3 Vallées has to offer, over a period far longer than a traditional ski season, stretching from early December to late April.
Almost half a year on skis, quite simply the holy grail for snowsports lovers...
Discover all 3 Vallées skipasses
---
2. Enjoy peace of mind when it comes to snow cover
A quality made possible by a combination of elements:
Starting with its favourable altitude and advantageous topography,
With all of them located between 1,800 and 3,230 metres,
85% of the ski area's runs are set at altitudes of 1,800 metres or more.
Les 3 Vallées also draws on its capacity to produce artificial snow – made using only air and water – when required, thanks to over 2,700 snowmakers dotted around its ski runs.
Add to that the advantage of inter-valley mountaintop ski links.
Unlike many other ski areas, Les 3 Vallées resorts aren't connected to one another along the bottom of the valley but via mountain ridges at altitudes of more than 2,000 metres, which obviously plays a decisive part in guaranteeing exceptional snow quality to skiers who want to switch between resorts.
And to perfect the picture, every night, under cover of darkness, 70 piste groomers arrive on the slopes to sculpt a velvety snow mantle for tomorrow's skiers.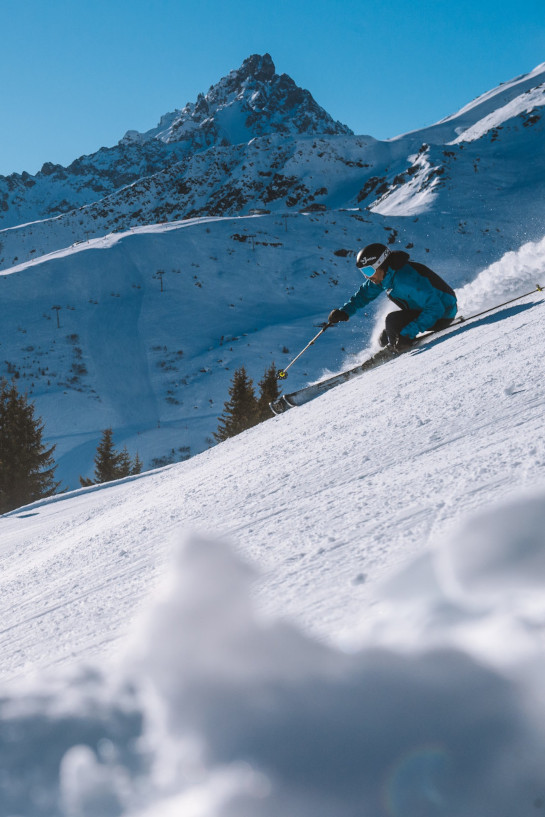 ---
3. Enjoy the vastness of the world's largest ski area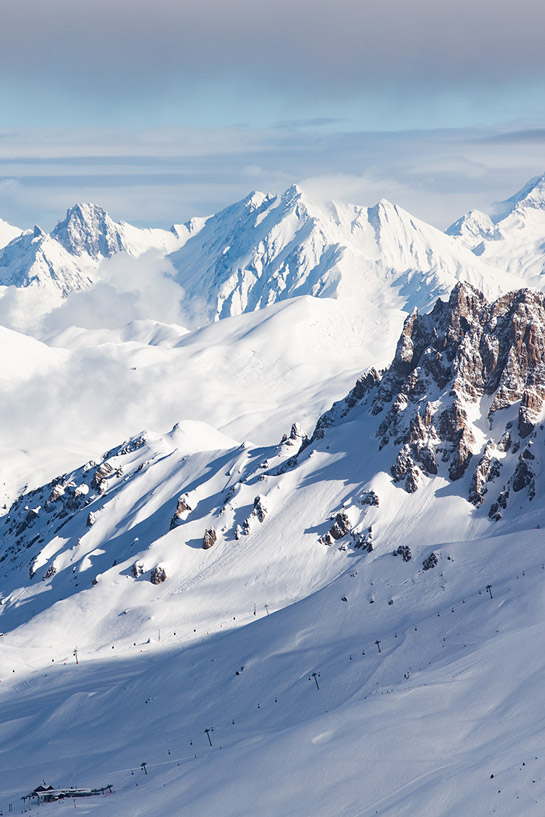 An uncontested and unparalleled international reputation!
Both vertically and horizontally, the expanse of ski area is a dream come true for even the most insatiable skiers.
The stats alone give you the measure of this incredible playground:
20 kilometres as the crow flies between Courchevel and Orelle,
and 600 kilometres over a network of more than 1,500 hectares of ski runs make up the ski area.
That means you could fit the five largest ski areas in the United States into Les 3 Vallées ski area alone!
Les 3 Vallées offers the highest number of interconnected runs open in Europe.
So, make the most of it and indulge in the pleasures of skiing with total peace of mind.
---
4. The reassurance of being able to ski in any weather
Thanks to the almost unlimited range offered by a ski area on this scale, you're never constrained by weather conditions.
You'll be protected against fog and snow by the fir trees at the bottom of the ski area,
and in a prime spot on the summits and glaciers when a stunning sea of clouds shows up for the day.
Go for the north-facing slopes at the end of the season for enhanced snow quality,
and the southern slopes in the very coldest days of winter.
To enjoy the best possible conditions every single day, the possibilities and options are simply immeasurable.
---
5. Choose from an "incredible skiing" selection for all abilities
From beginners' areas for gentle introductions,
to the Vertical Xperience's steepest black runs in Les 3 Vallées at the summit of the legendary Saulire,
not forgetting off-piste itineraries and classic,
but easy runs such as Les Creux in Courchevel or Tête Ronde in Val Thorens…
Who could dream up a more varied playground than the one our destination offers?
With 50% of green and blue runs and the other half black and red, it's a simply perfect balance of accessibility and sports challenge.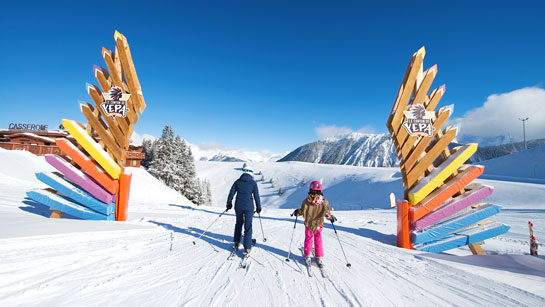 One thing's for sure, you'll find stunning panoramic views wherever you go.
Les 3 Vallées: exceptional skiing
---
6. Enjoy XXL off-piste skiing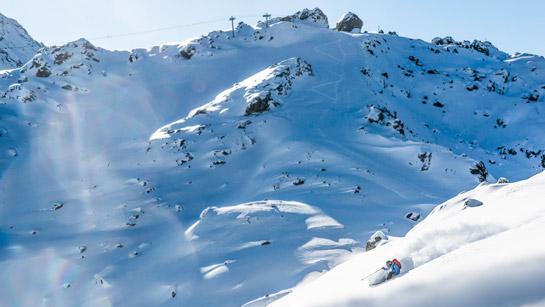 The ski area's stunning promise is one thing but venturing beyond the slope markers for a breath-taking off-piste experience is something else altogether.
Any one of the many mountain guides and ESF French Ski School instructors will happily accompany you to ensure your safety while you venture through the heart of these vast unspoilt areas.
Let them guide you to:
Accessible off-piste zones near the ski area,
Or indeed even on back country experiences through wilder itineraries such as the classic Gebroulaz, Le Borgne, Geffrian and Lac du Lou trails.
Not to mention all the "secret spots" that mountain professionals have tucked up their sleeve and know just how to find…
---
7. Enjoy eclectic, unique atmospheres
The variety of landscapes and atmospheres you're invited to enjoy in one single day is another advantage of the ski area being as spread out as it is.
After a luxurious, delightful little look at Courchevel,
Ski to Courchevel-Moriond,
Have fun amidst the fir trees at Méribel Altiport or Courchevel-La Tania,
Switch to a wilder slope on the Mont Vallon mountainside,
Before soaking up Saint-Martin-de-Belleville's "village" atmosphere.
Other equally attractive options include:
Discovering Orelle's rocky backdrop,
Or party time at Val Thorens' La Folie Douce…
Faced with such a varied menu, the only difficulty is choosing!
---
8. Delight in the 11 ski-in, ski-out links
La Saulire summit (2,738 metres) between Courchevel and Méribel,
Col de La Loze (2,304 metres) between Courchevel and Méribel,
Tougnète Summit (2,434 metres) between Méribel and Les Menuires,
Roc de Fer between Méribel and Saint-Martin-de-Belleville (2,290 metres),
Mont de la Chambre (2,850 metres) in Les Menuires,
Cime Caron (3,200 metres) in Val Thorens...
As practical as they are addictive, the 11 ski-in, ski-out routes that let you switch between the different resorts have become unmissable, legendary ski area highlights.
In Les 3 Vallées, skiers can switch between different neighbouring valleys without having to take public transport.
Even better, the majority are accessible to pedestrians using their dedicated skipass. And what's more, you get to enjoy exceptional panoramic views that play a major part in Les 3 Vallées' renown too!
Follow the openings of the 3 Valleys links
---
9. Make unforgettable memories in our fun zones
The key to the ski days of your dreams, the 3 Vallées skipass also provides access to a range of fun zones so varied that there's something to suit everybody.
Thrill-seekers and adrenaline junkies with a good level of experience can tackle:
the legendary Grand Couloir in Courchevel,
and the three Liberty Ride safe off-piste zones in Les Menuires.
Fans of steep slopes can try their hand at the vertiginous couloir (37° gradient) at Méribel's Vertical Xperience.
Freestyle addicts will love:
Val Thorens' 70,000m² VT Park, which is dotted with tables, rails and boxes,
Or Courchevel's more accessible Family Park, with its easy boarder cross and big air bag.
For a fantastic time with the family, there's no shortage of areas equipped for little ones:
from Yeti Park and Open Park in Méribel Mottaret,
the Piste des Animaux and Piste des Inuits in Méribel,
the Friendly Natural Park in Les Menuires,
or the Western Ski Park and Fun Park in Courchevel…
As well as a selection of extraordinary experiences to discover on and off the slopes:
from ice-skating in Courchevel and Méribel,
toboggan runs across the entire 3 Vallées,
ice-diving and ice-driving in Val Thorens,
or zip lining in Orelle and Val Thorens...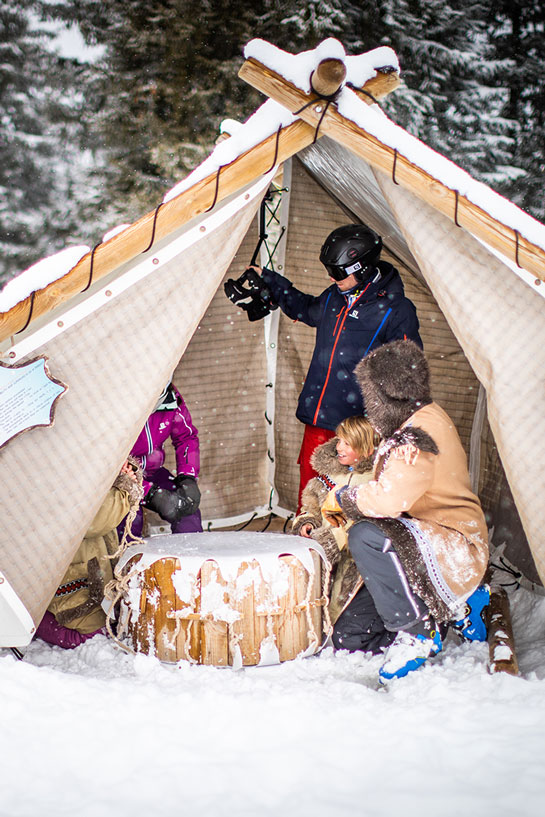 Discover snowparks and fun zones in Les 3 Vallées
---
10. Design yourself a tailor-made stay to suit your budget and preferences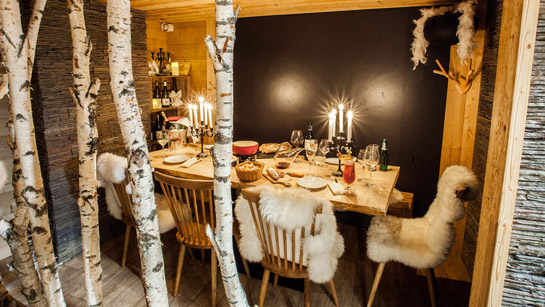 From youth hostels and low-cost apartments to luxurious chalets and 5-star palaces,
From takeaway snack bars to one of the area's 12 Michelin-starred restaurants,
Via slopeside restaurants and 2 Folie Douce venues in Courchevel/Méribel and Val Thorens ...
You'll find a wide range of accommodation and food options in Les 3 Vallées to cater to all tastes, all possibilities, all atmospheres, and all budgets.
In short, make yourself at home and design your very own 3 Vallées!
ALEXIS PINTURAULT

, Champion - Courchevel - Alpine Skiing

Les Marmottes in Courchevel, for its elevation difference, walls, and the views.

CHLOÉ TRESPEUCH

, Champion - Val Thorens - Snowboard Cross

My favourite piste is the boardercrossslope! We are so lucky to have a World Cup-standard piste for training. It's amazing. It is also adapted for tourists who can enjoy a fun experience with the family.

RENAUD JAY

, Champion - Les Menuires - Cross-Country

Given my background, my favourite is the cross-country pistes at the Plan de l'Eau in Les Menuires where I first got into my discipline! But when alpine skiing, I always drop by the Fred Covilipiste.

JEAN-FRED CHAPUIS

, Champion - Val Thorens - Skicross

La Haute Combe in Val Thorens for the natural variety of terrain and the superb view from the top. Then I take the La Loy piste down to Saint Martin. It's magnificent.

KEVIN GURI

, Champion - Les Menuires - Freeride

My favourite pistes are those with a bold natural character, such as the Jérusalem piste in Saint Martin. But in general, I use the slopes to get to the off-piste sections!

LÉA LEMARE

, Champion - Courchevel - Ski Jumping

Without a second thought, Les Jockies, leading to Courchevel Le Prazfrom the top of the ski area. I love the feeling of being alone in the world, and when the piste is groomed it's sensational. Huge fun guaranteed! It's also the piste chosen for the 2023 World Championships, which says a lot!

ADRIEN THÉAUX

, Champion - Val Thorens - Alpine Skiing

My favourite would be the La Cime Carron former red piste and the Poste du Plan de l'Eau. When you arrive first in the morning, the snow is just exceptional. There's a good slope and undulating terrain – perfect for carving and working up some speed if you want!

TIMOTHÉE THÉAUX

, Champion - Ambassador 3 Vallées

"My favourite pistes include: Petit Dou in Courchevel 1850, a high level piste with lots of terrain variation and very few people.Boismint followed by Plan de l'Eau in Val Thorens, to make a long piste with varied terrain. Dame Blanche on La Masse in Les Menuires, with steep slopes from top to bottom and consistent high-quality snow. Combe du Vallon in Méribel-Mottaret, for its length and view over the glaciers."
Skiers of all abilities intending to come for between 6 and 21 days can choose a custom-made skipass to create the perfect holiday.
Les 3 Vallées
The best of
skiing
It's no coincidence that Les 3 Vallées is THE n°1 destination for connoisseurs: in the world's largest ski area, a 600-kilometre network of doorstep skiing runs delights skiers of all abilities.