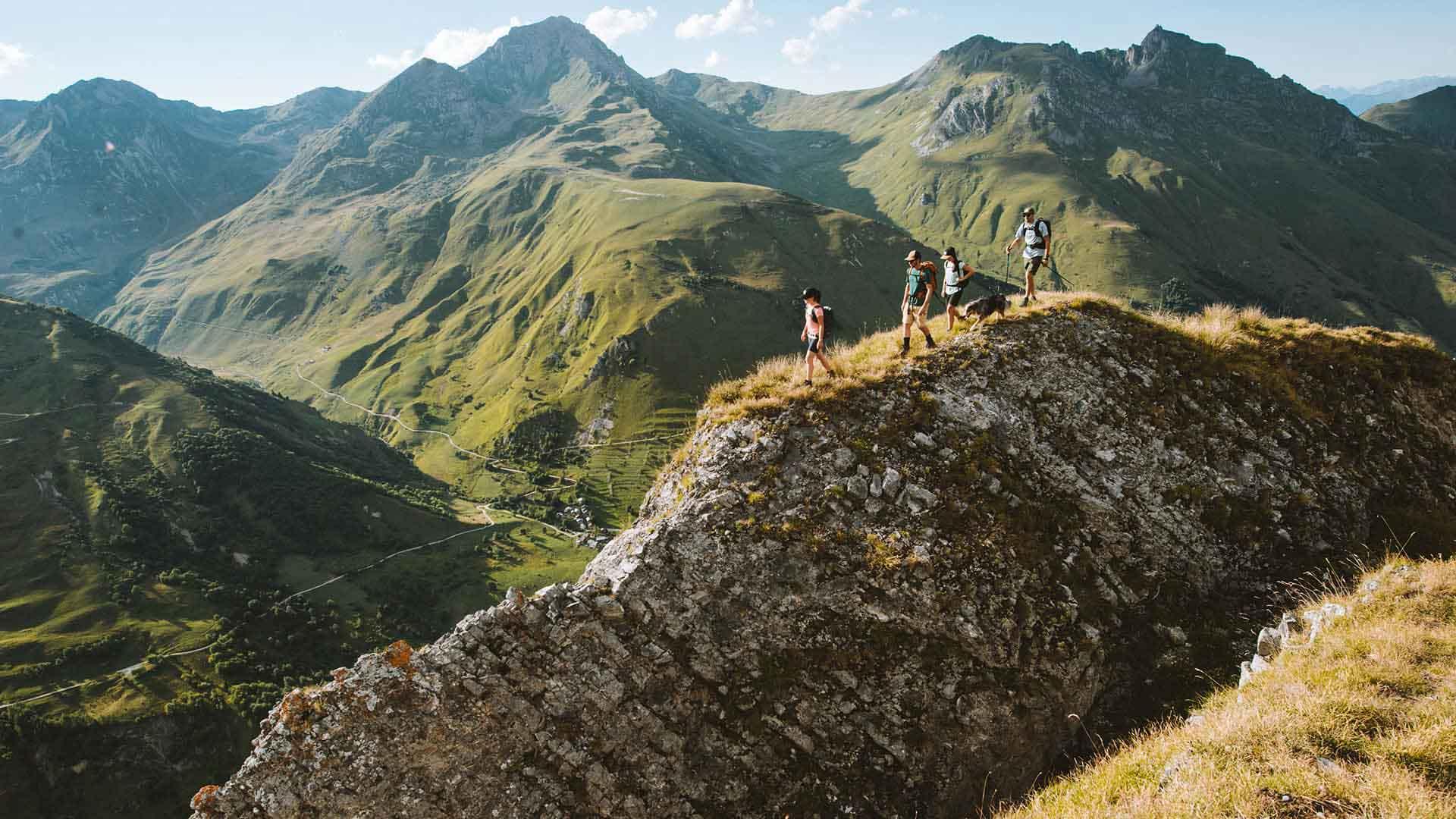 Hiking in Les 3 Vallées: guaranteed benefits!
Nestling at the heart of the Alps, Les 3 Vallées extends from the Courchevel Valley to the Belleville Valley (Saint-Martin-de-Belleville, Les Menuires, Val Thorens), passing through the Méribel Valley (Brides-les-Bains, Méribel, Méribel-Mottaret) along the way. Endless kilometres of mountains where you can enjoy a discipline that is accessible to all, from spring to autumn: hiking.
In this vast expanse where infinite takes on its full meaning, both in terms of the impressiveness of the summits, the breathtaking views, the varied landscapes, the palette of routes available…as well as the sense of freedom it brings, lovers of the great outdoors will most definitely get their fill.
In nature
The beauty of the mountains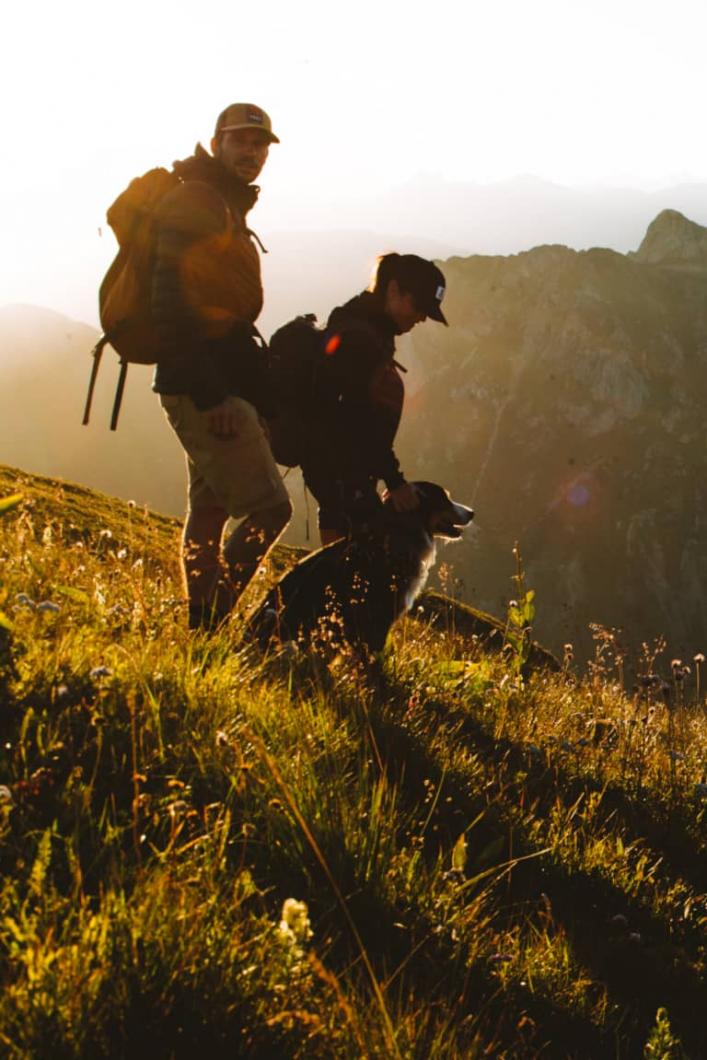 Whether you're a beginner, a sports lover, an expert, or wanting to take time to admire and reflect, you're sure to find what makes you happy in this beautiful natural environment. From walks through traditional villages to challenging hikes for adrenaline-seekers, walkers of all levels will find exactly what they're looking for in Les 3 Vallées.

Regardless of the route you decide to take, you will be rewarded by all that the mountains have to offer: a beautiful variety of landscapes!

A conifer forest here, an Alpine pasture filled with pretty wild flowers that grow back year after year over there, and a little further ahead walkers will come across a mineral environment, with rocks and stones. At the end of a path, stunning 360° views will quite simply take your breath away, and where the trails meet, have a splash and cool off in the lakes and streams, filled with water from the glaciers.

At the gateway to the Vanoise National Park, each hike is your chance to set off to discover the fauna and flora that live there. Ibex, chamois, marmots, edelweiss… the Alpine mountain picture book is yours for the taking, open your eyes and enjoy the moment!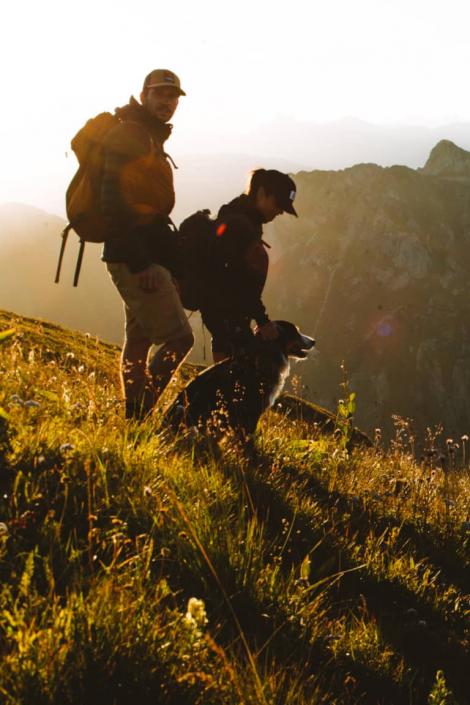 Les 3 Vallées, a hiking destination
The hiking possibilities are endless in each of Les 3 Vallées' resorts, making it an unmissable summer destination.
Hikes in the Courchevel Valley
Thanks to its geographic location, Courchevel Valley offers an exceptional variation of altitudes between the lower villages and the summits. Admire a wealth of different landscapes as you rise upwards…
An unmissable hike: Lac de la Rosière and Les Poux waterfall.
This easy walk starts off at the foot of the Dent du Villard in Courchevel Moriond.
The Lac de la Rosière is a sparkling turquoise gem that you can cross thanks to the footbridges that have been built over it.
Dive into a lush green forest, following the botanical path.
After about an hour's walk along a shady trail that's wide enough for 4x4 puschairs, you'll hear the invigorating sound of the waterfall.
This walk looks set to be a refreshing one!
360° hike: La Dent du Villard and the Mont Charvet ridges.
Advanced level, undoubtedly one of Courchevel's most famous hiking sectors, la Dent du Villard is one of the resort's emblematic mountains.
Climbing its cliff faces, over a path that zig zags up to the top, is your chance to explore the gypsum ravines of this Natura 2000-classified site, before being filled with wonder as you admire the stunning 360° views.
Then, continue along the ridges of Mont Charvet, where a unique world unfolds before your eyes, with the Vanoise glaciers as your backdrop.
After stopping for a picnic at the Col de la Grande Pierre, it's time to go back down to La Rosière via the Avals Valley.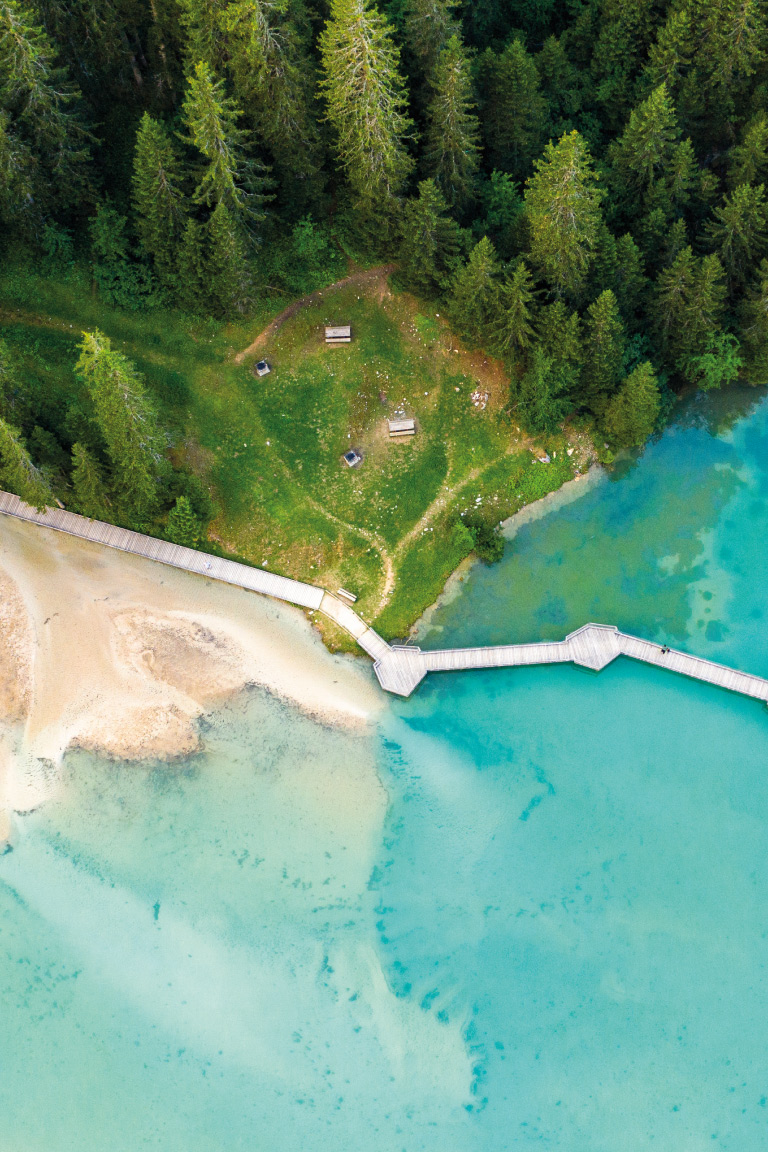 Unique experience
Sleep in a mountain refuge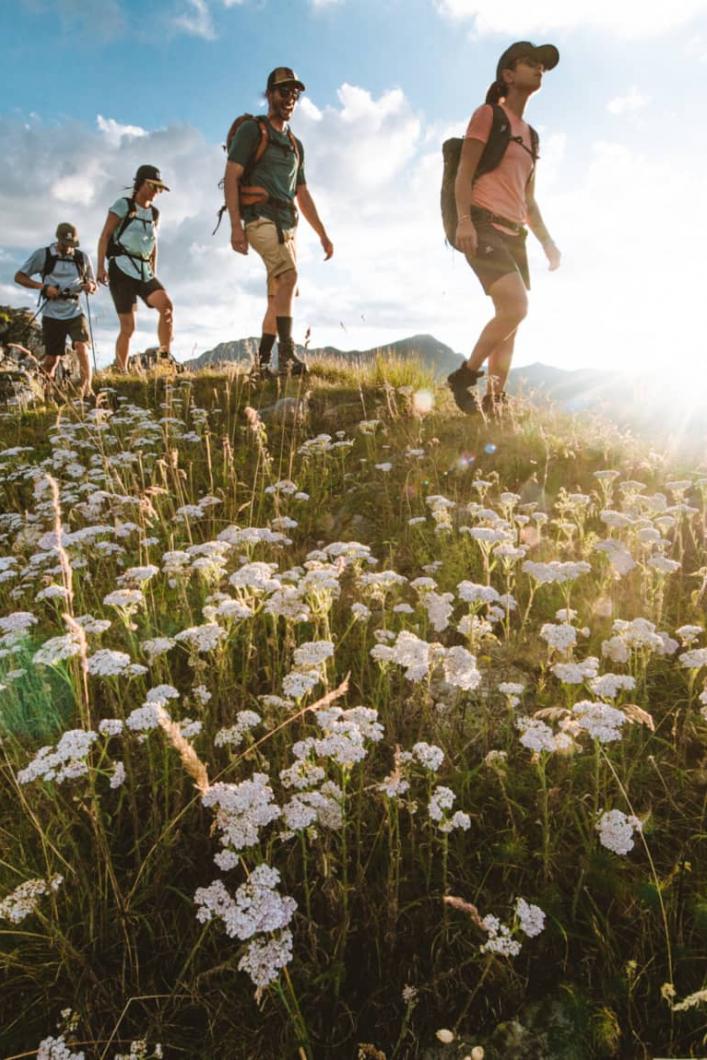 For an unforgettable experience in the mountains, don't miss the chance to spend a night in a refuge.

After a day hiking through some of Les 3 Vallées' most beautiful backdrops, you'll find yourself in a haven of peace, nestling at the heart of the summits. Dormitories, private rooms, tents… a whole host of options are available to you, depending on what you prefer. Whatever you choose, a dinner of local specialities enjoyed with the other guests is the perfect opportunity to mull over the day's exploits.

After a good night's sleep, awaken with the sun and cherish this timeless moment as the day that lies ahead begins to take shape before your amazed eyes: sunrise over these wild yet tranquil lands, where everything gently comes to life…

What wonderful experiences do the footpaths of Les 3 Vallées have in store for you today?!
An overnight stay in a mountain refuge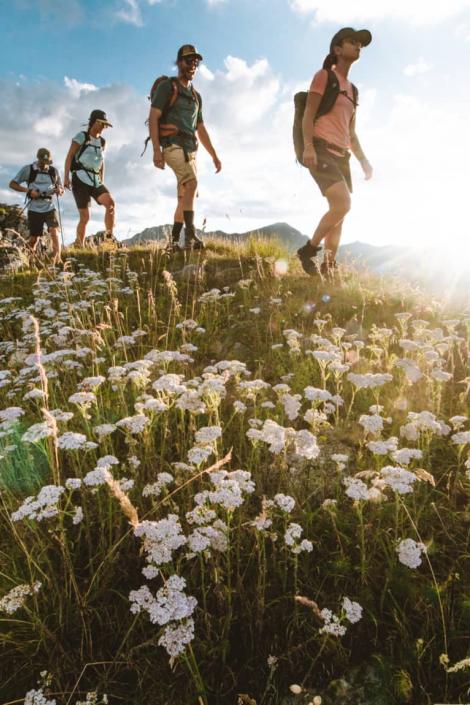 Mountain hikes in the Méribel Valley
Exceptional flora and fauna with the Tuéda Nature Reserve in the Vanoise National Park, trails of varying levels of difficulty boasting 360° views… that's what you can expect on one of the hiking routes in this resort set in the heart of Les 3 Vallées!
Easy hike around a lake: Tuéda green loop.
Frogs, newts, marmots, Arolla pines… discover typical flora and fauna around LakeTuéda, a symbol of the Nature Reserve of the same name.
More than just a hike, it's a moment of tranquillity with family or friends that you'll experience here, around the lake or higher up along the forest trail that overlooks it.
A fishing pontoon, restaurant, picnic tables and an exhibition inside the reserve's museum round this rustic experience off perfectly.
Hike to a mountain refuge: Refuge du Saut and Lac des Fées.
Advanced level, this is a hike that you absolutely must cross off your to do list during your summer holiday in the mountains!
As well as spotting marmots along your way, if you move off the path slightly when you get to the Plateau de la Plagne, you'll discover the natural treasure that is the Lac des Fées: crystal clear waters which you can swim in!
This invigorating hike enjoys breathtaking views over the Aiguille du Fruit!
After walking for approximately 4 ½ hours from the departure point (Tuéda Nature Reserve car park in Méribel-Mottaret), you'll come to the Refuge du Saut where you can enjoy a homemade meal to recharge your batteries before you head back.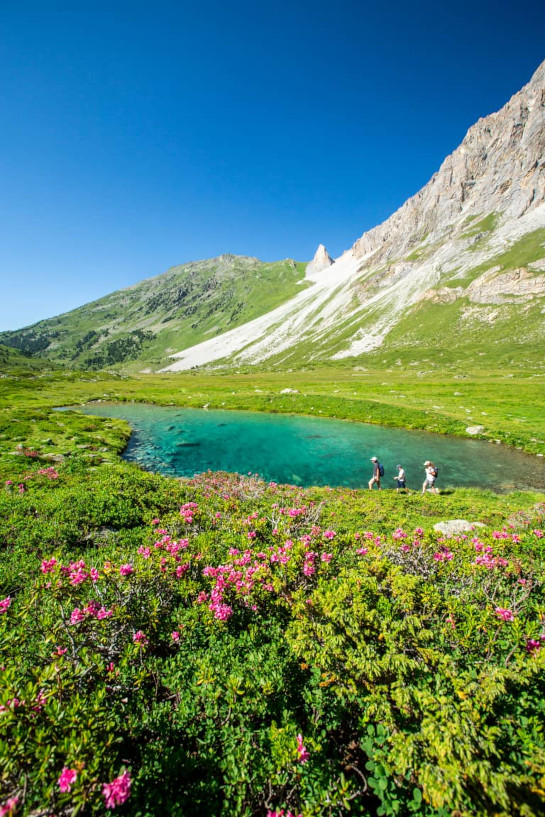 Hike from Brides-les-Bains
This easy 2½ hour walk will take you from the ski resort and thermal village of Brides-les-Bains, set at the foot of Les 3 Vallées, to the Village of Les Allues.
Covering a 520-metre climb, this marked path will lead you to the pretty Cythère woods.
Hikes in the Belleville Valley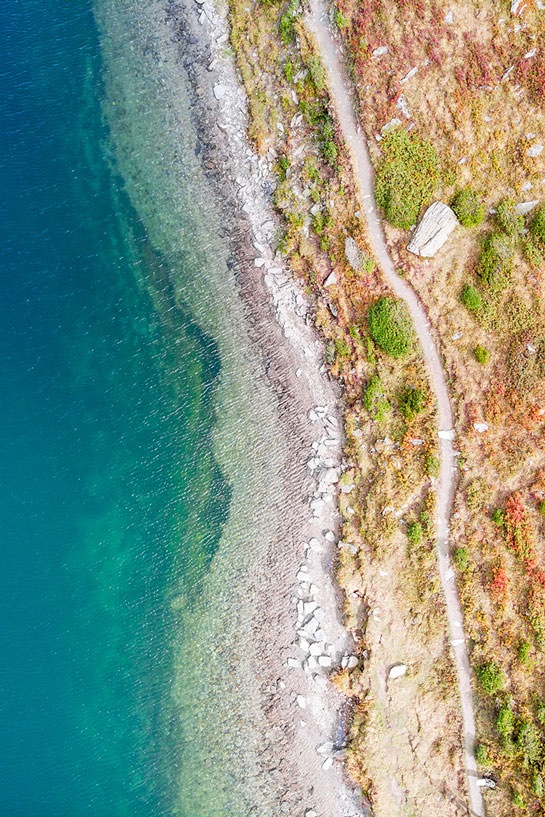 Comprised of the resorts of Saint-Martin-de-Belleville, Les Menuires and Val Thorens, the Belleville Valley is home to no less than 50 hiking itineraries, over some 300 kilometres of marked paths and trails, for walkers of all levels who are keen to discover the mountains.
Gourmet hike: Lac du Lou.
Accessible to all, Lac du Lou is the largest lake in the Belleville Valley.
Starting from the Plan de l'Eau car park, allow 4 hours to get there and back (including time to walk around the lake) for a family-friendly walk in a wild valley, leading to a glimmering crystal-clear lake.
Set on the banks, the refuge is the perfect place for a break – why not try the delicious blueberry tart?!
More challenging hike: around the Pointe de la Masse.
Advanced level, with overhanging sections, this circuit rewards experienced hikers with exceptional views over the valley.
From the Plan de l'Eau car park, this hike takes you on a 33-kilometre loop through a wild and protected valley known as the Encombres Valley.
It is best done over 2 days, including an overnight stay in a mountain refuge.
Be well accompanied
Follow the guide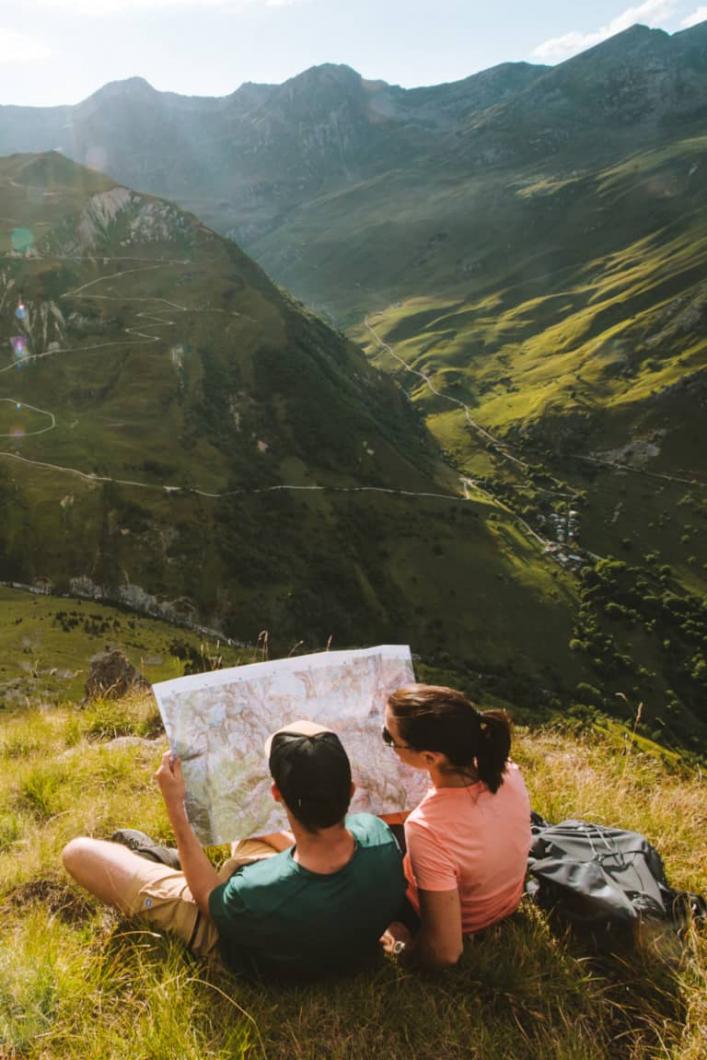 All of these hiking circuits, endless itinerary choices, with or without an overnight stay in a mountain refuge, as well as incredible adventures like glacier hiking…

These can all be enjoyed in the company of a high mountain guide – men and women who are experts at what they do, and who will reveal Les 3 Vallées' mountains to you like nobody else, in total safety.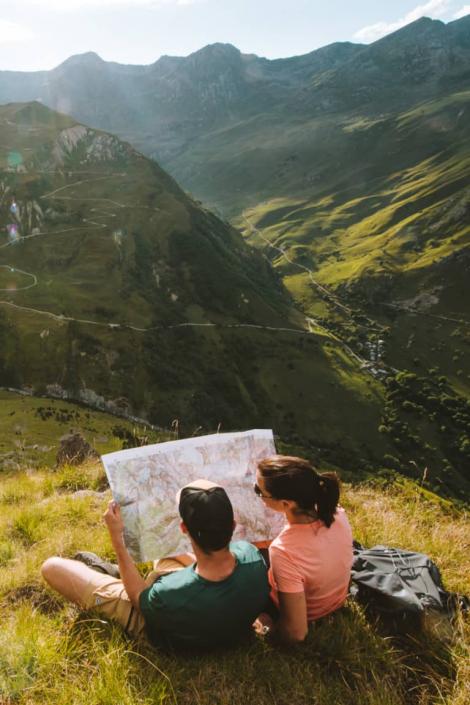 Offices of the 3 Vallées Guides
Mountain Guides - Courchevel

Bureau des Guides de Courchevel

Mountain Guides - Méribel

Bureau des Guides de Méribel

Mountain Guides - Les Menuires

Bureau des Guides Vallée des Belleville
A huge part of Les 3 Vallées is made up of the men and women who live in these majestic mountains.
In the Alpine pastures, the farms, the Vanoise National Park, shepherds, farmers… await you, ready to reveal the secrets of how Beaufort cheese is made, the way Alpine farming is carried out in our mountains, the history of the Park and how to protect it… Passionate about, and devoted to their land, nothing makes them happier than sharing their knowledge with visitors.
A whole host of different pedestrian passes are available to fulfil your need to get away from it all! Set off from the foot of the mountains and soar to the summits… accessibility is the name of the game in Les 3 Vallées' resorts!