Deco cocoon accommodations
Home sweet home
Welcome to Les 3 Vallées, where amazing skiing goes hand in hand with amazing accommodation! After a busy day on the slopes of the world's largest ski area, soaking up the pure mountain air at the heart of an extraordinary natural environment, it feels good to be able to relax in the warmth of your cosy accommodation! Apartments, chalets, tourist residences, hotels…
whatever type of accommodation you go for, there's no lack of homely touches and welcoming decor. In the unique atmosphere of your home sweet home in the mountains, prepare to experience unforgettable moments with friends and family, or a trip for just the two of you, making memories for the future.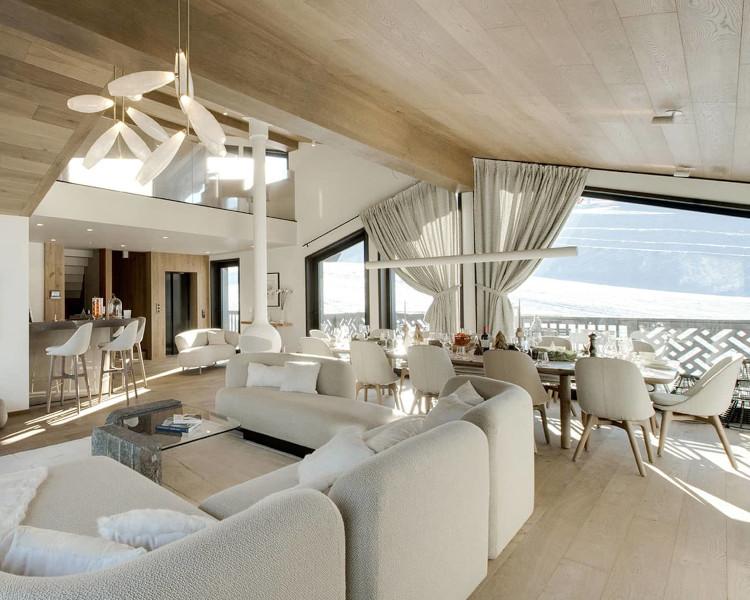 Book your stay
Les 3 Vallées Travel is: a team 100% at your service, a perfect knowledge of Les 3 Vallées area, personalized advice, a selection of the best accommodation in each resort of Les 3 Vallées, an infinite number of possibilities...
Designer cocoons in Courchevel
Built in 2014, on what was previously a family property, Le Hameau du Marcandou in Courchevel-Village comprises 3 exceptional chalets, just 400 metres from the resort. Comfort, charm and creative flair are the watchwords for this timeless place, where each chalet boasts unique views over the surrounding Alpine mountains. These three light-filled, luxury creations boast the perfect combination of daring, tradition and elegance:
Ilulissat : each room has its own personality! Here, precious materials come together with more traditional floor and wall coverings, whilst showcasing surprising and quirky decorative objects. A truly magical place…
Sisimut : a unique chalet with perspective effects, colour harmony and decorative objects from around the world. Discover an atmosphere that is both captivating and elegant, warm and welcoming!
Ikamiut : this cosy cocoon offers a perfect blend of past, present and future, thanks to well designed and cleverly positioned furniture and decorative objects. With its large openings, the chalet makes you feel at one with the mountains and nature. It's exhilarating!
The Hameau can sleep up to 28 people, in 10 bedrooms across the 3 chalets. The latest addition is the NUUK barn, which has been converted to offer a workspace / yoga room!
contact@marcandou.com / +33(0)6 09 41 65 21
A temple of design, the 4-star Les 3 Vallées hotel in Courchevel has skillfully combined past and present, by pairing 1950's style, such as post-war furniture, with modern comfort and connected objects. Situated slightly above the resort centre, it enjoys stunning views of the village and the slopes, this ski-in/ski-out hotel is a big part of Courchevel's history. Offering the warmest of welcomes, a soul, a particular aesthetic, a friendly atmosphere… just want mountain luxury should be!
les3vallees@beaumier.com / +33 (0)4 79 33 01 04
---
Designer cocoons in Méribel
With minimalism and absolute luxury, Pierre Yovanovitch, one of the world's top 100 interior designers, has left his mark on the 5-star Le Coucou hotel, nestling at the top of the Belvedere in Méribel. In this stunning and unique setting, this 5-star hotel rubs shoulders with the summits. With the elegant architecture of a traditional chalet, the ski-in / ski-out Le Coucou adds a contemporary look, with clean lines and a delightfully quirky feel. Its 10 floors nestle into the mountainside, blending in perfectly with its surroundings. Whether you face the mountains or the valley, the immensity of nature lies before you, filling you with wonder. Interior designer Pierre Yovanovitch has cleverly made each opening into a masterpiece!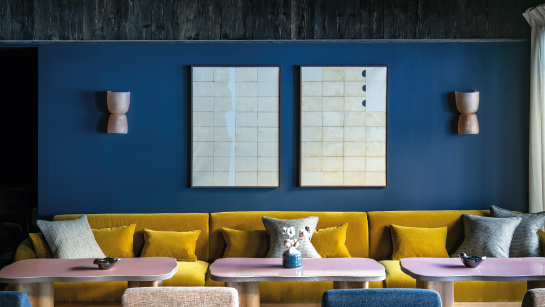 reservations@lecoucoumeribel.com / +33 (0)4 57 58 37 37
A way of life
Design hotels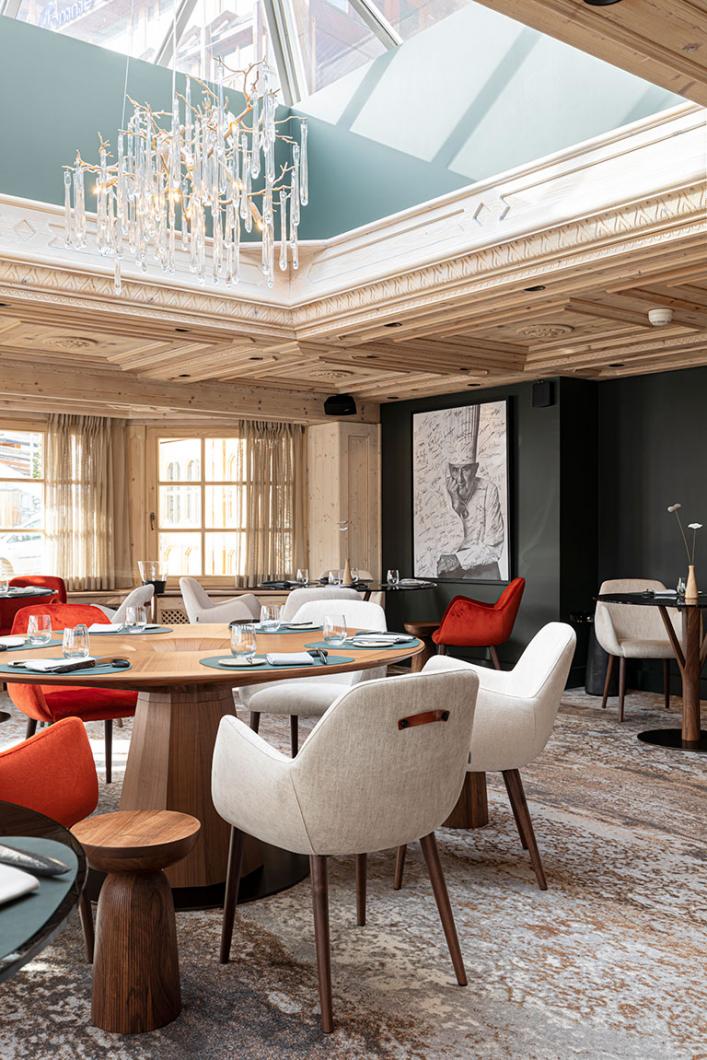 Exceptional skiing, stunning landscapes, activities for the whole family, a gastronomic offering like nowhere else…Les 3 Vallées is a magical place where your every need is satisfied, your dreams made a reality.

By definition, a ski holiday means you'll need a place to stay, and the resorts that comprise the world's largest ski area abound with imagination and taste, offering hotels, chalets, apartments… with modern architecture and interior decor. Not only are these holiday destinations able to keep up with the latest architectural trends, they are design pioneers themselves – which is also what mountain art of living is all about.
Design hotels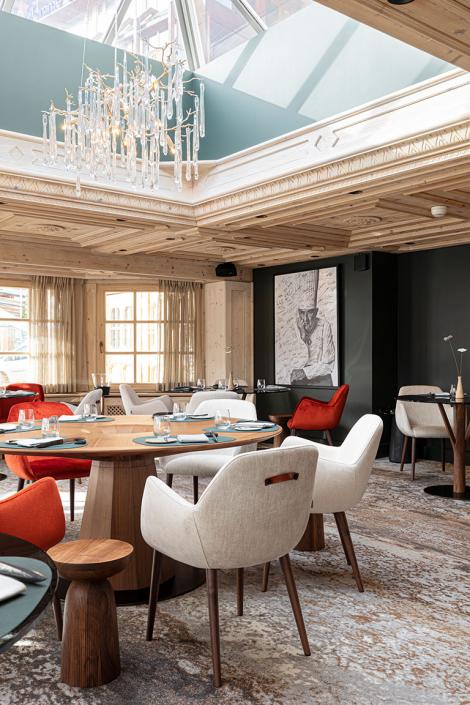 Designer cocoons in Brides-les-Bains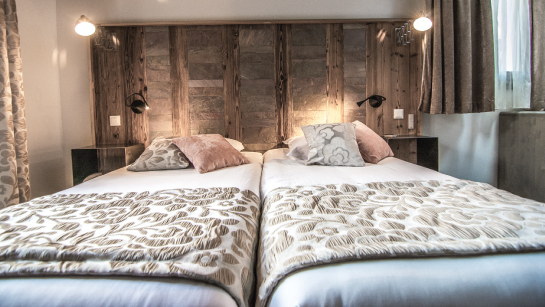 Entirely refurbished in 2014, the charming 3-star Altis boutique hotel never fails to delight guests. Offering a welcoming and cosy atmosphere, mixing modern and traditional, with a few Scandinavian touches here and there – the unique decor is pleasing to the eye. The Altis hotel is just 5 minutes from the Olympe gondola lift, which takes you up to the slopes of the world's largest ski area, in Méribel, at the heart of Les 3 Vallées. It is also close to the Grand Spa Thermal, which specialises in weight loss programmes. Perfect if you want to ski, relax and enjoy all the benefits of a designer cocoon!
info@altisvalvert.com / +33 (0)4 79 55 22 62
At the heart of Brides-les-Bains, just 100 metres from the Grand Spa Thermal and 150 metres from the Olympe gondola lift, the 3-star La Vanoise 1825 exudes an ultra-feminine and chic decor. The hotel's 20 elegant rooms are cosy cocoons, promising an unforgettable stay in Les 3 Vallées.
info@lavanoise1825.com / +33 (0)4 79 55 27 55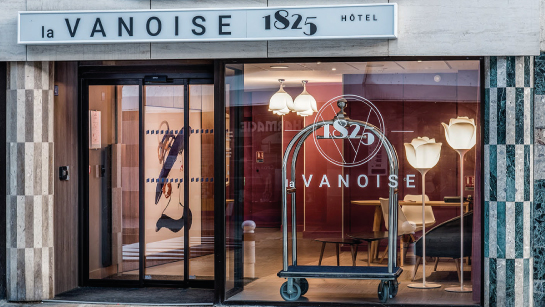 ---
Designer cocoons in Saint-Martin-de-Belleville
Alone in the world, but close to everything… Let your dreams become reality in chalet Voland, in the hamlet of Béranger (4.5 km from Saint-Martin-de-Belleville)!
Nestling in a natural haven, this superb construction is surrounded by mountains. Its spacious rooms welcome groups of families or friends for an unforgettable holiday, the mountain architecture blends in seamlessly with the surroundings, and the contemporary decor provides the ultimate comfort. Thanks to its large openings, guests can admire the beauty of nature, even when they're inside! Chalet Voland can sleep up to 12 guests in 6 rooms.
The ultimate finishing touches and attention to the smallest of details are the hallmarks of Chalet Duchesse, just 200 metres from the slopes in Saint-Martin-de-Belleville.
Renovated for 6 months by Lyon-based interior designer Jorge Grasso, his aim was to redesign the structure and the interior decor to create a warmer atmosphere, whilst preserving the original soul and traditional mountain feel. The light-coloured wood enhances the aged larch cladding, creating a cosy atmosphere that everyone will love. With its grey-green tones, the stunning kitchen beckons temptingly for family meals! Finally, the noble materials and elegant decor add a certain 'je-ne-sais-quoi' that makes all the difference. Set over 230m2 and 3 floors, it can welcome up to 10 people in the bedrooms and lounge…. as well as on the terrace, in the games room and Jacuzzi!
Relax and unwind
Spas and well-being accommodation
To take your stay in the pure fresh air of the mountains to new heights, well-being is the new watchword for many apartments, hotels, chalets and tourist residences, where it feels good to relax and unwind!

Picture this: after a day on the slopes of the world's largest ski area with family or friends, soaking up exceptional panoramic views of nature, trying your hand at non-skiing activities in the fresh air, your cheeks aglow… it's time to relax, and what better way to do that than in water! The water of a warm and inviting spa, where you can swap your skis and boots for a bathrobe and slippers!

Across Les 3 Vallées' resorts, temples of well-being have been created; genuine havens of peace and tranquillity where you can recharge your batteries after a day in the great outdoors.
Spas and well-being accommodation
Designer cocoons in Val Thorens
In Val Thorens, the 5-star Altapura hotel is one of the resort emblems. This boutique design hotel exudes Nordic luxury, with a cool, vibrant decor: light wood, dry stone, surprising arty furniture (a wall made from old skis, an outdoor bar made from 1980's ski boots…), here, everything is uplifting and cheerful! Altapura showcases a particular art of living, from the calm tranquillity of the bedrooms, welcoming restaurants where you can enjoy a meal with family or friends and a Spa where you can relax and luxuriate…
contact@altapura.fr / +33 (0)4 80 36 80 46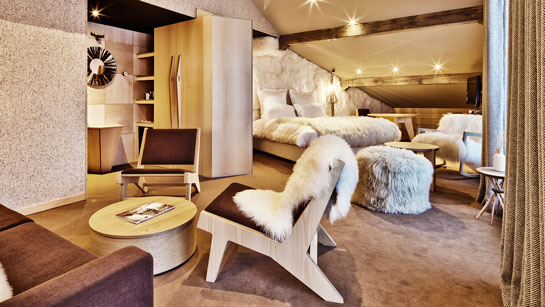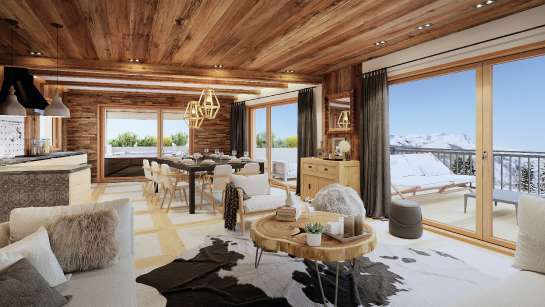 The 5-star Chalets Cocoon at the foot of the slopes in Val Thorens are perfect for fun get-togethers with family or friends! 10 apartments (for 5 to 14 people, depending on the size and number of bedrooms) are available to suit your needs and requirements. Have a wonderful time in a modern, luxurious setting, in an authentic ski chalet. A cosy cocon in the powder snow where you can get away from it all, together!
valthorens@chaletcocoon.com / +33 (0)4 79 22 33 00
In Val Thorens, the 4-star Fahrenheit Seven has recently been awarded the Best Ski Hotel 2020 label. Right on the slopes, it boasts unrivalled access to the world's largest ski area. Inaugurated in 2016, the hotel never ceases to amaze guests, espcially with Véronique Vidoni's vintage decor. As for the ski room, it's not only a ski shop, but a ski bar too, where you can enjoy a quick coffee before heading off to the slopes, or a drink with friends after a great day's skiing!
valtho@fahrenheitseven.com / +33 (0)4 79 00 04 04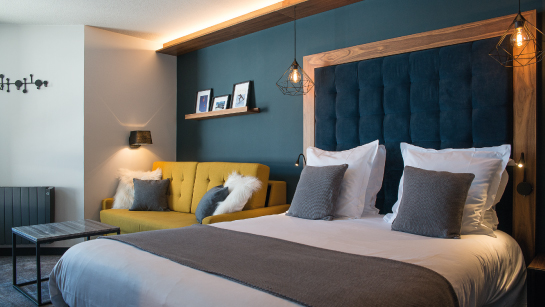 Recharge your batteries
Wellness
and relaxation
Escape to a place of peace and quiet made just for you. Up close and personal with nature and wide-open spaces, fill your lungs with pure mountain air, let a sense of well-being and relaxation take over. Skiing, hiking, yoga, spa treatments, the healing powers of the trees... nurture yourself in Les 3 Vallées.