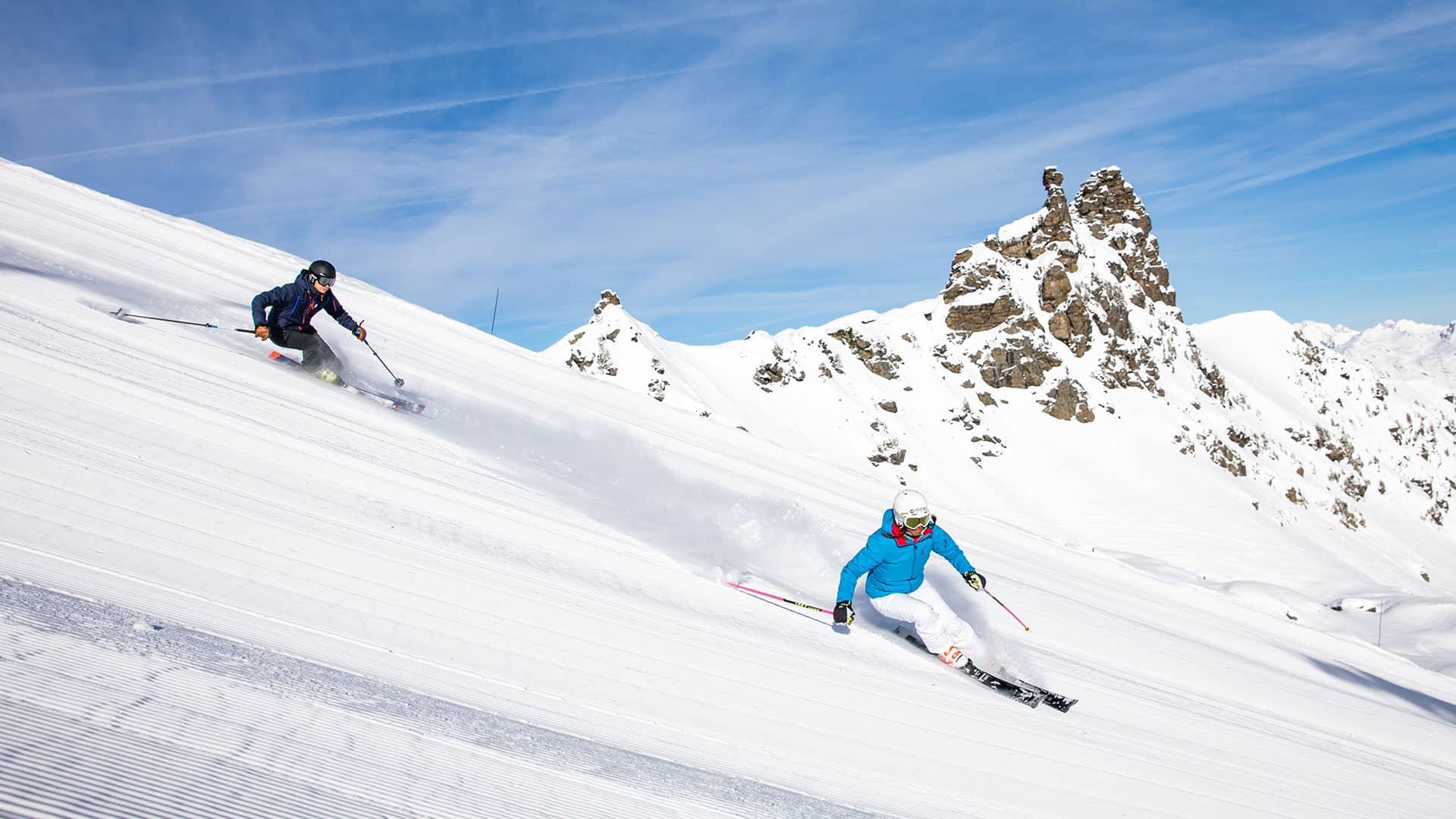 Being in the right place
Making the perfect turn, carving and slicing through the snow… Then feeling the speed, a force that pushes you to confront both the slope and yourself, suspended in that unbelievable second when you're the one to decide where and when the next turn begins… There's such intense joy in mastering the moves, and doing so with ease, as if you're dancing with the slope to music chosen by you, to your rhythm, an intimate tryst you've been waiting impatiently for, where nothing else matters.
Like the other connoisseurs who come from all over the world to glide on the slopes of Les 3 Vallées, you know that this is where you come alive, satisfying your need for vertical drops, quenching your thirst for ascent and descent, walls, moguls and powder snow… Until your thighs tell you to stop.
Once you've experienced this unique feeling, it becomes your mission.
You know that you're in the right place.
Somewhere you can soak up the raw, mineral, almost otherworldly atmosphere of high mountains like these to your heart's content, along a forest trail; somewhere villages are connected via mountain peaks, with classic runs and legendary off-piste, where the power of a shared passion has given rise to a white paradise.
Between the perfectly designed runs, walls with just the right exposure, and panoramic views that will stay etched on your memory forever, there's doubtlessly still more to discover, places that are still a little bit secret, whose names are shared discreetly under cover of ski jacket…
The world's largest ski area is an inexhaustible reserve of extraordinary snowsports to be devoured with sheer joy.
AT THE CUTTING EDGE
...ON THE WAY DOWN
Les 3 Vallées ski area boasts an excellent reputation when it comes to snow grooming. With the largest fleet in the world, totalling 70 snow grooming vehicles spread over the whole ski area, 160 snow groomer operators work in shifts from the moment the slopes close, until 7am the next day. A genuine work of art is created overnight, to provide all skiers with perfect, easy-to-access snowsports conditions…. And every so often, to let them experience the sweet sensation of being a world champion.
Whilst these famously velvety slopes prompt die-hard ski fans to get up at the crack of dawn to be the first to enjoy them, some black runs are also left deliberately ungroomed for the satisfaction of technical skiers on the lookout for powder snow and moguls. It's also a chance to realise… that there's still a little way to go before becoming a world champion!
The largest fleet in the world, totalling 70 snow grooming vehicles spread over the whole ski area, 160 snow groomer operators work in shifts.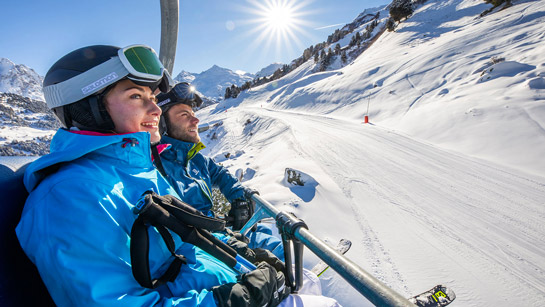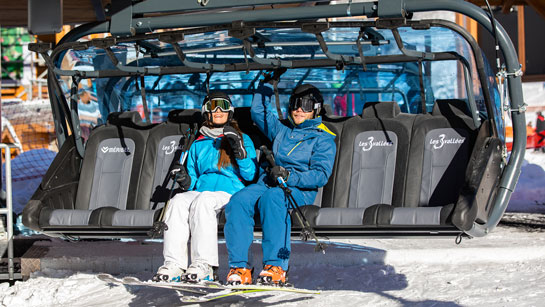 …AND ON THE WAY UP
Les 3 Vallées ski area boasts an ultra-reliable network of high-performance, comfortable ski lifts. They're one of the reasons there are so few queues across the whole ski area. A well-managed rate of flow and optimal capacity offers skiers much-prized smooth movement around the ski area's 342 runs, and obviously means more skiing for everybody!
Some of them are legends, such as La Saulire in Courchevel, Cime Caron in Val Thorens, Les Granges bubble chair lift in Saint Martin de Belleville and the Altiport chair lift in Méribel…

To make things even more comfortable for skiers, and as part of an overall target of reducing energy consumption, the ski lift fleet is regularly updated. Most recently: Les Plattières 3 gondola lift in Méribel was replaced with the state-of-the-art 6-seater Bouquetin chair lift. And there's no need to take your skis off to get to the summit; in just 2 minutes and 30 seconds and a 320-metre climb, you can turn off either towards the Saint Martin de Belleville or Les Menuires runs!
In total, 158 ski lifts are available to the public.
The altitude is truly on our side
Naturally high potential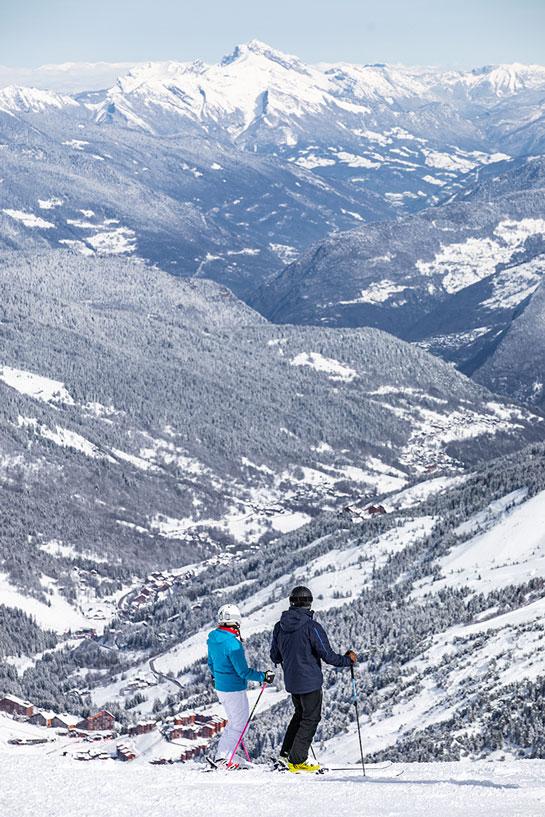 With runs located between 1,300 and 3,230 metres, and over 85% of the ski area above 1,800 metres, the altitude is truly on our side, guaranteeing reliable natural snow cover which can be topped up easily using snowmakers and optimised by grooming.

This vital natural resource is enhanced by an equally advantageous topography: on Les 3 Vallées ski area, the resorts are linked by ridges at altitudes of more than 2,000 metres, so you can be sure to enjoy the connections between the valleys and the whole ski area throughout the season.

This litany of benefits allows for a winter season that extends from November… to May!
10 good reasons to go skiing in Les 3 Vallées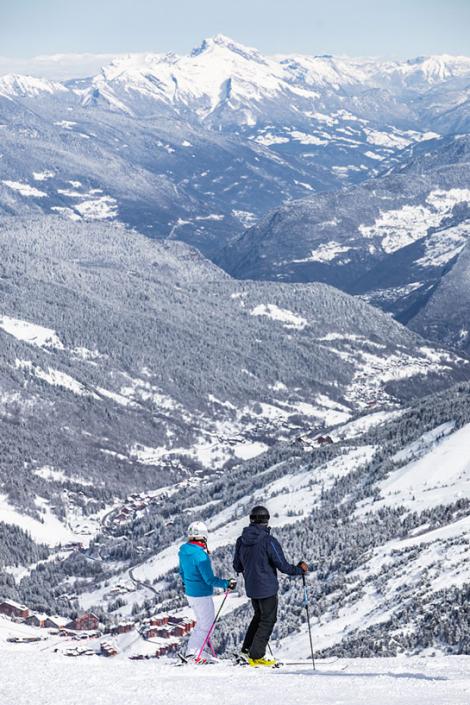 LEGENDARY RUNS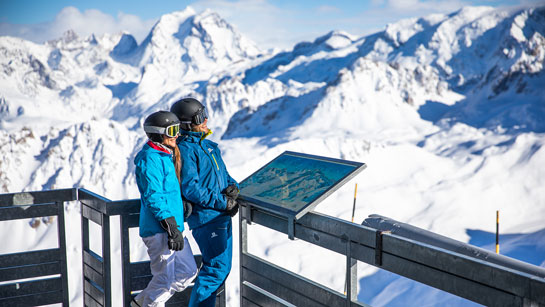 Certain runs on Les 3 Vallées ski area stand apart from the others and have their own special status. They're part of the legend of skiing thanks to their history, geographical profile, the panoramic views they offer, or what they represent symbolically. They give those who descend them a very special feeling, and always the most amazing skiing.
From Saint Martin de Belleville's magnificent Jérusalem, which exudes history at every turn, to the Boismint & Plan de l'Eau's beautifully varied 1,000-metre descent in Val Thorens, not forgetting Meribel's Olympic Roc de Fer and the new Eclipse in Courchevel, which will be in the thick of the action during the 2023 World Championships, as well cared-for as they are adored, these 'classic' runs are unmissable routes to descend time and again, or to discover as soon as possible!
Infinite escapes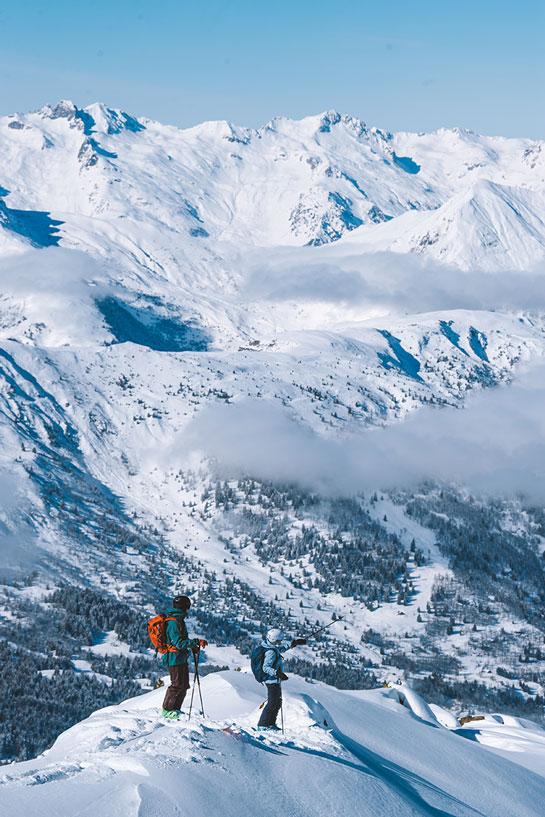 Up there, the 600 kilometres of hand-groomed and safe runs are just a small part of the vast playground provided by Mother Nature. From the 25 summits accessible via the ski lifts, countless freeride and ski touring itineraries are within reach of your ski tips… everything you need to enter an even wilder skiing dimension, at the heart of these snow-white mountains.

To get started with the technical requirements of this type of 'off the beaten path' skiing, Les 3 Vallées ski area offers vast, safe areas such as 'Back to the Wild' on the Mont de la Challe sector in Méribel Mottaret. North-facing but entirely accessible, this run lets you familiarise yourself with powder snow in total safety. For a different style, Le Grand Couloir and Le Couloir Tournier black runs at the top of La Saulire and their 33° average gradient will delight the most hardcore skiers.

To get even further away and sample the intense and unique joys of skiing with total freedom, head off with a ski instructor or mountain guide to explore 45,000 hectares of unspoilt nature.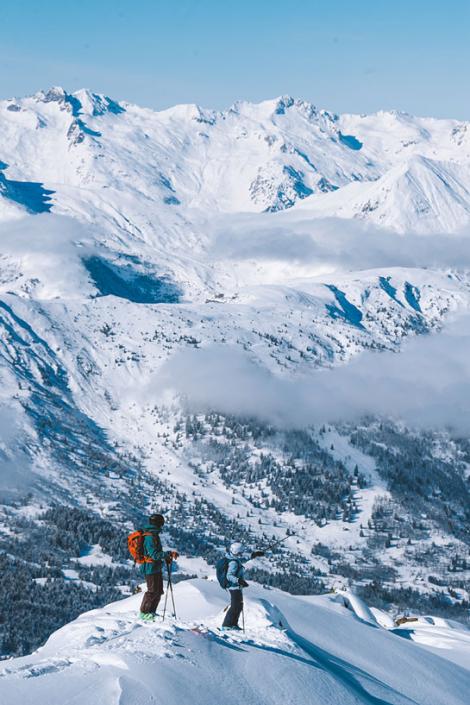 WARM UP : 10 TIPS FROM ADRIEN THÉAUX
Discover 10 tips from Adrien Théaux, member of the French Speed Skiing team from Val Thorens, on how to prepare for Alpine activities.
1. Ease back:
At least a few weeks before you go skiing, stop using lifts and the underground… make your legs your mode of transport. A bit of cycling or running will also help to improve your muscular and cardio fitness.
2. A healthy lifestyle:
A good sleeping pattern, combined with healthy, balanced food will be the perfect accompaniment to your little fitness purge.
3. Check your equipment:
Check your equipment, especially the state of your ski edges: it's impossible to carve a turn if your skis aren't sharp! Well-prepared and maintained skis, comfortable boots, a working helmet, a mask with protective lenses, the right- sized ski poles.
4. Spend some time studying the piste map:
That way, when you arrive, you won't have to keep getting it out to check! to have a quick look at the piste map before your holiday. It will stop you having to get off and look at every ski lift!
5. In the morning:
Before you go out, pack your rucksack with water, snacks, an extra layer for warmth and a spare pair of gloves… just in case.
6. That reminds me:
Check the weather forecast, so you can adjust your equipment to suit the conditions.
7. Skiing is a sport for early birds:
Fresh snow and freshly groomed slopes… The slopes are at their best in the early morning, so you know what you'll have to do if you want a piece of that.
8. Before you set off on your first run:
At the top of the slopes, admire the landscape and warm up at the same time: neck, legs, shoulders, arms and wrists! Especially for the thighs: 3 repetitions of 10 squats, separated by a minute and a half recovery time.
9. Don't rush:
Start off with one or two easy to medium runs at a gentle speed before attempting the steeper slopes.
10. Take extra care later on in the day:
After lunch and towards the end of the day are the key times where attention can start to drift. Slow your pace and, in the evening, remember to stay hydrated and to stretch!
ALEXIS PINTURAULT

, Champion - Courchevel - Alpine Skiing

Les Marmottes in Courchevel, for its elevation difference, walls, and the views.

CHLOÉ TRESPEUCH

, Champion - Val Thorens - Snowboard Cross

My favourite piste is the boardercrossslope! We are so lucky to have a World Cup-standard piste for training. It's amazing. It is also adapted for tourists who can enjoy a fun experience with the family.

RENAUD JAY

, Champion - Les Menuires - Cross-Country

Given my background, my favourite is the cross-country pistes at the Plan de l'Eau in Les Menuires where I first got into my discipline! But when alpine skiing, I always drop by the Fred Covilipiste.

JEAN-FRED CHAPUIS

, Champion - Val Thorens - Skicross

La Haute Combe in Val Thorens for the natural variety of terrain and the superb view from the top. Then I take the La Loy piste down to Saint Martin. It's magnificent.

KEVIN GURI

, Champion - Les Menuires - Freeride

My favourite pistes are those with a bold natural character, such as the Jérusalem piste in Saint Martin. But in general, I use the slopes to get to the off-piste sections!

LÉA LEMARE

, Champion - Courchevel - Ski Jumping

Without a second thought, Les Jockies, leading to Courchevel Le Prazfrom the top of the ski area. I love the feeling of being alone in the world, and when the piste is groomed it's sensational. Huge fun guaranteed! It's also the piste chosen for the 2023 World Championships, which says a lot!

ADRIEN THÉAUX

, Champion - Val Thorens - Alpine Skiing

My favourite would be the La Cime Carron former red piste and the Poste du Plan de l'Eau. When you arrive first in the morning, the snow is just exceptional. There's a good slope and undulating terrain – perfect for carving and working up some speed if you want!

TIMOTHÉE THÉAUX

, Champion - Ambassador 3 Vallées

"My favourite pistes include: Petit Dou in Courchevel 1850, a high level piste with lots of terrain variation and very few people.Boismint followed by Plan de l'Eau in Val Thorens, to make a long piste with varied terrain. Dame Blanche on La Masse in Les Menuires, with steep slopes from top to bottom and consistent high-quality snow. Combe du Vallon in Méribel-Mottaret, for its length and view over the glaciers."
Les 3 Vallées ski area is:
600 kilometres of ski runs… equal to a Paris-Val Thorens return journey
62,000 metres of cumulative vertical drop… equal to 7 times Everest
45,000 hectares of nature… equal to the surface area of the Seychelles
Skiers of all abilities intending to come for between 6 and 21 days can choose a custom-made skipass to create the perfect holiday.
Exceptionnal skiing
Playground
for experts
Like the other connoisseurs who come from all over the world to glide on the slopes of Les 3 Vallées, you know that this is where you come alive, satisfying your need for vertical drops, quenching your thirst for ascent and descent, walls, moguls and powder snow…