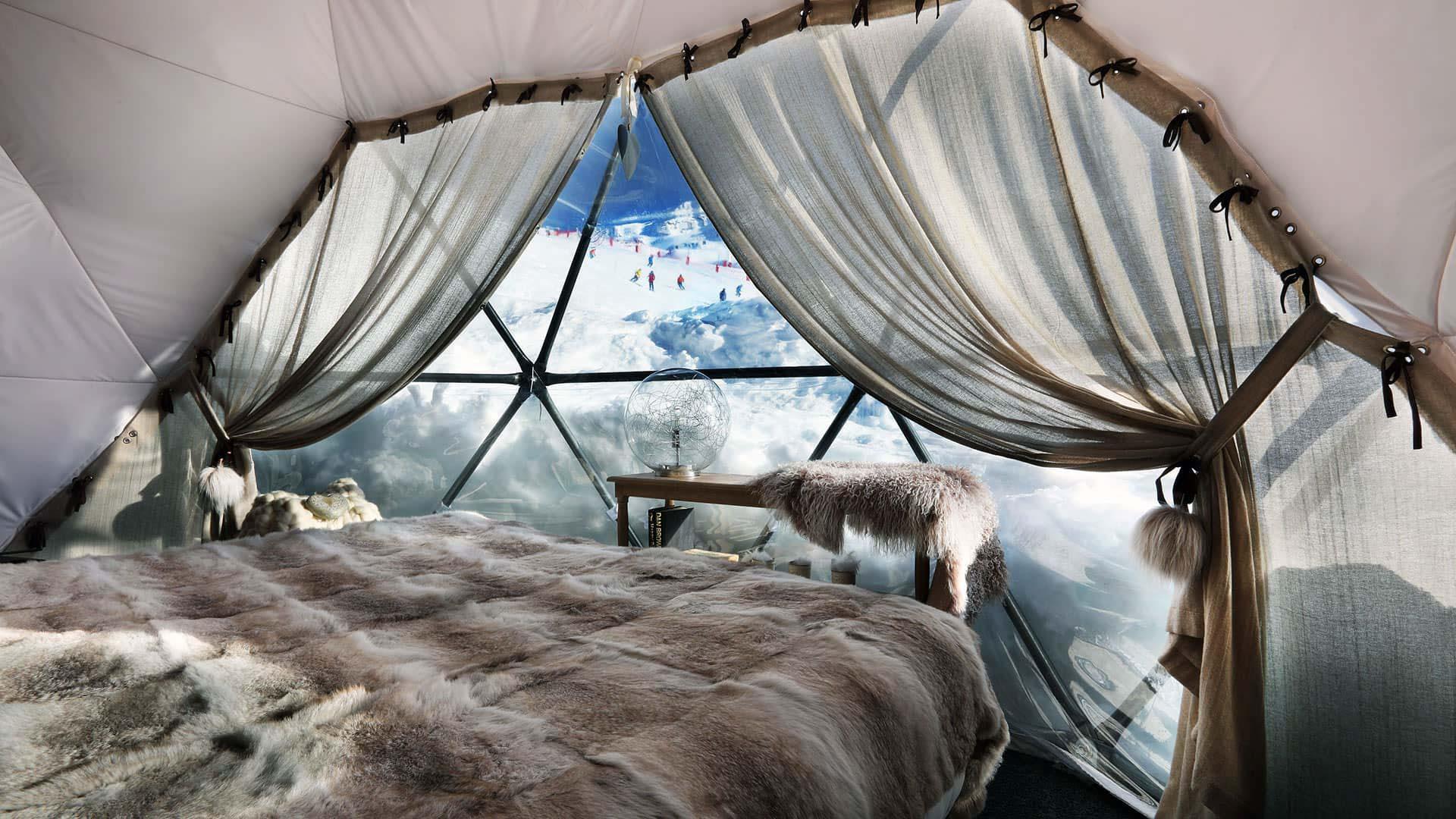 Make the dream last a little while longer
Create a holiday you'll never forget... History is made in this vast expanse, at the heart of seven resorts, each with their own identity, as well as the life experiences shared in the abundance of accommodation found throughout Les 3 Vallées.
From apartments to chalets, hotels to tourist residences, many very different options are available to satisfy all budgets and all needs.
Sometimes what we're really looking for is something a little unique and unusual, where getting together and having time to unwind is made even more special. Here is a non-exhaustive list of unique, delightful places to stay.
Filling you with wonder and awe, these places offer a total change of scenery and exude Les 3 Vallées' spirit.
Magical places that invite you on a journey to another galaxy.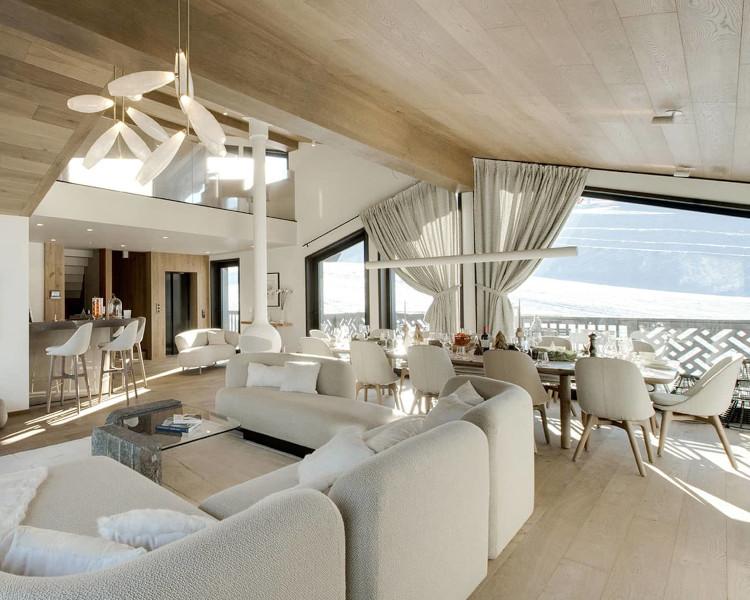 Book your stay
Les 3 Vallées Travel is: a team 100% at your service, a perfect knowledge of Les 3 Vallées area, personalized advice, a selection of the best accommodation in each resort of Les 3 Vallées, an infinite number of possibilities...
SOAK UP THE RELAXING, COSY ATMOSPHERE OF THE EMBLEMATIC FAMILY-RUN
Les Peupliers**** in Courchevel
Set at an altitude of 300 metres at the foot of the slopes, in the quiet village of Courchevel-Le Praz, with its traditional Savoyard architecture and stunning views of the frozen lake, Les Peupliers is so much more than a hotel.
Built in 1938, the 4-star property is somewhat of an institution, with the first chapters of its story being written by Eugène Blanc. The former family home was handed down from generation to generation, never losing its soul. It now features 19 welcoming and comfortable rooms.
The ambiance is elegant and the service attentive, but never pretentious, making for an enjoyable stay in a cosy setting. Such attributes appealed to Margaret Thatcher, who was won over by the warm, yet unassuming welcome offered by the Gacon family.
The added extras: The beautiful spa with its steam room, sauna and relaxation area, the charming Norby's lounge area and the Au Burger d'à Côté restaurant across the street, which serves burgers and American-style cuisine in a Savoyard atmosphere.

Our favourite: the legendary Savoyard fondue with morel mushrooms served in Les Peupliers' restaurant, La Table De Mon Grand-Père.

Les Peupliers
Le Praz - 73120 Courchevel 1300
+33 (0)4 79 08 41 47
GET AWAY FROM IT ALL IN A LUXURY MOUNTAIN HUT, AND EXPERIENCE HEAVEN ON EARTH
Le Refuge de la Traye in Méribel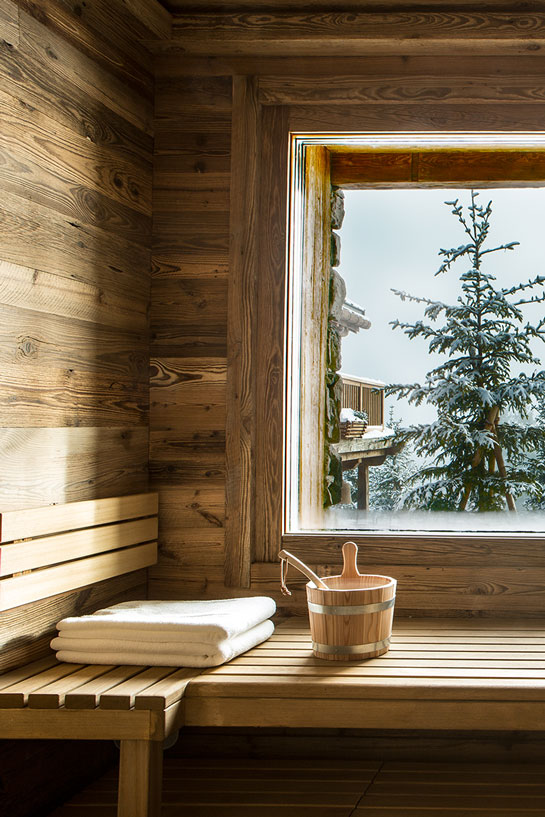 This is the first luxury mountain hut in the French Alps! A unique retreat that skillfully combines the elegance of the most luxurious 5-star Palaces with the authenticity of a mountain retreat.
Nestling at the heart of a protected natural setting, it is located 10 km from the nearest surfaced road. Built in 1982, and totally refurbished in 2019, you'd think the hamlet and its typical little chalets, housing six bedrooms and a suite, had always been there. Make sure you take time to explore its charming Saint Bernard chapel.
At the Refuge, luxury comes in the form of simple pleasures in the relaxation areas, by the fireside, in the spa, or out and about enjoying the many different activities on offer (snowshoeing, toboganning, biathlon rifle shooting, electric snowmobiling for children, treetop adventure trail, zip line, ski touring, eating a delicious fondue inside an igloo...), and in the exquisite dishes created by the restaurant's Italian chef.
The added extras: the peaceful harmony of the setting designed by architect Stéphane Collange, the elegant, prestigious decor, with reclaimed wood, fabrics by Arpin, old Savoyard furniture, La Table de la Traye restaurant, its generous cuisine and welcoming dining room with breathtaking views, and a panoramic terrace facing the snow-capped peaks.

Our favourite: the spa, worthy of a top-of-the-range hotel, with its milk bath, hay bed, sauna, steam room, outdoor Jacuzzi and massages. As well as its 2.0 treatments using innovative, connected technology, such as the Iyashi Dôme Japanese sauna, the Wellsystem water massage, Mostleds light therapy and Stendo circulatory stimulation. If paradise exists, perhaps this is it!

---
EXPERIENCE A COMPLETE CHANGE OF SCENERY IN A COSY COCOON ON THE SLOPES
Adray Télébar *** in Méribel
This chalet-hotel has been welcoming families, couples and groups of friends for a timeless stay for more than fifty years now.
Nestling in a wild forest setting, just a few ski tips away from the blue Doron run, you can reach the 3-star Adray Télébar on skis, on foot or by snowmobile, which is what the hotel uses to transport your luggage. It is a really cosy cocoon at nightfall, when the ski lifts close.
Make the most of après-ski fun with video games, a game of pool, reading… in the warm decor created by natural stone, reclaimed wood and noble materials. A place that exudes joie de vivre and simplicity, whilst making each guest feel unique and special.
The added extras: choose between a traditional hotel room with breakfast or half board, or opt for one of the three 80m2 private lodges: Woody-Woody, contemporary or Savoyard, where you can make the most of the surroundings. Energy-efficient water and electricity solutions and recycling cooking oil.

Our favourite: Savoyard white wines and homemade blueberry tarts served at the bar, on the edge of the Doron run.
Let us guide you
Each to their own and each to ther own 3 Vallées!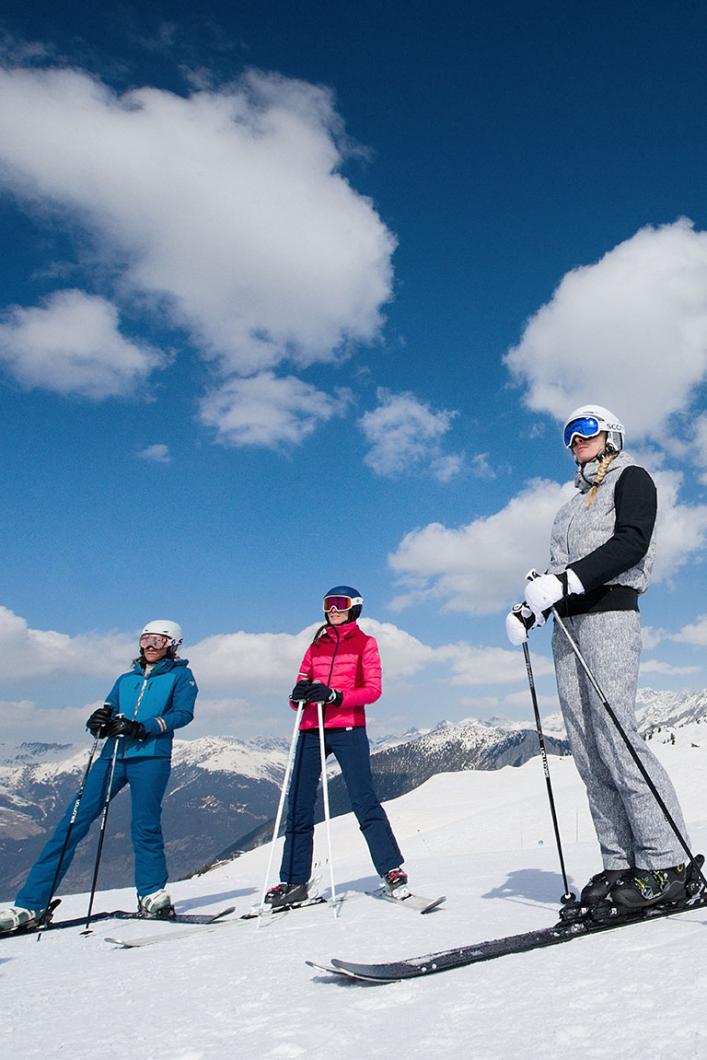 Being so varied and so vast, families, friends, couples and those travelling solo will find their retreat in Les 3 Vallées. These unusual places to stay will add the touch of originality that you're looking for to make your experience unique. In these base camps that suit your needs down to the ground, your dreams are sure to be sweet after amazing days on the slopes of the world's largest ski area.

So, you've found your base camp…. but have you chosen the right skipass for your location, level, family, group…. ? Let us guide you to the right page!
All skipasses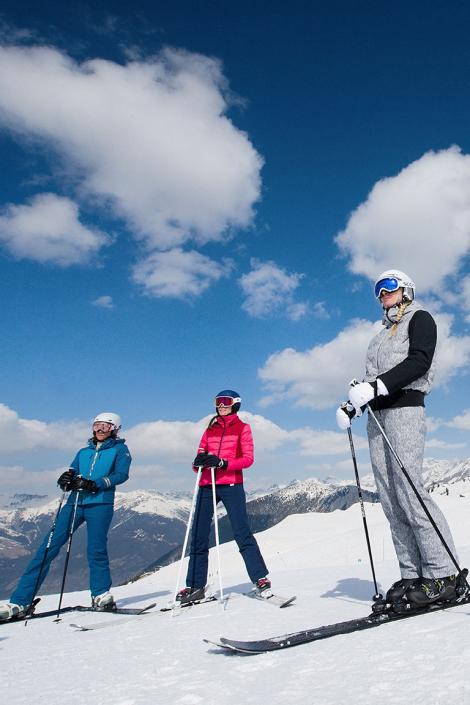 EXPERIENCE A NIGHT AWAY FROM THE REST OF THE WORLD
Refuge du Lac du Lou in Les Menuires
This magical place is not that far away: half an hour up on snowshoes or touring skis, and just a few minutes skiing down through the powder from Cime Caron is all it takes.
And yet, it feels away from everything, far from the busy slopes and ski lifts. Built from stone and located near the frozen lake, the refuge invites you to a moment at one with nature. Not only will you enjoy a warm welcome from the warden, but a delicious meal made using fresh local produce awaits you too.
When the visitors/hikers have left for the day, the atmosphere becomes cosier and the evening unfolds quite simply, surrounded by loved ones, amidst a decor of mountains and stars, before heading back to the comfortable dormitories.
The added extras: you can enjoy a break at one with nature in summer too! This protected little valley is accessible for the whole family, offering you the opportunity to admire the lake's crystal clear water, to reach new heights and experience pure, intense emotions.
Our favourite: early in the morning, when you ski back down to the resort before the slopes open for the day: an unparalleled experience.
Refuge du Lac du Lou
Passerelle de la Masse - 73 440 Les Menuires
+33 (0)7 70 22 86 79
WHAT'S YOUR DREAM ACCOMMODATION?
Find the hotel, apartment, residence or chalet to suit your pace, style and needs! Design, family-friendly, authentic, cocooning or unusual… Set the tone to your holiday in Les 3 Vallées.
TOTAL PEACE OF MIND
Le Trait d'Union in Saint-Martin-de-Belleville
Nestling amidst snow-covered pastures, this mountain refuge welcomes you to fully recharge your batteries.
Leave your watch and phone behind, take a deep breath and look around you. Available for exclusive use, this beautiful, cosy cocoon oozes comfort, with the décor and tranquillity to go with it.
After an invigorating day in the fresh air, enjoy a delicious fondue, followed by a session in the sauna, before heading to your room for a restorative night beneath the covers.
The added extras: your host, Viviane, with her delightful little touches and captivating smile.

Our favourite: the Nordic bath, facing the mountains!

Le Trait d'Union
Lieu-dit le Danchet – 73440 Saint-Martin-de-Belleville
+33 (0)7 70 28 85 77
---
A ROMANTIC MOUNTAIN GETAWAY FOR TWO
Chalet Le Nid in Saint-Martin-de-Belleville
30m2 of sheer happiness. The smallest chalet in the Caseblanche hamlet, it has been perfectly designed for a magical break with your other half.
This mini-chalet has everything you need: a fitted kitchen, separate bedroom, west-facing balcony and wood-burning stove.
A cosy decor and concierge services mean you can really make the most of the experience.
They say it's often the small things that make all the difference… well, this chalet has its very own ski room… and boot warmer!

The added extras: In this little hamlet (which the pretty Notre Dame de la Vie footpath runs through) of wood and stone chalets, you'll find a grocery, as well as a mountain brasserie and a sports shop…

Our favourite: the direct access to the slopes and the gondola lift just 50 metres away, which takes you straight on to Les 3 Vallées ski area.

Chalet le Nid
Hameau de Caseblanche - Les Grangerais - 73440 Les Belleville
EXPERIENCE A NIGHT IN A LUXURY IGLOO
Pashmina 5* in Val Thorens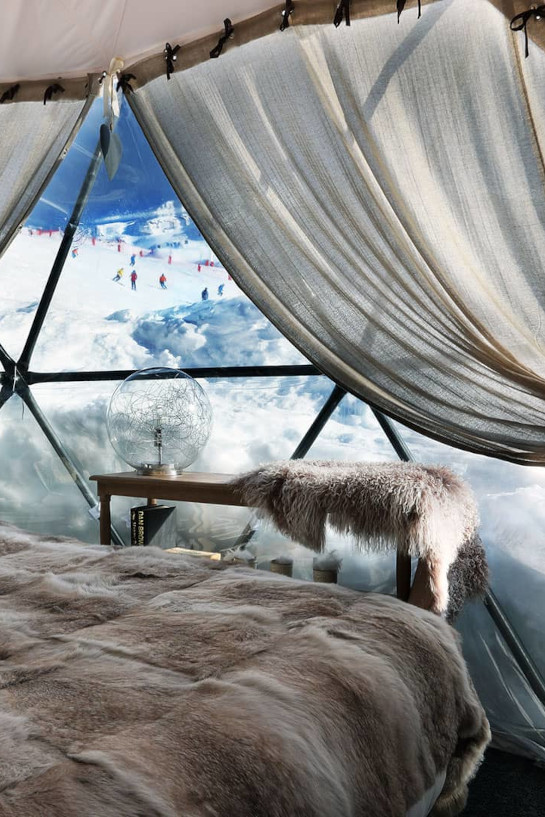 Staying at the Pashmina, a luxury hotel in the highest ski resort in Europe (2,350 metres) is an unforgettable experience in itself.
But, to make it even more amazing and magical, why not take it one step further and spend a night in a luxury Igloo Pod on the hotel terrace?
A brilliant way to satisfy your need for adventure... without even leaving the resort, and making the most of blissful comfort.
It's a great way to spend a romantic evening, or an unforgettable family stay.
The cabin-style loft bed is always a big hit with children!
The added extras: lie back on the soft double bed, wrapped in a cosy pashmina, soak up the warmth of the crackling wood stove and gaze up at the starry sky, where snowflakes twirl above the glass roof. Make the most of the hotel's top-of-the range services, the Aqua Pashmina area with its indoor pool, mountain views, reclaimed wood sauna and views over the slopes, steam room, Nordic bath, indoor and outdoor Jacuzzis, generous breakfast in the restaurant and dinner at the Base Camp restaurant for half board guests.
Our favourite: the private Nordic bath with exceptional panoramic views over the mountain tops. Book in advance for the perfect Nordic experience.
Igloo Pod Pashmina 5*
Place du Slalom - 73440 Val Thorens
+33 (0)4 79 000 999
An exceptionnal territory
Unique
experiences
Les 3 Vallées is a limitless playground where anything is possible, where all your dreams can become true. Les 3 Vallées is not only about skiing, it's also a multitude of activities to practice alone, with family or friends...