3 VALLÉES DESTINATION: WELCOME TO FRIENDLY MENUIRES!
In Les Menuires, everything has been designed to make your holiday a welcoming one, from the top of Pointe de la Masse to the foot of the slopes, for beginner skiers and thrill-seeking experts, in winter and in summer.
Share the big thrills and the small pleasures with your family or friends as you discover the inviting slopes, fun zones and spectacular scenery. What a great way to enjoy a friendly holiday in the great outdoors!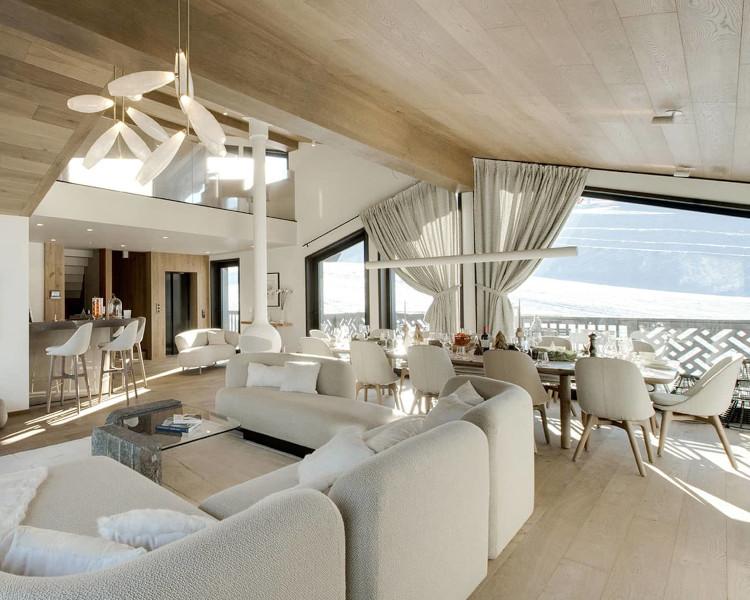 Book your stay
Les 3 Vallées Travel is: a team 100% at your service, a perfect knowledge of Les 3 Vallées area, personalized advice, a selection of the best accommodation in each resort of Les 3 Vallées, an infinite number of possibilities...
LES MENUIRES, A MODERN AND ACCESSIBLE RESORT
While some resorts in Les 3 Vallées are famous for their picturesque charm, Les Menuires is known for its striking modernist architecture.
Created in 1964 as part of France's plan to create new, high-altitude ski areas, the resort is dotted with seventies-style buildings. From Savoyard-inspired chalets to high-class residences, Les Menuires's architectural style creates an individual character that is unique in Les 3 Vallées.
FIVE DISTRICTS TO EXPLORE... AND MORE
Les Menuires offers five districts for you to explore: La Croisette, Preyerand, Les Fontanettes, Grand Reberty and Les Bruyères.
From La Croisette, the heart of the resort at 1,850m, it is only a short step to the four other districts! Wherever you decide to stay, you can easily get around the resort thanks to the free buses, public lifts and walking paths.
If you want to go big, it's easy to reach the neighbouring resorts of the largest ski area in the world without even taking off your skis, thanks to the high altitude 3 Valleys links. Head to Mont de la Chambre, which rises to 2,800m, to take in the immensity of this open-air playground!
A FAMILY RESORT BY NATURE
It is never too early to introduce children to the delights of the mountains, which is why Les Menuires has thought of everything.
Holder of the "Famille Plus" quality award, the resort has all that families could require: an XXL "Piou Piou" children's ski village, 2 nurseries, and many different play areas. The family-friendly atmosphere is sure to nurture children's passion for skiing!
France's best ESF (French Ski School) is located here too. Why not take advantage of this to treat yourself to a fantastic outing with an instructor while your little ones are learning? You can even try the Liberty Ride areas (with or without a guide) to enjoy the pleasures of powder snow in complete safety.
Find the holiday you want
Shared pleasures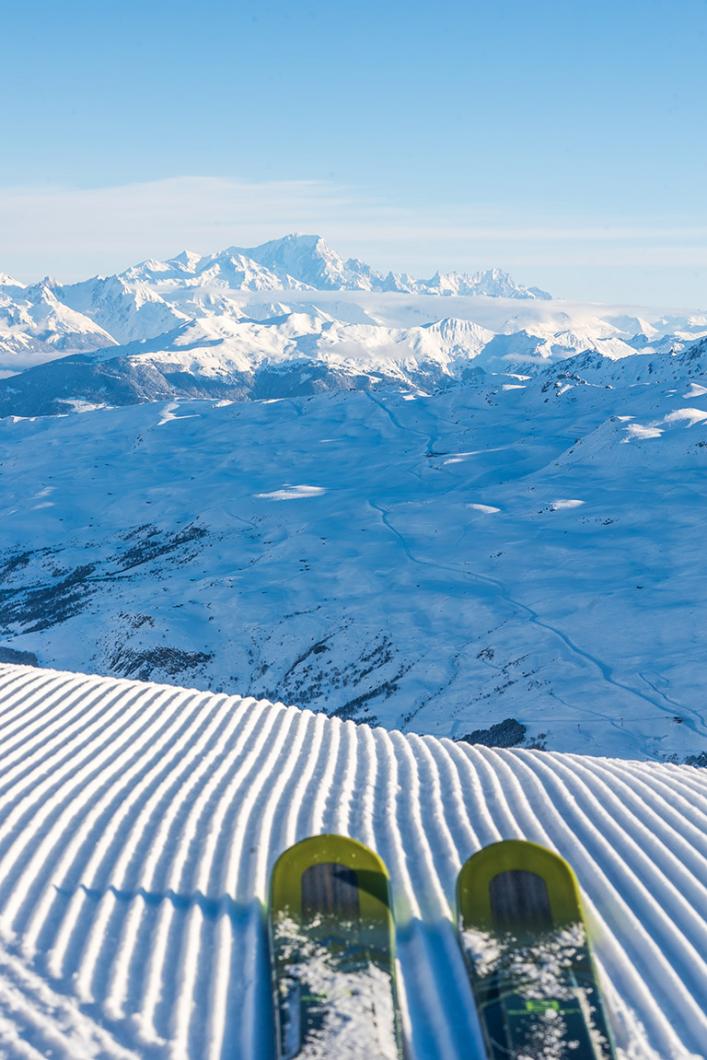 Skiers of all ages and every ability level will find the holiday they want in Les Menuires. Make sure you visit Pointe de la Masse for one of the most beautiful panoramas of the 3 Vallées ski area and to discover fantastic, accessible skiing.

Those in search of a challenge can take a lesser-known freeski itinerary via the Lac Noir or Lac de Lou. For pure fun, the Speed Mountain is the place to be for guaranteed thrills and amusement!

After all this excitement, treat yourself to some time for relaxation and well-being on a stroll at Plan d'Eau or in a Jacuzzi at the Bruyères aquacentre... A range of unforgettable experiences are here for you to discover!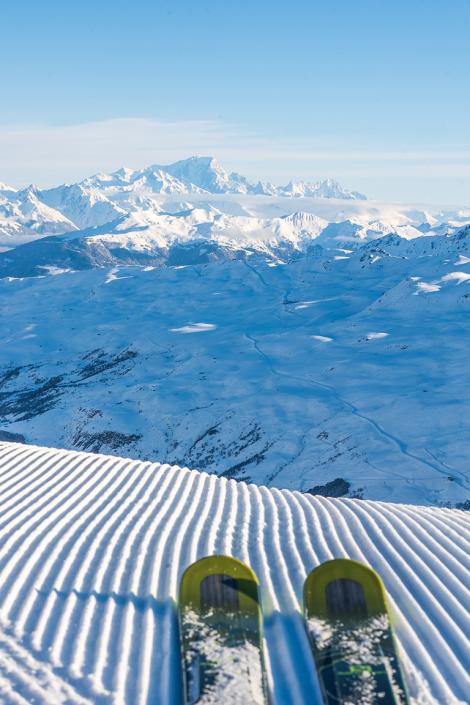 ENTERTAINMENT AND ACTIVITIES FOR ALL
Throughout the winter season, holidaymakers in Les Menuires can combine skiing with relaxation, comedy or culture.
Les Trophées de l'Espoir, an event sponsored by French sports personality David Douillet, is held every year in February to raise money for a cerebral palsy charity. In March, the resort echoes to laughter during Les Menuires du Rire festival of one man comedy shows and magic.
And lastly, Les Menuires invites you to embrace 'slow life at altitude' during Yogiski from 11 to 15 April when you can enjoy Yoga, meditation and forest bathing. It's the ideal way to end the winter season feeling fully refreshed.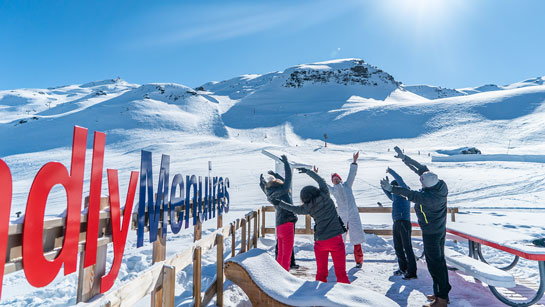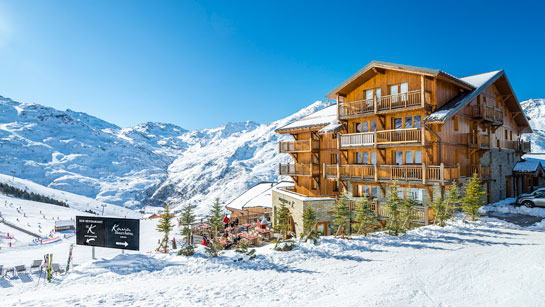 SLEEP RIGHT ON THE SLOPES
Whether you are spending a weekend or a longer holiday in Les 3 Vallées, it is important to find accommodation where you can recharge your batteries at the end of a day spent outdoors.
Whatever the size of your party, whatever your budget or the degree of comfort you prefer, you will find accommodation here to suit you. Whether it's a night in a refuge, a fully equipped apartment, a 4-star hotel or a holiday club, simply choose the option that appeals to you most!
The icing on the cake: most of the accommodation is ski-in/ski-out. Les Menuires: the value-for-money resort where you can make the most of every minute on the slopes.
Les Menuires is a great place to get away from it all, at any time of year, in a relaxed and family atmosphere. The shopkeepers, restaurant owners and ski instructors who bring the resort to life will offer you a memorable welcome and make you feel at home.
More information about Les Menuires:
That's it! You know almost everything about your favourite resort in Les 3 Vallées, but you would like to have more information about Les Menuires: its activities, events, shops, restaurants, accommodation providers, etc.
You can contact them and also book your stay in this resort directly. See you soon in Les 3 Vallées!
CONVIVIAL RESTAURANTS
Les Menuires' friendly atmosphere continues when you come off the slopes and enter a restaurant for some well-deserved refreshment!
Whether you prefer a hearty meal to regain your strength or a snack on a terrace overlooking the mountains, a whole range of flavours and culinary experiences are available, from the simplest and most rustic to the most modern and elaborate.
For the ultimate fine-dining experience, book at table at Michelin-starred La Bouitte in the neighbouring village of Saint-Marcel.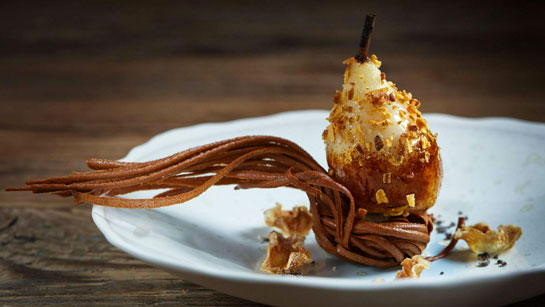 GETTING TO LES MENUIRES
All roads lead to Les Menuires (well, almost!) You have plenty of choice in how to get here.
By plane
If you have far to travel, you can reach the resort by air. Four airports (Chambéry Savoie, Geneva, Lyon Saint Exupéry and Grenoble Isère) are not far from the resort.
By train
You can travel by train to Moûtiers Salins Brides-Les-Bains, located just 27km from Les Menuires. Complete your journey by taxi, hire car or bus (best booked in advance).
By car
Les Menuires can be reached by car in only 2½ hours from Lyon, 1 hour 20 minutes from Chambéry and 1 hour 40 minutes from Grenoble.
During the winter season, remember to check the weather conditions before driving and come equipped for snowy mountain roads (snow tyres or chains, or snowsocks).
Once you have dropped off your luggage at your accommodation, simply leave your car in one of the car parks. The various free outdoor car parks, and the indoor and outdoor car parks at La Croisette are easily accessible thanks to the regular, free resort buses. You can leave your car for the duration of your holiday, as you won't need it here!