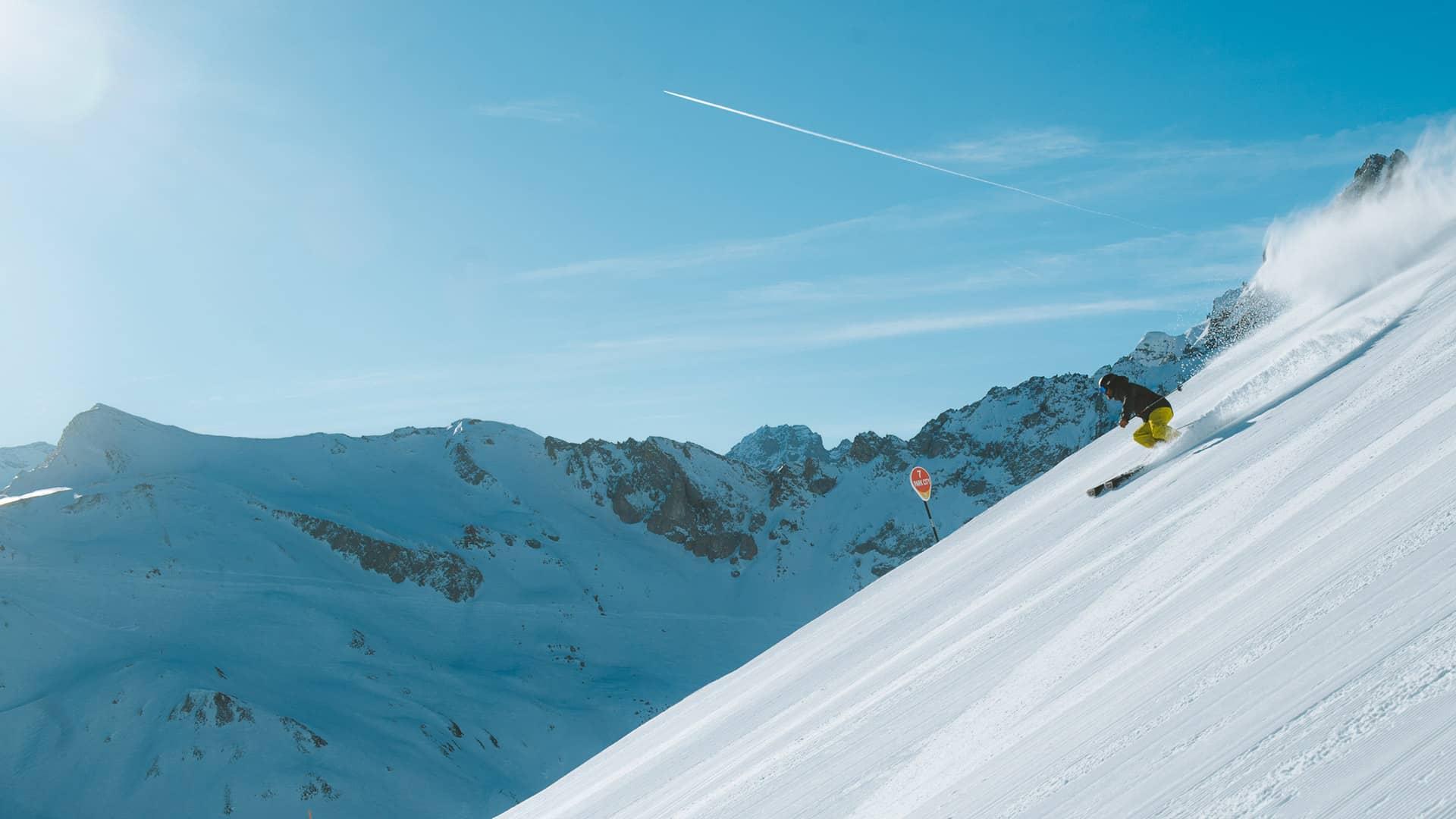 SKI PASSES TO SUIT ALL NEEDS: ESCAPE TO LES 3 VALLÉES!
Set off on skis to soak up stunning views of the legendary Mont Blanc from the mountaintops and be amazed by the unique panoramas and total change of scenery. Discover all of our skipasses, designed so that everyone can create unforgettable memories in Les 3 Vallées.
A wealth of special offers to enjoy the season at any time
THE SEASON STARTS WITH A FLOURISH: 50% OFF THE FIRST SATURDAY
The 4th and 5th of December 2021 mark the start of the 2021/2022 winter season in Les 3 Vallées. It's a great chance to celebrate skiing for a fraction of the usual price! To get the season off to a good start, adult ski pass for Saturday 4th December is half price and available for everyone.
This reduction applies to 2-day skipasses with Saturday at 50% off and Sunday at the normal rate. This special offer is available exclusively online until midnight on Friday 3rd December.
EARLY AND LATE SEASON AT THE BEST PRICES
Don't miss a moment of fun! Take advantage of these reduced prices to get back on your skis in low season!
From the very first snowflakes of the season (from 4th to 10th December and from 11th to 17th December) until the last (from 16th to 22nd April), treat yourself to extra-special time on skis in Les 3 Vallées at reduced prices.
3 Vallées skipasses for one day or short stays
From 4 hours of fun to 5 days of skiing, the Pass Solo is the occasional skier's best friend! It adapts to all tastes, for the length of a morning, a day or a long weekend.
With a 4-hour skipass, you are free to decide when you want to hit the slopes. From a short stay of 1 day to a long, 5-day weekend, the Pass Solo offers you a re-energising break to marvel at the scenery and enjoy your fill of thrills in our winter wonderland. Adults (13-64 years), children (5-12 years) and seniors (65-74 years): each age group has its own price with preferential rates for children and seniors.
Children under 5 and seniors of 75 or over are especially well looked-after in Les 3 Vallées as they are given a Pass for free!
Given the choice, Saturday is the best day to immerse yourself in this fabulous playground and enjoy the quieter atmosphere. The good news: every Saturday during the winter season, Les 3 Vallées is open to all at the child price. A great deal not to miss!
Do you have a morning, one day or a long weekend ahead of you? The spectacular scenery and unique panoramic views of Les 3 Vallées ski area are here to be enjoyed at any time.
Make the most of your holidays
With a week 3 Vallées skipass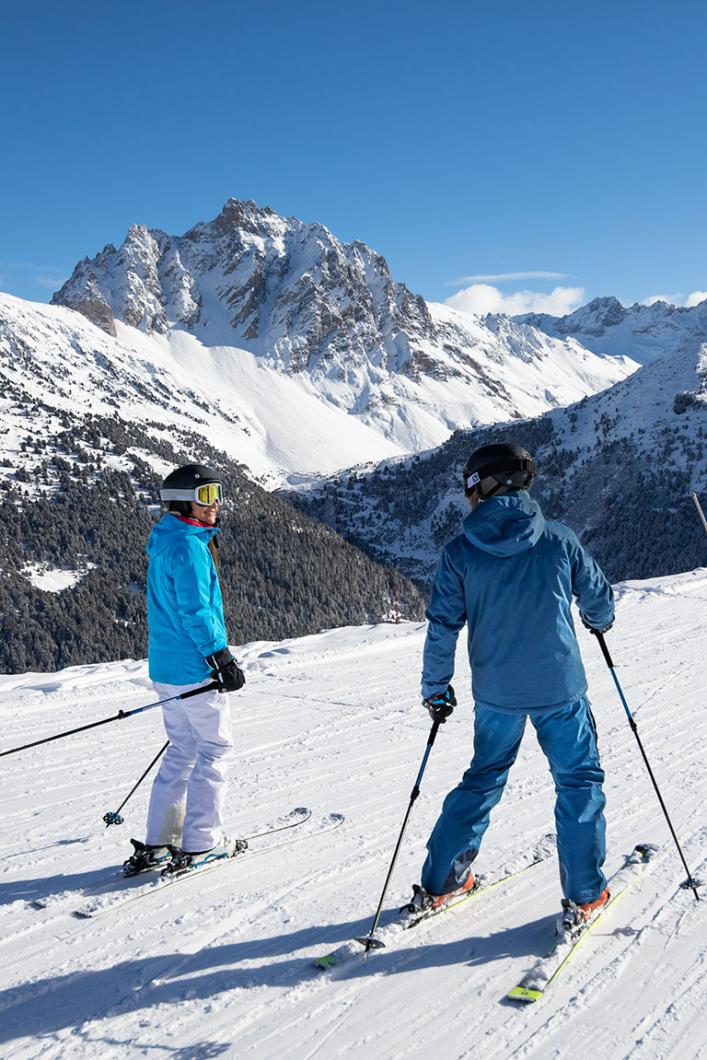 Skiers who want to immerse themselves in Les 3 Vallées on a holiday of 6 days or more can ski in complete freedom with a week skipass.

Thanks to a sliding price scale, this is equivalent in price to approximately 5 single days of skiing. So, over a 6-day stay, even if you choose to take a day off, the week skipass remains better value since the saving corresponds to more than one day. It's a great way to get a breath of fresh air in the largest ski area in the world at the best price.

Skiers can enjoy a fantastic break with a Solo Pass, or can share it with others thanks to a whole range of VERY good deals on ski passes designed for skiing with others: the Duo Pass is perfect for creating memories for two; the Tribu Pass is for relaxing on a group holiday; and the Family Pass is ideal for embarking on an adventure with all the family.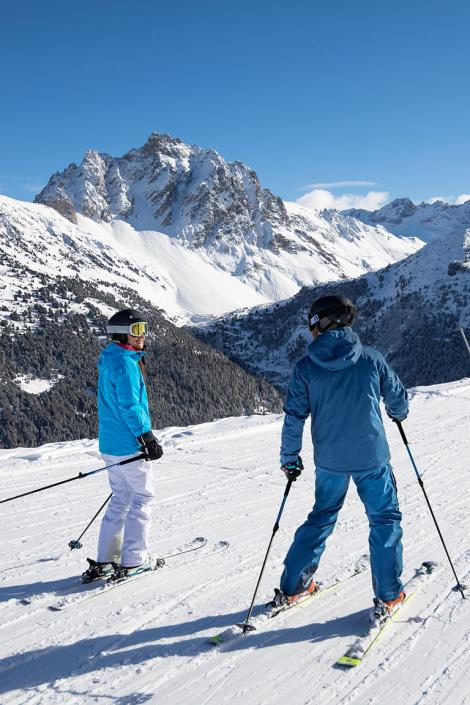 Skiers of all abilities intending to come for between 6 and 21 days can choose a custom-made skipass to create the perfect holiday.
Escape to Les 3 Vallées all winter long
with these 4 season passes
Once you have experienced the pleasure of skiing in Les 3 Vallées, you'll want to come back again and again. Keen skiers love their season passes which allow them limitless use of the ski area.
UNLIMITED 3 VALLÉES PASS
This Unlimited 3 Vallées Pass is your key to skiing thrills without time limits or restrictions, and offers an unparalleled experience of the snowy mountains.
With a pass in their pocket, the fortunate owners of an Unlimited 3 Vallées Pass (Solo for individuals, Duo for couples or Tribu for groups) can set out on skis whenever they want throughout the winter season. The Unlimited 3 Vallées Pass is free for children under 5 and for those 75 and over, and available at a preferential rate for those under 30 (new for this year).
The Unlimited 3 Vallées Pass includes some bonuses to enhance your experience of the mountains this winter! You can invite a friend to discover the ski area free for a day; enjoy thrilling toboggan runs; or spend an unforgettable season travelling around the world using your free ski days overseas ... Dream big this winter!
3 VALLÉES LIBERTÉ PASS
Subscribe to a 3 Vallées Liberté Pass to enjoy spontaneous and unrestricted skiing, without worrying about deciding your destination in advance.
This pass is for keen skiers who spend between 8 and 21 days on the slopes each season: it adapts to all preferences, and doesn't require payment in advance.
Each ski day is recorded and charged to your account in the evening, according to your itinerary. Several 3 Vallées Liberté passes can be charged to a single account. And in addition, you will benefit from preferential rates and loyalty benefits.
---
3 VALLÉES 2/7 PASS
For skiers who are determined to ski regularly despite their busy schedule, the 3 Vallées 2/7 Pass is undoubtedly the best compromise.

***NEW***
This new pass is designed for people who cram their skiing time into two days a week. These days may be consecutive or non-consecutive, and run from Monday to Sunday. Without worrying about recharging their ski pass, skiers simply set out on the slopes to enjoy the fabulous panoramas of the world's largest ski area.
3 VALLÉES SKIFLEX PASS
For those who want freedom to enjoy a few thrilling descents whenever they fancy, the 3 Vallées Skiflex Pass is the most flexible and easy to use.

***NEW***
It's yet another new product for the 2021/2022 season! This pass includes 20 lift rides per week, to be used whenever you like from Monday to Sunday. For example, you can make the most of the great outdoors by taking 2 to 3 ski lifts every day if you want! Or you can go further afield on the 600km of ski runs on one fun-packed day of skiing.
Making the perfect turn, carving and slicing through the snow…
Feeling the speed, a force that pushes you to confront both the slope and yourself, suspended in that unbelievable second when you're the one to decide where and when the next turn begins… There's such intense joy in mastering the moves, and doing so with ease, as if you're dancing with the slope to music chosen by you, to your rhythm, an intimate tryst you've been waiting impatiently for, where nothing else matters.
Order your skipass online for more skiing time!
So that you can enjoy every possible minute on your skis in Les 3 Vallées, your skipasses can be purchased and recharged online.
This offers you four major benefits!
Easy purchasing.
Our website offers you all the best deals. Once you have made your choice, you will receive your rechargeable passcard by post, free of charge, in a few days. (This applies even if you live outside of France, but make sure you allow sufficient delivery time.) If, however, you are already en route or in a hurry, opting to pick up your skipasses in the resort will still save you time.
Free cancellation.
If something unexpected happens or you have a last-minute change of plan, your ski passes can be cancelled free of charge until your 1st day of skiing, provided you have not used any ski lifts.
Quick recharging.
You can recharge your passcard online with the skipass of your choice, up to 5 minutes before you go skiing. It's simple, fast and eco-friendly!
Save time.
No time waiting at the sales office means more time on the slopes! As soon as you arrive, you are free to enjoy the 105km2 of skiing playground!
With a skipass bought in a few clicks, each skier in Les 3 Vallées will enjoy a freer and easier experience of the snow on the largest ski area in the world. Now you can dedicate yourself to the exhilaration and pure pleasure of 'le grand ski'!
A collection of sensations
The largest ski area in the world
Recharging your batteries on the 600km of ski runs in the largest ski area in the world is to experience the best in skiing: unlimited skiing! In this endless exploration of nature you never have to visit the same place twice, perfect for totally letting go. Les 3 Vallées offers endless skiing routes all over this huge outdoor playground.

As well as thrilling you with skiing adventures, Les 3 Vallées enthrals you by stimulating all your senses. Skiers are invited to create memorable moments: relax by the fireside of an alpine chalet; dare to scuba dive under ice; or taste the creations of great chefs on the mountainside. Get away from it all in this exceptional area!
Les 3 Vallées, your ski guarantee
Les 3 Vallées can be summed up in 3 words: freedom on skis! A network of state-of-the-art ski lifts and unique ski runs connect the 7 resorts making up the largest ski area in the world (Courchevel, Méribel, Brides-Les-Bains, Les Menuires, Saint-Martin-de-Belleville, Val Thorens and Orelle). The itineraries on offer allow you to pass through exceptional landscapes with breath-taking views. Climbing to the top of the Saulire, at an altitude of 2,740m, to admire a 360° panorama of the most beautiful peaks of the Alps, is worth all the gold in the world!
These treasures are accessible to every sort of skier, all season long. Everyone will find their happy place here: half of the ski runs offer fun skiing for beginners and intermediate skiers (green and blue runs) and the other half offer greater challenges for all-terrain skiers (red and black runs). The ski area is always snow-covered as 85% of it lies above 1,800m, which means snow is optimal from December to April. Snow and skiing are guaranteed!
Les 3 Vallées
The best of
skiing
It's no coincidence that Les 3 Vallées is THE n°1 destination for connoisseurs: in the world's largest ski area, a 600-kilometre network of doorstep skiing runs delights skiers of all abilities.