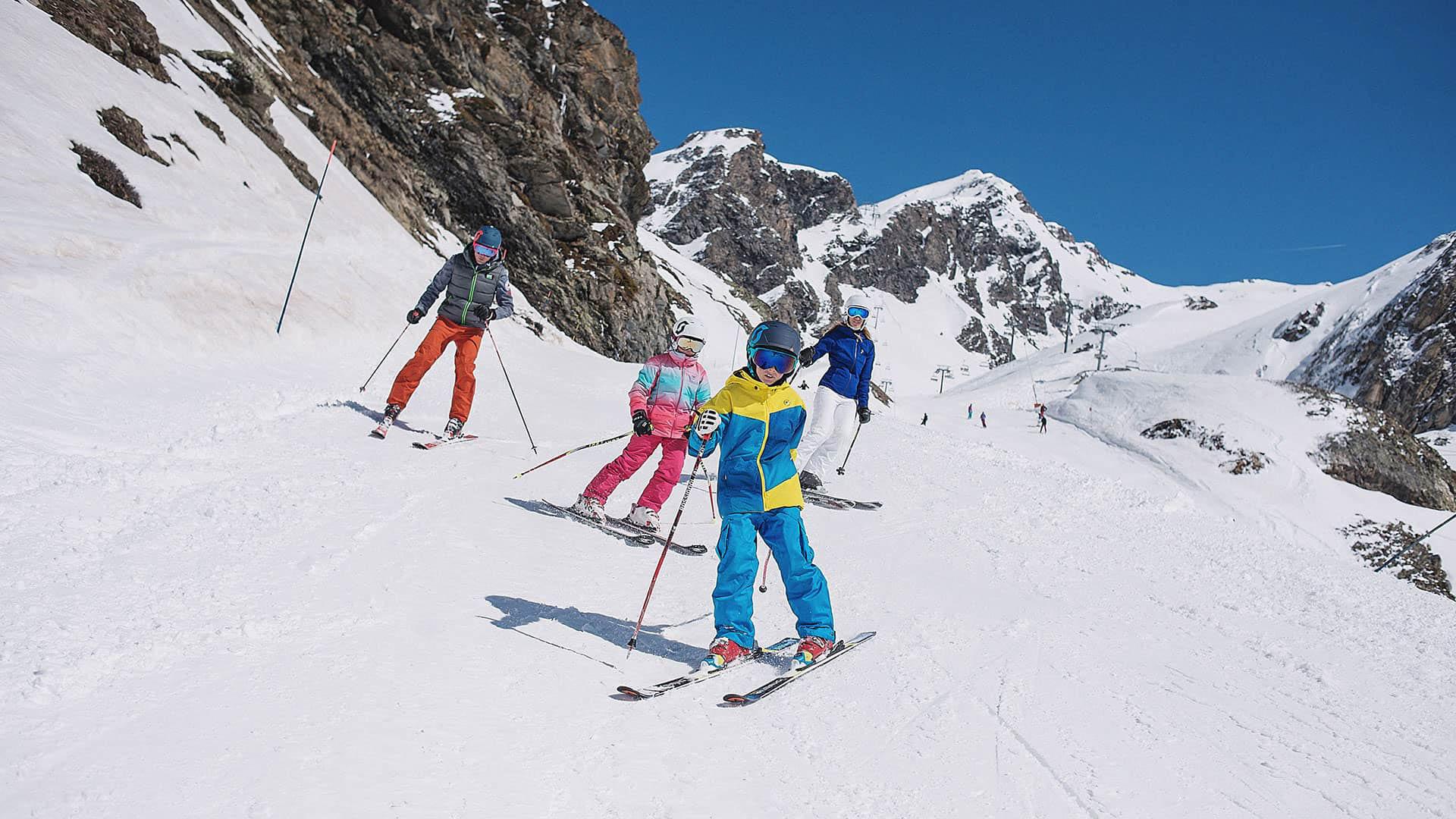 My day out with the family on blue runs
With children

With teens

For all

Family friendly
live and share the skiing experience with the family in les 3 vallées
The big blue. Les 3 Vallées is the world's largest ski area at all levels, and for all levels.
Resorts designed with families in mind
Les 3 Vallées's resorts have thought of everything to ensure your family ski holiday is easy and totally hassle-free. Most of the villages are ski-in/ski-out, which means that as soon as you step outside, you're already on the slopes, ready to put your skis on and set off on a family adventure over Les 3 Vallées' blue runs.
Easy skiing that's accessible to all
With more than 50% of the runs listed as green (suitable for beginners) and blue (easy), Les 3 Vallées is the perfect setting for wonderful family get togethers. Whatever level of skier you are, you can get the most out of the world's largest ski area with total peace of mind, and with those you love most in the world.
Safe ski lifts
Whether it's snow quality (guaranteed throughout the winter season, from December to April, due to the destination's exceptional geography), meticulous piste grooming (with extra special attention paid to the blue runs and beginner's areas), or even child-friendly ski lifts fitted with protection systems, thanks to its world-class conditions, you can learn to ski in total safety in Les 3 Vallées.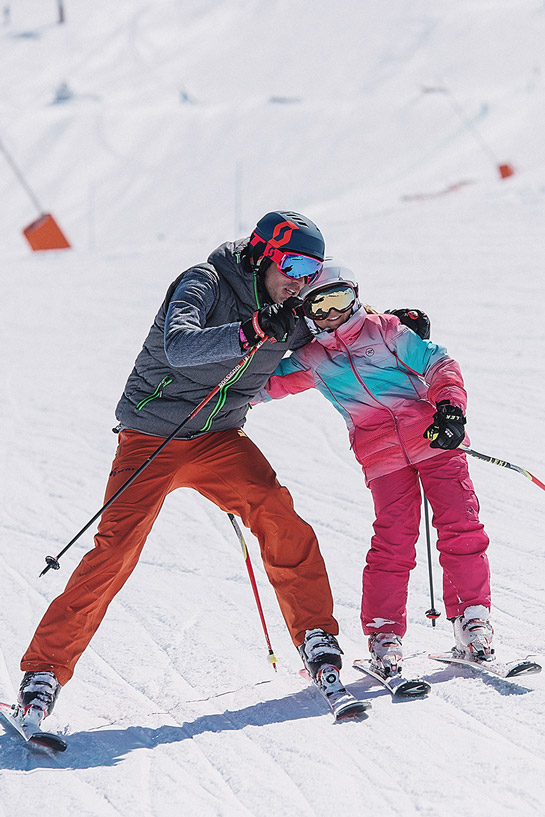 An incredibly user-friendly 3 Vallées skipass has been designed with families in mind.
With Les 3 Vallées Family Pass, the whole family can ski Les 3 Vallées and only pay the child's price!
The exhilarating thrills of the summits are within everyone's reach
In Les 3 Vallées, high summits boasting unique panoramic views over the surrounding valleys and mountains are not only for experienced skiers: here, you can go from one valley to another, and one mountainside to another, using just blue runs, taking you to new heights as a family. Magical family moments that will stay etched in your memory forever.
Amazing scenery, at your ski tips
Les 3 Vallées resorts enjoy stunning views and incredible landscapes. Explore them as a family following easy blue itineraries: ski at low altitude alongside forests, with deciduous trees on one side and evergreen conifers on the other, slalom along paths, before making beautiful turns on the wide-open snowy boulevards, and go from high mountain surroundings to the heart of age-old hamlets.
TWO ITINERARIES ON BLUE RUNS DESIGNED FOR FAMILIES
From Val Thorens to Courchevel on blue runs
Stroll in the Belleville Valley
Start out from Val Thorens, then head towards Les Menuires along the Cairn, Tétras and Boulevard Cumin blue runs.
Take the Roc 1 and 2 ski lifts, then ski over the Grand Lac, Pelozet and Biolley blue runs that will lead you to the typical village of Saint-Martin-de-Belleville – a true picture postcard setting that makes for a wonderful place to stop off in the Belleville Valley!
Top of Tougnète
Then, make your way up to the top of Tougnète at 2,437 metres, and soak up the stunning views.
Not bad for beginner skiers, eh?! Next, you're off to Méribel centre along the Crêtes, Choucas, Roc de Fer and Gelinotte blue runs.

View from Col de la Loze
Another view lies in store: this time it's the Col de la Loze, up at 2,305 metres. The Col de la Loze, Loze Est (green), Arolles and Folyères blue runs lead you through forests and clearings to the heart of Courchevel-La Tania, "Les 3 Vallées best-kept secret"!
Fun run in the American wild west
Make your way back towards the summits through Courchevel 1850, and then the quieter, sunny slopes of Courchevel-Moriond. Don't miss the blue Indiens fun run, taking you through the American wild west! Then its full steam ahead along Les Petites Bosses green run to see who'll get to the bottom first!
End an amazing day
From the top of Les Marmottes chairlift, you'll head back to the neighbouring valleys: Méribel centre first, then Méribel Mottaret. Just two ski lifts (Plattières gondola lift and Côte Brune chairlift) later and you'll be skiing over your last 2 blue runs of the day - Pluviomètre and the Boulevard des Echauds – what an amazing day!

From Courchevel to Orelle on blue runs
Panoramic view from La Saulire
It all starts in Courchevel-Moriond: head off from here to get to the Saulire summit: how do you fancy kick-starting your day with unique panoramic views at altitudes of 2,740 metres!?
Tougnète
Go through the centre of Méribel, where you'll be treated to your second breathtaking view, of Tougnète this time, reaching up to 2,437 metres. Then, ski off along the Crêtes, Jérusalem and Biolley blue runs, until you get to the beautiful village of Saint-Martin-de-Belleville.
Cross Les Menuires
From here, head towards Les Menuires via Gros Tougne (blue) and Violette (green), and then over to Val Thorens.
Orelle area
At the top of the Peclet Funitel, the Tête Ronde and 2 Combes runs will lead you to the Portette chairlift, waiting to whisk you up to the Thorens Funitel. Ski over the blue Lory run, which will take you to the slopes of Orelle – wow, look how far you've come!
Breathtaking views from Col de la Chambre
Then it's back to Val Thorens, and the Col de la Chambre, with more breathtaking views at 2,850 metres. From there, the Lac de la Chambre blue run will lead you to Méribel Mottaret.
Tuéda, a truly magical place
If the snow allows, the blue Ours run offers wonderful scenery of the Tuéda Nature reserve at the heart of the forest, which is a truly magical place for children to discover the mountain wildlife and plantlife.
One for the road
Then it's time to make your way back towards Courchevel, but treat yourself to one last run first to Courchevel-Village via Cospillot (which winds its way between chalets – the kids will love it!) and the blue Tovet run.
Sharing and reunion
To discover
with the family
The shared experience of a ski holiday is a highlight for any family, bringing its members closer together, withstanding the passing of time, filling photo albums and leading to many a funny story at family dinners… Skiing as a family brings you together somewhere else, allowing you to reach new heights !