EACH TO THEIR OWN 3 VALLÉES
Like a good book, where the reader devours the story while creating his or her own vision of the characters and places described by the author, Les 3 Vallées is also perceived differently by each of us: a huge adventure playground for experts, a beautiful setting for friends and family to reunite, and a land of discovery for beginner skiers.
Everyone will find what they came for, though their experiences will be different, ever-changing, and cumulative: this land of discovery where you learned to ski may well become your adventure playground as your ability progresses, or the place to get together with your best friends, or indeed both!
You've got it: Les 3 Vallées ski area is unique...
And there are as many ways to experience it as there are skiers...
THE FAMILY
For the joy of both being together and somewhere different, to discover and share the pleasure of skiing and the beauty of the mountains with those you love.
Les 3 Vallées ski area was created with families in mind, so that everyone can enjoy a safe, worry-free stay. This vast naturally site has been designed and developed for every skier, whatever their age, desire, or level. From the very first snowsports experiences in areas dedicated to beginners, to the magical itineraries of a terrain that will quickly become accessible to your whole tribe: a family skiing holiday in Les 3 Vallées will remain forever engraved in your memory.
Les 3 Vallées ski area is accessible to everyone, with more than half of the runs classified as green and blue, in other words, easy! This means there's a huge potential of wide and gentle slopes for your young skiers to quickly master as they discover the unique joys of snowsports.
To take the experience further, and truly embrace the natural mountain environment, you'll find some hidden gems of runs criss-crossing the forests, others nicely dotted with examples of the local fauna and flora, and many leading to stunning views.
Les 3 Vallées ski area boasts several specifically designed fun zones, providing plenty of fun, laughter, and learning! Adults and children alike will delight in slaloming through the beautiful scenery and different atmospheres. Create or awaken childhood memories as you cross snow bridges and whizz around banked turns.
And thanks to the ski instructors, you'll be amazed how fast your mini-skiers learn, revelling in the pride they take in showing-off their progress. Les 3 Vallées offers a smart, upbeat way to have a great time as a family, while also taking a little time to ski and relax with the adults.
And finally, enjoy the clean, fresh air, family-friendly outdoor activities and no stress! If you haven't already tried it, discover a whole host of benefits for your whole family up in the mountains.

LEARNING
Age is of no importance…let yourself go and discover the sheer joy of skiing, as it releases emotions and provides unique sensations like no other. Learning is a different experience for children and adults: while children are used to being in the position of a learner, this is often no longer the case for adults.
However, all those working in Les 3 Vallées are particularly keen to offer beginners of any age the best possible conditions for learning, in comfort and safety... without forgetting to have fun!
More than 190 runs are classified as easy, and designed for gentle skiing, with large areas dedicated to beginners of all ages, all in a happy, tranquil atmosphere: Les 3 Vallées is the perfect place to learn to ski!
What's more, several ski lifts across Les 3 Vallées are totally free of charge, allowing beginner skiers to get started at a very low cost, before going further and higher...all the way to the top!
The optimal conditions for learning can sometimes seem like mere details, but they often make a big difference: especially where exceptional grooming of the slopes and snow conditions are concerned... two very important details when learning to ski!
Finally, whatever your age or your objectives, the teaching methods of an ESF French Ski School instructor ensure efficient and swift progress for everyone, whether in private lessons or in a group with other beginners... (where some fun banter and great team spirit are guaranteed!).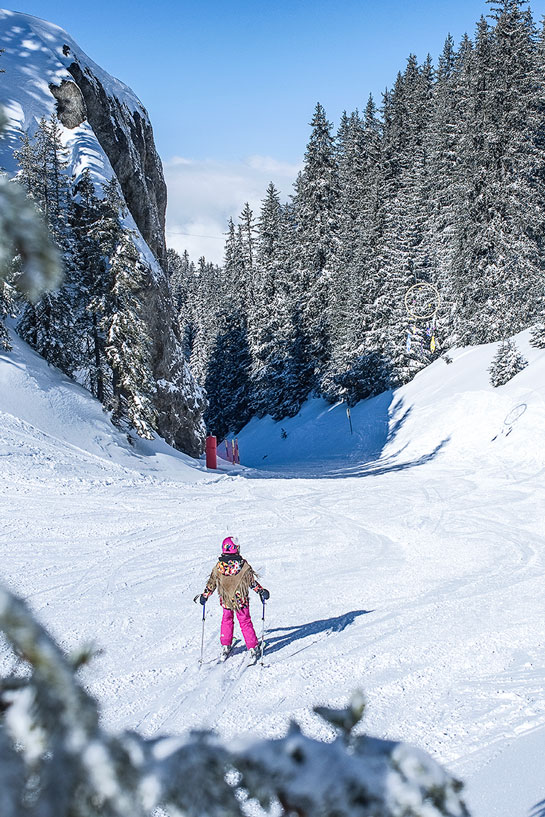 The mountain summits are not just for strong skiers; many easy itineraries invite those who are new to skiing to reach new heights as well.
A ski area perfect for beginners
Make magical memories
Getting together with friends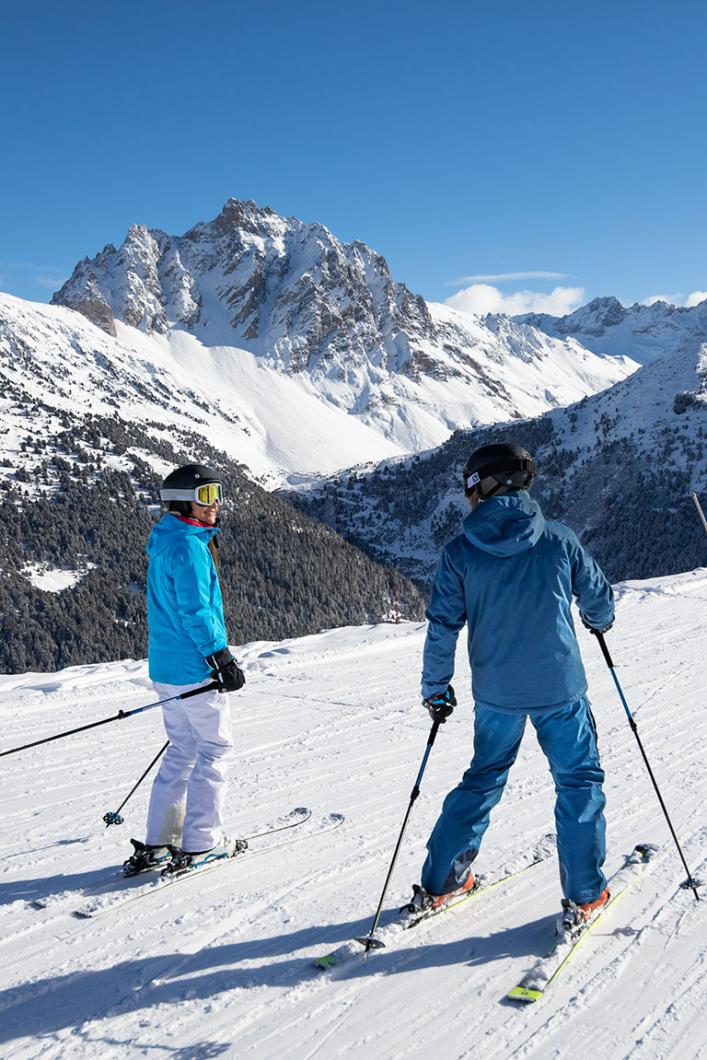 Who hasn't dreamt of enjoying a ski holiday with friends?

Levels, needs and expectations are not always the same though when there's a few of you, and this is where the design of Les 3 Vallées ski area proves its worth, perfectly adapted for a group holiday.

The many variations available mean skiers of different levels can ski together and enjoy a great day on the slopes. Everyone can go at their own pace and ski according to their abilities, while being able to find each other easily and quickly at the chosen location.

Make magical memories throughout the whole area, without forgetting the sunny terraces, the high-altitude dancefloors or delicious dishes to be shared by the fire, all perfect for making friends for life.
Precious time spent together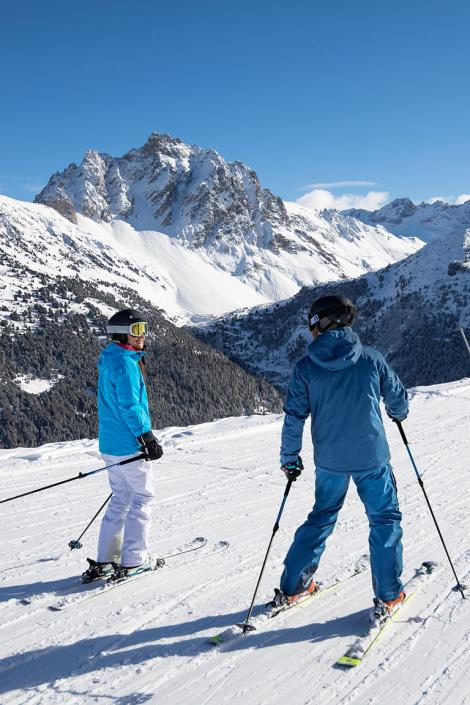 A PLAYGROUND FOR EXPERTS
The world's largest ski area has never failed to deliver on its promise of great skiing, with endless slopes, steep walls, forest trails and incredible views. Skiers from all over know exactly why they chose this destination.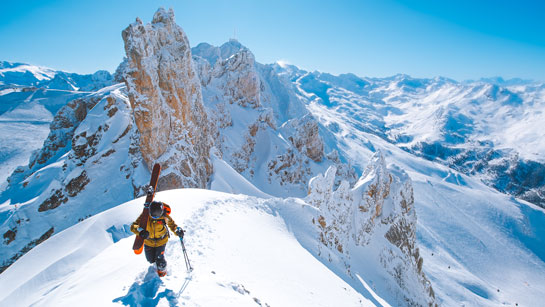 The runs, located at an ideal altitude (85% of them are above 1800 metres), guarantee reliable snow cover.
Connections between the different valleys and resorts are fast and smooth, with an incredible network giving you access to the world's largest ski area throughout the winter season. The size and topology of the area also ensures that there is always somewhere to ski with ideal conditions, whatever the weather.
Amongst the 600 km of runs here, some are legendary, but they are far from all this extraordinary playground has to offer: countless freeride and ski touring routes are also available to skiers in search of adventure and totally untouched slopes.
At the gateway to the Vanoise National Park, and surrounded by 25 peaks accessible via the ski lifts, the possibilities are endless in Les 3 Vallées...
Les 3 Vallées
The best of
skiing
It's no coincidence that Les 3 Vallées is THE n°1 destination for connoisseurs: in the world's largest ski area, a 600-kilometre network of doorstep skiing runs delights skiers of all abilities.