Me time!
In Les 3 Vallées, the accommodation choices are as endless as the skiing possibilities! To take your stay in the pure fresh air of the mountains to new heights, well-being is the new watchword for many apartments, hotels, chalets and tourist residences, where it feels good to relax and unwind!
Picture this: after a day on the slopes of the world's largest ski area with family or friends, soaking up exceptional panoramic views of nature, trying your hand at non-skiing activities in the fresh air, your cheeks aglow… it's time to relax, and what better way to do that than in water!
The water of a warm and inviting spa, where you can swap your skis and boots for a bathrobe and slippers!
Go for a swim to soothe your tired muscles,
Relax in a sauna or steam room to ensure you're on fine form the following morning,
Or be massaged by expert hands to give your body the relaxation it craves.
Here's an overview of some of Les 3 Vallées's well-being accommodation choices.
Across Les 3 Vallées' resorts, temples of well-being have been created; genuine havens of peace and tranquillity where you can recharge your batteries after a day in the great outdoors.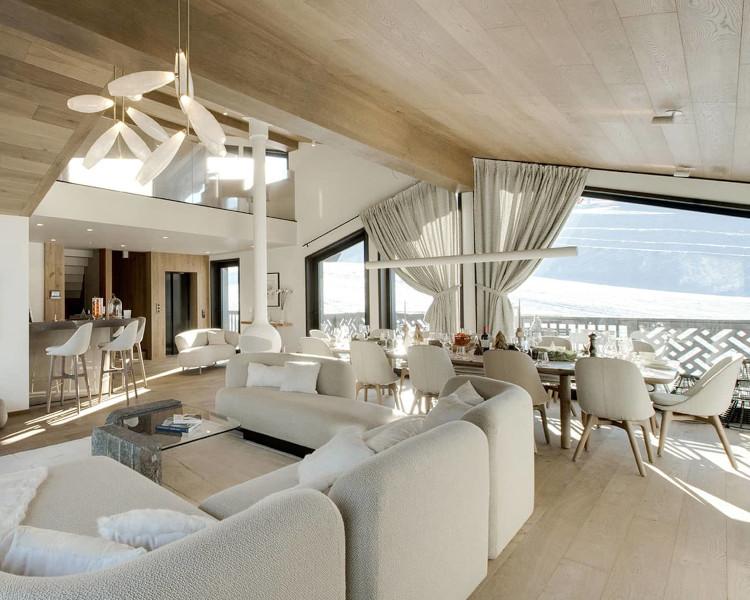 Book your stay
Les 3 Vallées Travel is: a team 100% at your service, a perfect knowledge of Les 3 Vallées area, personalized advice, a selection of the best accommodation in each resort of Les 3 Vallées, an infinite number of possibilities...
In Courchevel
Spa Cheval Blanc
Treat yourself to a little pampering at the Spa Cheval Blanc, in the heart of the Jardin Alpin. In this gem of luxury and comfort, Guerlain treatments and rituals have been specially designed to prepare you before you hit the slopes, and to help you recharge your batteries afterwards. Here, you'll find crystals, ice fountains, a swimming pool, Jacuzzi, whirlpool bath, outdoor Russian banyas… as well as a cryotherapy sauna and steam room to round off this moment of absolute plenitude.
info.courchevel@chevalblanc.com / +33 (0)4 79 00 50 50
Six Senses Residence & Spa
Set at the entrance to the resort, in a zen, light-filled atmosphere, the Six Senses Residence & Spa has come up with the perfect treatment for muscle recovery: a pressotherapy treatment that oxygenates aching muscles through the use of NormaTec dynamic compression boots. With your circulation improved, you're ready to take on the slopes of the world's largest ski area again!
reservations-courchevel-spa@sixsenses.com / +33 (0)4 79 41 25 25
Spa hotel Annapurna
In a slopeside location on the heights of Courchevel, the 5-star hotel Annapurna hotel's spa boasts an outdoor pool overlooking the mountains, an indoor pool, a panoramic Jacuzzi and sauna, as well as treatment rooms. Here, you can enjoy the "Annapurna Signature" treatment, inspired by world champion skier, Alexis Pinturault, whose family owns the property. It consists of a Thai muscle warm-up, followed by a deep tissue back massage, relaxing lymphatic drainage of the arms and legs, an abdominal detox, and a face-lifting massage.
info@annapurna-courchevel.com / +33 (0)4 79 08 04 60
Spa hotel Les Airelles
A world of well-being, sport and beauty, the spa at the 5-star Hotel Les Airelles features exceptional equipment. Treatments are provided using products from the prestigious La Mer brand, including the "Intraceuticals oxygen infusion ®". Using cutting edge technology, this experience infuses an active serum into the deepest layers of the skin (face, neck and décolleté), for visibly rejuvenated skin with a lasting effect.
info@airelles.com / +33 (0)4 79 00 38 38

In Méribel
Spa NUXE, hotel Le Kaïla
The NUXE Spa at Le Kaïla hotel offers visitors a multi-sensory experience to relax both body and mind. The aqua area, with an indoor pool surrounded by bay windows, an aquamarine circuit, two geysers, a swim lane, waterfall and Jacuzzi is rounded off with 6 treatment rooms, 3 of which are doubles, for unforgettable experiences together. Embark on «Le 32 Montorgueil holistic getaway»: an experience to discover Nuxe know-how. 4 treatments over 4 days, totalling 3 hours and 45 minutes of treatments for radiant skin and a feeling of absolute well-being.
reservation@lekaila.com / +33 (0)4 79 41 69 20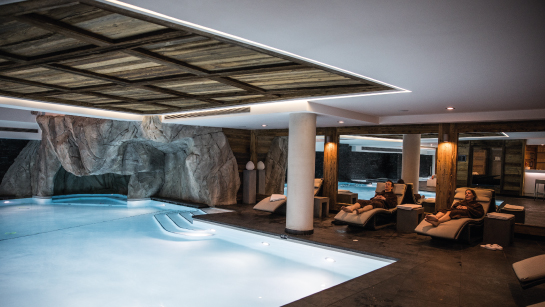 Spa hotel Éterlou
Fancy a dip in an outdoor pool in the heart of Méribel where you can swim beneath the snowflakes at nightfall? You can do just that at the Éterlou hotel, and there's a steam room and whirlpool bath too! Forget about feeling tired, relax and let us take care of the rest: the spa area features 6 treatment rooms (including 3 doubles) with soft, warm tones creating a harmonious cocoon of comfort. What treatment will you choose to perfect this timeless moment!?
reservation@hoteleterlou.com / +33 (0)4 79 08 89 00
Spa des Neiges by Clarins, hotel Allodis
After a day in the fresh air, immerse yourself in the comforting and intimate atmosphere of the Spa des Neiges by Clarins at the Allodis hotel, facing the snow-capped summits of Les 3 Vallées. A large selection of treatments awaits you in this welcoming setting, inviting you to relax like never before. Try the «Clarins High Mountain Treatment» for example, perfect for ridding you of muscle and joint tension built up over the day.
contact@hotelallodis.com / +33 (0)4 79 00 56 00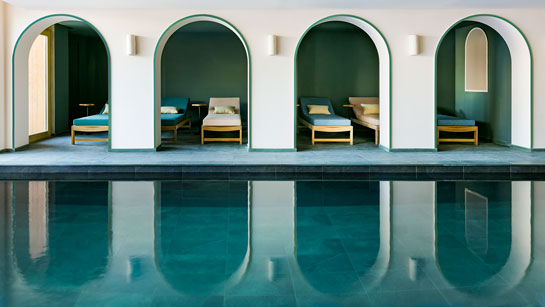 Spa Tata Harper, hotel Coucou
Nestling within the 5-star Coucou hotel, discover the Tata Harper Spa, using products by the pioneering natural luxury skincare brand, who makes its entrance to the mountains for the first time. In the chic, relaxed ambiance created by interior designer Pierre Yovanovitch, discover exclusive treatments developed specially for the hotel, such as the «Signature Facial Treatment» and the «Cold Weather Treatment», as well as the «My First Facial» for younger guests. Non-skiers are spoilt here with a package designed with them in mind: «Experience day Spa»: a full day including shuttle transfers in the resort, 3 hours of treatments (facial, body scrub and massage), 1 detox juice, access to the snack buffet and the spa's aqua area with 2 heated pools, a sauna and steam room.
reservations@lecoucoumeribel.com / +33 (0)4 57 58 37 37

In Brides-les-Bains
Spa Cinq Mondes, hotel Mercure
The Cinq Mondes Spa at the 4-star Mercure hotel – Grand Hôtel des Thermes was totally refurbished in 2015 to offer the most authentic treatments, inviting you to embark on a discovery of beauty and well-being throughout the world. Try the delicious "Ritual of the Orient", which comprises a session in the steam room, a purifying black soap scrub, a purifying and detoxifying body wrap, and an oriental massage with argan oil.
H9860-OM@accor.com / +33 (0)4 79 55 38 38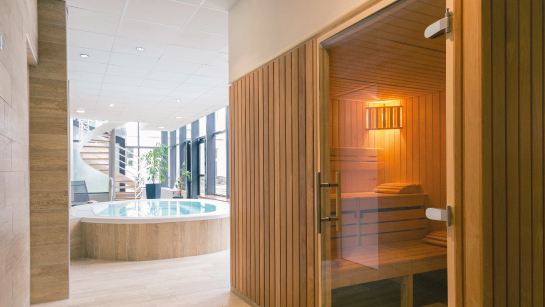 What's your dream accommodation?
Find the hotel, apartment, residence or chalet to suit your pace, style and needs! Design, family-friendly, authentic, cocooning or unusual… Set the tone to your holiday in Les 3 Vallées.
In Les Menuires
Spa NUXE, Ours Blanc hotel
It would be hard to find a setting better suited to relaxation than the Spa NUXE at the 4-star Ours Blanc Hotel, with its XXL Jacuzzi bath boasting breathtaking views over the peaks! Enjoy the indoor and outdoor pools, sauna, steam room, herbal tea selection, ice cave and a treatment menu to help you relax and satisfy your every whim.
reservation@hotel-ours-blanc.com / +33 (0)4 79 00 61 66
---
In Saint-Martin-de-Belleville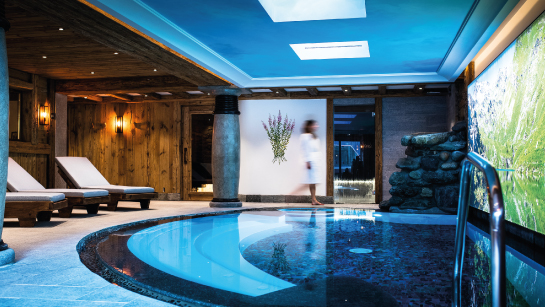 Spa "La Béla Vya", hotel La Bouitte
«La Béla Vya» Spa exudes the same feel as the 5-star La Bouitte hotel in which it nestles. Protective warmth and peaceful calm… experience the true pleasure of the here and now. An indoor lake, citrus steam room, hay sauna, outdoor Jacuzzi… this spa is like no other! The same can be said for its signature treatments, «The Marmot's Den», a green clay body wrap to enjoy on your own or with a friend or family member; or «Le Bain de Marie», combining mountain milk and honey for softer, more radiant skin.
info@la-bouitte.com / +33 (0)4 79 08 96 77
Spa Lodji, L'Alp' Hotel
Set in the village, the former Alp' Hôtel has expanded to become the new Lodji hotel. With a focus on well-being, 10 of this hotel's bedrooms have their own private Jacuzzi, and 2 of its 3 apartments have their own Jacuzzi! Guests will also enjoy the well-being area with its «Signature Massage»: the promise of total relaxation after a busy day on the slopes of Les 3 Vallées!
reservation@lodji.fr / +33 (0)4 79 08 92 82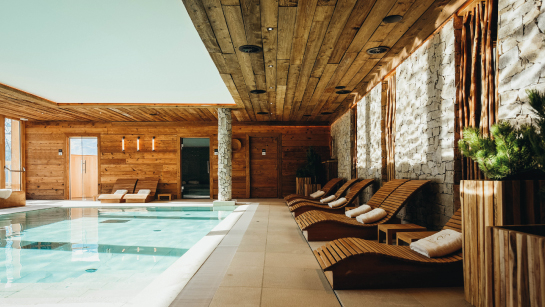 In Val Thorens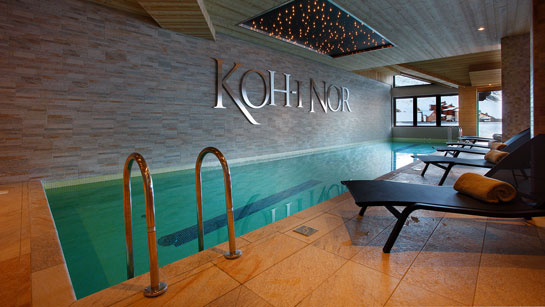 Black Diamond Luxury Spa, hotel Le Koh-I Nor
In the highest ski resort in Europe, the Black Diamond Luxury Spa extends over 800m2 and is a haven of peace inside the 5-star Koh-I Nor hotel. In addition to its two swimming pools, experiential showers, ice fountain, sauna, steam room, Jacuzzi, solarium… with its Himalayan salt wall, the relaxation room is a big hit. Amongst the treatments by Valmont and Phytomer, the «Signature Treatment» is hard to beat: lasting 60 to 120 minutes, depending on your physical and emotional needs, it uses lithotherapy (harnessing the benefits of stones and crystals), aromatherapy and sophrology techniques to relax both body and mind.
info@hotel-kohinor.com / +33 (0)4 79 31 00 00
Spa by L'Occitane, hotel Le Pashmina
In the spirit of adventure and pioneers, Val Thorens' 5-star Pashmina hotel boasts an open-air hot tub on its terrace, from where you can admire the ballet of skiers in this stunning natural white cirque. Designed as an after-ski treatment, the "Signature Massage" at the Spa by L'Occitane will blow you away: alternating between gentle and firm pressure, it promotes a feeling of relaxation and lightness in your deep muscles!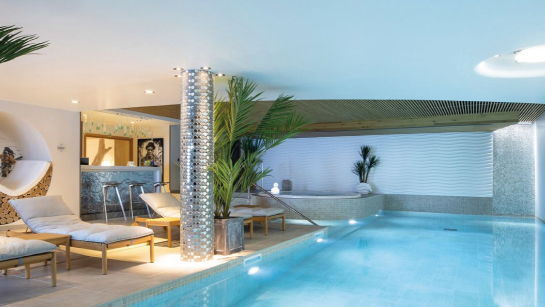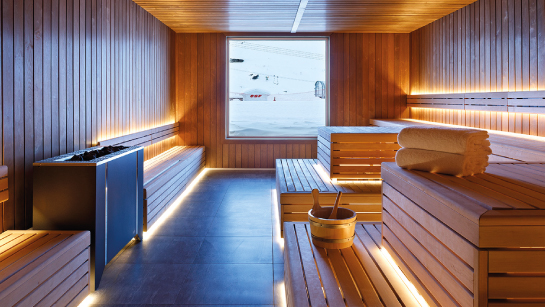 Spa NUXE, hotel Marielle
There's nothing quite like a moment of relaxation in the Marielle hotel's NUXE Spa after a day on the slopes. Go fo the 1-hour "Signature Massage" that draws on the power of minerals (rock crystal and starred diopside to be precise) to help the body relax and regain its suppleness. Experience a sense of absolute well-being, enhanced by a moment in the steam room and sauna.
reservation@hotelmarielle.com / +33 (0)4 58 24 00 80
---
In Orelle
Spa Le Hameau des Eaux d'Orelle
Just 5 minutes from the gondola lift, Le Hameau des Eaux d'Orelle residence is comprised of 8 chalets, a restaurant, grocery and spa with a pool and treatment rooms. The "Soleil Levant and Soleil Couchant Rituals by Decléor" are two complementary treatments to prepare your skin for the sun and prolong its effects, and to moisturise and nourish the skin after a day in the sunshine.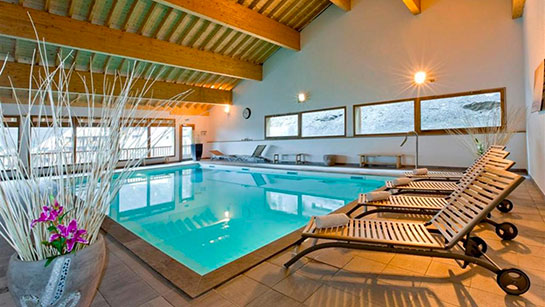 ---
If you're not staying in a hotel or residence that provides this type of well-being service, but still want to treat yourself to a moment of relaxation, don't worry, Les 3 Vallées' resorts have thought of everything, with facilities open to all.
Aquamotion in Courchevel-Village with its Aquawellness area, where you can relax and enjoy unusual treatments such as cryotherapy (cold body therapy to reduce pain and inflammation).
The Pure Altitude Spa at Méribel's Olympic Park offers a number of different massages, including the Lomi Lomi massage, sports massage, candle wax massage and mum-to-be massage.
The Grand Spa Thermal in Brides-les-Bains is the perfect place to combine skiing and well-being at the foot of Les 3 Vallées. Its Watermass slimming treatment uses the palper-rolling technique to rid the body of toxins.
Les Menuires sports centre and its «5 elements» hot and cold massage, using bamboo, stones and water balls.
The newly refurbished Val Thorens sports centre, which will be reopening its doors in December 2022 !
Recharge your batteries
Wellness
and relaxation
Escape to a place of peace and quiet made just for you. Up close and personal with nature and wide-open spaces, fill your lungs with pure mountain air, let a sense of well-being and relaxation take over.