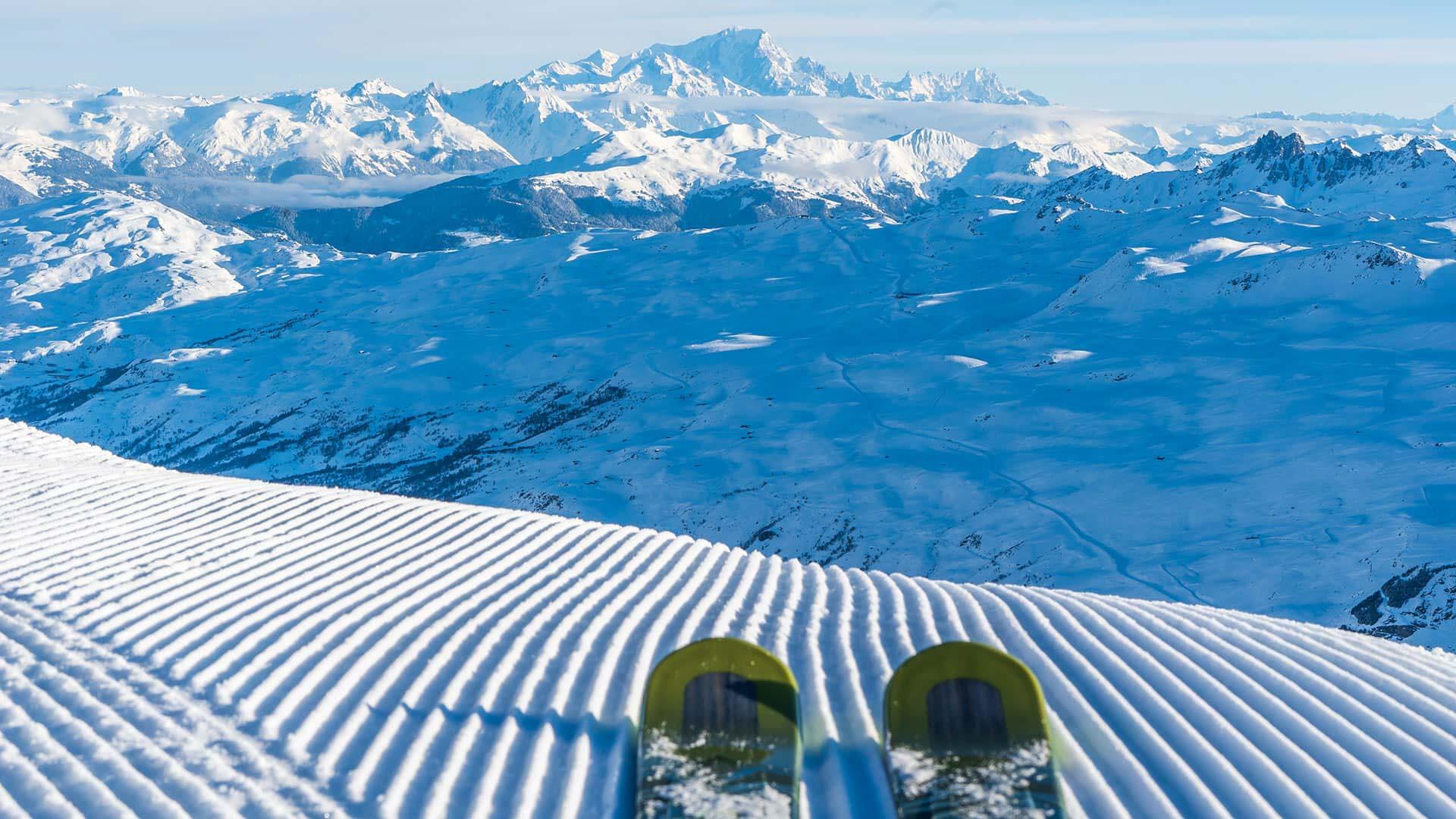 The world's largest ski area
Quite simply the best of Skiing
It's no coincidence that Les 3 Vallées is THE n°1 destination for connoisseurs: in the world's largest ski area, a 600-kilometre network of doorstep skiing runs delights skiers of all abilities. An infinite choice of itineraries; top-notch snow and piste grooming; an extraordinary variety of landscapes offering completely different ski atmospheres and breath-taking panoramic views; a fleet of ski lifts at the cutting edge of comfort, innovation, and safety… All these elements combine to create the ski area's overall appeal, the guarantee of one of the best possible ski breaks, as much in terms of snowsports as in thrills and memories to share.
600 kilometres connecting 339 doorstep skiing runs
And the ski area is as just as well-designed for beginners and children as it is for experienced skiers! The runs are categorised as follows:
That comes to a total of almost half easy runs and half expert runs. One or two legendary runs will be an unmissable part of the itineraries you'll design for yourself on the world's largest ski area: Roc de Fer, Jérusalem, Mauduit, Lac du Lou, M, Jean-Blanc…
The world's largest interconnected ski area
Les 3 Vallées is the world's largest ski area; let the figures do the talking!
Open for 5 months (a total of 150 days): skiing and snow guarantee
Thanks to its natural characteristics and regular top-ups with artificial snow (over 2,300 snowmakers covering almost 50% of the ski area), for 20 years now Les 3 Vallées has been able to guarantee opening from the beginning of December to the end of April.
The runs are located between altitudes of 1,100 metres and 3,230 metres (inter-valley connections are also located on mountain ridges above 2,000 metres, for optimum snow cover and ease of passage), 85% of the ski area is above 1,800 metres and 25 summits are accessible via the ski lifts, including 10 above 2,500 metres!
Fantastic snow for amazing skiing throughout the season.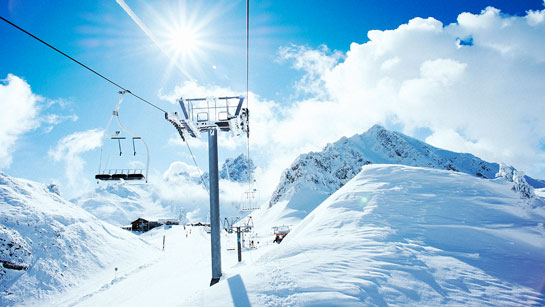 162 ski lifts: travel in comfort
Les 3 Vallées has always been a ski lift pioneer. Some, such as Val Thorens' FUNITEL, were even invented in the world's largest ski area. Today, that technology is exported throughout the world. The higher performance the ski lift, the shorter the wait (you barely ever queue in Les 3 Vallées) and the more skiing there is to enjoy!
Among the 162 ski lifts the ski area offers, some are simply unmissable and an essential part of any trip to Les 3 Vallées. That's the case with the Saulire and Caron cable cars in Courchevel and Val Thorens, and La Masse, Saulire Express and Mont Vallon gondola lifts in Les Menuires, Méribel and Méribel-Mottaret.
Safety and comfort in Les 3 Vallées
Les 3 Vallées' priority is your safety, so we can guarantee you a hassle-free, worry-free stay. And the world's largest ski area doesn't exactly lack for resources when it comes to achieving that goal…
Velvet-soft snow grooming
Les 3 Vallées boasts exceptional quality snow grooming. A total of 70 piste groomers cover the entire ski area, which equates to 160 piste groomer drivers working in shifts throughout the night: the first team works from 5pm to midnight, then the second continues from midnight to 7am. The ski runs are maintained every night, with the green, blue, and red runs as a priority, along with Les 3 Vallées' connections. The black runs aren't systematically groomed, for the enjoyment of fresh snow and mogul fans!
Safety on the slopes
Night and day, hundreds of men and women work under cover of darkness to guarantee skier safety and ensure Les 3 Vallées' ski area runs smoothly. They are the ski patrollers and operations managers in charge of safety and ski runs, snowmakers, ski lift operators… you never see them, but none of this would be possible without them: exceptional snow quality, dream ski runs, an ingeniously designed fleet of ski lifts, complete ski safety! In numbers, that translates to:
3,000 instructors and guides
1,500 ski lift operators, ski patrollers, snow groomer drivers, snowmakers…
4,000 protective crash pads (on pylons and snow cannons)
Signage designed to make it easy to find your way around Les 3 Vallées ski area
28,500 markers coloured to match the various ski run categories are spread over the entire ski area, so you can get around and be sure that you're sticking to the ski runs that match your ski ability.
To ski in total safety when the weather's looking a little unpredictable, and particularly in foggy conditions, stick to the orange-tipped markers: they demarcate the RIGHT-HAND edge of a run, in a downhill direction, so you'll always know where you're skiing!

Finally, the round signs coloured to match the level of ski run you're on, are numbered. The numbers go in decreasing order from the top of the run: so, the closer you get to 1, the closer you are to the bottom of the run!
Thanks to highly trained staff and year-round maintenance, Les 3 Vallées ski lifts are extremely reliable and completely safe to use. Ingenious child-friendly systems have even been invented and put in place.
Keeping the ski area safe in heavy snowfall
Gazex, Catex, Obell'X (distance-based avalanche blasting systems, using combined hydrogen/oxygen gas explosions) are all installed in the ski area, allowing us to blast avalanches and keep Les 3 Vallées safe in heavy snowfall.

As well as these widespread technologies, drones are now also playing a part in slope safety: searching for lost people day and night using thermal cameras, locating avalanche sites to assess the situation and decide which methods to use from afar, surveilling dangerous sites, technical inspections of avalanche blasting equipment, evaluating the feasibility of projects on the ski area and even keeping an eye on snow cover, these drones are a remarkable step forward that allow our staff to take fewer risks.
How can you stay informed on the ski area?
Whether it's the skipass sales representatives, the operatives at the top or bottom of the ski lifts, the ski patrollers… Les 3 Vallées personnel are authorised to provide useful information. On the resort snow fronts, in the Tourist Offices and ski lift stations you'll also find information boards telling you what's going on in the ski area. And finally, the 3 Vallées app provides real-time information about ski area opening times and more.
Alternating sceneries
A variety of ski atmospheres in Les 3 Vallées!
Les 3 Vallées is always fantastic, but never the same! That's one of the advantages of skiing in the world's largest ski area: alternating between valleys, villages, panoramas, and altitudes…

* In Courchevel-Moriond, discover Les Chapelets and the Piste des Indiens' wild, natural canyons. Head down to Courchevel-La Tania on the stunning Folyères blue run that winds through the forest.
* In Méribel, set out on a peaceful odyssey through the woods towards the Altiport, then on to Méribel Village. Reach for the heights at Mont Vallon before enjoying unparalleled snow in the valley below. In the Belleville Valley, get your fill of stunning turns in a spot where barely anybody goes.
* Then it's time for Val Thorens' high mountain summits. Next, a little change of direction is all it takes to find yourself in Orelle's high mountain atmosphere…

So, has that made you want even more of Les 3 Vallées!?
Skiers of all abilities intending to come for between 6 and 21 days can choose a custom-made skipass to create the perfect holiday.