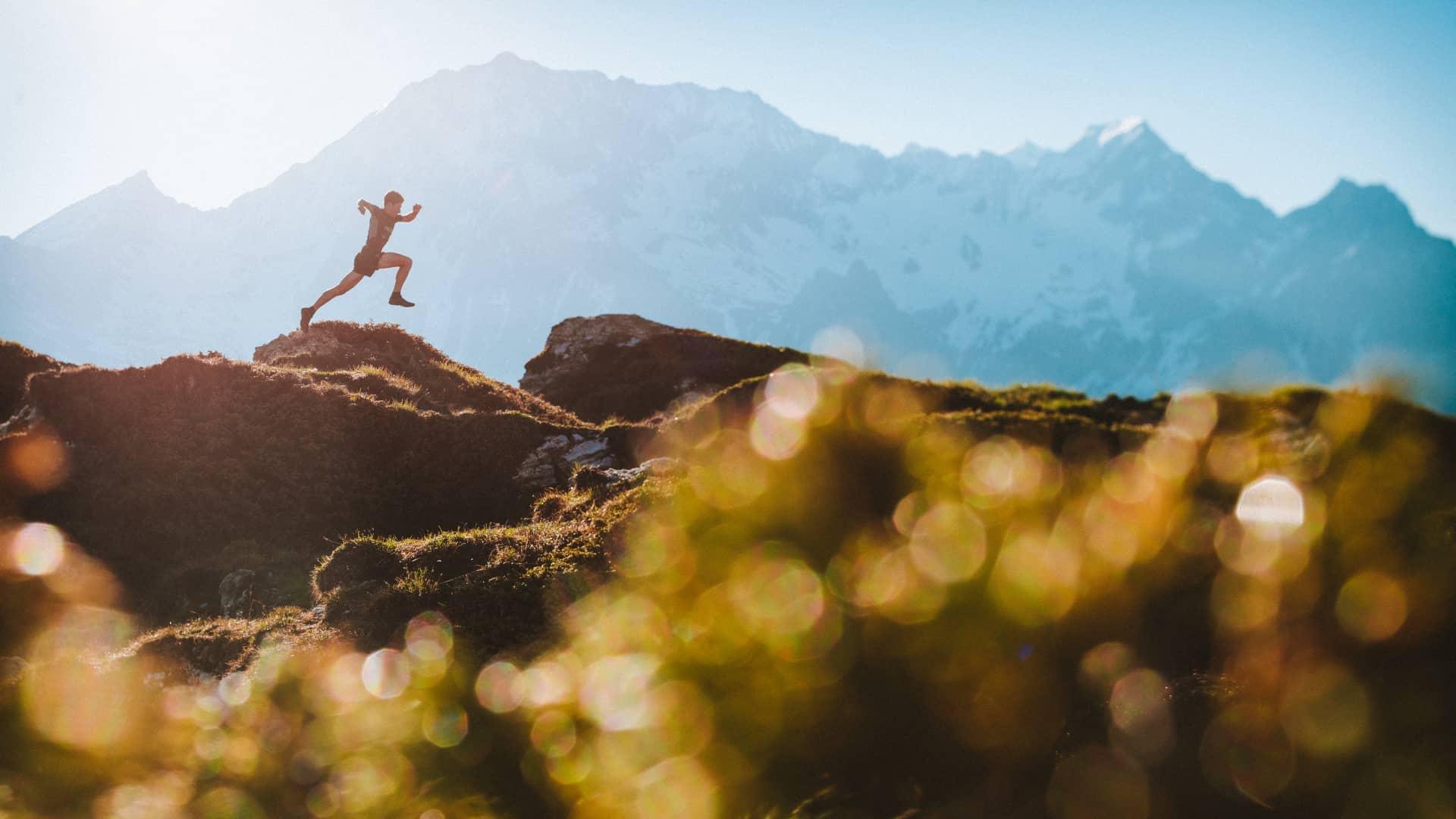 Trail running in Les 3 Vallées
Reach new heights: Trail Running in Les 3 Vallées
Run and walk in the heart of nature. Escape, breathe, fill your lungs. Inspire, be inspired… by the strength and serenity of the natural world.
Feel your heart beat faster, thrive on exertion and the beauty of your surroundings. Climb and descend trails, beyond mountain passes and over ridges… in total freedom, with no constraints but your own limitations. Set out at dawn, powered only by your legs and lungs, wait for the sun to rise, feel the warmth of its rays. Set out at dusk, when the summits carve into the sky… keep going, lit by moonlight and a head torch. Put yourself, in absolute simplicity, at the heart of this natural mountain environment.
Hear marmots whistling in summer, devour vertical ascent, followed by a blueberry tart during a break at a mountain refuge… Witness the incandescent spectacle of the autumn trees, pick mushrooms, cross paths with a deer as you make your way along a trail… then return home: physically and mentally replenished; simply happy.
Run and walk in the heart of nature... then return, simply happy!

A NATURAL TRAIL RUNNING ENVIRONMENT
Trail running in Les 3 Vallées offers an unlimited range of viewpoints, whatever your level, as well as an endless choice of terrain types and running profiles.
Each destination boasts its own specific attractions, terrains, and panoramas, so the real bonus for trail runners is that Les 3 Vallées rolls them all into one playground. Somewhere to train in perfect freedom, just right for getting started as well as for preparing for your next Ultra!
Here, it's easy to go from one valley to the next, to set off in search of neighbouring summits, descending one mountainside to climb another, and diving into the wild beauty of a National Park dotted with mountain refuges.
Loops, round trips, making use of ski lifts and inter-resort shuttle buses… your itineraries can adapt to your preferences and goals, on vast neighbouring territories.
Purists and other experienced trail runners will find magnificent itineraries far from the ski lifts, especially when they plunge into the heart of the Vanoise National Nature Park, which extends throughout the whole territory.
Setting off from Méribel Mottaret, trail runners can go around the Aiguille du Fruit then back to Courchevel via the Col du Fruit, before going in search of the stunning Lacs Merlets - a chance to fill up your water bottle and enjoy a fantastic gourmet break at the mountain refuge of the same name. Those who want to return to Méribel can then head towards the Col de Chanrouge, while others can first pay a visit to Pralognan la Vanoise, which offers incredible views over the glaciers. Fans of vertical ascent won't want to miss Brides-les-Bains: located at an altitude of 600 metres, the thermal spa village provides trail running access to Col de la Loze at 2,304 metres! A great challenge and a magnificent experience that allows you to enjoy the Alpine landscape at every level.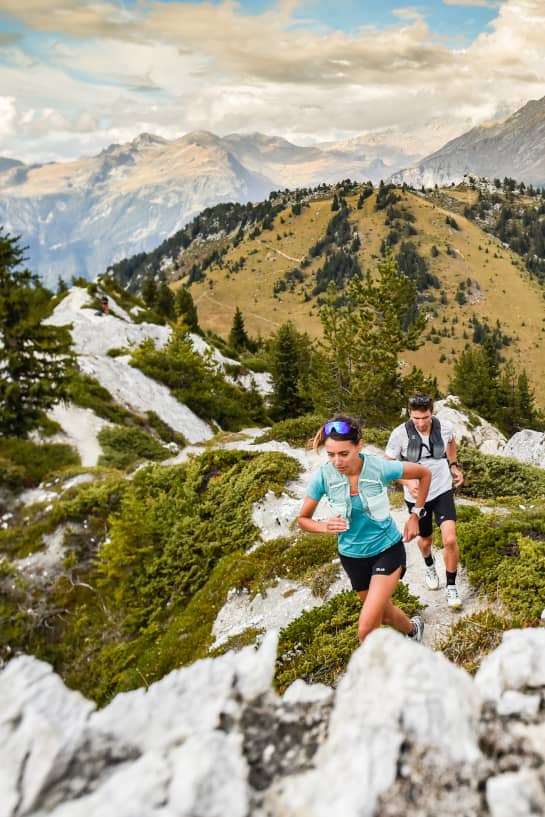 Ski lifts
Making access easier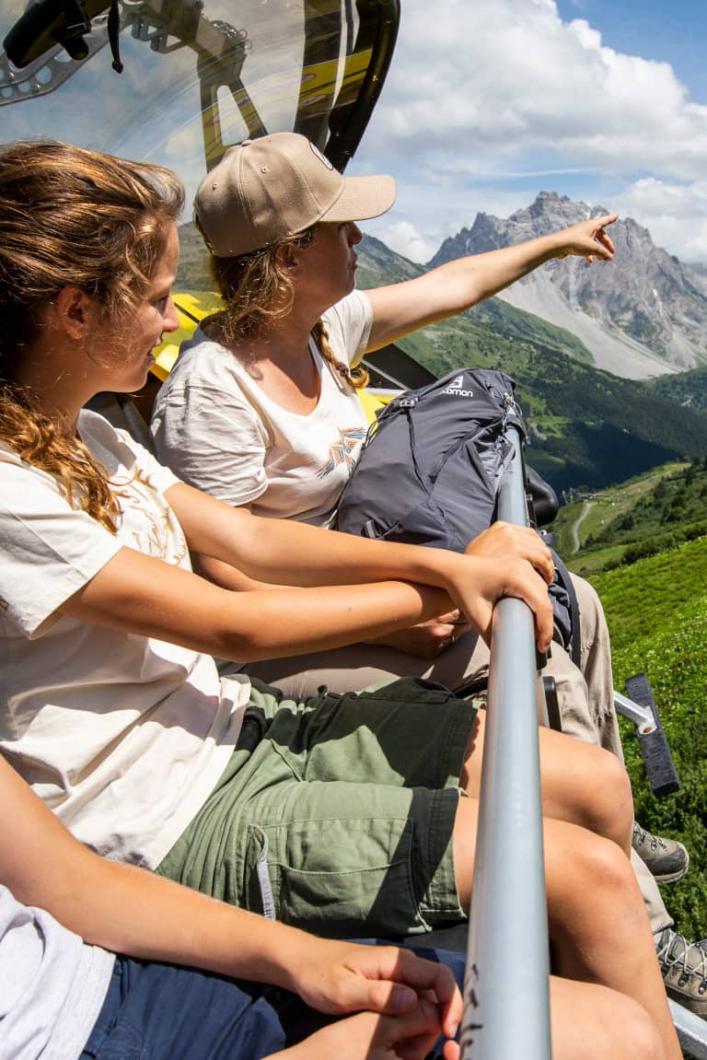 Not everybody can handle a 1,500-metre vertical gain, and ski lifts are the other real bonus for trail runners in Les 3 Vallées! The network of ski lifts open in summer gives runners the perfect leg up.

The lifts are ideal for transporting trail runners up mountains to conserve their energy, and for letting them zip over to another valley, or experience a panoramic itinerary without needing the V02 of an ultra-trail race finisher!

For example, from the Belleville Valley or from Méribel, ski lifts will take you all the way up to Tougnète's beautiful crests, between the two valleys, where you can enjoy a run along a magnificent, panoramic, and very well marked trail.
Discover the summer passes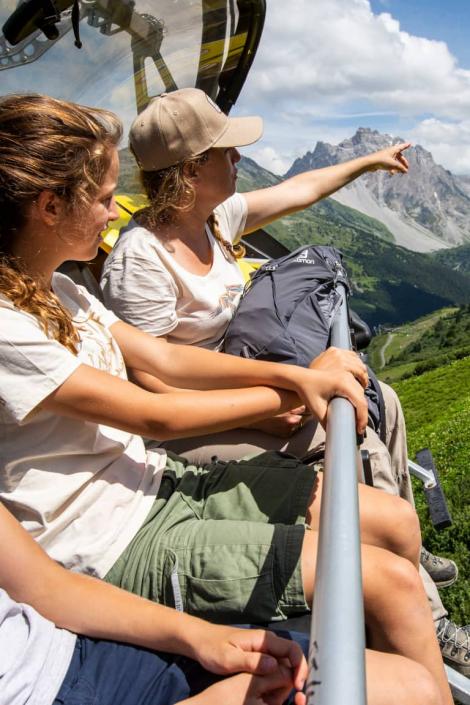 VARY YOUR PERSPECTIVES
Each village boasts its own network of well-marked itineraries that intersect with its hiking itineraries. The advantage with trail running is the ability to rack up two or even three fantastic routes in a single outing.
To choose your base camp, here are some descriptions of each of Les 3 Vallées' trail running destinations.
Courchevel Valley
As well as its magnificent forest, Courchevel-Le Praz also offers views over one of the most beautiful mountain lakes: the turquoise waters of Lac de la Rosière. This highlight, as stunning as it is accessible, with specific vegetation and the whitest rocks, makes you feel as if you're in a totally different part of the world.
Another amazing spot is the Mont Charvet crest itinerary that you can access from the Dent du Villard summit, with views over the Vanoise glacier.
THE race: Courchevel Hoka X TRAIL COURCHEVEL.
In mid-summer, this race offers a choice of 6 distances, for a gentle introduction to Ultra Trail running. With just one start time, runners choose their distance during the race. This race also offers the option of qualifying for the UTMB!
Méribel Valley
At the heart of Les 3 Vallées, the possibilities are endless. With over 150 kilometres of marked routes, between forests, lakes and summits, the resort will meet the needs of every kind of runner. From the nature discovery trail around Lac de Tuéda, at an altitude of 2,800 metres, to the Vertical Kilometre between Méribel Mottaret and Petite Saulire.
For a long-distance session, take your pick: Belleville Valley via the crests, or Courchevel via the Col de la Loze or La Saulire…? Unless you'd prefer to tackle the challenge of descending to Brides-les-Bains and climbing back up? If not, you can also set off to discover the Vanoise National Park, then to go around the Aiguille du Fruit or head towards Pralognan la Vanoise.
THE race: Le Méribel Trail.
Over two days in August, this sporting event is open to everybody, thanks to an original format and seven routes for all ages! From the 500-metre race for mini trail-runners, to the 50-kilometre race, not forgetting the Vertical Kilometre! Incredible atmosphere and panoramic views guaranteed!
Brides-les-Bains
Nestled at the bottom of the valley, this village kicks off the trail running season earlier than its neighbours. The thermal spa resort boasts a fantastic selection of trails, starting right from Brides-les-Bains, such as Les Vignes, an undemanding, low-vertical-climb which goes to Bozel. On the south side, with views over Les 3 Vallées, it makes the perfect introductory trail run, or first run of the season!
Next, the Les Allues trail via Bois de Cythère offers a fantastic climb… Then of course, there's the challenge of getting to Méribel powered only by your calf muscles. Brides-les-Bains is also a perfect base camp which puts you at the starting point of multiple climbs, so you can dart back and forth with complete freedom across the whole of Les 3 Vallées!
THE race: the Défi de l'Olympe!
Mid-April, as a warm-up for the trail-running season. A fun event aimed at experienced climbers. A 6hr timed challenge up a steep climb through the gorges on the way out of Brides-les-Bains, to the centre of Les Allues-Méribel.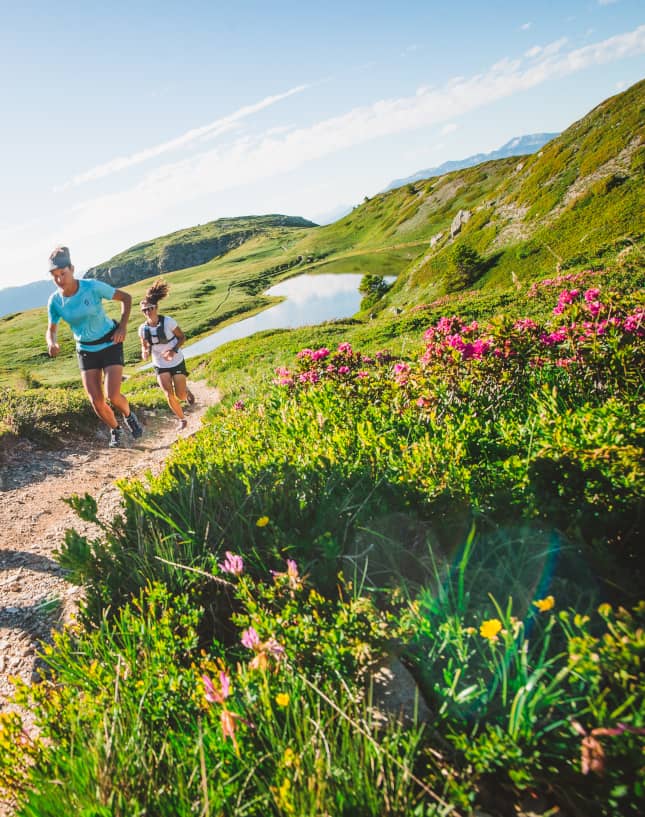 Belleville Valley
Between villages, forests, mountain lakes and high-altitude landscapes with an almost lunar feel, this vast valley reveals its visual gems and many assets to those on foot. The Belleville Valley Mountain Guides Office is on hand to assist runners in search of advice and specific techniques for running in the mountains. The possibilities are endless.
The circuit from Mont de la Chambre to Val Thorens starting at Place Caron is a challenging 10-kilometre route with a 600-metre vertical gain. The first section provides a gentle warm up before a more technically challenging, steeper climb that takes you to the Mont de la Chambre summit, with the reward of a majestic view over Les 3 Vallées, Vanoise and Mont Blanc!
In Les Menuires, the Lac du Lou and Pierre Blanche circuits plunge runners into a wild paradise of mountain lakes, as well as rivers and rhododendron beds; all to the rhythm of whistling marmots and under the watchful eye of chamois goats.
The village of Saint-Martin-de-Belleville with 22 authentic hamlets and baroque chapels is watched over by Le Cochet, at an altitude of 2,000 metres. To reach it, runners cross Alpine prairies, wooded zones, scree, and steep slopes over a 700-metre climb. This experience is both accessible and unmissable.
THE Valley races
Val Thorens: The Val Tho Summit Games at the beginning of August; 6 sports events open to the general public to share with family, or challenge yourself with friends.
Saint-Martin-de-Belleville: Trail des Belleville mid-July with 3 types of races ranging from 8 kilometres to 40 kilometres.
A few basics you should always have with you:
Water, even for a short run because at altitude you become dehydrated faster than on lower ground.
A windbreaker and a neck warmer because it can get windy at the summits.
A t-shirt for changing at the top of the climb.
A survival blanket: in case of any problems or sudden changes in temperature, it's really good for keeping you warm and doesn't add anything to the weight of your bag.
A mobile phone so you can contact someone in an emergency.
A little snack or cereal bar to replenish your energy levels.
Mountain Guides - Courchevel

Bureau des Guides de Courchevel

Mountain Guides - Méribel

Bureau des Guides de Méribel

Mountain Guides - Les Menuires

Bureau des Guides Vallée des Belleville