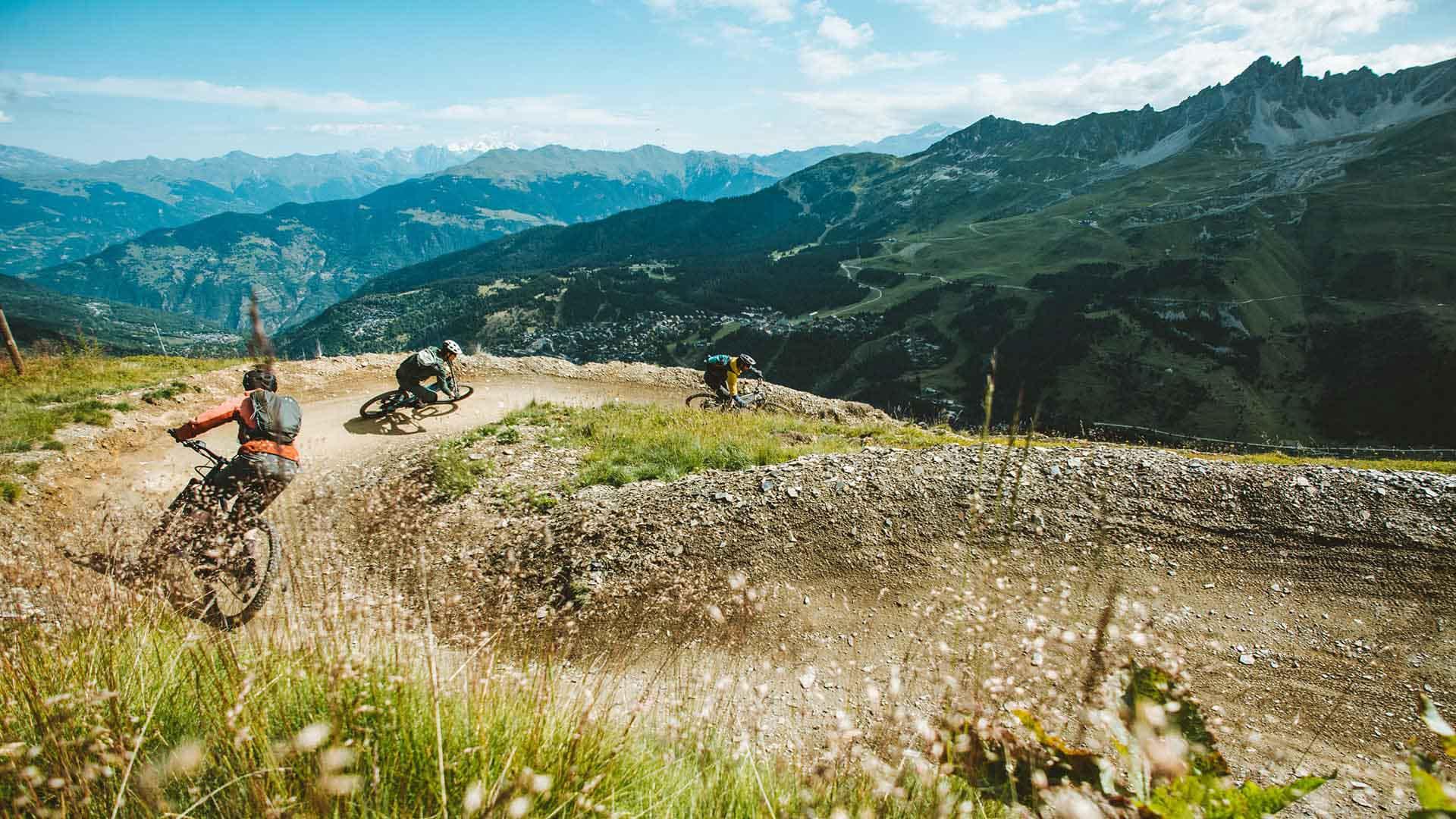 Freewheeling
Did you know that you can also enjoy the winter magic of Les 3 Vallées in summer?! When the mountains shrug off their white coat, they unveil lush green pastures, mineral kingdoms where rock reigns supreme, forests reclaimed by wildlife, and mountain summits boasting exceptional bursts of rare plantlife.
And if you'd rather discover all these treasures on a mountain bike or electrically assisted bike, then you've come to the right place!
Les 3 Vallées is an extraordinary playground for two-wheel fans:
Breathtaking enduro downhill trails,
Stunning panoramas that even beginners can enjoy thanks to the electrical assistance,
The Col de la Loze cycle path, which even makes major Tour de France champions break out in a cold sweat,
The new cycle path to make the ascent of the Col de Tougnète (2430m) from Les Menuires or Saint-Martin-de-Belleville for the bravest,
As well as gentle rides for families.
The variety you've always dreamed of really exists in Les 3 Vallées.
In the world's largest playground, this mode of transport takes on an air of magic, letting you become one with nature…
To see an overview of the wash stations, charge points, or just to get information on free shuttlebuses, don't forget to pick up a map with everything you need to know, available from ski lift sales points and tourist offices.
E-bike + ski lifts: THE winning combo!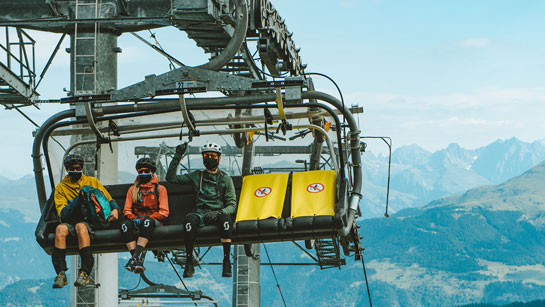 Long gone are the days when cycling was reserved for an elite of ultra-fit, ultra-trained sports fans. Now that E-bikes are so easily accessible, everyone can venture onto Les 3 Vallées' varied range of steep and craggy paths.
Especially because here, in addition to your E-bike, you also have a second good reason to get in the saddle: Les 3 Vallées summer ski lifts provide access to new horizons which would be difficult to reach by pedal power alone.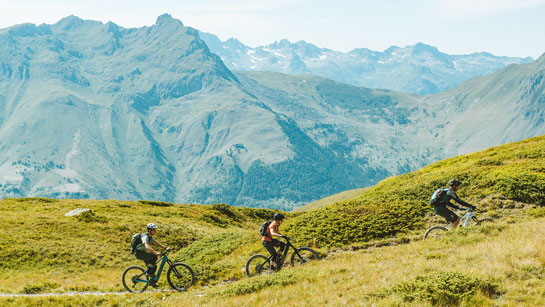 Imagine this: you board a gondola lift to take you to high altitudes, with panoramic views leaving you breathless, and making you feel instantly reinvigorated. But that's not all! From there, itineraries take you even higher, even further, along trails that you never thought you'd be able to enjoy!
To be sure that you don't miss this spectacle, pick up a 3 Vallées lift pass on arrival so you can enjoy use of all the summer ski lifts.
Why not make the most of our ski lifts to discover Les 3 Vallées in summer on mountain bike? A whole host of different MTB passes are available to fulfil your need to get away from it all.
Legendary mountain passes
Head to the Col de la Loze and the Col de Tougnète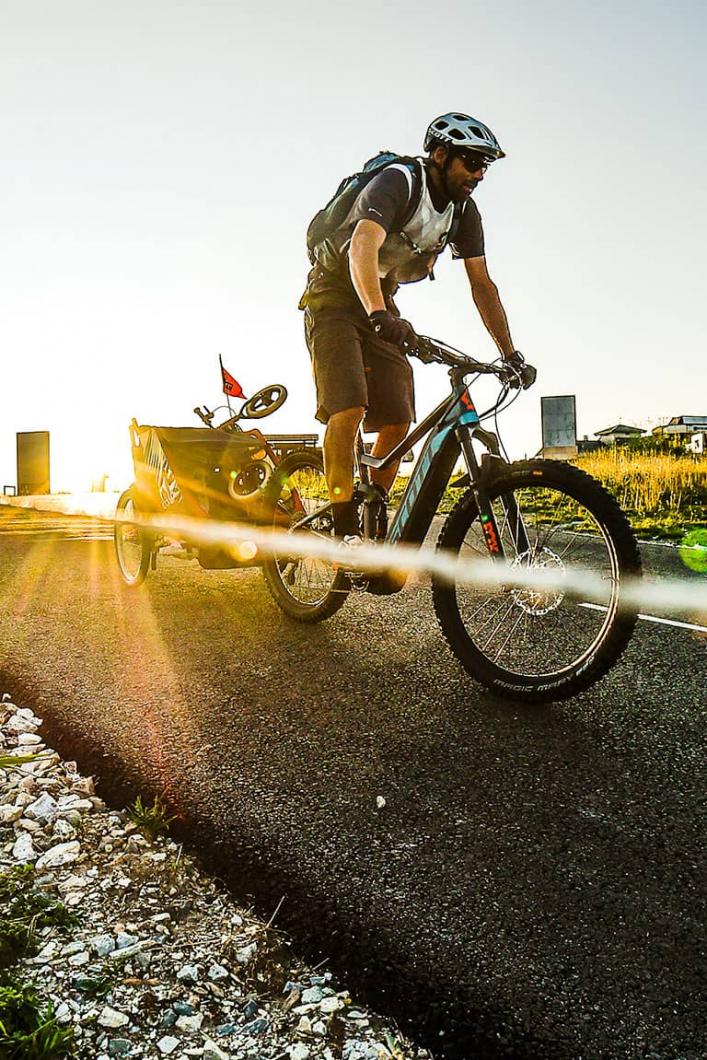 Accessible from Courchevel on one side and Méribel on the other, the Col de la Loze cycle route is a mountain path connecting Courchevel to Méribel! This legendary Col forged a solid reputation in summer 2020, when Tour de France racers were tasked with reaching its summit!
It's now renowned around the world. With access reserved to bicycles and pedestrians, the route snakes along a fairly sustained gradient. This is where E-bikes really come into their own!

Set off to make the ascent of the Col de Tougnète at an altitude of 2430m from Les Menuires or Saint-Martin-de-Belleville. A new cycle path reserved for bikes is born. And for the more athletic, take a short detour to Val Thorens, the highest resort in Europe!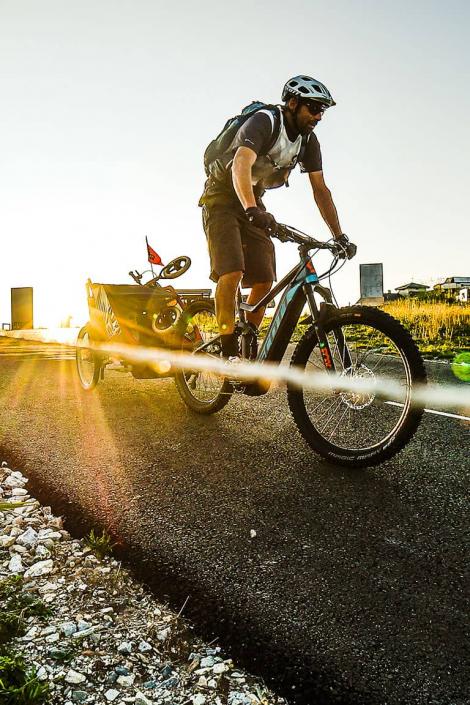 And we're off!
During the winter season, Les 3 Vallées' extensive offering means skiers of all abilities will find just what their looking for: 50% of ski runs are green and blue for children and beginner skiers; 50% are red and black runs dedicated to more experienced skiers.
In summer, it's exactly the same: there's something for everyone! With so much space and so many possibilities, from green loops on 4x4 runs to long, technical "single tracks", it's impossible not to find an itinerary that suits the level of mountain biking or E-biking you're looking for.
Easy loops, adapted to younger or less experienced cyclists, provide unforgettable sporting experiences as a family. As you gradually progress, you can advance onto the more demanding loops, over greater distances and altitude differences that cycling addicts just love!
With dedicated, signposted routes for E-biking in every valley, you won't be disappointed… Our selection:
In Courchevel Valley, E-MTB Route 1 (red) invites you to discover Les Avals, a real jewel that alternates between wide plateaus, forest sections and climbs through Alpine pastures.
In Méribel, a paradise for cyclists, the Refuge du Saut E-MTB Route (red) is a must during your stay at the heart of Les 3 Vallées, inviting you to discover the magnificent Tueda site: pedal alongside the lake before climbing up to gaze down upon it from the summits…
In the Belleville Valley, you'll find the Golette des Combes E-MTB Route 3 (blue) - a lovely wide cycle route along which you can explore Deux-Nants valley.
A 3 Vallées itinerary is possible! Take advantage of the electric assistance to discover this exceptionnal territory! It is possible to connect all the resorts thanks to E-MTB. By taking the mountain cycle paths (Col de la Loze and Col de Tougnète) and using the marked trails that can only be used by E-MTB.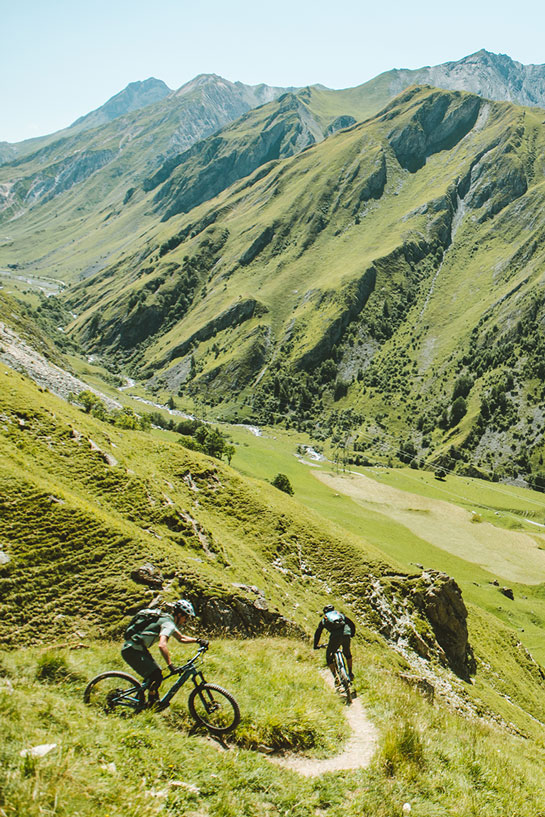 The Avals Valley, the Refuge du Saut, Deux-Nants and Les Encombres in the Belleville Valley… that's one of the special bonuses Les 3 Vallées offers mountain bikers and E-mountain bikers.
As well as the itineraries created in the resorts, you can also access the large wild valleys adjoining Les 3 Vallées while remaining in the area.
MTB / MTB-E-BIKE lessons and rental shops
Les 3 Vallées
Discovery
by bike
Now beginners and experts, adults and children alike, can discover the joys of the freedom to ride, explore, climb summits they never dared dream of…