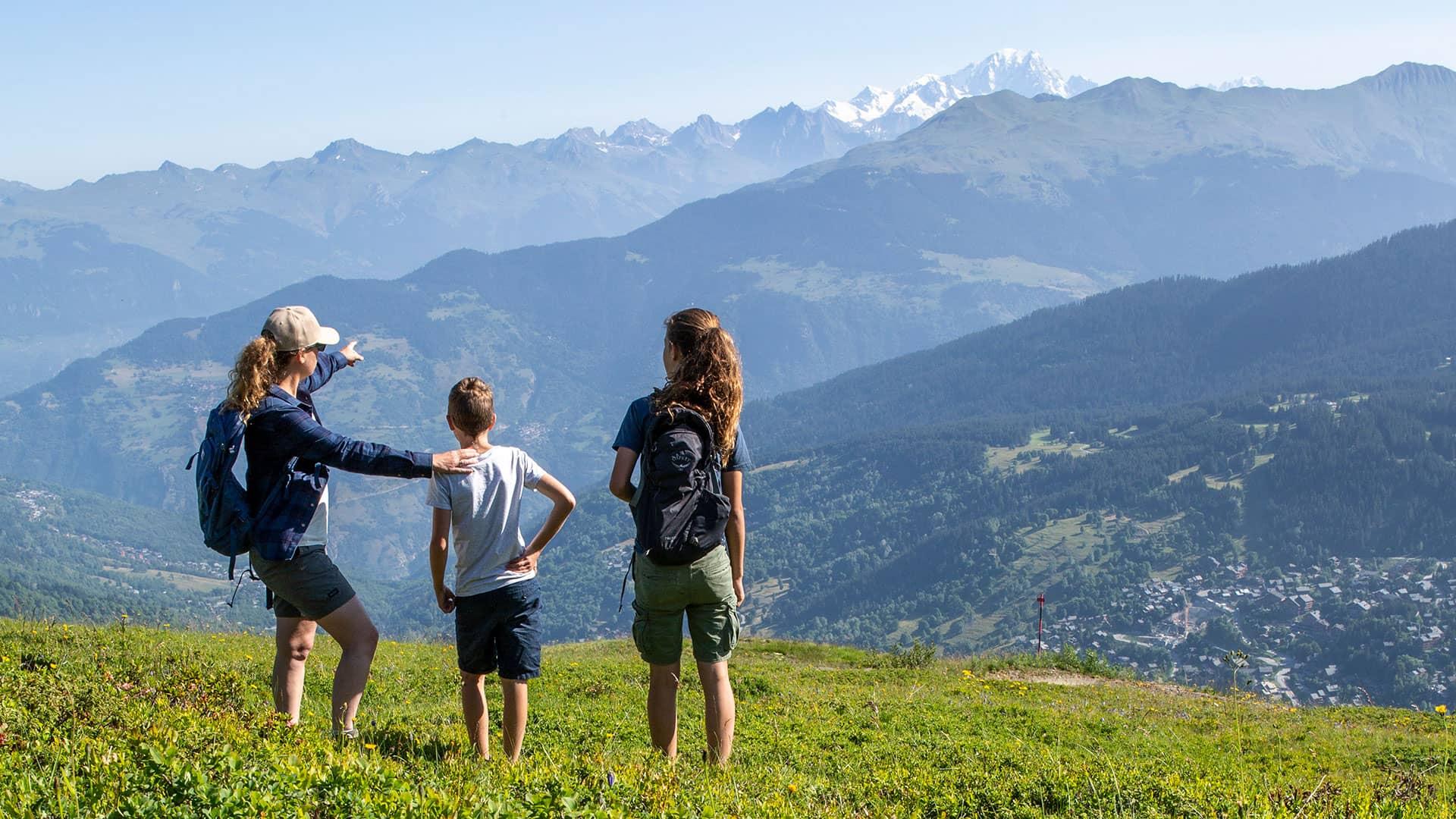 Les 3 Vallées: the ski destination with 7 different atmospheres to experience
In the largest ski area in the world, each holiday is different, reflecting individual wishes and preferences. Seven ski resorts are spread over the mountainside in a rich and unique landscape. Each resort has its own exceptional natural panoramas, its own skiing experiences and its own unique atmosphere. Wander through picturesque Savoyard hamlets, relax in a spa town, or enjoy unforgettable moments with your family... There's an entire range of places to enjoy all year round! Take the time to learn a little about each of them before you choose where you will stay for a memorable holiday.
From the most discrete to the liveliest, each resort in Les 3 Vallées has its own unique atmosphere which you can discover throughout the seasons.
COURCHEVEL
Courchevel is dedicated to calmness, pleasure... and great skiing! A pioneer and avant-garde resort since its creation at the end of the 1940s, Courchevel has always paid attention to detail. Quality and service are paramount; everything is designed to offer you an immersive mountain experience, both in winter and summer.
The six villages of the resort are surrounded by spruce forests, above which rise a handful of legendary peaks: Saulire, Aiguille du Fruit and Mont Blanc... This natural setting is perfect for getting away from it all, where everyone will be able to find the skiing they hope for, the accommodation of their dreams, and the perfect gastronomic restaurants... Enjoy the most beautiful things the mountains can offer in Courchevel!
---
MÉRIBEL
The secret of Méribel's authentic atmosphere is its gift for living in harmony with nature and its respect for traditions. Dreamed up with the help of renowned architects, the resort has deliberately evolved by mixing contemporary inspiration with traditional mountain character.
Méribel's natural elegance can be sensed while you explore its traditional hamlets, frozen waterfalls and snow-covered forests. Its discreet and refined charm enchants mountain lovers of all ages. Ideal for family holidays, the resort takes great care of its youngest skiers and their parents, attested to by the Famille Plus quality award. Thanks to this, children will learn a love of the mountains and skiing from a very young age!
---
BRIDES-LES-BAINS
The small spa town of Brides-les-Bains is the perfect place to unwind. This resort, located at the foot of the 3 Vallées ski area, offers a rejuvenating place where mountain lovers can enjoy a holiday dedicated to well-being. In winter or summer, a stay in Brides-les-Bains should include time spent in its thermal waters which offer benefits for the body and mind.
After skiing, snowshoeing, hiking or mountain biking, the effects of a day's sport soon dissolve in the waters of the Grand Spa Thermal, the largest spa in the Alps! The resort also makes it a point of honour to entertain holidaymakers all year round, with a host of cultural events and festivals. All this comes at a very reasonable price, as Brides-les-Bains is the most affordable resort in the ski area...
---
LES MENUIRES
Bring your whole family to Les Menuires, the friendly, family resort! Fun and enjoyment are shared here, both on skis and off. The resort stretches over five picturesque areas - La Croisette, Les Bruyères, Preyerand, Les Fontanettes and Grand Reberty.
With its architectural style straight out of the 1970s, Les Menuires is unique in Les 3 Vallées. The locals, who bring the resort to life, are at your service to ensure you have a memorable stay at any time of year. Ski instructors, shopkeepers and restaurant owners will all be pleased to share their love of the mountains with you!
---
SAINT-MARTIN-DE-BELLEVILLE
For a cosy and discrete holiday, choose charming Saint-Martin-de-Belleville, a little gem in the 3 Vallées ski area. In this historic and close-knit village, which is perfect for exploring on foot, the landscape is as beautiful as it is varied. With its Baroque church, old bread oven and local museum, it has plenty of culture and heritage for you to quietly enjoy after a busy day on the slopes.
When the resort's thick coat of snow gives way to the deep green of the pine forests, Saint-Martin-de-Belleville continues to surprise its visitors with its summer programme of events. The village brings together locals and guests in a welcoming and festive atmosphere. Saint-Martin cultivates the art of entertaining in all seasons!
---
VAL THORENS
Situated in the highest part of Les 3 Vallées ski area, Val Thorens is known for its lively atmosphere and sporting character. Holidays here are sociable and packed with unique experiences and thrills. Skiers eager to make the most of the first snowfalls can ski from mid-November for a great start to the season.
Rising to 2,300 metres, Europe's highest resort is covered each year with a deep covering of snow which allows skiing through until May. Not only can you enjoy every type of skiing - downhill, cross-country and touring – but you also have the opportunity to try snake gliss, fatbike or the longest toboggan run in France! Val Thorens offers you a unique experience of the mountains.
---
ORELLE
Les 3 Vallées would not be complete without Orelle, its secret entrance... Nestled in the heart of the Maurienne Valley, this mountain village looks like a picture postcard. Made up of 10 typical mountain hamlets, Orelle is a place where time stands still.
Wander around the villages, listen to the sound of the church clock, stroll between the traditional slate-roofed houses and take the time to chat with the locals. Once aboard the brand new Orelle gondola lift, it only takes a few minutes to travel to the neighbouring resorts of the largest ski area in the world. For a holiday with family or friends, Orelle will charm you with its simplicity and authenticity, far removed from our busy, everyday lives... You'll want to come back in winter and summer!
Everyone can create their own perfect holiday and ski without limits in this infinite white paradise!
Les 3 Vallées : the ski destination
7 different
atmospheres
In the 3 Vallées territory, each holiday is different, reflecting individual wishes and preferences. Seven ski resorts are spread over the mountainside in a rich and unique landscape.