3 Vallées destination: live and ski intensely in Val Thorens
Perched high up in Les 3 Vallées, Val Thorens is a cosmopolitan destination that combines the best of skiing with the best of atmospheres. In this friendly resort, visitors are encouraged to be themselves, live each moment to the full and have fun together.
More than a resort, Val Thorens is a state of mind: relaxed, lively and perfect for gourmets. Be pampered, relax or challenge yourself – do exactly as you wish, go at your own pace and enjoy a multitude of unique and intense experiences.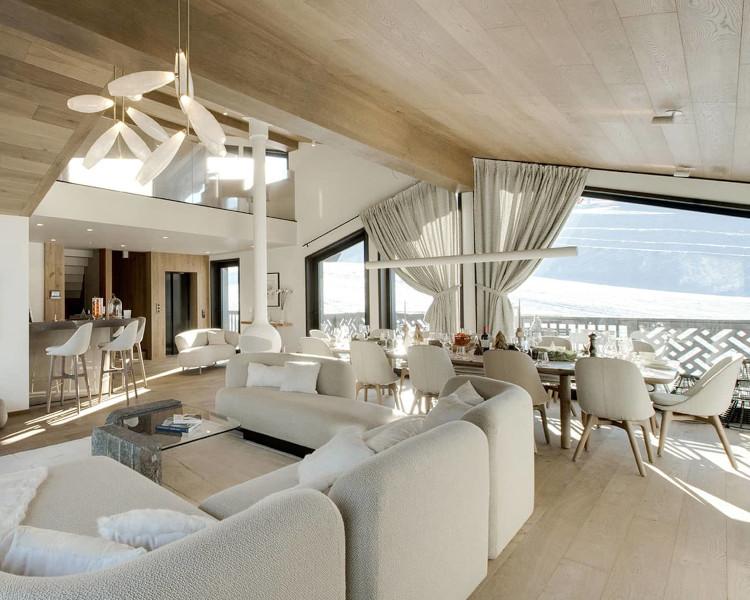 Book your stay
Les 3 Vallées Travel is: a team 100% at your service, a perfect knowledge of Les 3 Vallées area, personalized advice, a selection of the best accommodation in each resort of Les 3 Vallées, an infinite number of possibilities...
With a warm, welcoming atmosphere, a breath-taking natural environment, and absolutely no limits, the resort brings together people who know that high altitude equals colourful experiences and fun!
For the keens
Number one pleasure: Skiing!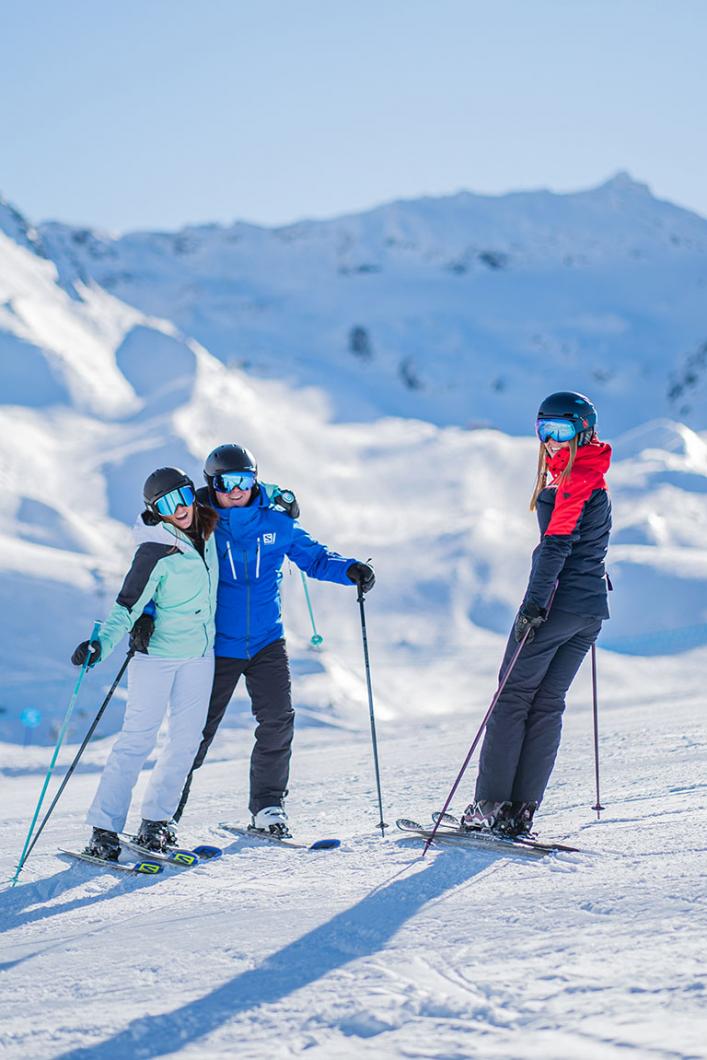 What could be an easier way to start each day than setting out on skis straight onto the runs? By staying within a few 'paces' of the lifts, you can make the most of the vast open spaces offered by Les 3 Vallées, the largest ski area in the world.

Skiing goes on for longer in Val Thorens thanks to Péclet by Night: under moonlight at the end of the day, keen skiers can continue until 6.30pm on the Tête Ronde blue run and Christine red run. To round off the day in style, party-goers, still on a high from living intensely in the present moment, can enjoy memorable après-ski with their friends.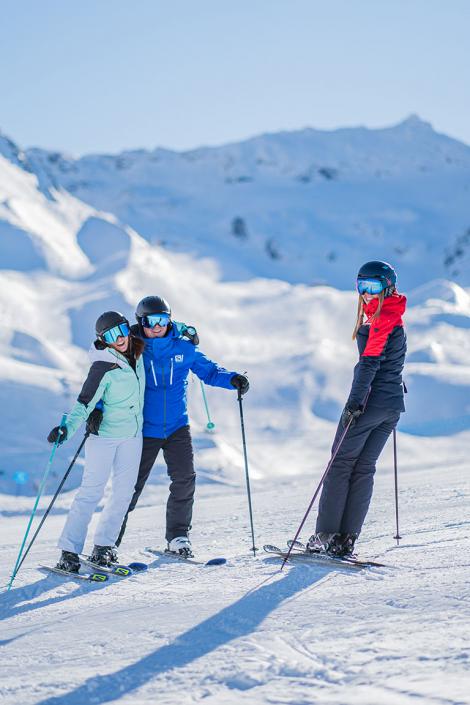 A RANGE OF NON-SKI ACTIVITIES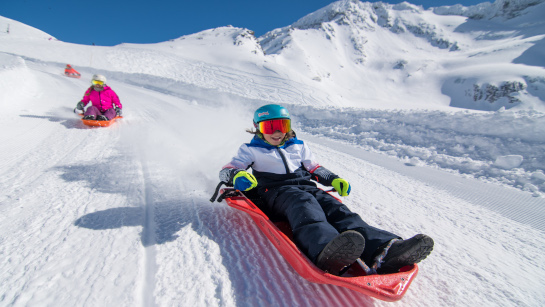 There are lots of ways other than skiing to enjoy the mountains, which is why Val Thorens has an extensive range of activities.
Go-karting, fatbiking, snake gliss, ice-skating, paragliding, snowmobiling, husky sledding - it's non-stop fun! Thrills are also guaranteed on La Bee, the double zip wire which offers a 1,800m-long flight, up to 65m above the ground, with a spectacular arrival almost in the centre of the resort.
For a toboggan descent that goes on for 45 minutes, try Cosmojet, the longest toboggan run in France, open during the day and in the evening. Finally, sensation-seekers can enjoy an unforgettable scuba dive under the ice at the Lac du Lou or learning to drive on ice on the 760m Alain Prost ice circuit.
VOTED "BEST SKI RESORT IN THE WORLD" SEVEN TIMES
Val Thorens is a fashionable, fun and innovative ski resort where you are sure to enjoy a memorable ski holiday.
A FULL EVENT PROGRAMME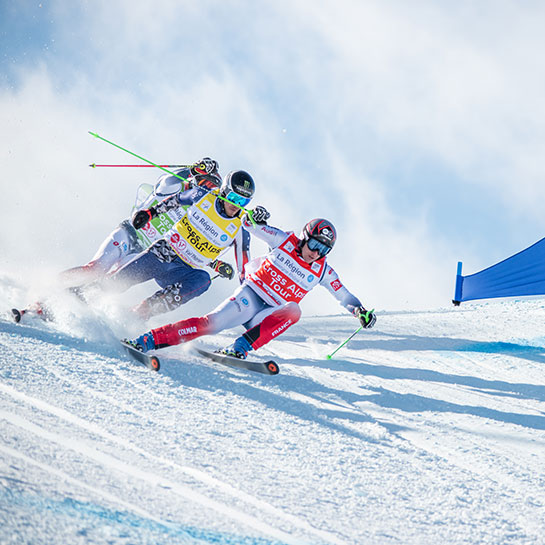 The season in Val Thorens is enlivened by a full programme of events:
Mid-November, the Grande Première marks the start of the winter season. It is the get-together for keen skiers, who take the opportunity to test the latest equipment.
Beginning of December, spectators are in for a treat with the Andros Trophy when some of the world's best drivers compete on ice, at the wheel of sophisticated cars, during exciting races.
Following on from this is the Ski Cross World Cup.
At the end of March, skiers can enjoy a holiday with skiing and electro music during the Festival'Tho.
Finally, the Grande Dernière closes an unforgettable winter season on the first weekend in May.
Land of innovation
The highest resort in Europe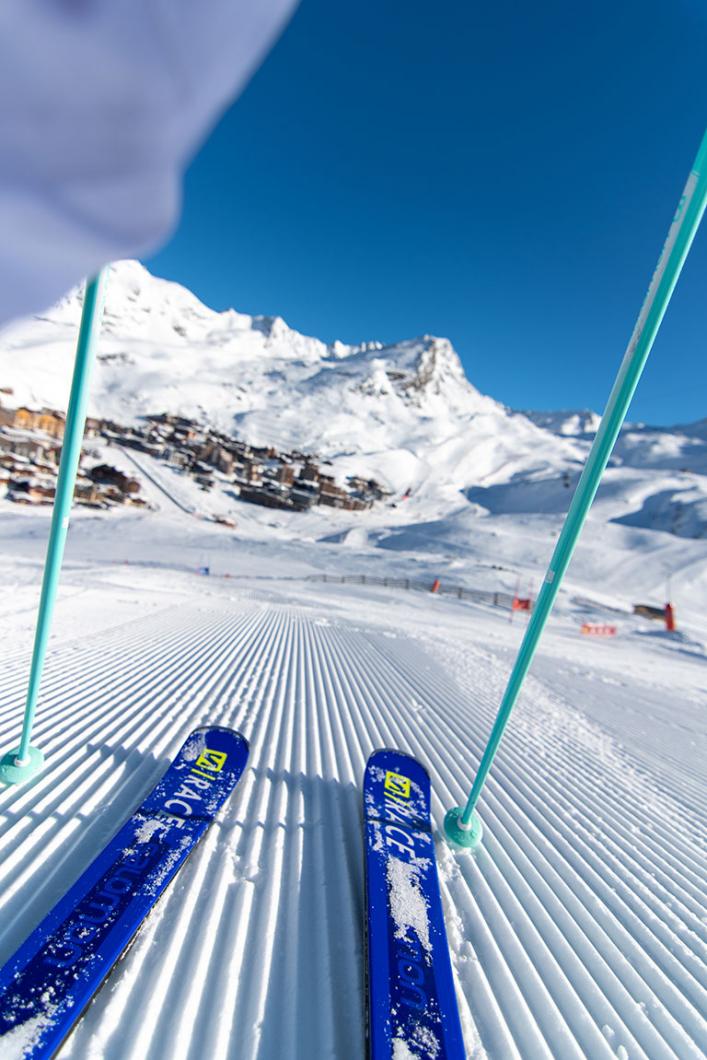 Val Thorens, at an altitude of 2,300 metres, is the highest ski resort in Europe and offers breath-taking, high mountains views. In this outstanding 3 Vallées resort in the Belleville valley, the snow stays on the ground from November to May. This means you can be confident in the quality of the snow throughout the extended winter season. As you wander around the resort, you'll notice impressive amount of snow accumulated on the roofs.

The resort has always embraced innovation and adopted state-of-the-art equipment to ensure you enjoy a memorable holiday from start to finish. Val Thorens: an out-of-the-ordinary experience and a very comfortable holiday destination.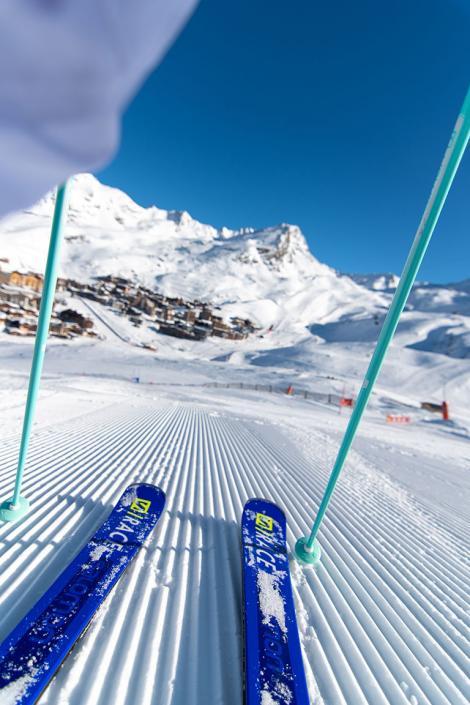 A LA CARTE ACCOMMODATION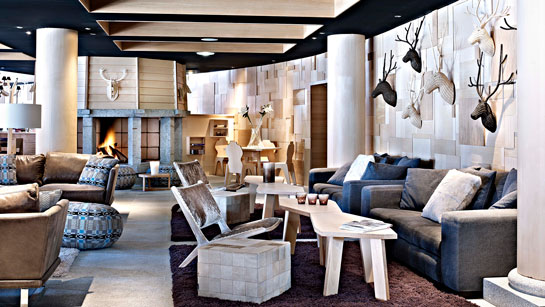 If on your holiday you want to be thoroughly spoiled and pampered, you will certainly find what you are looking for among the four 5-star hotels (e.g. Altapura, the resort's first "ski palace", or Fitz Roy), the five 4-star hotels (e.g. Fahrenheit Seven or Hameau du Kashmir) or the four 3-star hotels (e.g. Alberta or Portillo).
If you are looking for more privacy, you may prefer an apartment (for up to 16 people), a tourist residence or one of the resort's exceptional chalets. Finally, if you wish to enjoy the resort's party atmosphere to the full, your best choice will probably be one of the club hotels (Club Med, MMV, etc.) or the youth hostel (UCPA).
---
THE HEIGHT OF TASTE...
Val Thorens' cuisine, with its mix of authenticity, gourmet offering and creativity, offers a treat for all palates.
Mountain restaurants, fast food, tea rooms or home delivery (by Mountain Eats and Winter Café); there's something to satisfy every appetite, all in the relaxed and friendly atmosphere that characterises the resort.
And for a gastronomic experience, the Michelin starred Les Explorateurs restaurant at the Pashmina hotel will delight you with its astonishing flavours.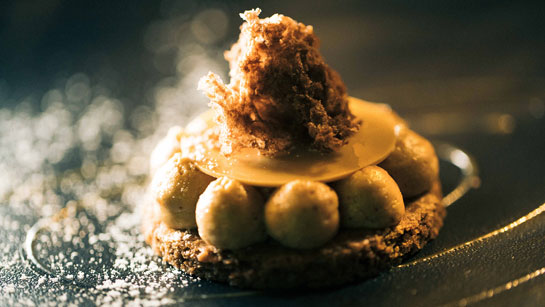 More information about Val Thorens:
That's it! You know almost everything about your favourite resort in Les 3 Vallées, but you would like to have more information about Val Thorens: its activities, events, shops, restaurants, accommodation providers, etc.
You can contact them and also book your stay in this resort directly. See you soon in Les 3 Vallées!
A RESORT DESIGNED FOR PEDESTRIANS
The resort is made up of six areas: Soleil, Grande Rue, Balcons, Lombarde, Slalom and Plein Sud. You can cross this semi-pedestrianised resort on foot in just twenty minutes, which allows you to take your time and enjoy all the many pleasures on offers. To make life even easier, a free bus links the various areas of the resort and a second bus service through the valley takes you to discover the neighbouring resorts of Les Menuires and Saint-Martin-de-Belleville.
GETTING TO VAL THORENS
To get to the resort by plane, you can fly to Chambéry, Grenoble, Lyon or Geneva airports. You can then take a taxi or hire a car for the 1 hr 30 mins by road from Chambéry, 1 hr 50 mins from Grenoble, 2 hrs 30mins from Lyon via the A3 motorway (Moûtiers exit) and 2 hrs from Geneva via the A41 motorway.
If you prefer to travel by train, go to Moûtiers-Salins-Brides-les-Bains station and then it's only an hour to your destination by taxi or bus (winter only).
Car parks
During the winter season, you are required to leave your vehicle in one of the car parks. For a care-free arrival in the resort, reserve your space up to 7 days in advance. You will be allocated a place according to the height of your vehicle, the location of your accommodation, your holiday dates and availability. The 6 car parks are can be reached on foot or by bus.