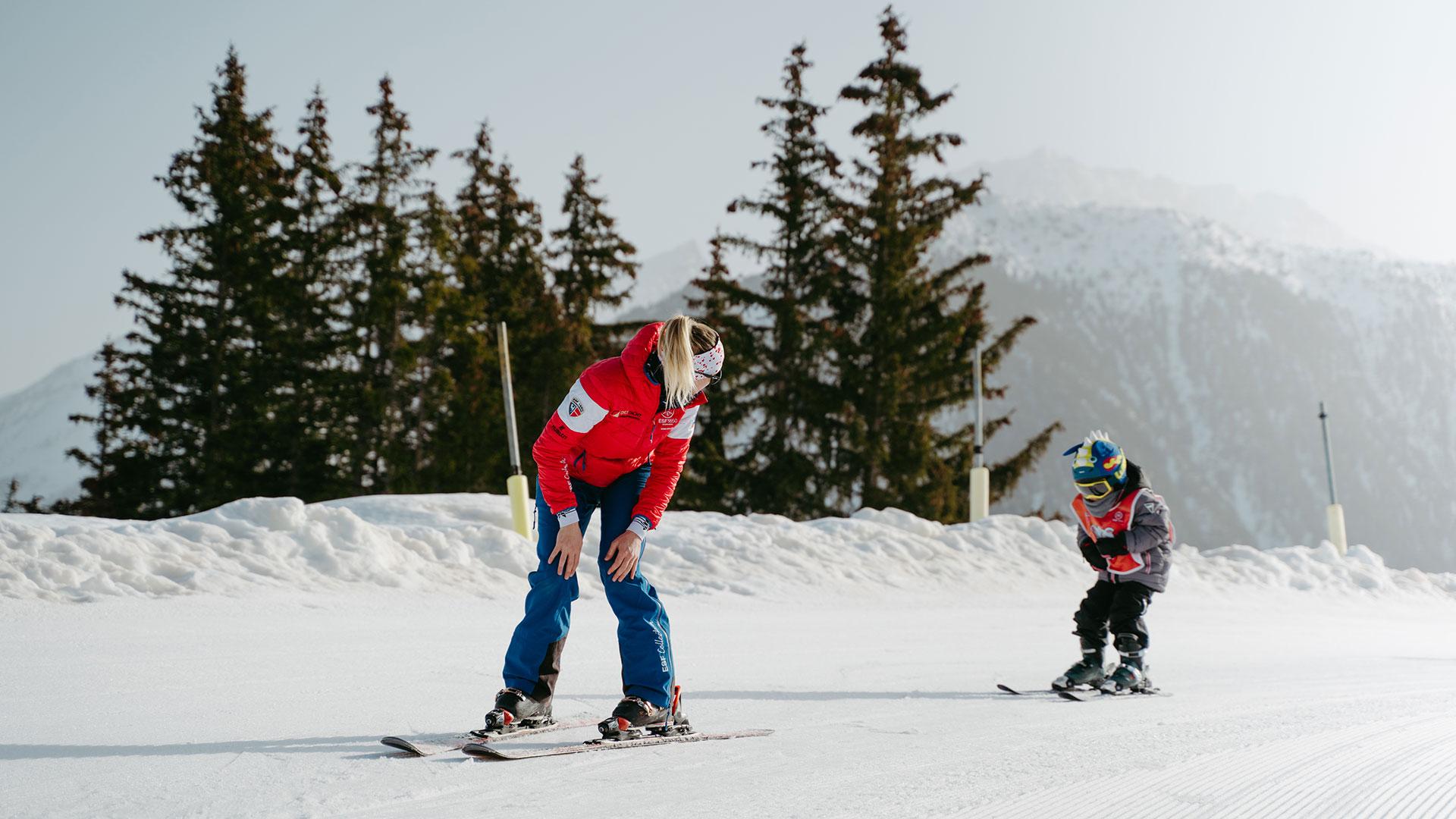 Children ski lessons and nursery
Red thread
They're right by your child's side: from their first "snowplough turns" to their first off-piste experiences, not forgetting their first time on a drag lift and getting their first star… They reassure them, teach them how to glide, how to put their skis on, to get back up, to not be afraid, to be independent, to slow down on ice, to turn in powder, and to have fun in total safety.
They teach them about the mountains that they hold so dear, that they want to share and protect. They impart the rules and values of life at altitude.
Never without their legendary red jumper, these upbeat men and women have the skill, know-how and experience to share their passion and desire to teach in a mountain environment.
They play a big role in your childrens' lives, just as they may have done in yours, creating many a magical memory along the way… They are the red thread of your winters.
Visit the 3 Vallées ESF website
Fun and educational approach
With total peace of mind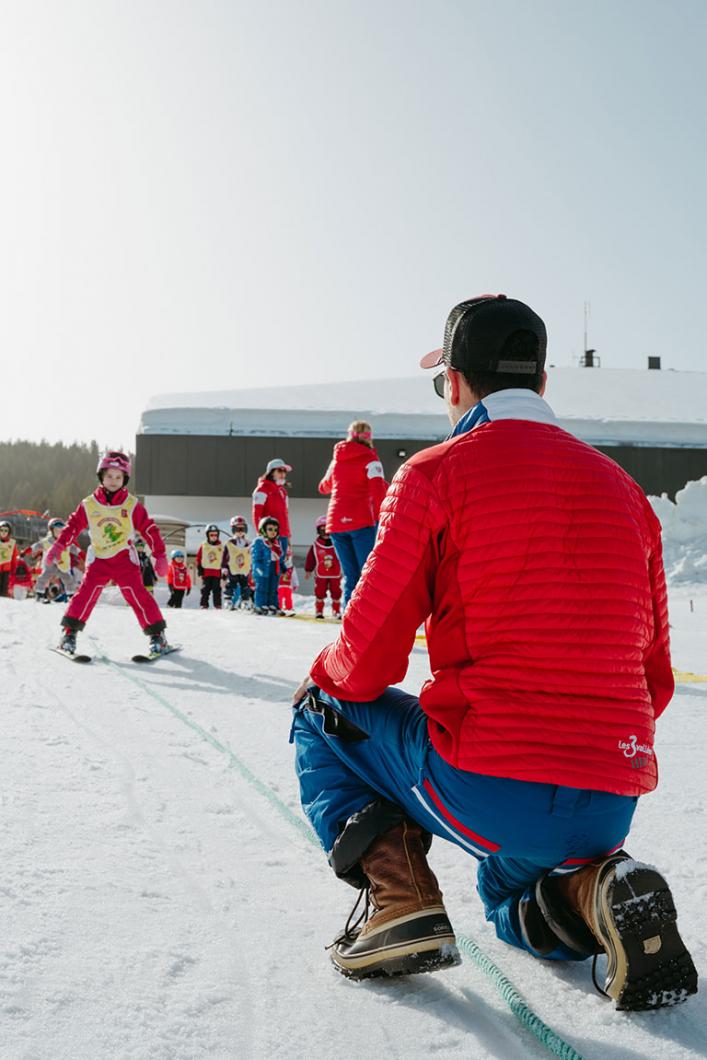 From its well-known "Piou-Piou" beginner lessons to its "freeride teen courses", the ESF French Ski School is very well established, with its instructors leading children through each stage of their learning. Their fun, educational approach is tried and tested and, along with their stars, the ESF is part and parcel of France's skiing heritage!

The reliability of the organisation means you can entrust your children with total peace of mind: they will be supervised by professionals who have all trained at ENSA, the French National Ski and Mountaineering School, both in technical and teaching skills. Based on safety and enjoyment, their instruction is given in a fun way, in level and age-appropriate surroundings. Teaching someone to learn how to ski is a profession, their profession.

With them, your children will learn the basic techniques and make great progress in no time.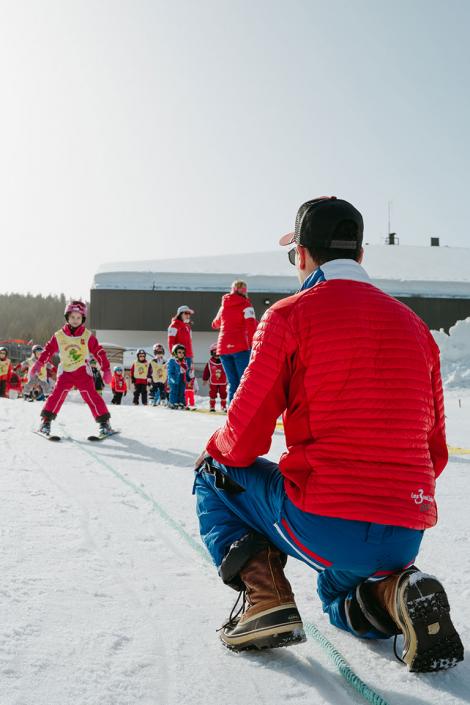 In the program
There are many different options available so that each child can learn how to ski in the best possible way….private lessons, group lessons, skiing, snowboarding, morning, afternoon…
The choice is yours (and theirs)!
Whilst the instructor gives his or her undivided attention to your child during a private lesson (for 1 hour or a full day), a group lesson is an opportunity for them to make friends with other budding skiers in a fun atmosphere, whilst encouraging each other at the same time.
Not forgetting of course the grand finale, with the much talked about medal, and the torchlit descent for children in group lessons!
And in addition to technical advice, they can also make good use of the instructor's knowledge of the mountain environment (plant life and animal life, how the ski area operates, heritage etc).
Up to the age of 18, your teenager can also share snowsports experiences and snowy adventures, whether on skis or a snowboard, through the slalom gates, the snowparks, or the fresh powder! Small groups allow for greater focus on technique, enjoyment and safety. The instructors are committed to sharing the correct methods, so that each of their pupils is equipped with a wide range of skills in order to identify potential risks and to be able to ski safely.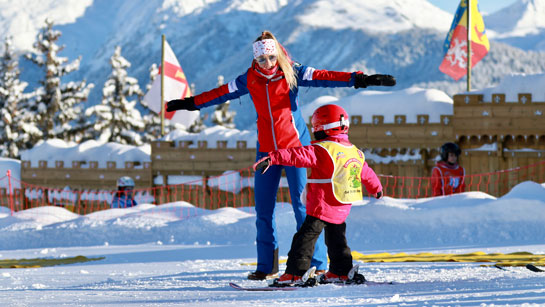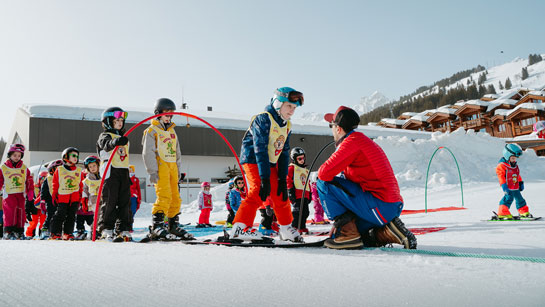 They all get to take advantage of the ski lift priority lanes, learning on terrain to suit their level.
On your own for a few hours
A new-found freedom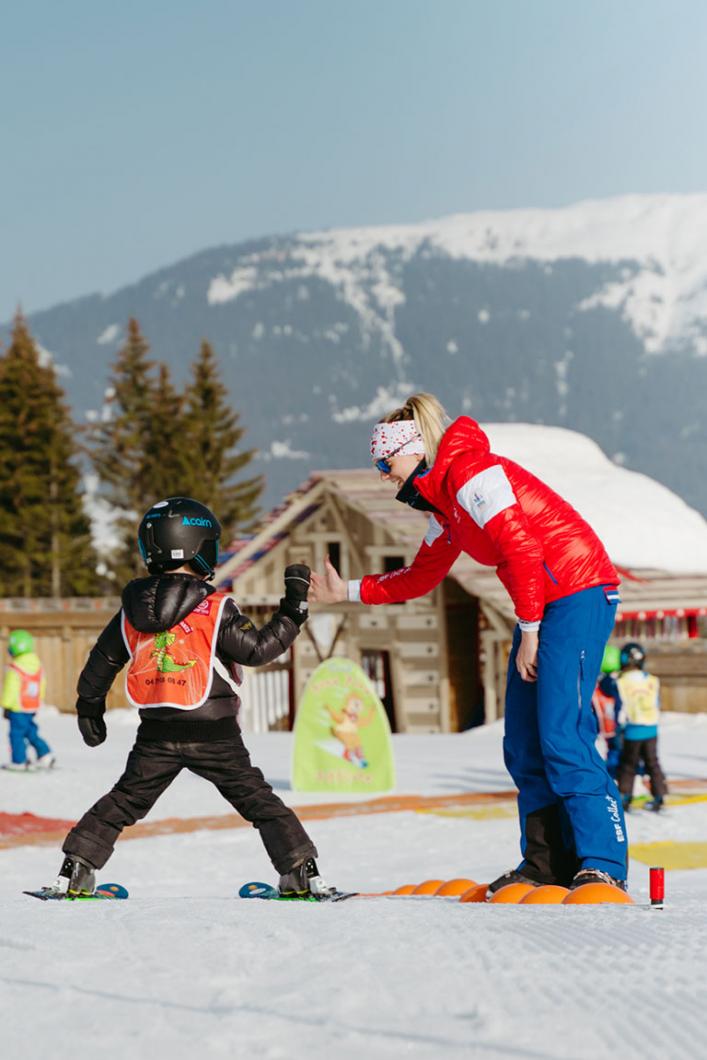 Ski lessons are a great way for the whole family to enjoy Les 3 Vallées.

Your child will be happy to discover a new activity, learning with others, being outside, having fun, quickly improving and taking a sense of pride in showing you what they've learnt, all whilst having fun. This also gives you time to ski on your own for a few hours, at your own pace, on slopes that might not be suitable for your child just yet…..or to just sit and enjoy some me-time on a terrace!!
10 panoramic views to enjoy while your kids are under esf childcare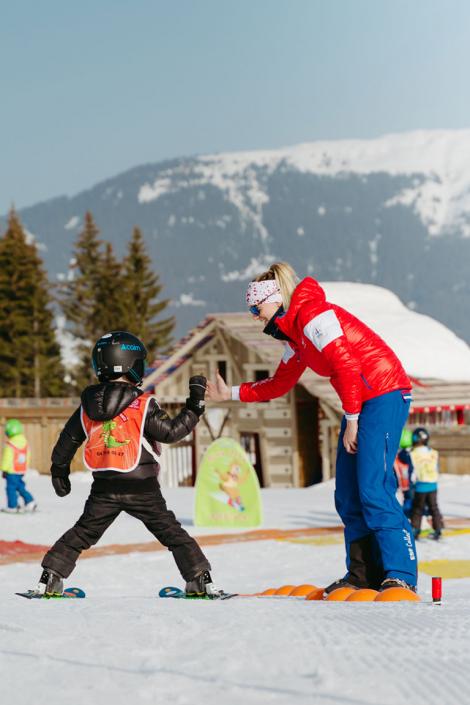 And the little ones too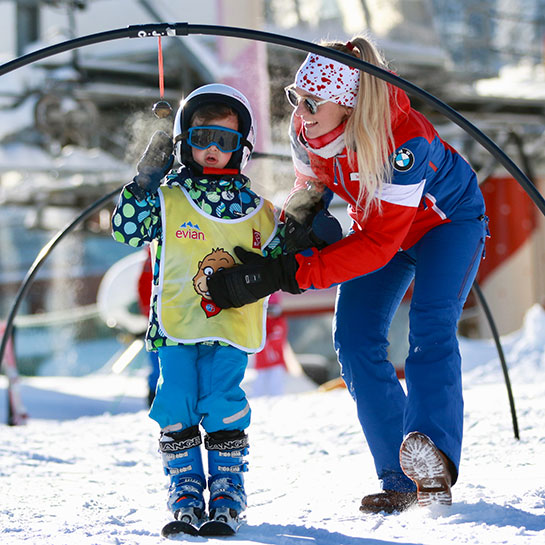 Group lessons are available from the age of 4. The fun teaching approach is perfectly suited to this age group, and has won over many a mini-skier.
It's a great way to get a good grasp of the basics, and to gain confidence before hitting the wide-open runs!
And if you'd like to entrust your child to their care for a full day, the esf French Ski Schools in Courchevel, Méribel, Les Menuires and Val Thorens also offer childcare facilities. Teams of professionals organise the day to include plenty of fresh air, lunch, games inside in the warm, nap time and snack !
Sharing and reunion
To discover
with the family
The shared experience of a ski holiday is a highlight for any family, bringing its members closer together, withstanding the passing of time, filling photo albums and leading to many a funny story at family dinners… Skiing as a family brings you together somewhere else, allowing you to reach new heights !