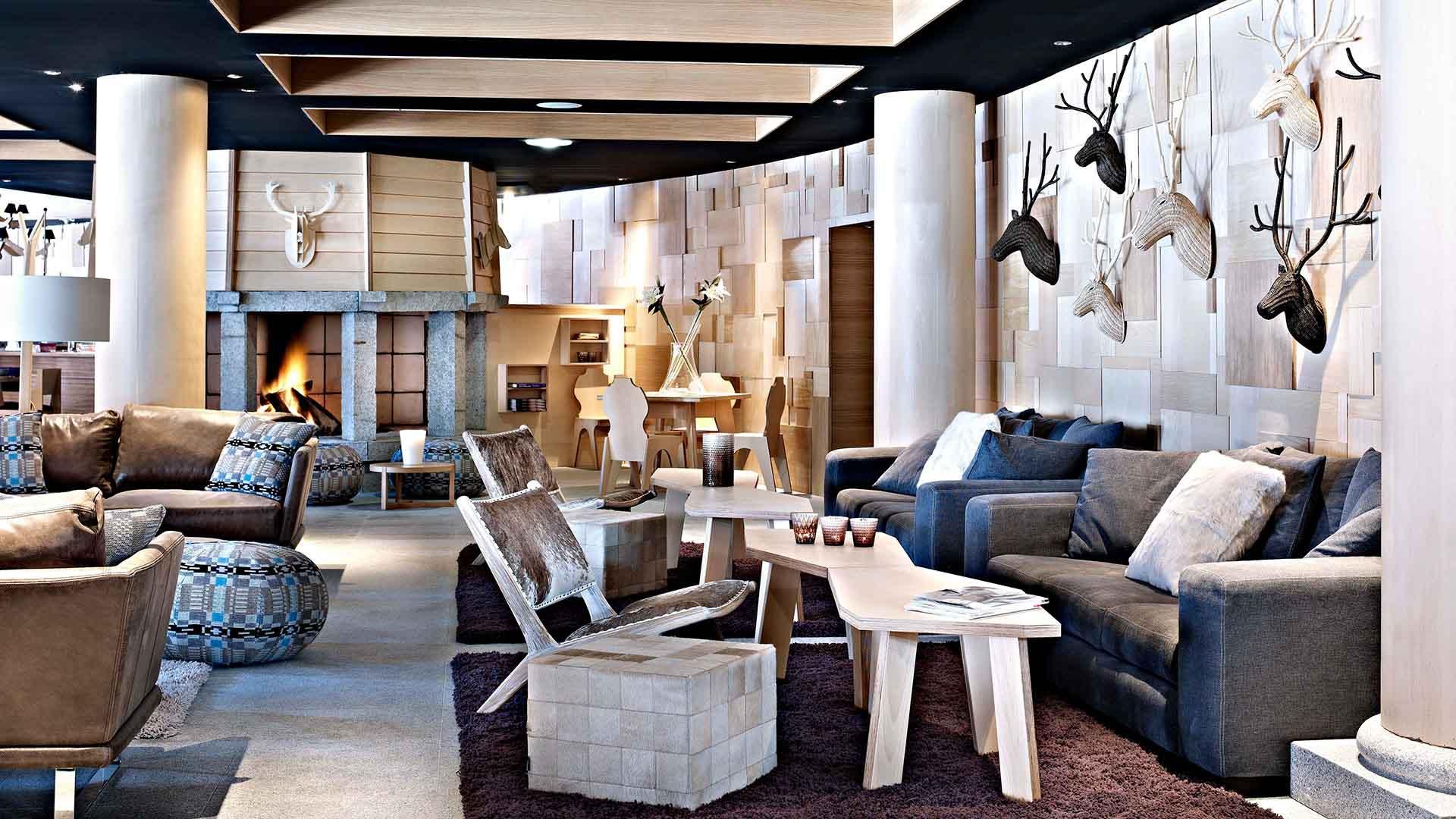 You deserve the best
Exceptional skiing, stunning landscapes, activities for the whole family, a gastronomic offering like nowhere else…Les 3 Vallées is a magical place where your every need is satisfied, your dreams made a reality.
By definition, a ski holiday means you'll need a place to stay, and the resorts that comprise the world's largest ski area abound with imagination and taste, offering hotels, chalets, apartments… with modern architecture and interior decor.
Not only are these holiday destinations able to keep up with the latest architectural trends, they are design pioneers themselves – which is also what mountain art of living is all about.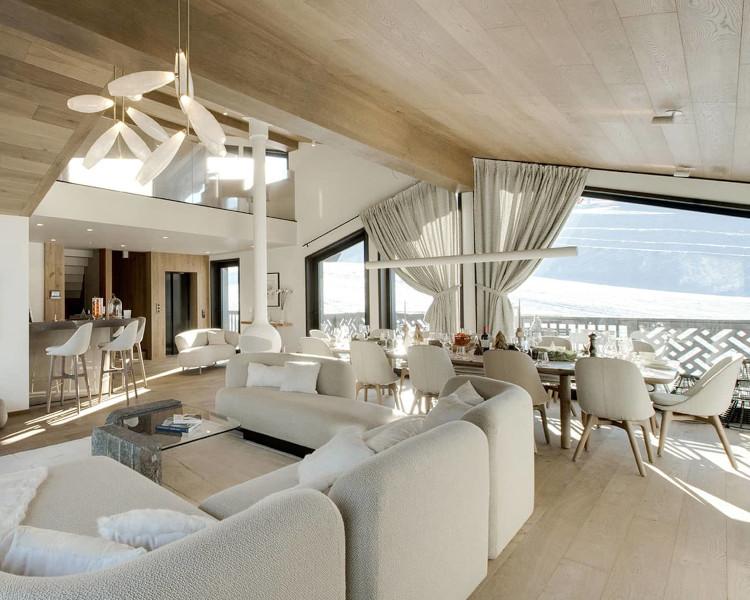 Book your stay
Les 3 Vallées Travel is: a team 100% at your service, a perfect knowledge of Les 3 Vallées area, personalized advice, a selection of the best accommodation in each resort of Les 3 Vallées, an infinite number of possibilities...
DESIGN – A WAY OF LIFE
Its sheer size means anything's possible, with stunning properties designed with imagination and flair. Each of Les 3 Vallées resorts has its own ambiance, soul and surroundings… which means there's something for everyone, and then some! And to take it one step further to perfection, for many properties, design is the ultimate watchword.
Everywhere in Les 3 Vallées has its own atmosphere, making for a successful holiday with all the services needed for long-lasting memories. Enjoying a drink in a unique décor, an unusual bedroom, discreet background music, moments of relaxation in an exceptional spa, decor where every detail counts…
Les 3 Vallées offers a whole host of services, available for you.
For those with a passion for architecture, a taste for the finer things in life, and a love of aesthetics, with their strong identities, these places add a touch of uniqueness and magical memories to a stay in Les 3 Vallées.
Which of Les 3 Vallées' design accommodation will suit you best?
There's definitely no shortage of accommodation… The hardest thing will be trying to decide which one to choose! For your ski holiday, would you prefer typical mountain style? Traditional? Modern? Vintage? A mix of différent atmospheres? Are you more into authentic cosy charm, or is a chic, quirky ambiance more your thing? Is it the warm vibe of a place that appeals, or do you just love high ceilings, light tones and cool tech? Would you go for a historic property that's part of the resort's history, or would you be bowled over by the appeal of one that has been recently built? Take your pick from a selection of this quality and quantity in Les 3 Vallées!
In expertly curated interiors, everything has been designed to ensure you feel right at home
Design accommodation in the Courchevel valley
Fahrenheit Seven**** Hotel
Set in Courchevel-Moriond, the 4-star Fahrenheit Seven hotel successfully combines modern decor with a vintage feel. Sat comfortably in one of the velvet chairs, enjoy an apéritif at the bar and soak up the elegant decor, where marble, tile and zinc blend perfectly together… This retro world designed by Véronique Vidoni achieves the perfect balance between non-conformist excellence and 4-star relaxation! On that note, you'll find comfy sofas on the way to the ski room, inviting you to slow down and take it easy!
La Sivolière***** Hotel
Nestling amidst the pine trees on the edge of the slopes in Courchevel, the magnificent 5-star La Sivolière hotel has recently been refurbished by well-known interior designer Sara Copeland. For this historic property, she went for a look that skillfully combines British style, with the warm, welcoming atmosphere of a contemporary chalet. In a nod to traditional mountain decor, Sara Copeland has given pride of place to wood, which enhances the charm of the bedrooms, spa and the much acclaimed restaurant too.
---
Le Chabichou***** Hotel
Created in the 1960s by Michel Rochedy and his wife, the 5-star Chabichou hotel, with its impressive and unmistakable white façade, has always been a part of Courchevel's landscape. Modernised by Lavorel Hôtels, in conjunction with the avec Patriache architectural design agency, the historic property now offers a more contemporary ambiance, from the bedrooms to the common areas. The Michellin-starred restaurant has also been given a splash of modernity with the addition of a magnificent chandelier made of Murano glass icicles.
Le White 1921**** Hotel
Located right on Courchevel's Croisette, the 4-star White 1921 is the work of architect Jean-Michel Wilmotte. Designed with contemporary mountain flair, this beautiful white building offers 26 bedrooms, with views over the slopes and the village. The Grand Salon and the Petit Salon both exude a friendly atmosphere in a warm, welcoming setting where you can enjoy lunch and dinner (the Grand Salon), or a pleasant moment with family and friends (the Petit Salon).
---
Les 3 Vallées**** Hotel
In Courchevel, the 4-star Les 3 Vallées hotel is somewhat legendary. Built in the early 50's, it was originally a hostel for skiers and travellers. Set right on the ski slopes, just above the resort centre, it was created by French interior design pioneers, Jean Prouvé and Charlotte Perriand. Together, they instilled this Alpine chalet with a hint of authenticity, a contemporary spirit, exacting and elegant luxury… In a nutshell, everything that they defined as mountain art of living! And in the most magnificent of settings to boot!
Design accommodation in the Méribel valley
Le Coucou***** Hotel
The latest addition to Méribel's selection of hotels, the 5-star Le Coucou hotel's architecture is quite remarkable. Set right on the slopes, its 10 floors nestle into the mountainside, blending in perfectly with the natural surroundings. Interior designer Pierre Yovanovitch had a wonderful time putting his mark on the place, in his inimitable style that leaves no one indifferent and definitely makes an impression. Unusual, surprising… there are many ways to describe the ingenuity of the decor, whose underlying theme remains the cuckoo throughout.
---
Éterlou*** Hotel
Right at the heart of Méribel, the 3-star Éterlou hotel is located just fifty metres from the ski lifts. With its 58 rooms and suites, the family-run property exudes Savoyard style, with stone and wood taking pride of place. A mountain haven of tranquillity, its lobby, bar and ski room were recently refurbished by architect Antoine Barbeyer.
Hélios***** Hotel
Set at an altitude of 1,550 metres, Méribel's 5-star Hélios hotel is a haven of comfort, right on the slopes. Nestling into the mountainside, its design focuses on the luxury of space… Space to enjoy an unforgettable ski holiday. Soak up the warm, welcoming atmosphere and unrivalled comfort.
---
Chalet 3 Ours
Méribel's Chalet 3 Ours boasts a perfect location on the Doron run, with ski-in/ski-out access to the world's largest ski area. Designed in traditional style, it exudes charm and elegance. Refurbished in 2011, a touch of luxury was added to make it even more appealing. Stunning views, a spa, cinema screens, fitness and massages… sheer happiness!
---
Chalet Carline
In the thermal spa resort of Brides-les-Bains, at the foot of Méribel, Chalet Carline extends over 108m2. Its 4 floors exude a mountain décor, inspired by the carline thistle from which it takes its name: a modern, welcoming atmosphere, in the earth tones of the flower. Feel at one with nature, soaking up breathtaking views of Grand Bec and the Vanoise National Park.
La Vanoise 1825*** Hotel
Still in Brides-les-Bains, the 3-star La Vanoise 1825 hotel welcomes guests to discover its 20 elegant and contemporary bedrooms. Each room is a cosy cocoon, your cosy cocoon for an amazing stay in Les 3 Vallées.
What's your dream accommodation?
Find the hotel, apartment, residence or chalet to suit your pace, style and needs! Design, family-friendly, authentic, cocooning or unusual… Set the tone to your holiday in Les 3 Vallées.
Design accommodation in the Belleville valley
Chalet Les Mémoires de Marcel
The hamlet of Saint-Martin-de-Belleville in the Belleville Valley is home to Les Mémoires de Marcel: a 200m2 chalet set over 3 floors and listed as "Maison de France". Recently refurbished, this chalet has retained all the charm of yesteryear, inviting its 10 guests to experience shared history. In a nod to modern living, it features an ultra-design metal fireplace, for many an evening around the fire in the spacious 80m2 lounge.
Le Kaya**** Hotel
Located in Les Menuires, the 4-star Le Kaya hotel is a precious gem nestling in the heart of nature at an altitude of 2,000 metres, boasting direct access to the slopes. This charming hotel exudes a mountain ambiance which never fails to delight its guests. Its elegant, stylish decor combines traditional and modern touches with exposed stone, larch wood, slate and linen drapes. South-facing, Le Kaya is bathed in exceptional natural light, which enhances the beauty of the setting even further.
---
Altapura***** Hotel
Set in Val Thorens, the highest ski resort in Europe, the 5-star Altapura hotel will captivate you with its chic and elegant Nordic atmosphere from the moment you arrive. The craftsmanship of noble materials such as wood and stone is truly exceptional, and each area of the hotel has its own unique decor: a vast wave of wooden skis in the stairwell, wicker stag heads in the lounge, colourful ski boots piled on top of each other at the bar… Spacious rooms, stunning views over the mountain tops and impeccable service are yours to enjoy.
Koh-i-Nor***** Hotel
The 5-star Koh-i-Nor hotel in Val Thorens gets its name from a 105.6 carat diamond set on the British Royal Family's crown, currently on display at the Tower of London. It means «Mountain of Light» in Persian, which makes total sense when you see the place for yourself. Bathed in light, the hotel was designed like a perfect gem, with its stunning diamond-shaped lobby. Here, an elegant harmony of luxury, gastronomy (3 restaurants), relaxation (800m2 spa with pool) and wonder reigns supreme.
Live and enjoy
Unique
experiences
Varied, different and always intense, there are infinite experiences to enjoy exactly the way you want to in Les 3 Vallées. With such a vast range of possibilities stretching out before you, here's what you need to get your bearings, to find out what's what, and perhaps even to go somewhere you wouldn't usually go.