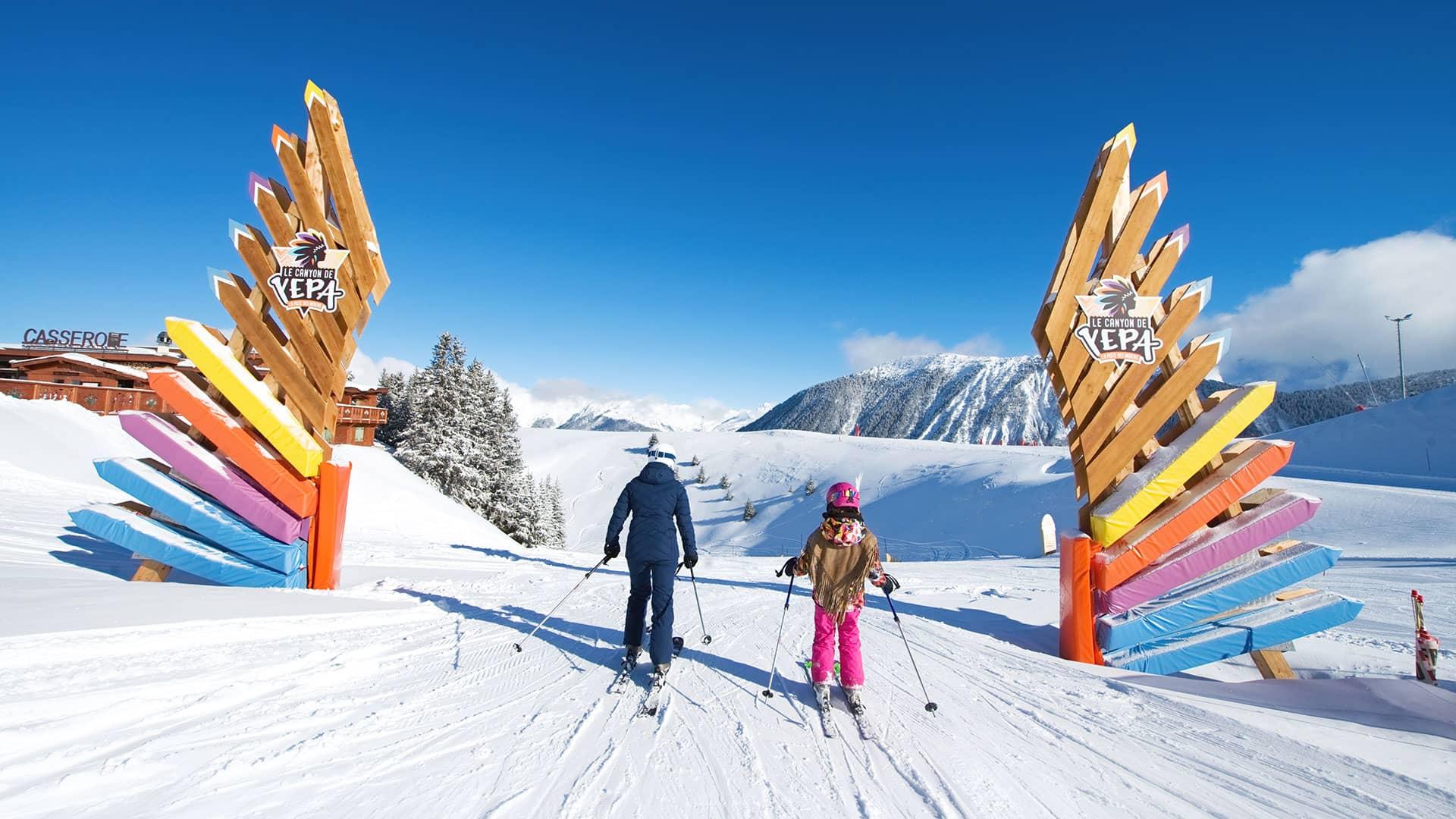 Open up to discovery
BEGINNER SKIERS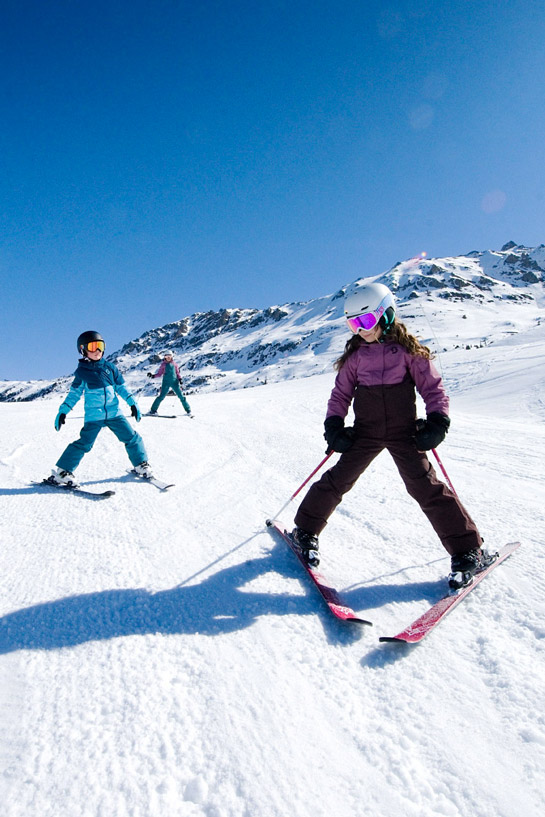 Learning to ski means leaping into a completely different world. More than just a sport, an activity, or a novel way of getting from place to place, it's a real discovery that turns everything we know on its head, bringing us new thrills regardless of age, appealing to all our senses and unlocking incredible feelings, including the all-important sense of freedom…
Children can learn to ski in the blink of an eye. Probably because at that stage of life, a new challenge comes along every day: didn't you just learn how to walk not so long ago? At that age, there's no fear of trying something new, of falling over and getting back up again… And when you're having fun, you don't even realise that you're learning.
With adults, there can sometimes be a bit of hesitation about trying a new experience… Stepping outside of our comfort zone and agreeing to "let go" and learn a new skill becomes slightly more complicated.
Letting yourself go, mapping out your own path, finding the right balance, reaching the top of the mountain… The analogies write themselves, and it's easy to make parallels between skiing and everyday life. Starting to learn how to ski means accepting new perspectives, moving forward with grace, daring to shine. Learning to ski means being brave enough to get the most out of life!
Because we understand the trepidation that can make some people waver before putting on a pair of skis for the first time, Les 3 Vallées ski area pulls out all the stops to offer beginners, children, and adults alike, the best possible conditions for learning to ski. Comfort and safety are the watchwords, and they always come with joy and thrills!
And the good news is, you'll feel just as much joy, pleasure and fun whether you're 5 or 50…
of its ski runs being categorised as easy (green and blue)!
Wide, with gentle gradients, they're specially equipped to offer beginners a stress-free, unhurried experience.
A SKI AREA CARVED OUT FOR BEGINNERS
Contrary to what some may think, the world's largest ski area is every bit as well-suited to beginners as it is to more experienced skiers. Which is exactly what you'll find in Courchevel 1650 Moriond, with its gentle, quiet slopes. Just what you need to get started with peace of mind and in superb conditions.
To add a bit of fun to learning, spacious dedicated learning zones such as the one on the sunny Altiport sector in Méribel are perfect for budding skiers. The animal themed Piste des Animaux is tucked safely away from fast skiers and offers peaceful skiing while beginners discover the mountain wildlife at the same time.
The many dedicated runs and snowsports areas are designated on piste maps by the "easy ski zone" label, allowing beginners to concentrate solely on new thrills while they enjoy the surrounding area's joyful, peaceful atmosphere.
Similarly, the themed Inuits run in Méribel and the Yepa Canyon run in Courchevel, with its natural canyon-like setting and ochre-coloured rocks transport young skiers off on a real adventure. Another bonus for beginners: Les 3 Vallées ski area offers several free ski lifts.
Once the first turns have been mastered, skiers in search of an adrenalin rush can glide over to Les Menuires' Pixel Area or Val Thorens' Family Park. They're the perfect spots for discovering and experiencing snowsports thrills for the first time on little parallel slaloms, tunnels and undulating boardercross courses!
All these dedicated areas are easy to find on the piste map thanks to the "fun zone" label.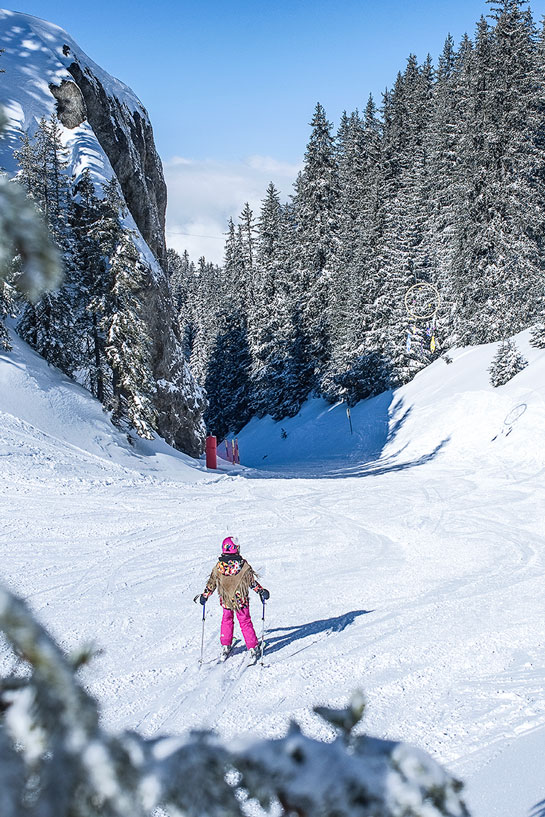 Discover the 3 Vallées' fun areas
---
GETTING STARTED AT THE PEAK
Les 3 Vallées invites beginner skiers to enjoy high-altitude ski areas, which offer some of the most beautiful panoramic views! Experience the joys of reaching new heights, following the sun's path, and enjoying long itineraries over the entire Les 3 Vallées area while sticking solely to green and blue runs… plenty to convert many new skiers into total addicts!
Beginner skiers can meet at the top of the Lac de la Chambre run in Méribel, perched at 2,850 metres, and enjoy breathtaking views before gliding serenely along the wide blue run to the Plan des Mains plateau.
They'll even be able to turn off towards Les Menuires' slopes, via the Mont de la Chambre blue run, before making the ascent back up on the comfortable bubble chairlift of the same name.
Similarly, from the top of Le Saulire in Courchevel, Les Creux run offers a peaceful panoramic descent, as does one of Val Thorens' legendary blue runs: La Tête Ronde at the top of the Peclet funitel lift, which is every bit as unmissable.
Attention to detail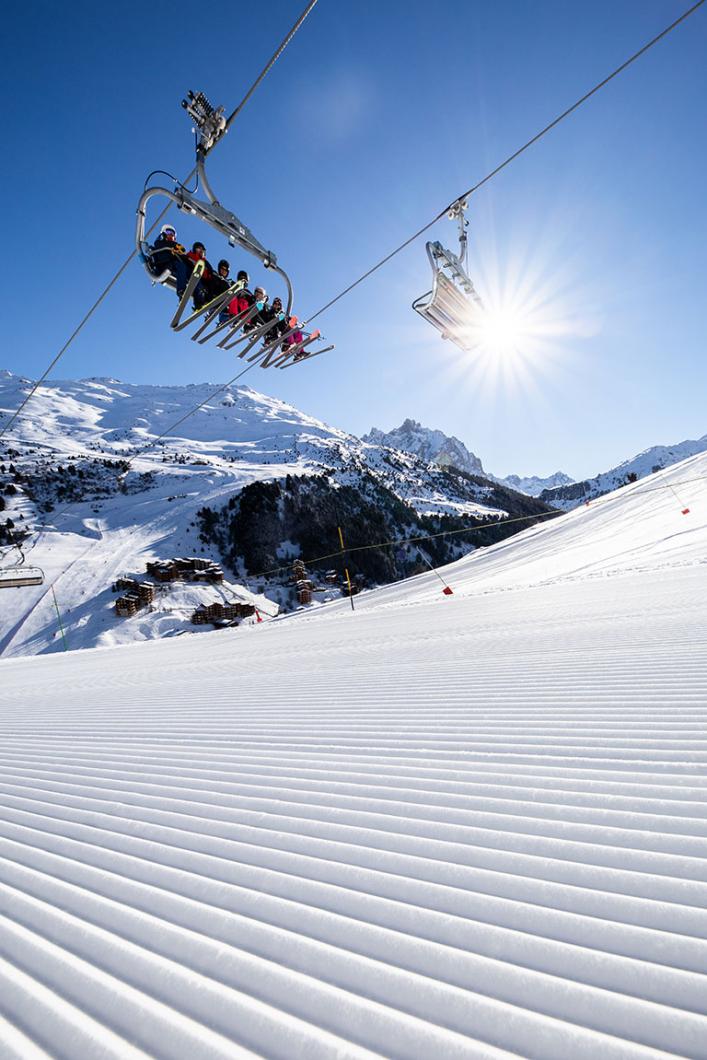 Many of Les 3 Vallées ski area's incredible qualities leap right out at you, such as the vastness and beauty of the setting. But some of what makes it so special only becomes apparent gradually, revealing itself little by little the more time you spend here. Because here, nothing has been left to chance, everything is done in a bid to achieve perfection. One might cite :

- The excellent quality of the snow cover throughout the whole season, as well as the renowned daily piste grooming, an essential ingredient to make learners' first snowsports experiences go smoothly!

- Not forgetting the comfortable, safe ski lifts, particularly important to beginner skiers who haven't yet mastered all the right moves, and who are only too happy to rest their legs on a welcoming chairlift or admire the landscape from a panoramic gondola lift.

- Finally, there's the much talked about doorstep skiing, which is as easy as it is direct, meaning you don't have to lug all your equipment around on foot, so you can devote your energy and positive attitude to learning how to ski!

By now, you'll have understood that for beginner skiers, the whole package of careful attention to detail is what makes these excellent conditions the perfect environment for learning to ski.
Ski area highlights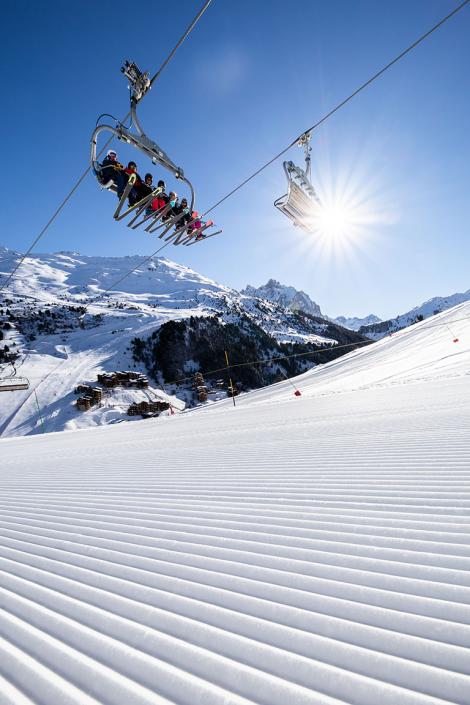 HAVING THE PROPER SUPERVISION
Naturally, who better than a professional to adapt to your needs or to those of your children? The French Ski School (esf) instructors in each of the ski area's resorts have the teaching skills and local expertise to help you progress.
They'll choose the perfect terrain in line with your ability, the current snow conditions, levels of sunshine and accessibility, using the right words to guide you and help you to enjoy the thrills of snowsports in no time at all.
This dependable supervision gives beginner skiers the assurance to concentrate solely on their own progress without having to worry about which runs to take, the people around them, timing, etc…
Though some prefer to start learning with a private lesson, others want to share the adventure. Group lessons with the ESF, accessible to adults and children alike, are also an excellent way to learn how to ski!
Competition and group spirit are fantastic guarantees of learning within the great atmosphere of a small, same-ability group, while also receiving individual guidance. It's yet another great way to forge wonderful memories to take home with you!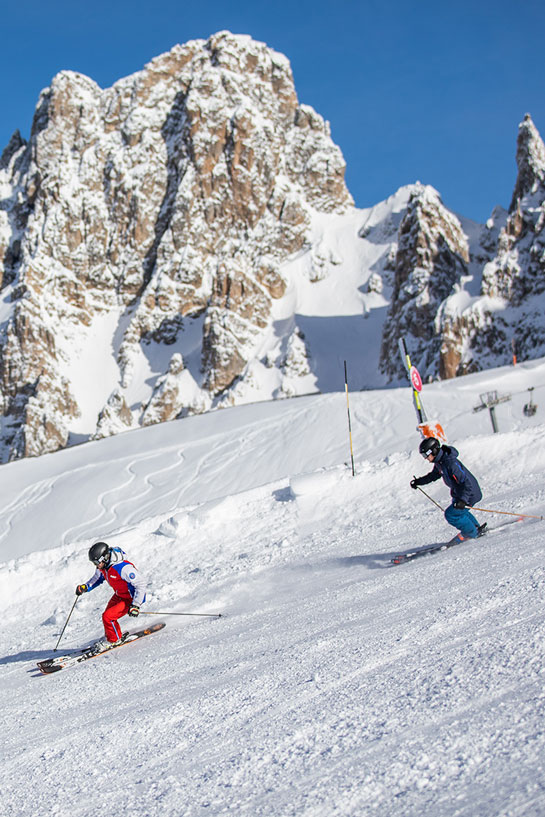 An all-access pass for beginner skiers: 6-day 3 Vallées adult skipass from the 23rd of December 2023
For beginner skiers, the 6-day 3 Vallées skipass guarantees a fantastic ski experience and real freedom.
Firstly, because you won't stay a beginner for very long! With this skipass you can enjoy all the runs adapted to your ability without feeling at all restricted.
The 6-day 3 Vallées skipass also offers great flexibility:
Ski for a few hours in the morning,
Then carry on in the afternoon if you feel like it, without having to worry about whether the pass is valid on such and such a day or time,
Meet the rest of the family or your group of friends in a slopeside restaurant and then enjoy a peaceful descent, on skis if that's what your heart says, or on a gondola lift if your legs are protesting,
To enjoy beautiful mountaintop views, and even take the journey up for a spot of sunbathing on a terrace gazing over the summits…
Skiers of all abilities intending to come for between 6 and 21 days can choose a custom-made skipass to create the perfect holiday.
An exceptionnal territory
Unique
experiences
There is something magical about skiing with your family. It's a chance to bond with your loved ones while enjoying the beauty of nature. And, of course, it's a great way to create lasting memories. Whether you're hitting the slopes for the first time or a seasoned pro, family skiing is always a unique experience in Les 3 Vallées.