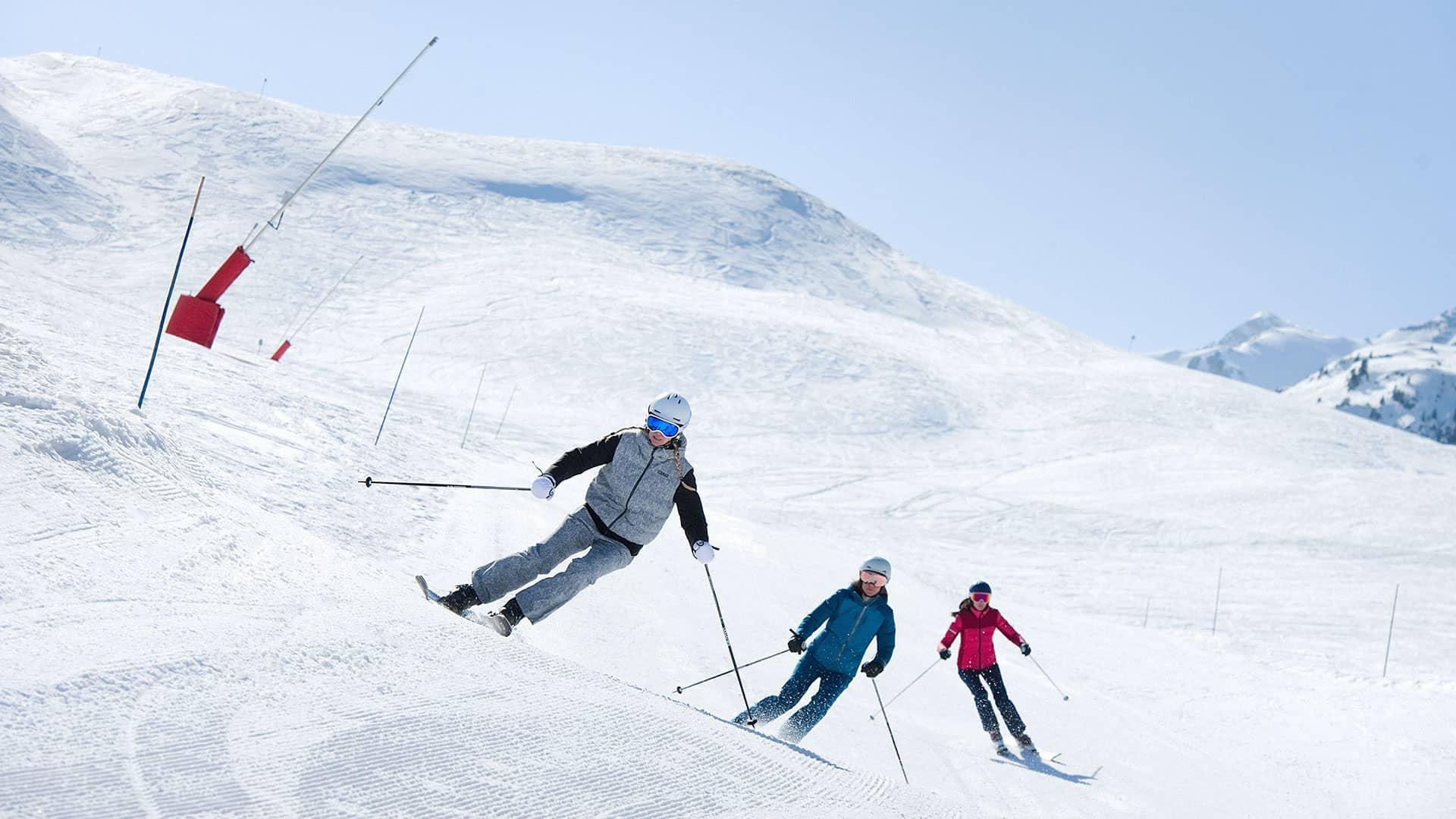 Get together with friends
Precious time spent together
It's hard to believe it's actually happening… you've been waiting, dreaming and planning for so long, but now it's finally here and everybody is together. The people we hold so dear, our rocks, our partners in crime, those with whom we share both the good times and the bad, loved ones we haven't seen for far too long, and that we never see enough of in the first place, in a word: Friends. Your whole little world has managed to meet up, here and now. Everybody has been able to break off from their routine for a few days, get out of their family and work commitments, block off the dates in their diary, postpone meetings, find childcare… A little miracle in our overstuffed lives: a priceless ski break with friends.
These days will be a total bubble, perfect for catching up, recharging your batteries, sharing life moments, anecdotes, mad laughter, snowsports, incredible panoramas, powder-snow fields and moguls, emotions, lasting memories, and a much-needed blast of fresh air…
And naturally, to make the break go as smoothly as possible for everybody whatever their ski ability, Les 3 Vallées has proven to be a perfectly adapted ski destination for group getaways.
Because skiing can take many different forms, even among friends, with varying technical ability, preferences, physical fitness, pace, and level of apprehension, it could be virtually impossible for one group to all share the exact same needs and expectations. But because of its size and the way it's managed, Les 3 Vallées ski area is perfectly adapted to expert skiers and beginners alike, to gourmets and athletes… making it easy for everybody to rub along next to one another!
Everything here has been designed to help everyone find their own version of snowsports, while sharing a great time together in one place.
HAPPINESS TO SHARE
Les 3 Vallées ski area topography offers the perfect itineraries for group skiing, even for varied-ability groups, thanks to the many different options there are for getting to the same place!
For example, beginners can choose wonderfully wide, gently undulating runs, while more experienced skiers can opt for the mogul field just next door… and then everyone can meet up again to continue their adventure together and catch up on the ski lifts with stories about what they've just missed.
And to ensure there's always plenty of laughter involved, there's nothing like the challenge set by the range of fun zones.
Snowparks and fun zones
Like the Elements Park boardercross in Méribel: shifting terrain, banked turns, who'll be first over the finish line?!
Another unmissable challenge to take on with friends, this time without your skis: a crazy descent on the Moriond Racing toboggan run! Or break out your inner F1 driver and tackle the 3 kilometers of mad laughs, with turns, tunnels and more… everybody will feel like they're 10 years old again.
And those who really want to glide can try the Mega Zip Line: travel at some 100 kilometers an hour over 1.3km, from the top of Le Bouchet chairlift on the Orelle ski area at an altitude of 3,230 meters all the way to the top of the Thorens Funitel!!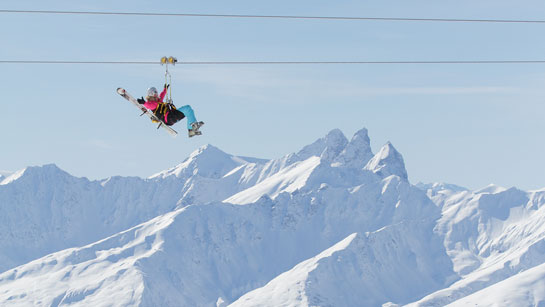 Exceptional panoramic views
Just like everything else, exceptional panoramic views have an extra sparkle when shared with friends after a great day's skiing. The beautiful late-afternoon light that illuminates and tints all the surrounding summits offers breathtaking sunsets.
It's impossible not to record the experience by taking a few shots of your nearest and dearest: in Méribel, the top of Roc de Fer is an instant photoshoot backdrop with some of the most beautiful panoramic views in Les 3 Vallées.
Other unmissable backdrops and perfect photo spots include La Piste de la Masse in Les Menuires with its 360° panorama, and even La Cime Caron perched at an altitude of 3,200 meters, right at the top of the ski area.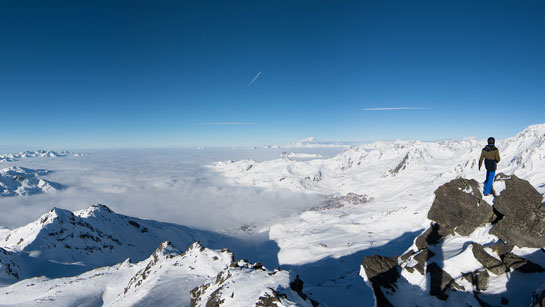 Restaurants & terraces
After all these thrills, there's nothing like a fantastic lunch on the sunny terrace of one of the ski area's many restaurants.
Little authentic gems, exclusive establishments, or big nights out, classic clubbing with views over the summits from La Folie Douce in Val Thorens or equally panoramic views from the Méribel/Courchevel version… Anything is possible.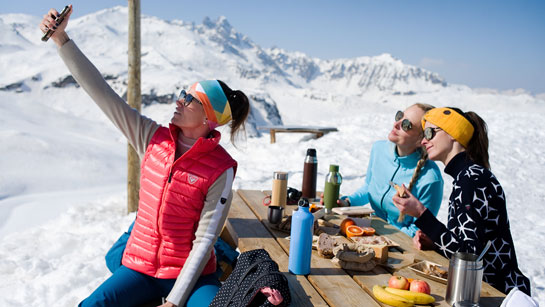 Take some me-time
Ladies skiing
Childhood friends, new besties, or life-long pals: there are no rules, set patterns or age limits when female friends get together to ski. Just pure pleasure, freedom, and a desire to take some me-time in the mountains and enjoy the multitude of beautiful things they give us. The thrill of snowsports, the joy of experiencing speed and pushing your limits, as well as peace, serenity and feeling closer to nature…

Whether expert skiers or beginners, in sealskins on a couloir, or mid-snowplough on a green run, everyone will find their adventure, their own challenge, their personal timeless oasis.
- Everyone will be able to share all these amazing highlights with the people who really matter to them.
- Everyone will be able to enjoy stunning panoramic views, breathtaking high-altitude atmospheres and the utterly reinvigorating great outdoors.
- Everyone will love lunching on the terrace, panoramic picnics, and fun après-ski activities.
- Everyone will look that bit higher, push themselves that bit harder and dare to go that bit further.
- Everyone will enjoy some me-time, with added indulgence, inspiration, and bravery.

AN AMAZING LES 3 VALLÉES ITINERARY FOR ADVANCED SKIERS LOOKING TO CARVE SOME TURNS TOGETHER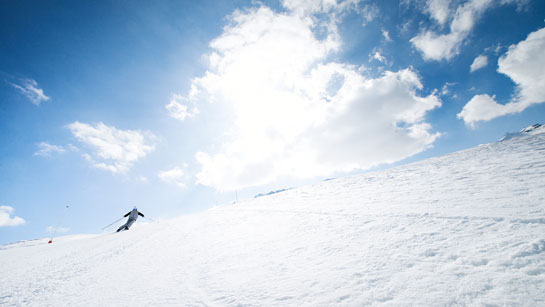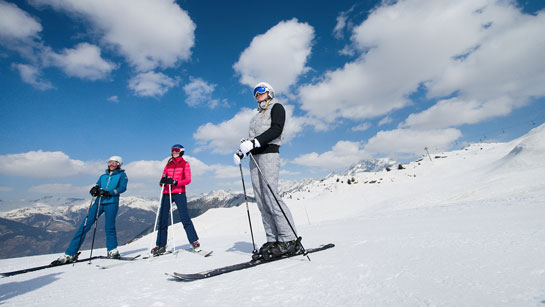 Setting off from Val Thorens, Cime Caron takes you up to an altitude of 3,200 metres to admire the panoramic views. From there it's no messing as you hit the Combe de Caron black run, which has a sizable vertical drop.
Next, hop on La Masse gondola lift to get your breath back and ski towards the North face in search of fresh snow. On the way down, take a little ski tow to the Dame Blanche black run, which has a lovely incline and is never busy.
Then, from the Mont de la Challe summit, the ungroomed Bartavelle run offers up a fantastic mogul field. Follow that up with Les Coqs, a pretty red run that you'll never get bored of, and round it off with the little-known Combe du Laitelet.
Then it's time for a well-earned break all together on a terrace in the centre of Méribel! After a coffee and a laugh, climb back up to Col de la Loze to take on the famous Éclipse Alpine Ski World Championships 2023 run: a challenging route with a major vertical drop that finishes in the forest of Courchevel le Praz.
Up in Courchevel 1850, the Petit Dou red run offers some highly challenging undulating terrain. On the way back, head to Val Thorens via Méribel-Mottaret - anyone whose legs are up to it can opt for one last descent to La Saulire, from a choice of the Freeride Lab or the Couloirs du Vertical Xperience, with an average incline of 33°.
If there's 3 of you or more, you're already considered a gang, a group, a clique… The Tribu Pass is the perfect skipass to enjoy the whole of the Les 3 Vallées ski area with friends, at the very best price.
It'll you save 20€ per person compared to a 3 Vallées 6-day individual adult skipass. That makes the 3 Vallées 6-day skipass 355€ instead of 375€ from 23rd December 2023!
Offer valid for 3 skiers or more and for a minimum of 6 days (all skiers must share the same pass duration). Must be bought and paid for at the same time. One transaction only.
Reunion
Experiences
to share
Because Les 3 Vallées is also an infinity of possibilities, discover all the experiences to enjoy with friends for an unforgettable holiday in the world's largest ski area!