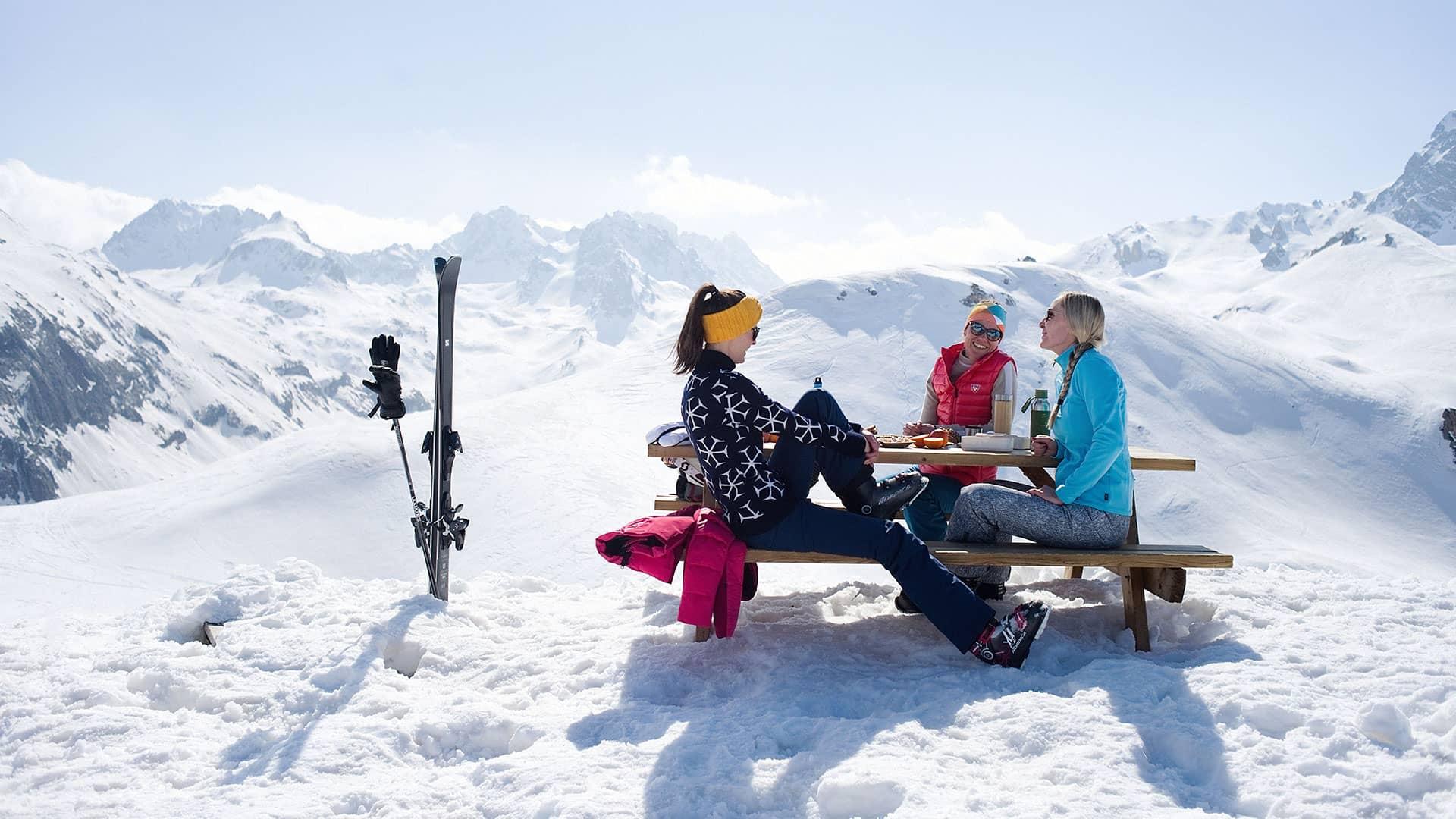 Our best 3 Vallées picnic spots
With children

With teens

Adults

For all

The best of skiing
11 breathtaking picnic spots
Without a doubt, there are as many skiers in Les 3 Vallées as there are reasons attracting them to come and devour the slopes of the world's largest ski area! Guaranteed snow from the first to the last day of the season, authentic resorts and villages, unique views, 600 kilometres of runs designed to cater equally to beginners, intermediate and experienced skiers… And to top it all off, the chance to combine great skiing with the great outdoors: to rest your legs between two runs, enjoy a breathtaking break at one of our 11 (once again, that's not an exhaustive list!) picnic spots!
Le Signal summit in Courchevel-Moriond (2,250 metres)
Welcome to the easternmost spot in Les 3 Vallées ski area! Here, at the top of Le Signal, picnic tables await skiers eager for a well-earned lunch break, with astounding views over the Vanoise and Mont Blanc glaciers as your backdrop. Just a few more bites of this delicious sandwich and your skis will be ready to glide over one of the sector's most beautiful slopes: Les Chapelets, with its wild, natural, Grand Canyon-style atmosphere!
Le Roc de Fer summit in Méribel (2,294 metres)
If you were looking for somewhere to recharge your batteries in the calm backdrop of the mountains, this is it! At the top of Roc de Fer, nestled in the middle of a powder snow field high up on a mountain ridge, a few picnic tables appear to have been left there just for you… Well, they have been! Sit yourself down, put your sunglasses on, get your snacks out and soak up the magnificent panoramic view over Méribel and Les Menuires for as long as you like….
Le Tougnète summit between Les Menuires and Méribel (2,437 metres)
After a morning of skiing over Saint-Martin-de-Belleville's long, gentle slopes leading through the trees to the heart of the hamlet, it's time to enjoy a delicious picnic on one of the tables provided for just that purpose. An unmissable spot, the Tougnète summit boasts a 360° view over the Belleville Valley on one side and Méribel on the other. Incredible!
Le Nid de la Loze at le Col de la Loze between Courchevel and Méribel (2,305 metres)
If you're looking to get away from it all, head to La Loze summit. Oozing charm and warmth, this welcoming new chalet is a delightful haven, inviting you to switch off. Take your pick of two views: the ski area with its fresh, powder snow, or the Vanoise glaciers. It's the perfect place to enjoy a unique experience with family or friends, or for a romantic getaway. Just imagine that in summer, an exceptional cycle path can take you here from Courchevel and Méribel! Tour de France racers have even made it one of their favourite stages, and don't their thighs know it!
Le Mont de la Challe between Les Menuires and Méribel/Méribel Mottaret (2,573 metres)
Reach the heights for a picnic on the mountaintop - that's the plan for an amazing lunch at Mont de la Challe. With Les Menuires on one side and Méribel/Méribel Mottaret on the other, share a magical moment with loved ones gazing over the many summits and massifs you can see from your observation point: Burgin, Saulire, le Grande Casse, the Vanoise glaciers…
The top of the Biollay chair lift in Courchevel (2,230 metres)
Set on a little plateau at the top of the Biollay chair lift, you'll find picnic tables for one of the sunniest lunches around. Surrounded by stunning mountains, and with Mont Blanc as a backdrop, skiers can enjoy an introduction to art during their break. Every winter, as part of the "Art at the Summit" open-air museum, monumental artworks are put on display all around Courchevel resort, including one at the Biollay summit!
Les 3 Marches Summit between Les Menuires and Méribel / Méribel Mottaret (2,704 metres)
Perched at an altitude of 2,704 metres, skiers can treat themselves to a much-needed break at the top of Les 3 Marches! Invigorating coolness, fresh air, breathtaking views… recharge your batteries as you enjoy your picnic, and then let your ski tips carry you to one of Les Menuires' most beautiful runs, Grand Lac (blue). With its westerly orientation guaranteeing exceptional snow, carve curves or head straight down over a wide, spacious run. Peaceful skiing to enjoy to your heart's content, with panoramic views over Belleville Valley from start to finish!
Le Mont de la Chambre between Val Thorens and Méribel Valley (2,850 metres)
Did you know that you can enjoy lunch outdoors in Les 3 Vallées at an altitude of 2,850 metres!? At the Mont de la Chambre summit, between Val Thorens and Méribel Valley, you can do just that! As well as an amazing picnic, a stunning panorama also awaits you: the Péclet-Polset massif, Aiguille du Fruit, Mont Blanc… ski off having enjoyed a feast for the tastebuds and for your eyes!
La Pointe de la Masse in Les Menuires (2,804 metres)
The highest point in Les Menuires, La Pointe de la Masse and its skiable mountainside are simply unmissable during a stay in Les 3 Vallées. At the top, the 360° views are magnificent, and once you've taken a souvenir photo next to the wooden ibex resort emblem, sit yourself down for a picnic! Build up your strength: after lunch, a 1,000-metre vertical drop awaits you on the way back to the resort!
The Saulire Express middle station in Méribel (2,075 metres)
Setting off from Méribel's snow front at La Chaudanne, the Saulire Express will take you straight up to the top of La Saulire. But before you get there, we recommend a little break at the middle station. A chalet with a terrace welcomes skiers for picnics with 360° views over the valley and the surrounding mountaintops. Between mouthfuls, enjoy some of the Alps' most beautiful summits, such as the Grande Casse and Mont Blanc!
From the Bouquetin chairlift departure station in Méribel Mottaret
If you need to catch your breath, and want to admire stunning views at the same time, just head to the Bouquetin chairlift departure station. Take a selfie in front of the giant Méribel sign, and admire the view from the many picnic tables. It's the perfect opportunity to get a good dose of vitamin D.
And it doesn't stop there: head for the Hive in Val Thorens!
Welcome to La Ruche (bee hive) picnic area, located at the departure point of La Bee zip line. Recently refurbished, it is now dedicated to bees, and the important role they play in our ecosystem. Inside, you'll find information and a quiz about these little worker bees, helping you find out more about them, and see how much you already know. There are lots of prizes to win too!
Skiers of all abilities intending to come for between 6 and 21 days can choose a custom-made skipass to create the perfect holiday.