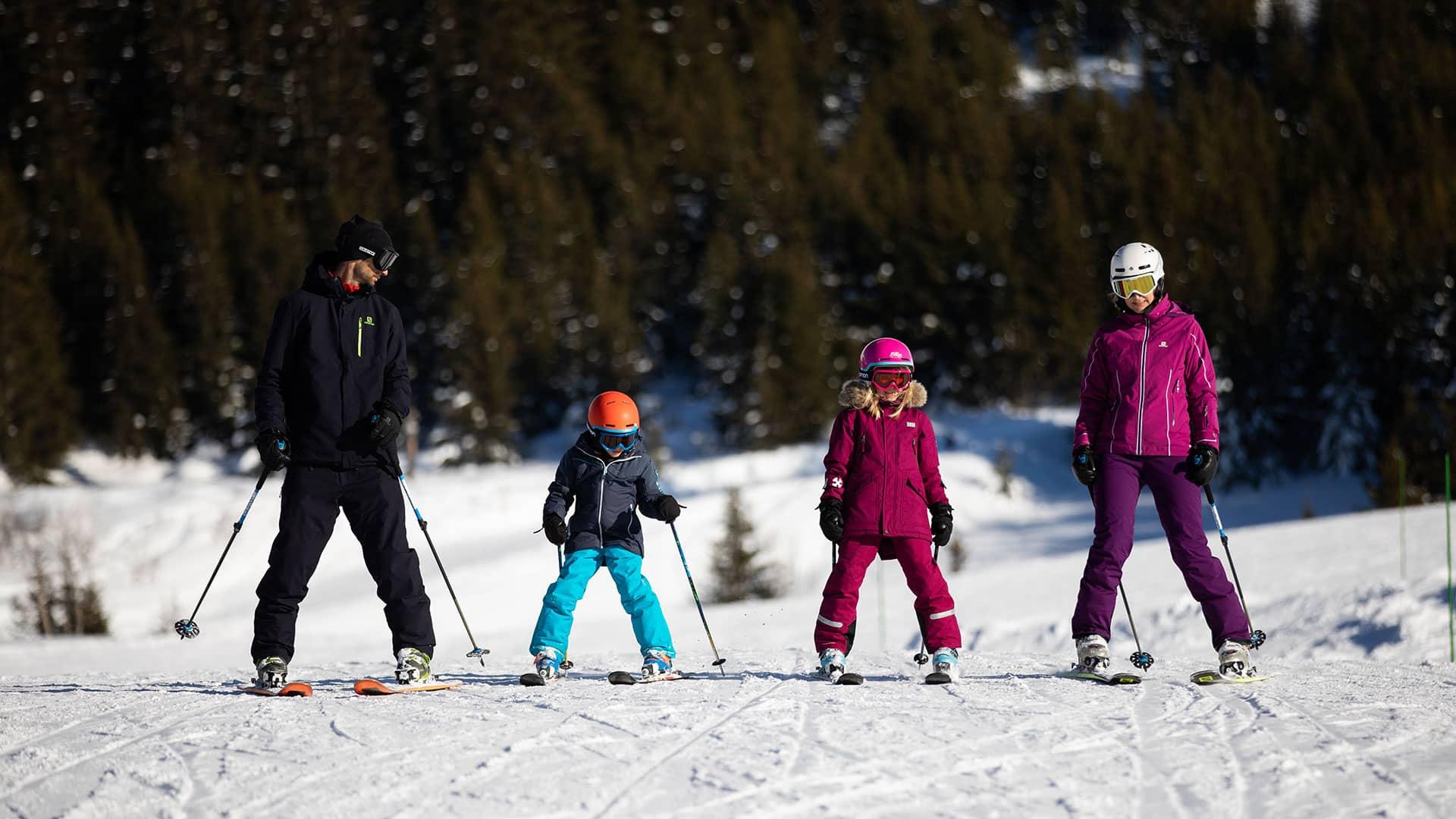 3 VALLÉES – FAMILY SKIING
IT'S BEING TOGETHER THAT COUNTS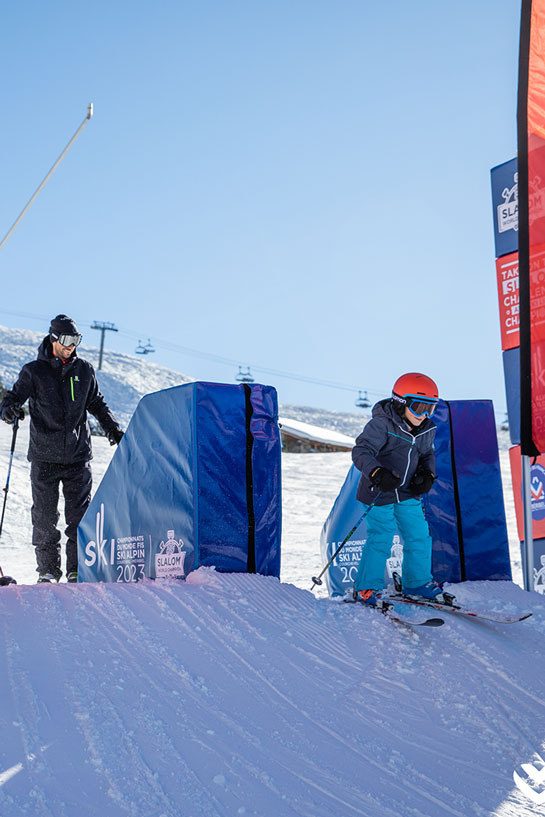 The shared experience of a ski holiday is a highlight for any family, bringing its members closer together, withstanding the passing of time, filling photo albums and leading to many a funny story at family dinners…
Skiing as a family brings you together somewhere else, allowing you to reach new heights, to get away from it all and enjoy precious quality time in a setting like no other, that appeals to all ages.
The joy of snowsports is magical, childlike… Never failing to ignite a spark inside of you, whatever your age, making family bonds closer than ever.
It feels so good to share what we love with those whom we love.
Skiing with your loved ones is also the joy of seeing your children in a different light, wide-eyed with wonder faced with the immensity of the snow-capped summits, their cheeks aglow. It's also the joy of watching them discover the mountain environment in all its beauty and fragility, and in being able to help them learn and feel at ease in no time at all.
Thanks to its family-friendly ski area, you can enjoy a wonderful holiday with total peace of mind in Les 3 Vallées.
It has the natural advantage of its extensive size, combined with its design and layout, making it safe for one and all.
Which is the best skipass if you want to ski as a family in Les 3 Vallées?
To take full advantage of everything Les 3 Vallées ski area has to offer families, opt for the Family Pass – everyone pays the child's rate!
A FAMILY-FRIENDLY SKI DESTINATION
Families can go at their own pace, taking their own route, whatever their age, whatever they feel like doing and whatever their level.
From first snow-plough turns in the beginners area, to "ski safaris" that will take you and your family from one valley to another…
So, put on your gloves and sunglasses, and set off on a family adventure in Les 3 Vallées.
The world's largest ski area takes great pride in welcoming families in the very best conditions.
Whichever resort you start out from, you will always find the same high levels of accessibility and safety.
From easy access to the slopes, to ski lifts equipped with protection systems for children, everything is done with the desire to offer snowsports to all, whilst offering endless possibilities to dream, have fun, admire and discover.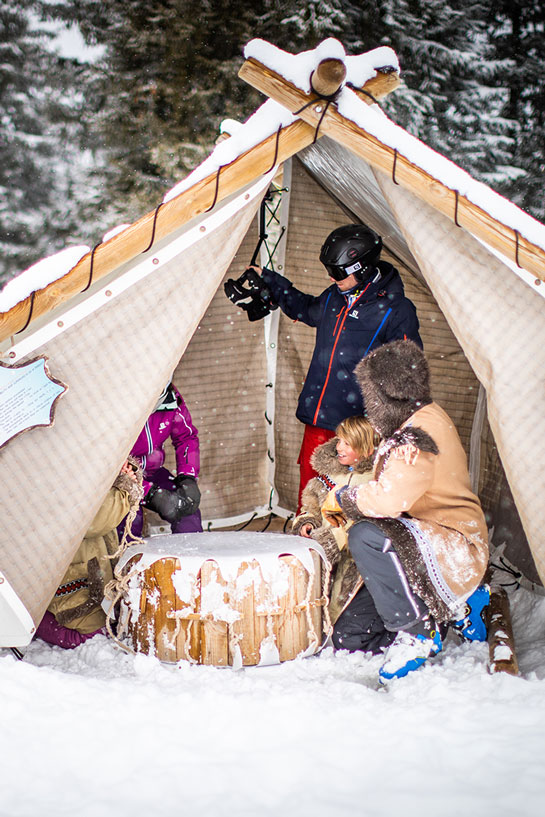 HALF-HALF
You might find it hard to believe, but more than half of the ski runs in Les 3 Vallées are green (suitable for beginners) and blue (easy).
Over 190 runs for you to devour at ease, which is great for beginners and young skiers, as well as if you're looking for a leisurely ski, whilst soaking up the surroundings and getting away from it all, taking your time, singing or chatting as you go!
These wide, gently undulating slopes offer easy, enjoyable routes for everyone, in a chilled-out atmosphere so that the whole family can really get the most out of this natural alpine environment.
Which is exactly what you'll get from the Lory run on the Orelle mountainside: this panoramic blue run invites the whole family to experience the joy of mindful skiing. From the top of the Thorens Funitel at 3,000 metres, it offers an enchanting journey through the heart of this isolated glacial valley, encircled by legendary summits.
A TREASURE TROVE OF SKIING DELIGHTS - IMMERSE YOURSELF IN NATURE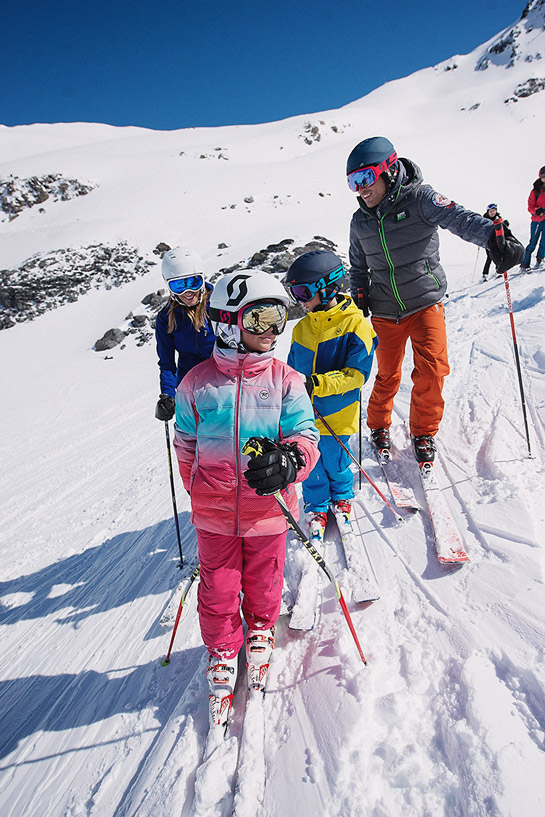 Another family experience not to be missed (as soon as everyone has reached 3rd star/ intermediate level) is:
Skiing down the longest blue run in Les 3 Vallées,
Prepare to be amazed as you take in more than 1,500 metres of vertical drop!
Set off from Mont de la Chambre, which you can get to via the Côte Brune chairlift in Méribel, and head over to La Chaudanne.
The view over the Roof of Europe – the famous Mont Blanc – boasts a breathtaking starting point.
This high mountain ambiance gradually makes way for another protected environment, that of the Tueda National Nature Reserve.
The Ours run leads the whole family through a forest of ancient Arolla pine trees…
Discover the plant and animal life without even taking your skis off!
Not forgetting La Tania, Les 3 Vallées' best-kept secret with its Folyères green run – a quiet gem of a ski run that winds through the forest! Weaving through snowy fir trees is simply magical.
Skiing across Les 3 Vallées ski area as a family!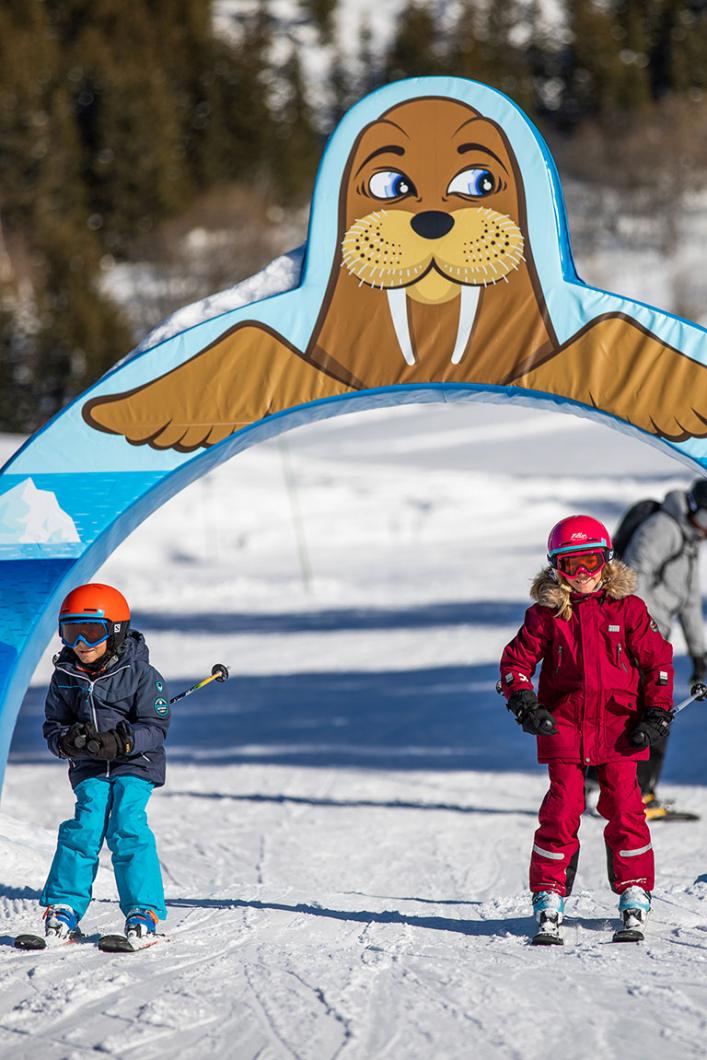 Set off on an adventure to discover these snow-covered valleys along gentle green and blue runs.

You can complete the loop in one or two days, depending on the age and levels of your children.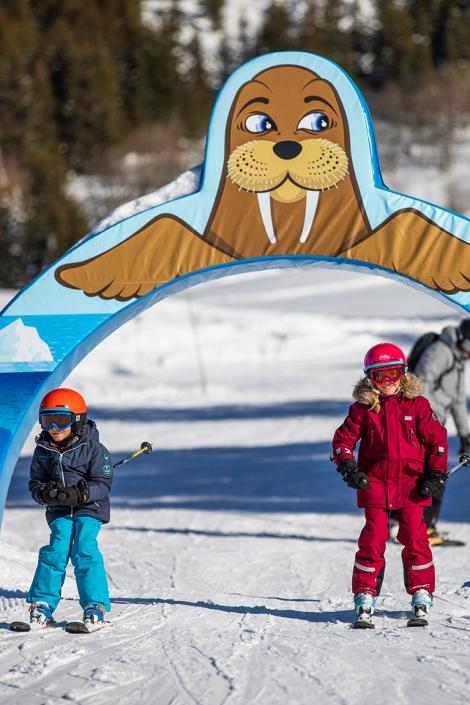 MAGICAL ATMOSPHERES AND FAMILY-FRIENDLY AREAS
To learn how to ski in total safety
Vast areas have been created on all of the different mountainsides. These cleverly themed fun zones mean families can have a great time enjoying snowsports together!
Zig zag between igloos and animals from the icefields as you soak up the Far North atmosphere at the heart of the forest in Méribel Altiport's «Family Cool» sector.
In Val Thorens, the VT Fun Ride boasts an original 900-metre long circuit that's accessible to all with sensory games… Tunnels through the snow, bridges, banked turns…. Who would ever have thought it was possible with skis on?!
Another mountainside, another atmosphere: Courchevel's Western Ski Park invites you to travel through time. Budding cowboys and Indians will learn at high speed in this enclosed area, before heading off to meet the Incas! In the Family Park, the mountains await you with an easy boardercross featuring whoops and banked turns, mini jumps and mini boxes…
Everyone will have a great time in these different settings, from young skiers to thrill-seeking teenagers… and as for their parents, they'll be only too happy to go back to their childhood days!
The children are well looked after, so why not make the most of it ?!
A family ski holiday is even better when everyone gets a bit of time to themselves too.
Teaching someone to ski is a profession, and it's one that the ESF French Ski School instructors carry out with pride, sharing the same passion and teaching skills in all of the ski area's resorts.
Entrusting your children to a ski instructor gives you the opportunity to enjoy some adult skiing, discovering different runs with total peace of mind, and even treating yourself to some me-time on a sunny terrace.
For children, as well as learning quickly in a relaxed atmosphere, it's a great way to make new friends, and for them to feel a real sense of achievement as they show you what they've learnt when you hit the slopes together again!
Thanks to the instructors, you get to enjoy skiing in all its glory!
Set off on an adventure to discover these snow-covered valleys along gentle green and blue runs.
Boost your body
The amazing benefits of the mountains
As well as the benefits sporting activities like skiing provide, a holiday in Les 3 Vallées can have positive effects on both body and mind.

In these beautiful mountains, the air is purer and healthier, there is also less oxygen, which means the body has to adapt by producing more red blood cells, making it stronger.

What's more, in winter we often find ourselves at high altitudes, above the clouds… The sun reflects off the snow, and as well as giving you a healthy glow, it also gives you your dose of vitamin D!

The beautiful views and the splendour of the eternal mountains are an invitation to mindful thinking, quickly lowering the stress levels of our everyday lives.

The mountains make us feel good, regardless of our age.
Discover benefits of the mountain
NO SUN? NO WORRIES!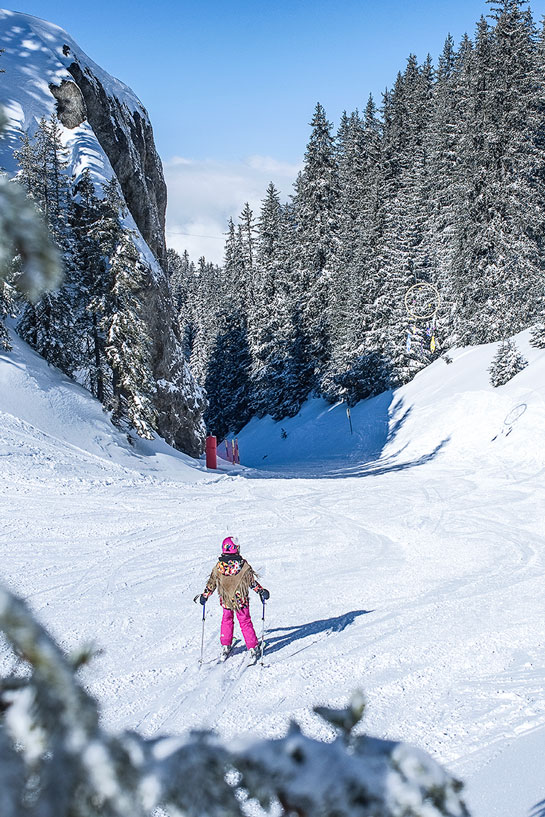 Skiing is an outdoor sport. Just because the sun's not shining one day, it doesn't haven't to spoil your experience!
Les 3 Vallées ski area boasts facilities that can cope with all weathers, so you can still have a great time, even if it's snowing!
Many modern ski lifts provide shelter on the way up the mountain (gondola lifts, cable cars, magic carpets and bubble chairlifts), beautiful runs through the forest that offer good visibility and are shielded from the wind.
Not forgetting the chalets and restaurants on the slopes that guarantee a warm and welcome respite from inclement weather conditions, as well as great views of the falling snow.
Your day on the slopes might get cut short, but it won't be any less amazing!
There's no shortage of alternatives to end the day off on a high note:
The magic of a fast paced toboggan run descent,
Or a poney sleigh ride in the snow are particularly appealing,
And afterwards, why not head inside and take your pick from one of the many indoor options, such as taking a dip in one of the aquafun centres,
Or a fun trip to the cinema…
Sharing and reunion
To discover
with the family
The shared experience of a ski holiday is a highlight for any family, bringing its members closer together, withstanding the passing of time, filling photo albums and leading to many a funny story at family dinners… Skiing as a family brings you together somewhere else, allowing you to reach new heights !