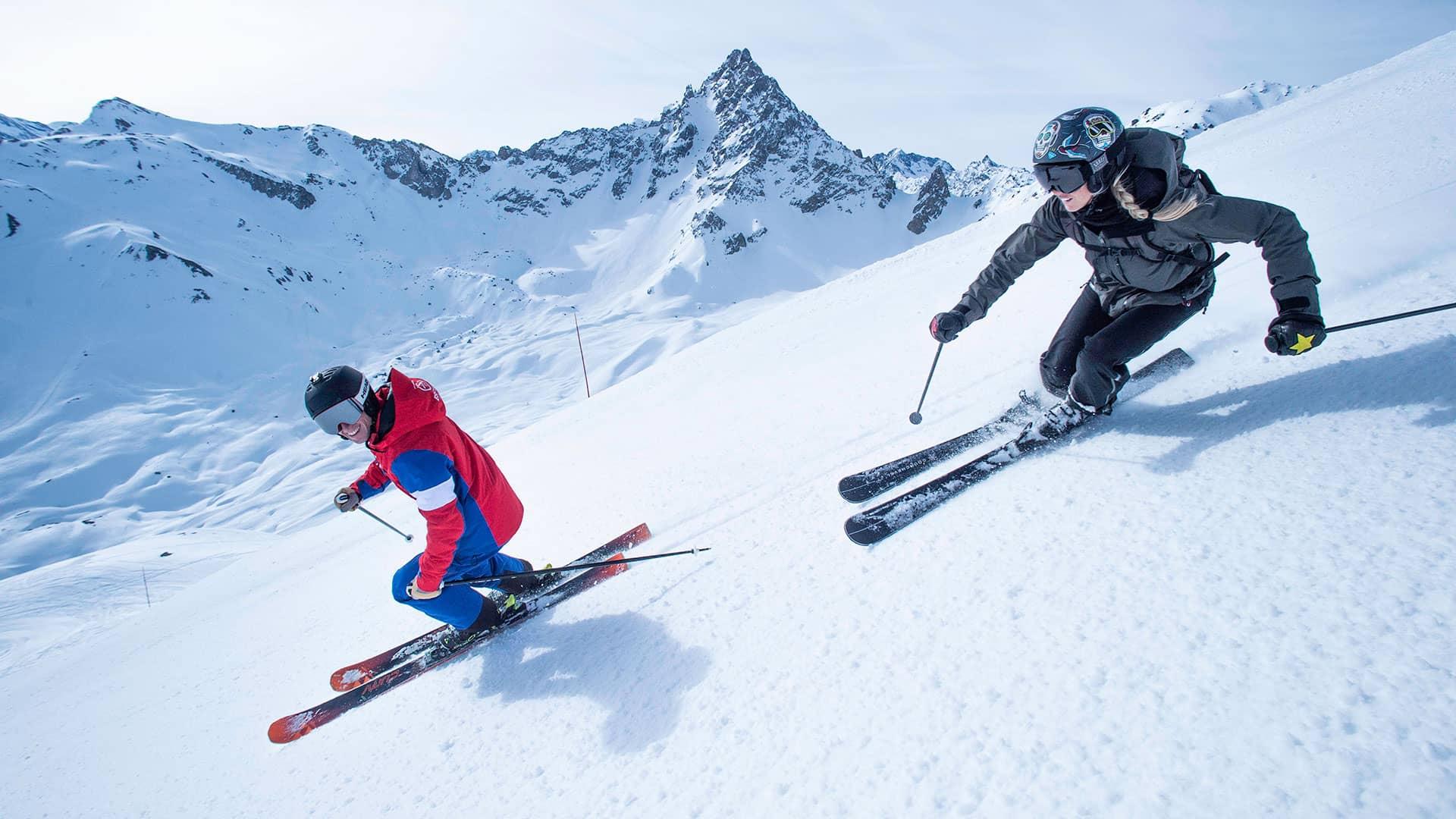 Adult lessons and off piste
Ski in good company
There are a hundred and one reasons why it's worth opting to go with a ski instructor or mountain guide to explore a ski area as vast as Les 3 Vallées.
Considered essential for beginner skiers, mountain professionals can also bring a new dimension to snowsports, even for the most experienced skier. Thanks to them, you'll discover Les 3 Vallées in a whole new way.
Visit the 3 Vallées ESF web site
A turning point in your technique
Getting the most out of Les 3 Vallées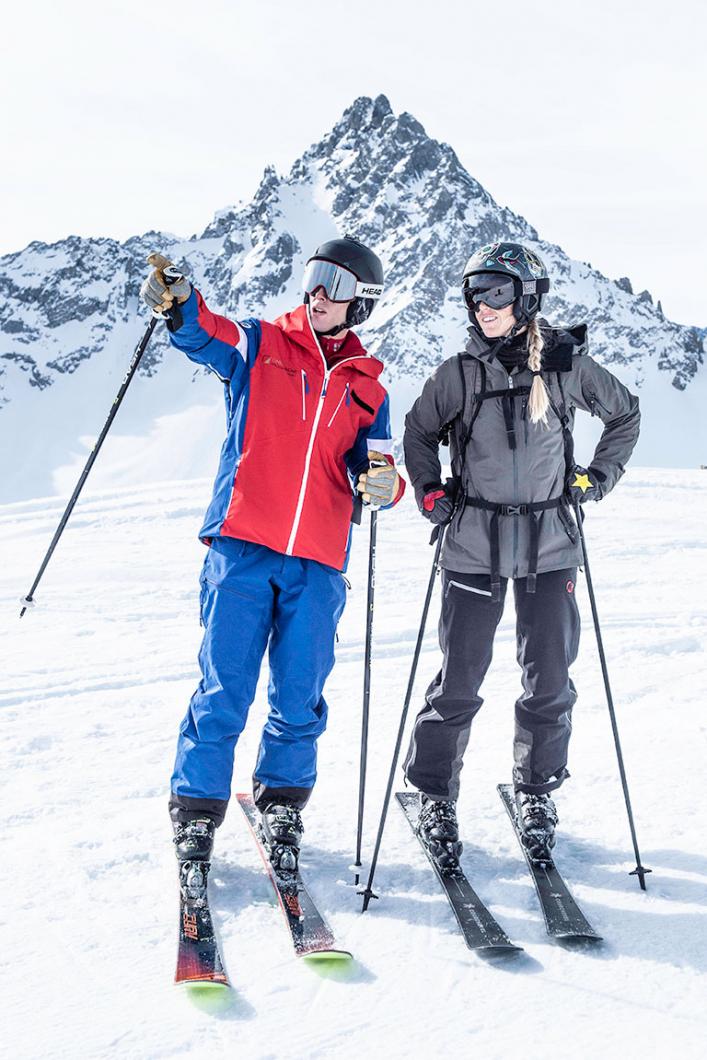 Ski instructors and mountain guides will also help you improve, to move up a level and reach a turning point in your technique that you would never have thought possible on your own. By talking together, and thanks to their experience, knowledge and excellent teaching skills, a wealth of new sensations will open up to you, as well as many exceptional moments that will remain etched on your memory forever.
Powerful, joyful and calm, these moments are yours for the taking.

Should you wish to, the instructors and guides are on hand to help you explore the vastness of Les 3 Vallées beyond the marked runs, going off piste or ski touring. Embark on an unforgettable experience in a small group where your safety is key.
Once again, in addition to the technical approach, where learning to be safe is paramount, not only does your instructor or guide lead you, have a spare pair of gloves and a repair kit to sort your broken binding, they are also there to share their passion, to help you look at the mountains in a new way, really taking in their true beauty… And to give you the chance to experience the exceptional… because way up high there is many a beautiful encounter to be had, with others, but also with yourself.
Discover off-piste in Les 3 Vallées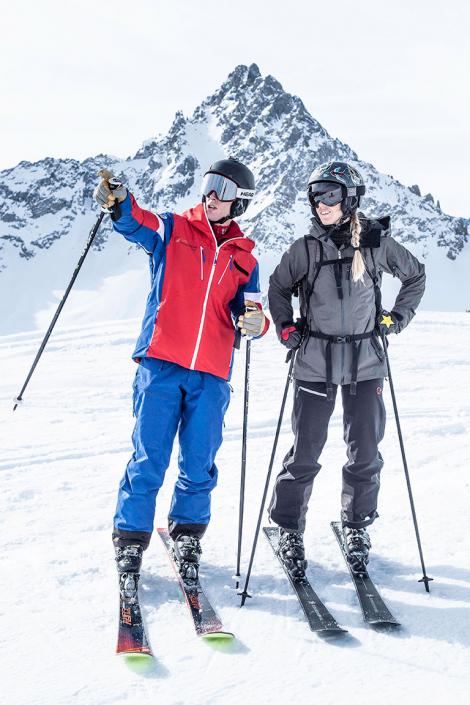 Getting the most out of Les 3 Vallées
When you're with an instructor or mountain guide, you can focus on the way snowsports make you feel, taking in the beauty of your surroundings and enjoying being with your friends, rather than thinking about which route you need to take. There's no need for a piste map, or to wonder whether you're good enough to ski down this red run; if you're there, it's because you can do it. Whoever is leading you will come up with a tailor-made itinerary to suit your level, and what you want to do.
The instructor or guide will adapt the route if the runs are busy, taking you to quieter ski lifts and off the beaten track. He or she will ensure you get to the table you booked for lunch, and that you're on time to pick up your children from their ski lesson.
As a local, they can also tell you where the Jérusalem run got its name from, and who Emile Allais was, whilst identifying the different mountaintops you admire along the way.
Your instructor or guide will also know that the weather conditions are better today above 2,300 metres, that the wind has blown over the south-facing slopes, but that there's still some powder on the north-facing couloirs. They will know which ski lift to take in the morning to be in the sunshine, that such and such a run tends to get icy late afternoon, and that it's supposed to snow tomorrow…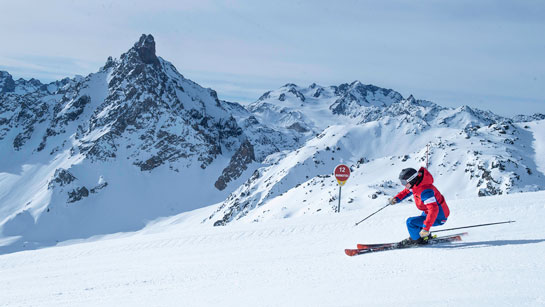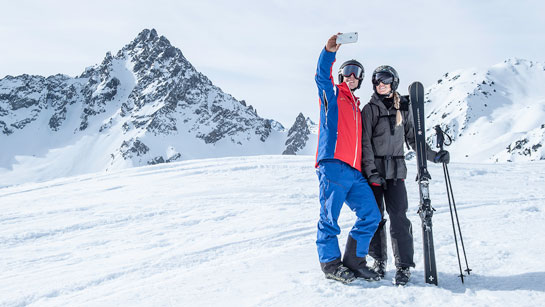 Many different factors…that can make or break your day out on the slopes!
Freeriding checklist
Ski instructor and Les 3 Vallées ambassador, Timy Théaux specialises in freeride and freerando. He's giving us his "equipment checklist" for an off-piste session.
EQUIPMENT
Wide skis adapted to powder snow skiing
Poles with wide baskets to help you push properly against deep snow
AVD, Avalanche Victim Detector charged up and with you (must-have items for going off-pistes)
Waterproof, breathable ski clothing
RUCKSACK
Shovel & probe (must-have items for going off-pistes)
Fully charged mobile phone
Water & Snacks (cereal bar, dried fruits...)
Sticky tape, string, Swiss army knife
Connect yourself
An XXL off-piste
ski area
A vast high-altitude expanse combined with a huge network of ski lifts: that's the winning formula that makes Les 3 Vallées an extraordinary playground for off-piste skiing!