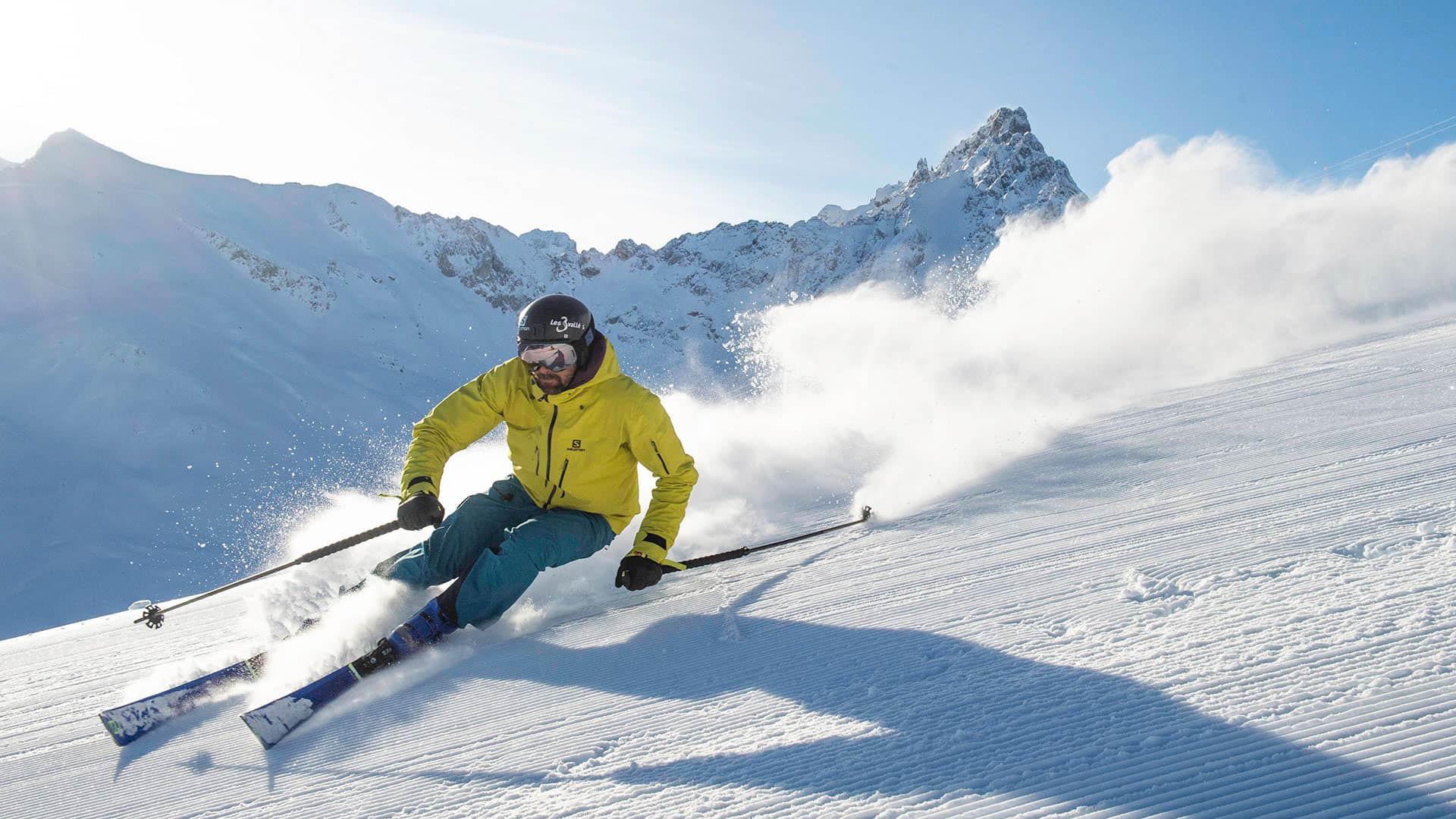 Natural quality, plain and simple…
Come and enjoy the entire ski area of Les 3 Vallées
from December 9, 2023, to April 19, 2024!
To ensure you have a complete skiing experience throughout the season, partial connections are available from December 2 to December 8, 2023, and from April 20 to April 21, 2024, allowing you to access a portion of the ski area.
Experience the joy of skiing from November 18, 2023, to May 5, 2024,
thanks to Val Thorens, the highest ski resort in Europe.
Discover the opening dates of each of the 3 Vallées resorts:
Les 3 Vallées: from December 9, 2023, to April 19, 2024 (partial opening from December 2 to December 8, and on April 20 & 21).
Val Thorens: from November 18, 2023, to May 5, 2024.
Orelle: from November 25, 2023, to May 5, 2024.
Courchevel & Méribel: from December 2, 2023, to April 21, 2024 (Courchevel-Moriond and Courchevel-La Tania open on December 9, 2023).
Les Menuires: from December 9, 2023, to April 19, 2024.
Brides-les-Bains: from December 9, 2023, to April 12, 2024.
Saint-Martin-de-Belleville: from December 16, 2023, to April 19, 2024.
---
GUARANTEED SNOW AND AMAZING SKIING
The number 1 destination for travellers looking for the best skiing with exceptional snow cover and snow grooming conditions, Les 3 Vallées boasts extraordinary natural qualities.
High-altitude runs to delight skiers of all abilities,
Easily accessible summits,
Good orientation options throughout the day…
All coupled with perfectly designed facilities.
That's the snow and ski guarantee that all snowsports lovers dream of!
That means almost half the runs are aimed at beginners and intermediates, with the other half dedicated to more experienced skiers! All abilities can sample the joys of wide-open spaces, unique panoramic views, a magical time with family and friends… quite simply, amazing skiing.
Especially in the knowledge that:
Every night, 160 piste groomer drivers work in shifts,
One team from 5pm to midnight, then a second from midnight to 7am,
At the controls of 70 grooming vehicles dotted over the entire Les 3 Vallées ski area,
To maintain the green, blue and red runs as a priority, as well as the connections to Les 3 Vallées.
The black runs are not systematically groomed, much to the delight of all those who love fresh snow, walls and moguls!
The world' largest ski area offers snowsports of every shape and size thanks to:
Its 36 fun zones (themed runs, snowparks, beginners' areas, etc.),
And 10 tobogganing zones for rediscovering your inner child and treating yourself to unforgettable fits of laughter!
Les 3 Vallées: exceptional skiing
Les 3 Vallées comprises 600 kilometres of ski runs (342 runs in total) accessible to all thanks to the following split:
GUARANTEED SNOW AND ALTITUDE
At the heart of the Alps, Les 3 Vallées ski area boasts an exceptional geographic situation:
From the lowest altitude runs at 1,300 metres, to the summit of Les 3 Vallées up at 3,230 metres,
It guarantees high quality snow cover throughout the winter season,
With 85% of the ski area located above 1,800 metres, Les 3 Vallées has guaranteed for more than 20 years now that all of its resorts will open from the beginning of December until the end of April,
And even from the end of November to the beginning of May for Val Thorens, the highest resort in Europe at an altitude of 2,320 metres,
5 months of guaranteed skiing, 150 days of joy at the tips of your skis,
It boasts 25 summits that are accessible via ski lift, 10 of which are positioned at altitudes of more than 2,500 metres.
While the ski area's elevated altitude allows for natural snow cover, snowmakers also play a key role.
Over 2,700 snowmakers effectively cover 54% of Les 3 Vallées ski area, using simply water and cold temperatures.
The sectors where you'll find the most artificial snow are:
The beginners' areas, for the easiest possible skiing,
Routes back to the resorts, for a hassle-free end to your ski day,
As well as connections to Les 3 Vallées, all located at altitudes of more than 2,000 metres.
When you come to ski in Les 3 Vallées, you're guaranteed to find quality snow and amazing skiing throughout your stay.
Discover the ski guarantee in Les 3 Vallées

"ANYTIME" GUARANTEE
The vast range of landscapes for skiers to gaze upon is also one of Les 3 Vallées' natural qualities.
Criss-crossing the world's largest ski area:
Skiers will pass through high rocky summits, a world of glaciers, and through the hearts of authentic villages lower down the valley.
Winding through thick fir and spruce forests one minute, then gliding over wide, sweeping, perfectly groomed boulevards, or taking a series of curves, one after the next.
As well as meandering between the deciduous trees, where you can spot the silhouettes of skiers venturing their way through the wood.
In a ski area of this scale, every turn, every ski lift, every valley… is a chance to be surprised by a new breathtaking landscape through which you can glide at your own pace.
Whatever the weather, skiers always find a little piece of paradise where they can let their skis do the talking:
The forests and lower valley to find the best visibility on snowy or foggy days,
The most legendary summits for spectacular views when the ski is bright blue...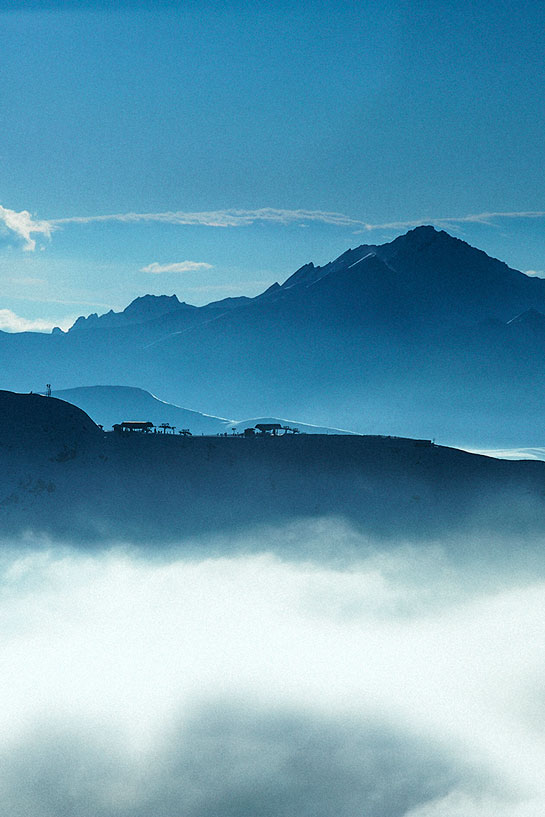 In Les 3 Vallées, you can always change where you ski to suit the weather!
ALEXIS PINTURAULT

, Champion - Courchevel - Alpine Skiing

Les Marmottes in Courchevel, for its elevation difference, walls, and the views.

CHLOÉ TRESPEUCH

, Champion - Val Thorens - Snowboard Cross

My favourite piste is the boardercrossslope! We are so lucky to have a World Cup-standard piste for training. It's amazing. It is also adapted for tourists who can enjoy a fun experience with the family.

RENAUD JAY

, Champion - Les Menuires - Cross-Country

Given my background, my favourite is the cross-country pistes at the Plan de l'Eau in Les Menuires where I first got into my discipline! But when alpine skiing, I always drop by the Fred Covilipiste.

JEAN-FRED CHAPUIS

, Champion - Val Thorens - Skicross

La Haute Combe in Val Thorens for the natural variety of terrain and the superb view from the top. Then I take the La Loy piste down to Saint Martin. It's magnificent.

KEVIN GURI

, Champion - Les Menuires - Freeride

My favourite pistes are those with a bold natural character, such as the Jérusalem piste in Saint Martin. But in general, I use the slopes to get to the off-piste sections!

LÉA LEMARE

, Champion - Courchevel - Ski Jumping

Without a second thought, Les Jockies, leading to Courchevel Le Prazfrom the top of the ski area. I love the feeling of being alone in the world, and when the piste is groomed it's sensational. Huge fun guaranteed! It's also the piste chosen for the 2023 World Championships, which says a lot!

ADRIEN THÉAUX

, Champion - Val Thorens - Alpine Skiing

My favourite would be the La Cime Carron former red piste and the Poste du Plan de l'Eau. When you arrive first in the morning, the snow is just exceptional. There's a good slope and undulating terrain – perfect for carving and working up some speed if you want!

TIMOTHÉE THÉAUX

, Champion - Ambassador 3 Vallées

"My favourite pistes include: Petit Dou in Courchevel 1850, a high level piste with lots of terrain variation and very few people.Boismint followed by Plan de l'Eau in Val Thorens, to make a long piste with varied terrain. Dame Blanche on La Masse in Les Menuires, with steep slopes from top to bottom and consistent high-quality snow. Combe du Vallon in Méribel-Mottaret, for its length and view over the glaciers."
Skiers of all abilities intending to come for between 6 and 21 days can choose a custom-made skipass to create the perfect holiday.
Les 3 Vallées
Infinite Mountain
Experience
Varied, different and always intense, there are infinite experiences to enjoy exactly the way you want to in Les 3 Vallées. With such a vast range of possibilities stretching out before you, here's what you need, perhaps, to go somewhere you wouldn't usually go.