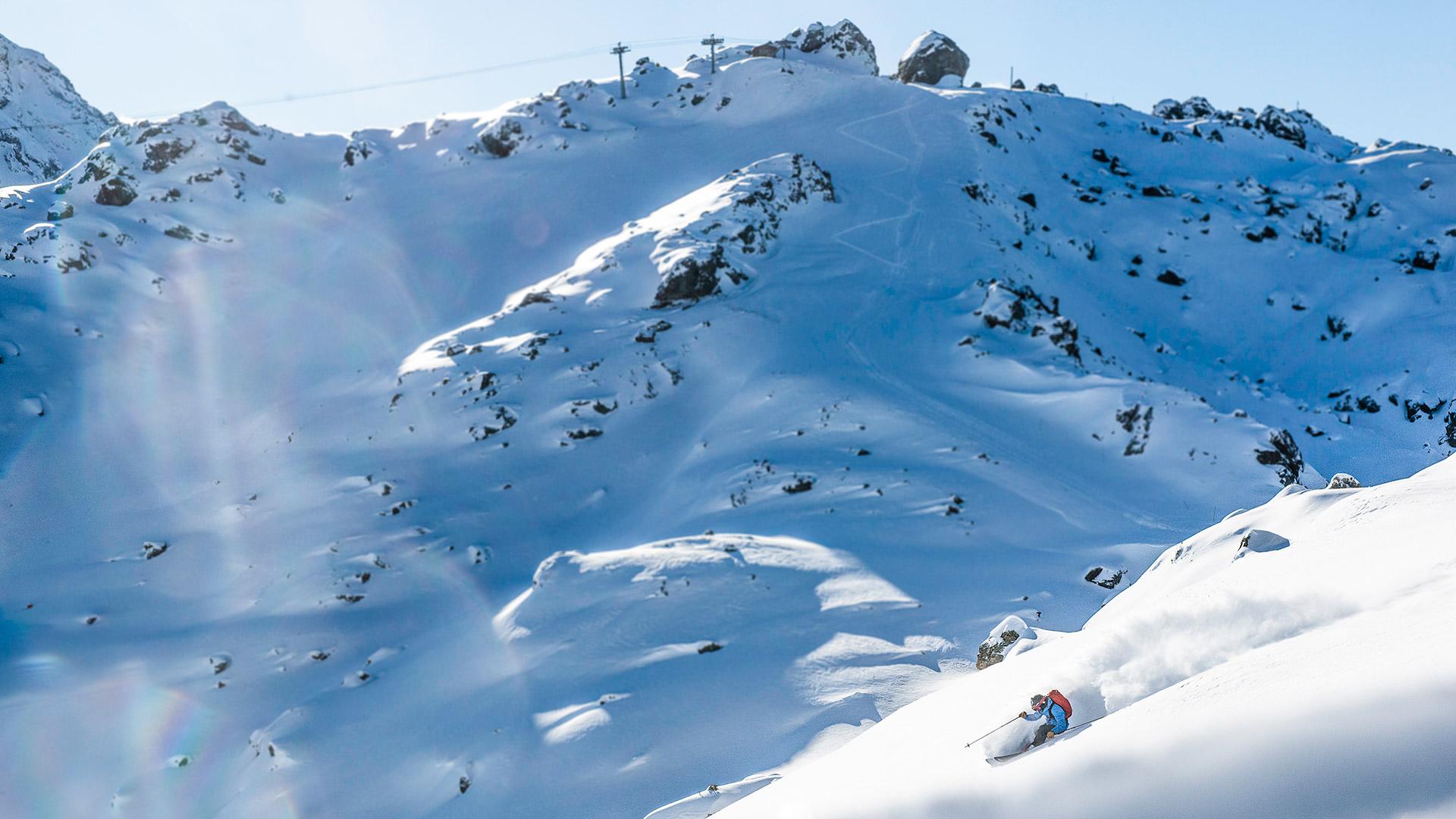 The 3 most beautiful off-Piste
With teens

Adults

Intermediate

The very best of Freeride
The 3 best off-piste itineraries in Les 3 Vallées...
According to our ambassador, Timy Théaux
In winter, the extensive 3 Vallées playground doesn't end at the piste markers. With sufficient off-piste experience and an instructor or local guide to accompany you, the untouched couloirs and other hidden valleys will unfold beneath your skis, revealing their capacity to unleash sensations of pure happiness.
Off-piste skiing is a dream for skiers who love the freedom of wide-open spaces, seeking to surpass themselves, discover something new, or simply recharge their batteries... Here are 3 of them, classified as off-piste by gravity (i.e. not requiring skins), and shared with us by our ambassador, Timy Théaux.

According to him, these are the 3 most beautiful... but has he revealed everything?
TIMOTHÉE THÉAUX

, Ski instructor at Val Thorens & Professional freerider

Before going skiing, I always read the BERA (Avalanche Risk Estimate Bulletin) and the weather forecast to prepare my itinerary for the day. Then I check the state of the PIDA (Avalanche Release Action Plan) to see which slopes and links are open in the 3 Vallées.

TIMOTHÉE THÉAUX

, Ski instructor at Val Thorens & Professional freerider

During my day out, I try to stay hydrated and eat well to keep my energy levels up throughout my day. I also use a lot of the following apps to find my way around our mountains: the maps on the 3 Vallées app and on IphiGénie the IGN maps.

TIMOTHÉE THÉAUX

, Ski instructor at Val Thorens & Professional freerider

After the lifts have closed, I like to unwind with a beer, go back over the event's of the day and the key sections, then prepare for the next one.
OFF-PISTE #1 Les Couloirs de la Saulire
Courchevel Valley
Perched at 2,700 metres, with their 35/40° gradient, the eponymous north facing couloirs are a sight to behold for all powder lovers as you approach them from the top of the Saulire cable car. This renowned Courchevel off-piste hotspot offers a succession of increasingly technical couloirs. Visible from the cable car, they are quickly taken by storm on the days after a fresh snowfall! Even so, the potential is impressive!
Accompanied by professionals, experts and very good skiers will always be able to make fresh tracks by searching a little further afield. The magic can be enjoyed over a vertical descent of more than 600 metres, taking powder hunters directly to the bottom of the same cable car... an open invitation to have another go, and another - for those who have the thighs for it!
---
OFF-PISTE #2 La grande Rosière
Meribel Valley
A lovely descent over a wide slope dotted with vegetation, it is accessible to intermediate off-piste skiers. From the top of the Pas du Lac 2 gondola lift to the bottom of the Pas du Lac 1 gondola lift... it offers 1,000 metres of magnificent vertical descent, right on the edge of the Tuéda Nature Reserve.
Its west facing orientation guarantees unique views and good snow quality, even at the end of winter when the softer snow makes it even more enjoyable.
---
OFF-PISTE #3 Lac du Lou
Belleville Valley
In this high-altitude sector, Val Thorens offers a vast selection of off-piste itineraries. From the top of the Cime Caron cable car, at an altitude of 3,200 metres, a wide, untamed valley appears before the eyes of astonished skiers, without a ski lift in sight! The famous Lac du Lou refuge welcomes them to recover from their emotions a little later on.
A classic for off-piste aficionados, combining so mant attributes:
The quality of the snow due to the high altitude and perfect orientation

The panoramic views and untamed ambiance, even though it is actually very close to the ski area
The incredible vertical drop, totalling 1,400 metres from the top, down to the Plan de l'Eau chairlift at the bottom
And finally, the variety of itineraries available, which means both experts and those with only limited off-piste skiing experience can enjoy themselves
Earn your way back down!
To experience new emotions and feelings of freedom, there's nothing like ski touring!
The topography of the ski area means you can get away from it all by adding a few minutes of effort to your day putting skins on when you get to the top of the lift: you won't regret it!
Warm and welcoming
Lac du Lou Refuge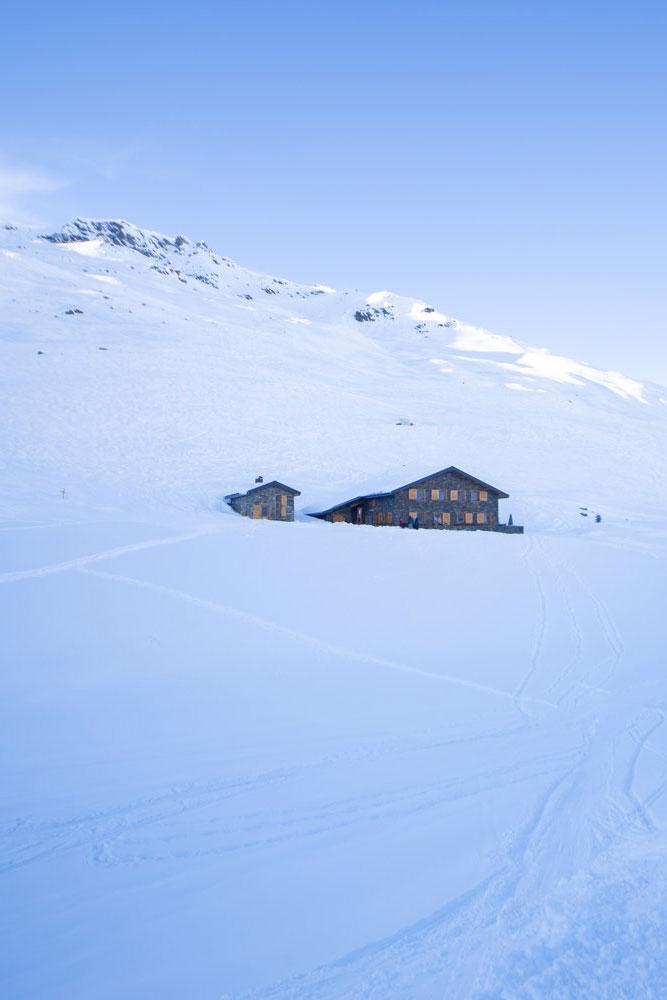 To recover from your emotions after this legendary off-piste experience and continue to let your mind wander a little while longer, there's nothing better than catching your breath in this beautiful stone refuge.

Simple, but warm and welcoming, this is the ideal place for a break. Enjoy a cold beer or a tasty meal made using local produce, while gazing out over the frozen lake and the snow-covered summits... or extend your stay overnight, sleeping high up in the mountains.
Lac du Lou Refuge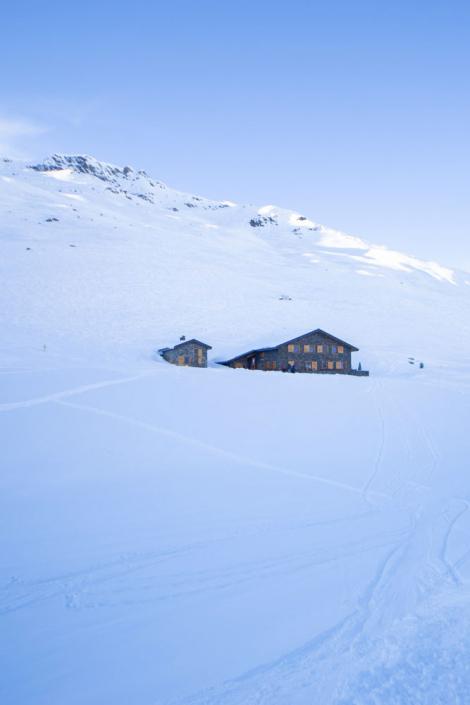 Freeriding checklist
Ski instructor and Les 3 Vallées ambassador, Timy Théaux specialises in freeride and freerando. He's giving us his "equipment checklist" for an off-piste session.
EQUIPMENT
Wide skis adapted to powder snow skiing
Poles with wide baskets to help you push properly against deep snow
AVD, Avalanche Victim Detector charged up and with you (must-have items for going off-pistes)
Waterproof, breathable ski clothing
RUCKSACK
Shovel & probe (must-have items for going off-pistes)
Fully charged mobile phone
Water & Snacks (cereal bar, dried fruits...)
Sticky tape, string, Swiss army knife
Skiers of all abilities intending to come for between 6 and 21 days can choose a custom-made skipass to create the perfect holiday.