The 10 legendary runs in Les 3 Vallées
With children

With teens

Adults

Intermediate

Unique adventures
Discover the 10 legendary runs in les 3 vallées
Les 3 Vallées guaranteed exceptional skiing from the beginning of December to the end of April, on a wide variety of runs, and in an extraordinary playground beloved by snowsports fans from all around the world. Get your legs warmed up and your ski edges sharpened, we can't wait to welcome you to Les 3 Vallées, where you can discover the 10 essential routes!
La Jérusalem (blue) in Saint-Martin-de-Belleville
In a beautiful setting, this easy undulating run offers a grandiose natural landscape. You can hardly see the ski lifts; the silence is golden, and you'll even pass typical uninhabited stone houses.
*New* L'Eclipse (black) in Courchevel-Le Praz
The longest black slope of Les 3 Vallées ski area, it alternates shadows and light. The slope starts at La Loze summit (2,304m) and separates the resorts of Méribel and Courchevel. From its summit, skiers will enjoy a panoramic view of the valley before setting off down the slope for 3.3 km of a vertiginous descent. It will be one of the attractions of the World Ski Championships in 2023: ideal for those who like to challenge themselves!
La Raffort (blue) in Méribel
This run leads you to a clearing dotted with deciduous trees. It makes a change from fir trees! All without anyone around to disturb you…
La Covili (red) in Les Menuires
The resort's unmissable summit, it is reached via the NEW Pointe de la Masse gondola. Waiting for you is nearly 1,000m of descent via Covili, then Enverses (blue).
La Roc de Fer (blue) in Méribel
At the top of the Olympic chairlift, at 2,294m, the view is simply breathtaking. Enjoy a descent in the tracks of many French and international ski champions ! They will meet there again in 2023 at the World Ski Championships. Discover this legendary slope, redesigned for the occasion !
Les Chapelets (red) in Courchevel-Moriond
Bordering the Vallée des Avals, this quiet run gives the impression you are alone in the world, in the heart of the forest overlooking the Dent du Villard, the resort's emblematic mountain.
La Combe Du Vallon (red) in Méribel Mottaret
This extremely long run also has an incomparable quality of snow thanks to its altitude. Powder hunters will love the easily accessible small off-piste sections that run alongside it.
La Combe De Rosaël (black) in Orelle
Taking you from the Tarentaise to the Maurienne valley, don't miss this run with its beautiful views and amazing snowsports opportunities!
The M (black) in Courchevel
When it has just been groomed, it's a must! Overlooking the altiport, the M embodies the very definition of "incredible skiing"!
Tête Ronde (blue) in Val Thorens
At the top of Funitel de Péclet, this is a delight for lovers of beautiful bends!
3 Vallées
Skipasses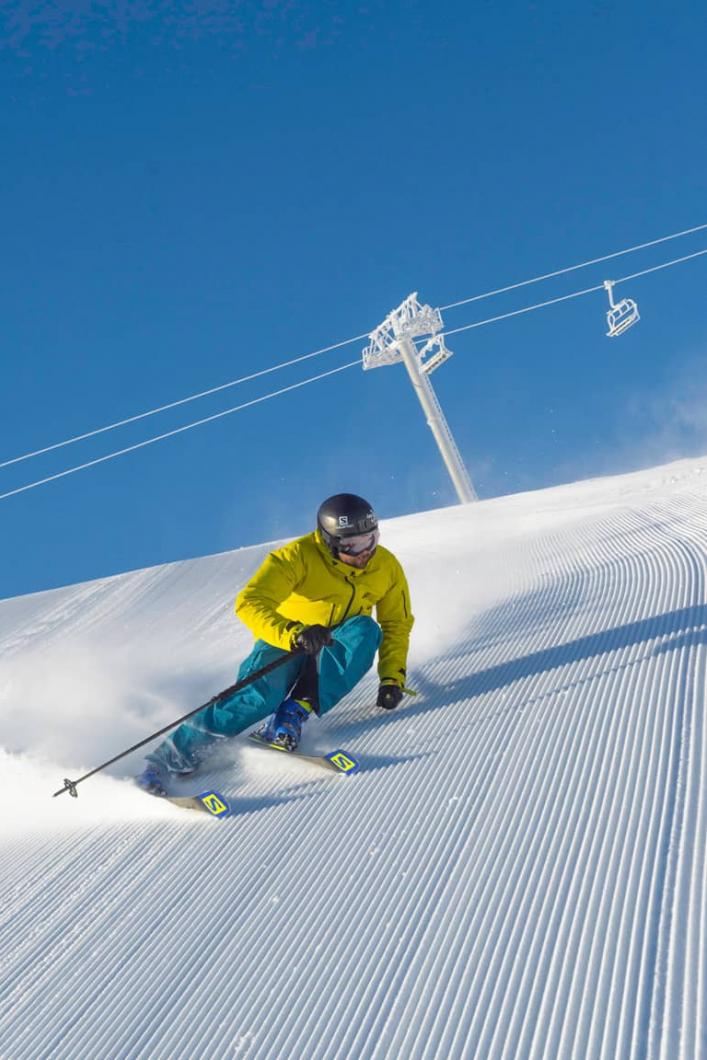 Twice as much time on the pistes ! Three valleys, seven ski resorts… make sure you don't waste a minute of your precious holiday time!

Before you set out on your unforgettable ski holiday, why not do the necessary admin online? Buy or reload your skipasses on the internet!
Buy your skipasses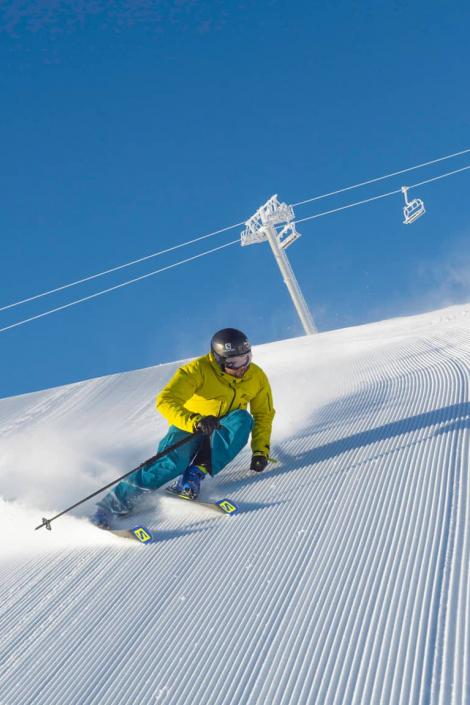 ALEXIS PINTURAULT

, Champion - Courchevel - Alpine Skiing

Les Marmottes in Courchevel, for its elevation difference, walls, and the views.

CHLOÉ TRESPEUCH

, Champion - Val Thorens - Snowboard Cross

My favourite piste is the boardercrossslope! We are so lucky to have a World Cup-standard piste for training. It's amazing. It is also adapted for tourists who can enjoy a fun experience with the family.

RENAUD JAY

, Champion - Les Menuires - Cross-Country

Given my background, my favourite is the cross-country pistes at the Plan de l'Eau in Les Menuires where I first got into my discipline! But when alpine skiing, I always drop by the Fred Covilipiste.

JEAN-FRED CHAPUIS

, Champion - Val Thorens - Skicross

La Haute Combe in Val Thorens for the natural variety of terrain and the superb view from the top. Then I take the La Loy piste down to Saint Martin. It's magnificent.

KEVIN GURI

, Champion - Les Menuires - Freeride

My favourite pistes are those with a bold natural character, such as the Jérusalem piste in Saint Martin. But in general, I use the slopes to get to the off-piste sections!

LÉA LEMARE

, Champion - Courchevel - Ski Jumping

Without a second thought, Les Jockies, leading to Courchevel Le Prazfrom the top of the ski area. I love the feeling of being alone in the world, and when the piste is groomed it's sensational. Huge fun guaranteed! It's also the piste chosen for the 2023 World Championships, which says a lot!

ADRIEN THÉAUX

, Champion - Val Thorens - Alpine Skiing

My favourite would be the La Cime Carron former red piste and the Poste du Plan de l'Eau. When you arrive first in the morning, the snow is just exceptional. There's a good slope and undulating terrain – perfect for carving and working up some speed if you want!

TIMOTHÉE THÉAUX

, Champion - Ambassador 3 Vallées

"My favourite pistes include: Petit Dou in Courchevel 1850, a high level piste with lots of terrain variation and very few people.Boismint followed by Plan de l'Eau in Val Thorens, to make a long piste with varied terrain. Dame Blanche on La Masse in Les Menuires, with steep slopes from top to bottom and consistent high-quality snow. Combe du Vallon in Méribel-Mottaret, for its length and view over the glaciers."
Les 3 Vallées
The best of
skiing
It's no coincidence that Les 3 Vallées is THE n°1 destination for connoisseurs : in the world's largest ski area, a 600-kilometre network of doorstep skiing runs delights skiers of all abilities.