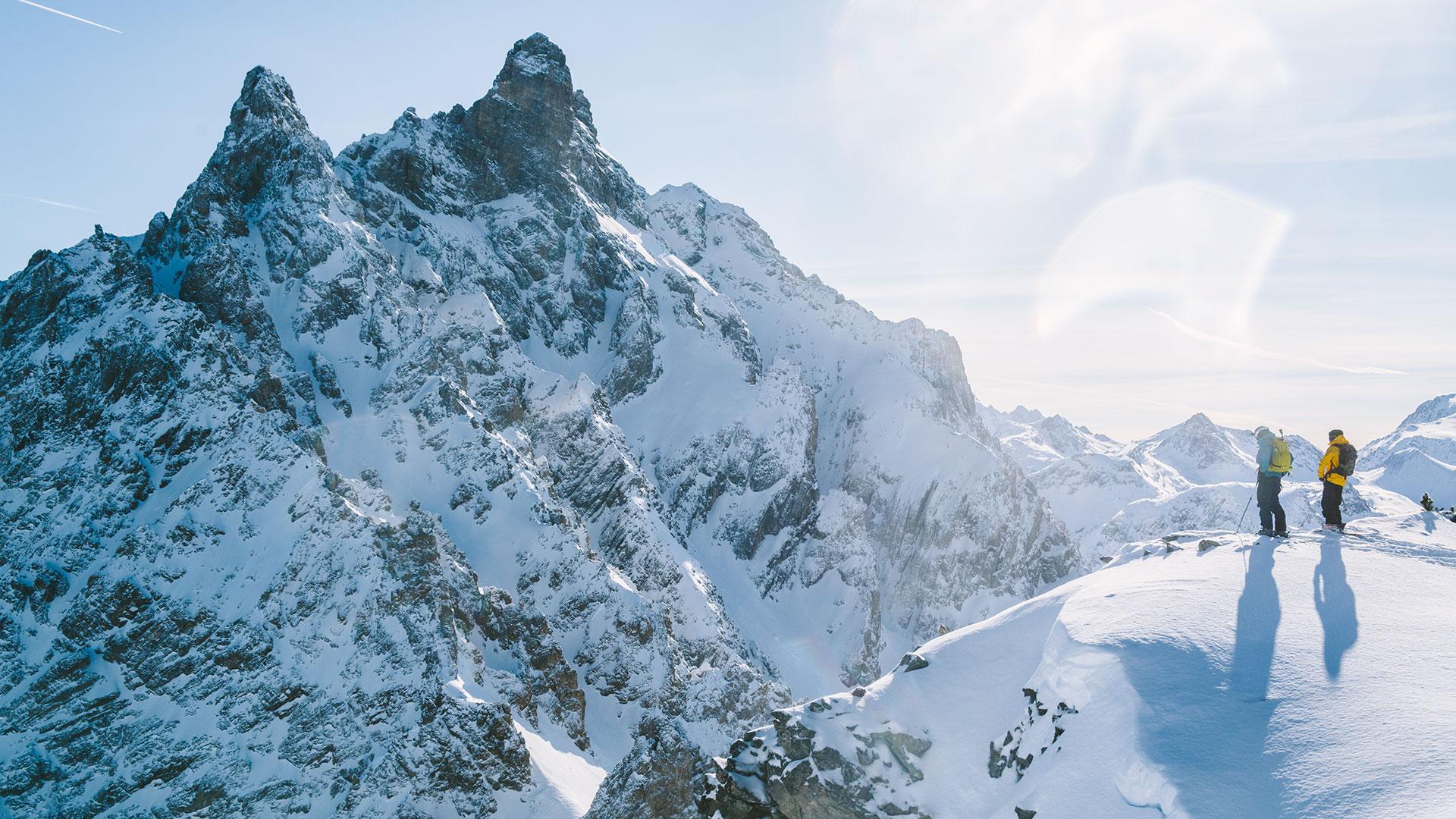 Infinite
Mountain
Experiences
Varied, different and always intense, there are infinite experiences to enjoy exactly the way you want to in Les 3 Vallées. With such a vast range of possibilities stretching out before you, here's what you need to get your bearings, to find out what's what, and perhaps even to go somewhere you wouldn't usually go.
The whiff of adventure, a panoramic view, an atmosphere… it all guides you little by little towards your dream experience, whether consciously or not.

With such an abundance of mountain experiences, you're guaranteed to find all the advice, information, and ideas you need to get the most out of them right here. Both before you arrive, and in resort, in spring, autumn, summer and winter, answer the call to the great outdoors, and discover this mountain haven and incredibly vast playground.

With family, friends, as a couple, or solo, make sure that you get the most out of Les 3 Vallées…

From hiking to gastronomy, skiing to well-being, from pushing back your boundaries to recharging your batteries, get-togethers to intimate escapes… Choose the experience that you need, that you want; the one that thrills you, piques your curiosity, sparks your imagination, and feel free to switch it up, to take another path as if you're navigating a new area by instinct and changing direction in search of an unknown atmosphere…

Infinity stretches out before you, and we're here to guide you through it. We wish you a very pleasant journey through Les 3 Vallées.
A extraordinary playground
Endless
activities
Imagine yourself in the heart of nature, surrounded by the most beautiful peaks of Les 3 Vallées. You are immersed in an almost unreal panorama of endless peaks covered in white powder... welcome to the largest ski area in the world !
ALEXIS PINTURAULT

, Champion - Courchevel - Alpine Skiing

Les Marmottes in Courchevel, for its elevation difference, walls, and the views.

CHLOÉ TRESPEUCH

, Champion - Val Thorens - Snowboard Cross

My favourite piste is the boardercrossslope! We are so lucky to have a World Cup-standard piste for training. It's amazing. It is also adapted for tourists who can enjoy a fun experience with the family.

RENAUD JAY

, Champion - Les Menuires - Cross-Country

Given my background, my favourite is the cross-country pistes at the Plan de l'Eau in Les Menuires where I first got into my discipline! But when alpine skiing, I always drop by the Fred Covilipiste.

JEAN-FRED CHAPUIS

, Champion - Val Thorens - Skicross

La Haute Combe in Val Thorens for the natural variety of terrain and the superb view from the top. Then I take the La Loy piste down to Saint Martin. It's magnificent.

KEVIN GURI

, Champion - Les Menuires - Freeride

My favourite pistes are those with a bold natural character, such as the Jérusalem piste in Saint Martin. But in general, I use the slopes to get to the off-piste sections!

LÉA LEMARE

, Champion - Courchevel - Ski Jumping

Without a second thought, Les Jockies, leading to Courchevel Le Prazfrom the top of the ski area. I love the feeling of being alone in the world, and when the piste is groomed it's sensational. Huge fun guaranteed! It's also the piste chosen for the 2023 World Championships, which says a lot!

ADRIEN THÉAUX

, Champion - Val Thorens - Alpine Skiing

My favourite would be the La Cime Carron former red piste and the Poste du Plan de l'Eau. When you arrive first in the morning, the snow is just exceptional. There's a good slope and undulating terrain – perfect for carving and working up some speed if you want!

TIMOTHÉE THÉAUX

, Champion - Ambassador 3 Vallées

"My favourite pistes include: Petit Dou in Courchevel 1850, a high level piste with lots of terrain variation and very few people.Boismint followed by Plan de l'Eau in Val Thorens, to make a long piste with varied terrain. Dame Blanche on La Masse in Les Menuires, with steep slopes from top to bottom and consistent high-quality snow. Combe du Vallon in Méribel-Mottaret, for its length and view over the glaciers."