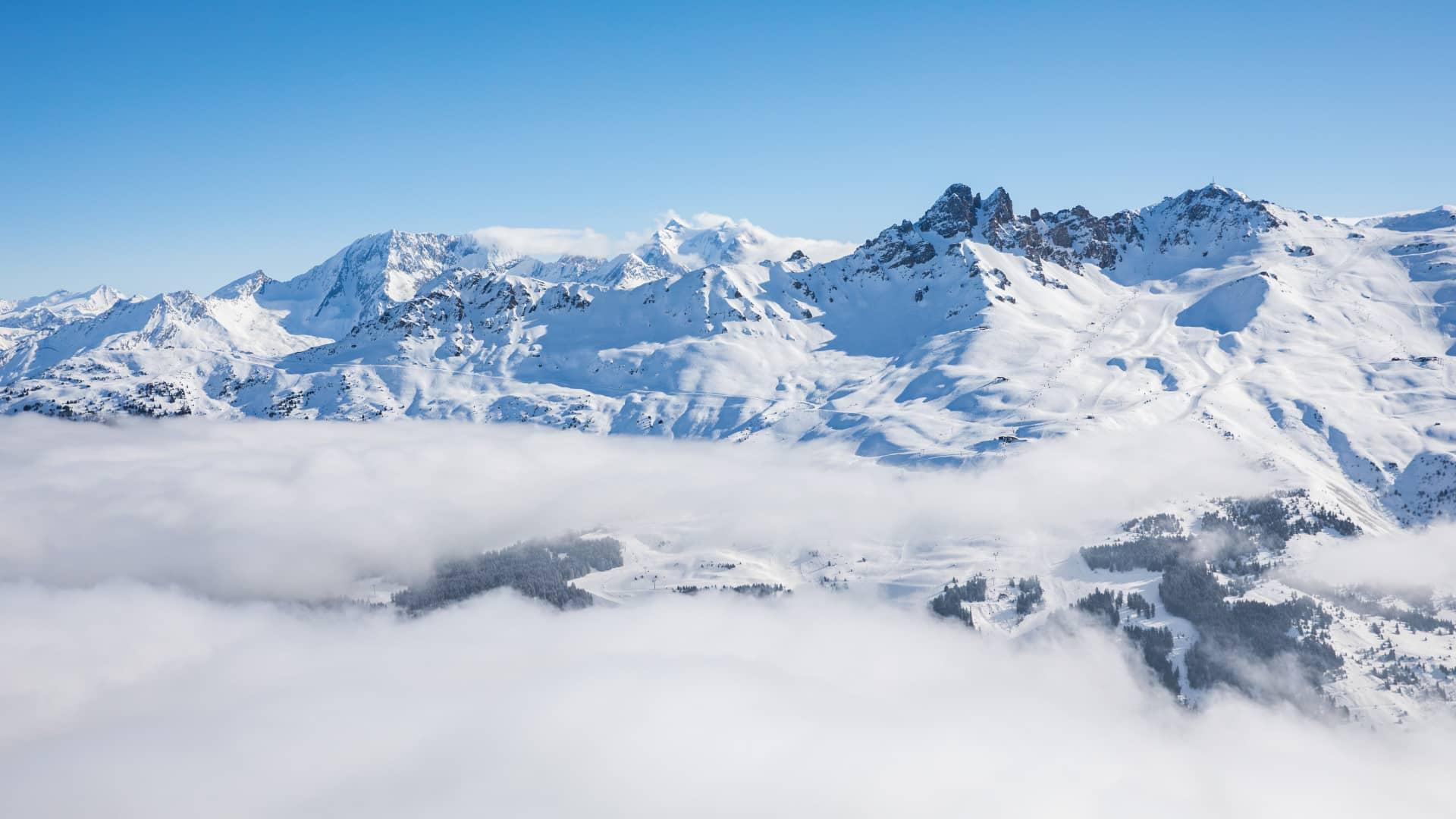 An exhilarating short break: 4 days with friends in the heart of Les 3 Vallées
Although the days are growing milder, the idea of a ski holiday to round off the winter season is still very tempting... A 4-day break in Les 3 Vallées out of peak season in March is the perfect short, fun-packed getaway. And a rejuvenating break is just what you need at the end of a long winter!
Take a break from the daily grind and fill your lungs with fresh mountain air. Let yourself to be blown away by views of legendary peaks and explore the largest ski area in the world, uncovering its many gems. Here are some ideas to help you create your getaway!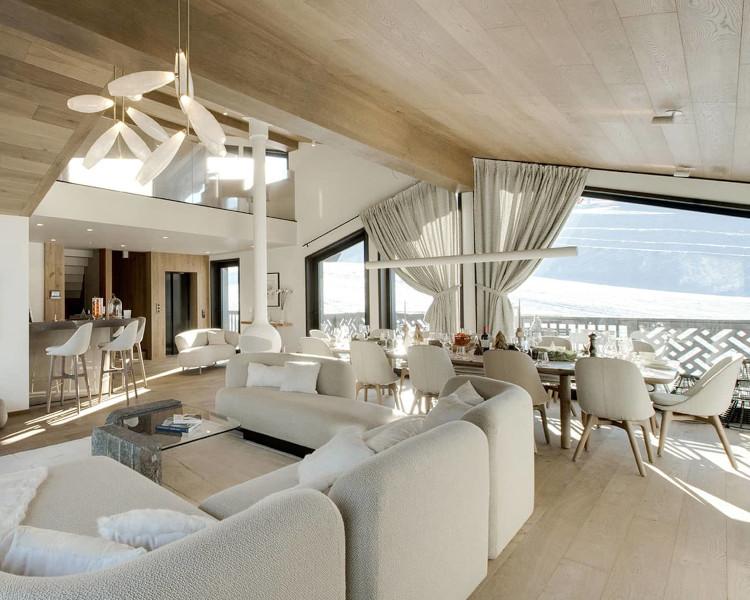 Book your stay
Les 3 Vallées Travel is: a team 100% at your service, a perfect knowledge of Les 3 Vallées area, personalized advice, a selection of the best accommodation in each resort of Les 3 Vallées, an infinite number of possibilities...
ON THE MENU: LES 3 VALLÉES IN CONCENTRATED FORM!
First day
The first day could be dedicated to a relaxing run, with blue runs to get your feet wet. The escape can begin: put on your skis and let go on an easy route.
You could spend an easy first day mainly on blue runs to get your ski legs back. Your getaway starts here: put on your skis and enjoy letting it all go as you follow an easy route to the top of les 3 Marches in Les Menuires and then ski down the famous Grand Lac ski run. Thanks to its westerly orientation, the snow on this run is always exceptional. Alternatively, take the Roc de Fer run in Méribel which will make you feel like a ski champion as it hosted the Alpine Ski World Cup Finals in 2015 and this winter season 2023 it will host the World Ski Championships.
A late lunch break on a sunny terrace - at the 1928 Restaurant in Courchevel for example - will round off a wonderful day of skiing. For lovers of fine dining, a meal at Le Cèpe, a gourmet restaurant recommended by the Michelin guide, will take you on a gastronomic journey. Your meal will be all the more charming as it can be savoured with a view of Méribel's peaks.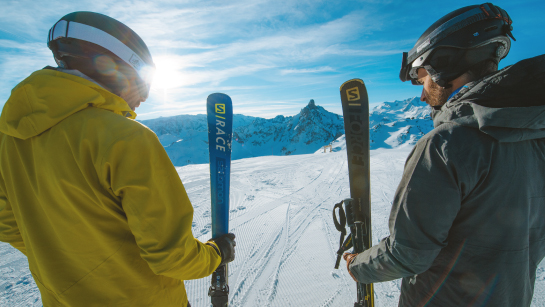 Second day
Today you are on a mission to discover some of the gems of the ski area. Set off with an ESF instructor and be guided through a winter wonderland to explore its mountains and marvels and find the 3 Vallées' secret spots. Set off to conquer high peaks that offer extraordinary panoramas of the ski area: Pointe de la Masse, Tougnète, Creux Noirs, Signal or La Saulire...
Your instructor will take you to the best photo spots for the perfect group selfie – ideal for your desktop wallpaper at home to remind you of the snow until your next holiday. And as you enjoyed lunch on a sun terrace the previous day, why not treat yourself to another delicious outdoor lunch today? These are the pleasures of a holiday in spring when Nature is at her most benevolent!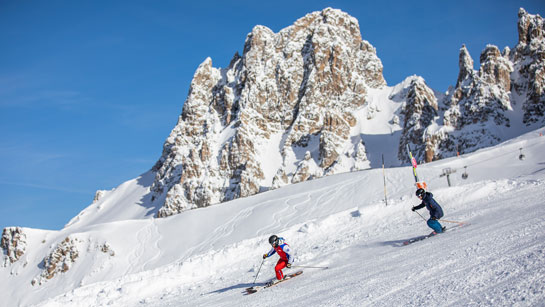 Third day
By now, you are ready to tackle a big ski day. Did you love the secret spots you found yesterday? Keep pushing yourself on red and black runs so you can return to them one day.
Spice up your skiing and enjoy challenging yourself in the fun areas: the ungroomed, avalanche-controlled Liberty Ride in Les Menuires or the legendary Grand Couloir in Courchevel will delight budding freeriders. Thrills are also guaranteed in Orelle's and Méribel's boardercrosses on the jumps, cambered turns and rollers.
Restaurant La Folie Douce, a high-altitude chalet in Val Thorens, will add some crazy fun to your holiday. Here you can lunch and watch a musical show followed by a DJ set that will have you dancing on the table! Day three will blow you away (and exhaust your legs too!)
Fourth day
On the fourth day, the pace slows down. Spend the day on blue runs and comfortable chairlifts, enjoying the pleasure of gentle skiing without ever having to take your skis off. Take the time to admire the views and enjoy the unique atmosphere created by the majestic Alpine mountains.
A picnic with a view is a must during your stay in Les 3 Vallées. The choice of picnic spots is vast: try the top of the Roc 1 gondola with its spectacular panorama over the Vallon du Lou, Les Chapelets in Courchevel-Moriond (1650) with its astounding view of the Vanoise glaciers, or Le Bouchet for its uninterrupted view over Mont Blanc...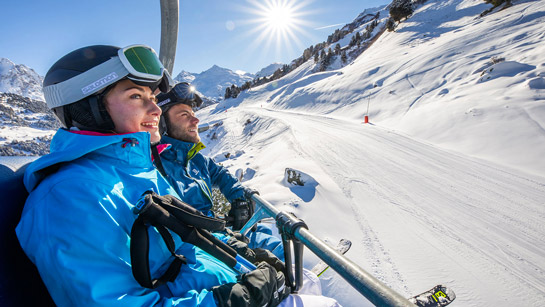 Our short breaks
Looking for a quick and easy getaway? Look no further than our selection of short breaks in Les 3 Vallées! From cosy flats to charming chalets, we've got just what you need to take a break from your daily life. So why wait? Book your stay today and start planning your perfect escape!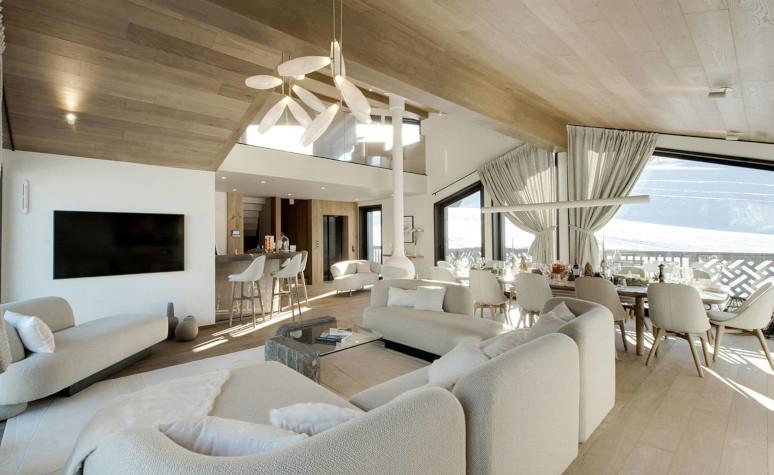 ESCAPING INTO LES 3 VALLÉES
Marvel at the unique and extraordinary panoramas, soak up the magnificent natural surroundings and let go of everyday life... Escaping into Les 3 Vallées is to experience the best in skiing.
Every type of skier can enjoy great skiing throughout the winter season. There is truly something for everyone: half of the runs offer relaxing skiing for beginners and intermediates (green and blue slopes) and the other half offers great challenges for more experienced skiers (red and black slopes). With the majority of the ski area located above 1,800m, snow cover is optimal from December to April. Guaranteed snow, guaranteed skiing!
If you want to get straight onto the slopes the moment you arrive and without having to visit a sales office, you can buy any 3 Vallées ski pass, online, in just a few clicks.
Your ski pass will be delivered by post, even abroad, and can then be recharged and reused on future trips to Les 3 Vallées!
Making holiday memories with your tribe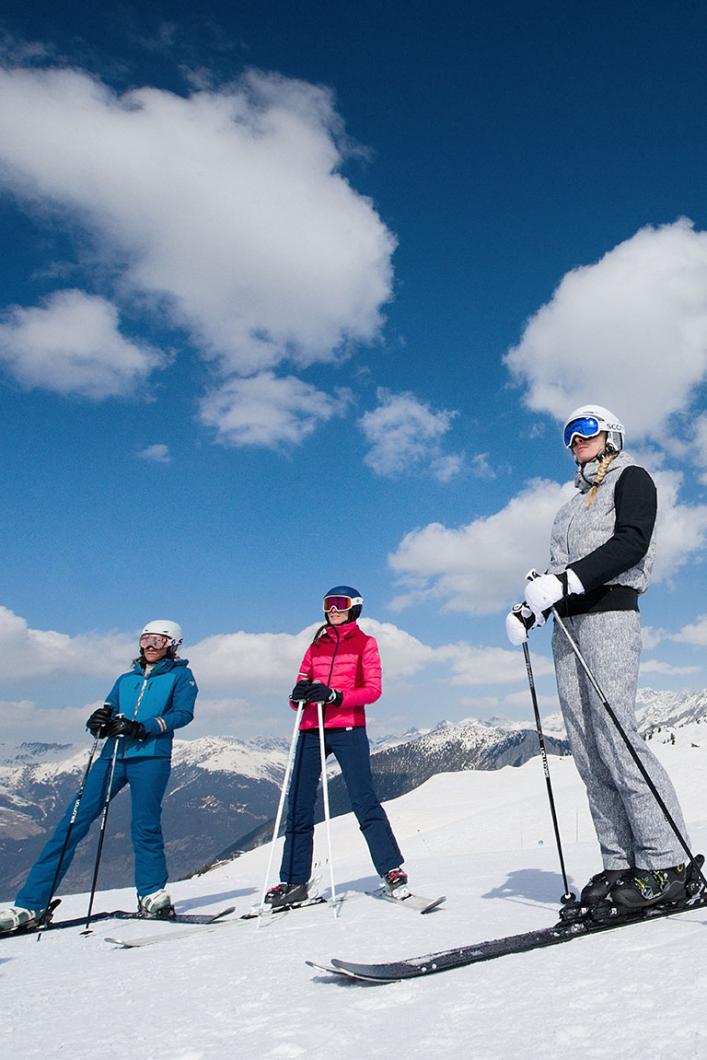 Spend time with your friends or loved ones on the slopes, free of all constraints, enjoying exciting experiences together and recharging your batteries, at any time until the season ends!

With your 3 Vallées Pass Tribu (group pass), it's easy to make full use of the 600km of slopes of the largest ski area in the world. A network of state-of-the-art ski lifts and unique ski runs links the 7 resorts (Courchevel, Méribel, Brides-Les-Bains, Les Menuires, Saint-Martin-de-Belleville, Val Thorens and Orelle), so you can make unforgettable memories in all 4 corners of the ski area without ever having to take your skis off.
3 Vallées Tribu Pass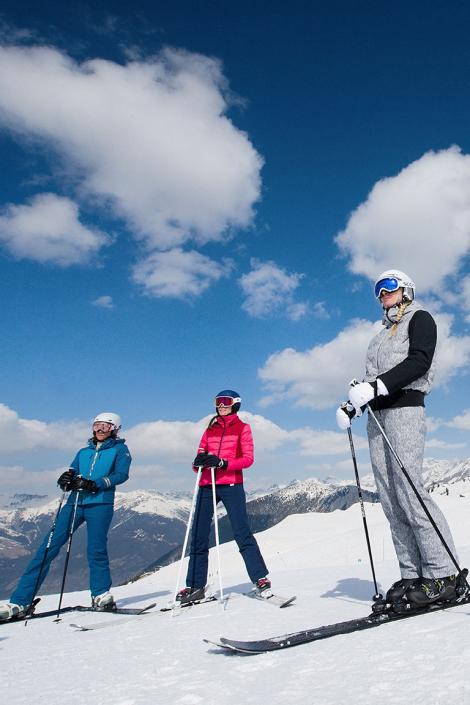 CHOOSE TO TRAVEL IN COMFORT CLASS
The special experience of a holiday in Les 3 Vallées continues off the slopes. For some, happiness is found in a fully equipped Alpine-style apartment at the foot of the slopes, in Val Thorens or Les Menuires, for example. After a fun-filled day, they will return to their cosy ski-in/ski-out home, with their only dilemma being to choose between a raclette or a tartiflette for supper.
Others will be charmed by a comfortable chalet in Méribel Village or Courchevel-Moriond (1650). Old timber, fine fabrics, antique Savoyard furniture and an elegant spa all help create a warm atmosphere, perfect for timeless, relaxing evenings by the fireside.
Access to the 7 resorts of the 3 Vallées ski area is simple: by plane to the airports of Lyon St Exupéry, Geneva, Chambéry Savoie or Grenoble Isère and then taxi, or by train to the stations of Annecy, Chambéry, Albertville or Moûtiers and then taxi.
On arrival, skiers are spoilt for choice when it comes to hiring ski equipment. The many sports shops located at the foot of the slopes offer a varied range of rental equipment to suit all levels of skiing, snowboarding and other winter activities.
Les 3 Vallées is the perfect place to get away from it all and have fun. Every visitor leaves feeling fulfilled, looking forward already to their next visit…
Les 3 Vallées
To discover
with friends
There's never a dull moment in Les 3 Vallées! Whether you're looking for a thrilling adventure or just want to relax and unwind, whether you're an avid skier or snowboarder, you'll find countless pistes and trails to explore, with miles of spectacular scenery to discover.