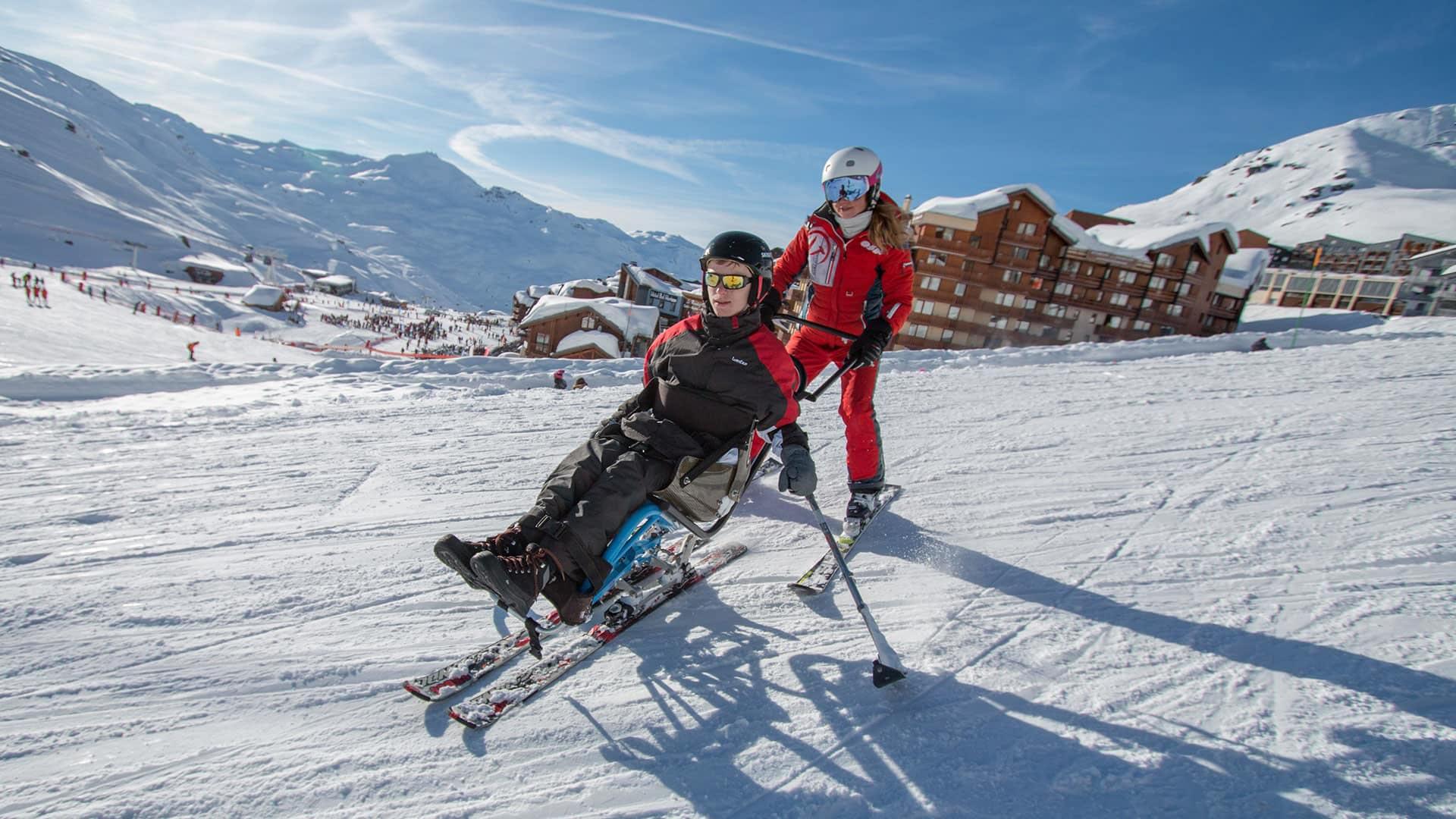 Handiski in Les 3 Vallées
Les 3 Vallées is brimming with ways to welcome visitors with reduced mobility, and offer them a magical stay in the best possible conditions. Skiing, going out to eat in one of Les 3 Vallées' many restaurants, finding accommodation, easy parking, taking advantage of the non-skiing activities available… everything here has been designed for better accessibility.
Adapted ski lifts
Alpine skiing requires accessible ski lifts and trained staff, which is why all of Les 3 Vallées' key players have taken steps to make snowsports available to everybody.
Preferential rates
As well as adapted ski lift embarkation for those with disabilities, skipass rates have also been reduced.
The disabled skier and their companion can enjoy a 50% discount on the price of a half-day, full-day, or multi-day skipass, when they show an orange disability card (with a degree of disability equal to, or over 80%) or a valid CMI mobility inclusion card (the French equivalent of a blue badge).
The companion's name must be listed on the card (either with "Requires accompaniment" status or "Requires accompaniment Blindness" status), and the skipasses must be of the same duration and purchased at the same time in a single transaction. These preferential rate skipasses are only available to purchase from sales points.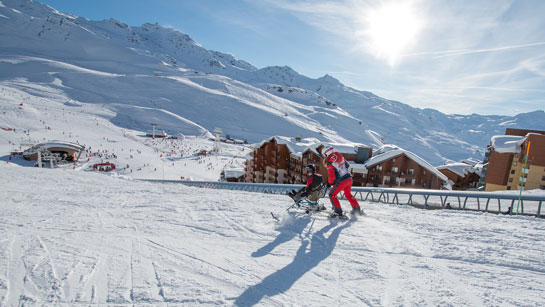 Supporting evidence:
In Courchevel, 70% of ski lifts are equipped for easy embarkation and disembarkation, to ensure full enjoyment of Les 3 Vallées ski area. A map of accessible ski lifts in Les 3 Vallées for reduced mobility users is published every winter and available from all Les 3 Vallées skipass sales points.
In Val Thorens, the ski lifts make access for disabled users easier by equipping chairlifts and Funitels with elevators and ramps, such as you'll see on the Cairn and Caron lifts. A wheelchair is available in the picnic hall, as well as in the toilets at the bottom of the Cairn/Caron, Moraine, Péclet ski lifts. Ski lift cabins have been designed to provide easy loading access for wheelchairs.
In Orelle, the new 3 Vallées Express departure station is now more comfortable and easily accessible to those with reduced mobility thanks to the installation of an access ramp.
For information about skipasses and ski lift access – discounted prices available at sales points only
---
Trained ski instructors
Les 3 Vallées' esf French Ski School instructors are specially trained in accompanying those with disabilities, using adapted equipment if required. This means that everybody can discover new snowsports thrills, enjoy Les 3 Vallées' unique panoramic views, savour the wide-open spaces, and recharge their batteries in the vastness of the mountains!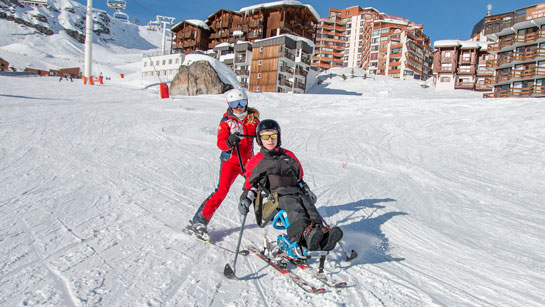 Remember to book in advance and meet your instructor beforehand, so you can both decide on the most suitable equipment.
Supporting evidence:
At Méribel Ski School for example, you'll find instructors qualified in sit-skiing, instructors with experience of teaching people with Down's Syndrome and the hearing-impaired, as well as use of French Sign Language. The school also has 2 kartskis, 4 piloted dualskis, 2 dualskis and 1 tandemski. Les Menuires' French Ski School has invesred in a Uni Ski, Bi Ski, Ski chair, GMS, tandem…
To book your ski accompaniment
---
Adapted equipment
In Les 3 Vallées, many ski hire shops are aware of the importance of making skiing accessible to all, and provide specially adapted ski equipment for those with reduced mobility.
Skiing and much more besides!
A holiday or ski weekend in Les 3 Vallées means exploring the slopes of the world's largest ski area, as well as all the services that go along with it: accommodation, restaurants, car parks, skipass sales points, Tourist Offices, activities, time to relax… And to ensure that everybody gets the same enjoyment from staying in a 3 Vallées resort, most facilities are customised to welcome those with reduced mobility.
In Les Menuires, you'll find the "Handitourism Practical Guide", which lists all of the adapted accommodation, restaurants and activities, as well as accessible car parking spaces and toilets in the resort. You'll also find this information on the websites of each of Les 3 Vallées resorts.
In Orelle, the Hameau des Eaux Residence offers 10 apartments for reduced mobility guests, and the Caravaneige campsite is also easily accessible.
---
Accessibility in Les 3 Vallées is year-round!
Skiing can be made accessible to those with reduced mobility, and the same goes for the many activities on offer during the summer season in Les 3 Vallées resorts. For example, in Les Menuires, the mountain guides office organises FTT (Quadrix All-Terrain Wheelchair) and Joëlette outings (all-terrain wheelchair with a single wheel). Further information at +33 (0)4 79 01 04 15 / guides-belleville@orange.fr. Also, in Les Menuires, the Plan de l'Eau is a wide, rolling path with very little altitude difference, and which is perfectly suited to those with reduced mobility.
Les 3 Vallées territory
A year-round
playground
Visiting Les 3 Vallées at various times of the year gives you the feeling of being somewhere different, yet familiar at the same time. The same summits, whether they're snow-capped or lush green, offer very distinct characteristics and experiences, whilst the light and temperature make for ever-changing atmospheres and surroundings.