APRIL, recharge your batteries with end-of-season snowsports and plenty of sun
Can't choose between January and April? Well, don't rush it and let yourself be gently swayed towards the many contrasts that only the month of April can offer. Satisfy your desire to make the most of the snow and skiing for a while longer, thanks to Les 3 Vallées' natural attributes; altitude, location, and great snow cover, with ski slopes set between altitudes of 1,300 metres and 3,230 metres. Bask in the amazing light, milder temperatures, and other joys that April reveals day after day.
Let yourself be transported: Welcome to Les 3 Vallées in April!
You'll love
1. Sampling the delights of April snow
With an almost unlimited playground, 85% of the ski area being situated above 1,800 metres, and with snowmaking facilities in all the key areas, snow is guaranteed throughout April in Les 3 Vallées.
Beautifully groomed velvety slopes will delight good skiers, while of course being perfect for beginners too. If you're discovering snowsports for the first time, you'll love learning on soft snow, warmed by the spring sun, on runs that are so much quieter at this time of year.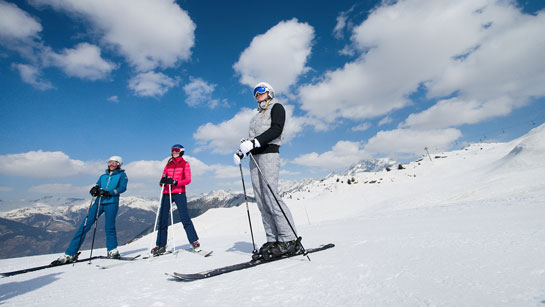 ---
2. Becoming a privileged spectator to nature's awakening
The sound of melting snow, the trickle of an emerging stream, birds warming up their vocal cords, the smell of the sap rising in the fir trees as they finally emerge from their white winter coat, and early crocuses poking through the lingering snow…
In April, stimulate your senses and draw energy from the natural spectacle around you. Our top tip: keep a look out as you go up the mountain on the aptly named Marmotte chairlift. You can often spot the sleepyheads emerging from their winter hibernation!
---
3. Treat yourself to the luxury of experiencing two days in one
If you spend much of the year chasing time, savour the luxury of enjoying a host of activities in just 24 hours. After a delicious morning on the slopes, as the snow begins to change, a new day begins.
Rest on a sun-drenched terrace, then move on for a pool or spa session at Aquamotion in Courchevel, or Les Bruyères Aquafun & Wellness centre in Les Menuires, before making the most of the long evenings for a stroll through the resorts' streets, taking in a spot of shopping along your way...how is that for an appealing and well organised programme?!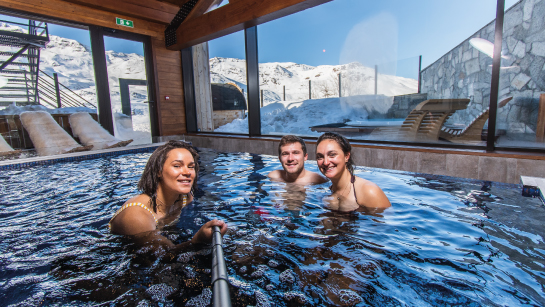 As well as
Being one of the lucky ones to enjoy the season's final days of skiin
Organising a tasty slopeside picnic with a selection of local specialities, or soaking up the sun on a terrace in a T-shirt
Topping-up with vitamin D and getting a 100% natural healthy glow
Enjoying a quieter ski holiday at a great price
Trying the Ski / Sun & Spa combo
Trying your hand at many different fun outdoor activities without ever getting cold, be it a toboggan run in the Belleville Valley, the zipline in Val Thorens-Orelle, or walks and snowshoe sessions on the footpaths of Méribel.