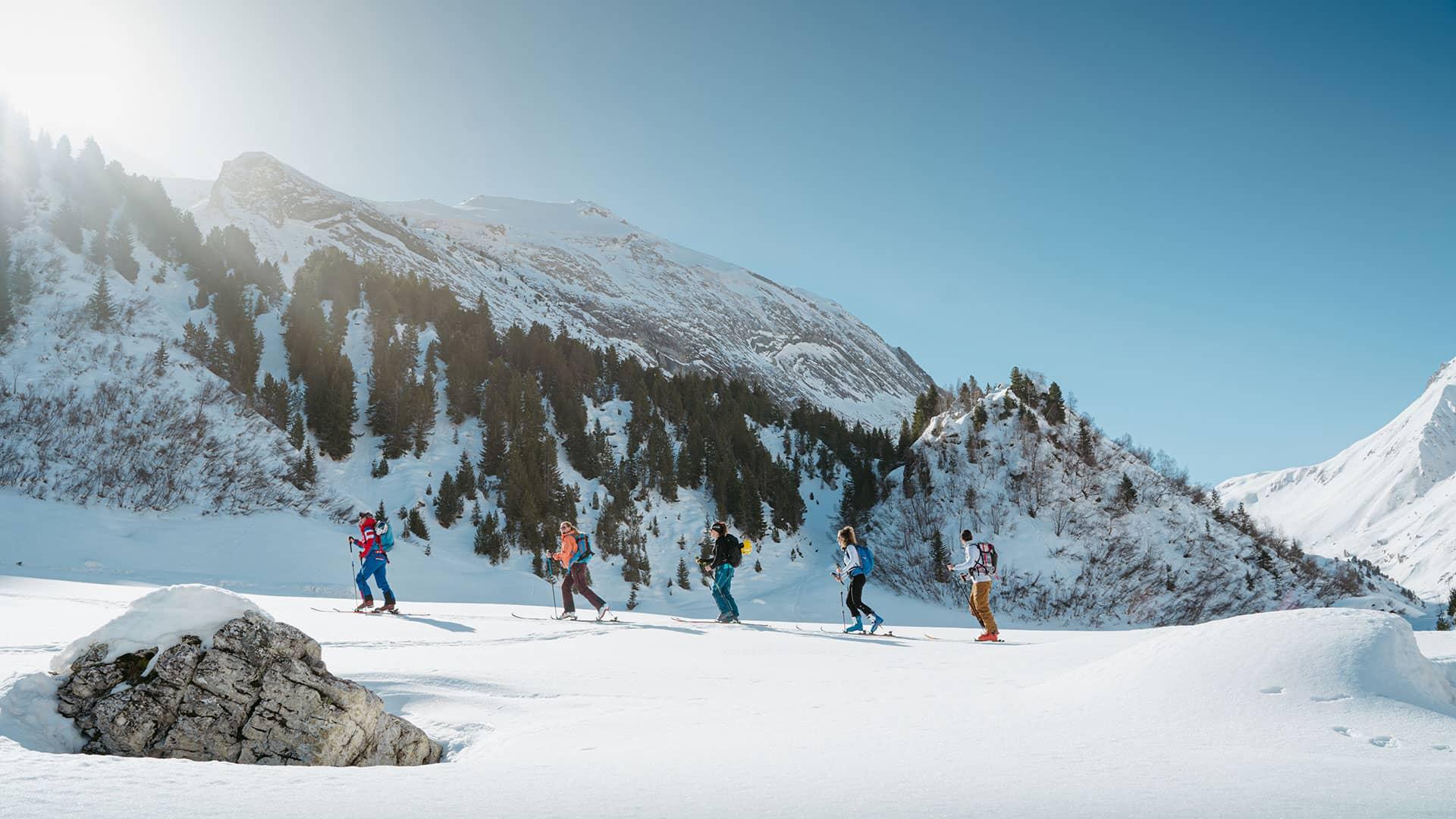 Ski touring in Les 3 Vallées: explore virgin terrain
In the muffled silence of the snow-covered slopes, you are gradually making you way up the mountain at your own pace, discovering the wild beauty of the untouched surroundings as you ascend... Your reward at the end is one of the unique panoramas offered by Les 3 Vallées.
Ski touring is becoming increasingly popular: it's the best way to fill your lungs with pure mountain air, reach new viewpoints and enjoy incredible natural surroundings.
Ski touring, both a challenge and a chance to recharge your batteries!
Les 3 Vallées provides trails reserved for ski tourers so you can discover the largest ski area in the world in another way and experience a different form of skiing. Far from the crowds, this is a wonderful way to get back to nature. If you choose to make use of the lifts in addition to your own efforts, ski touring can be way of relaxing. Or if you choose to yomp up the mountain at speed, it becomes a real challenge. At the end of your ascent, you can choose to finish your day among the summits by returning off-piste, on the ski runs or via the ski lifts.
Essential safety precautions
Before heading off on your skis, make sure you observe a few simple precautions to ensure maximum safety. Check the 3 Vallées weather report, the openings status of the routes and ski lifts and the avalanche risk, in order to choose the most suitable touring route.
For any outing, you must be equipped with an avalanche transceiver, shovel and probe so you can deal with any eventuality. This way, you can explore virgin territory with peace of mind.
Unrivalled experience and knowledge
Esf instructors: your guides to the best spots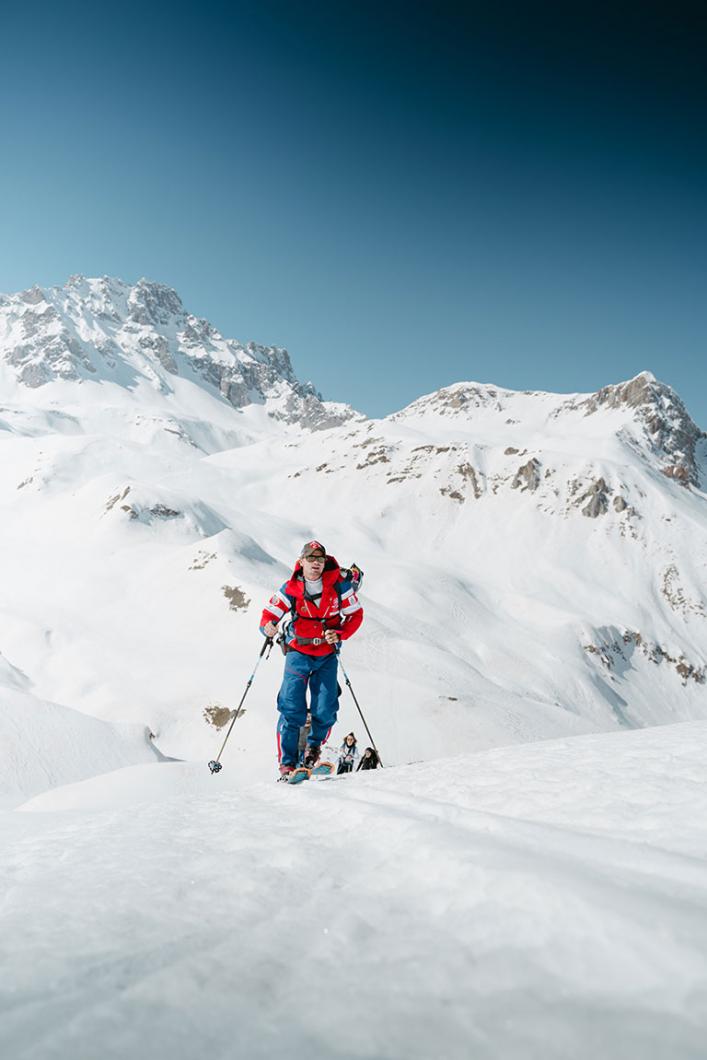 Through their daily work, these ski professionals have an unrivalled experience and knowledge of the slopes and the ski area. When you are accompanied by an ESF (French Ski School) ski touring specialist, you can experience something exceptional. Your instructor will take you via secret routes to reach places you never knew existed.

Beginners can learn the basics of how to put on skins, walk uphill on skis, make conversion turns, and use an avalanche transceiver. More experienced tourers can go off the beaten track on an adventure far from the marked ski runs, with an instructor to ensure complete safety.

Having booked your lesson or outing in advance, on the day itself, you can relax and enjoy complete confidence in your guide.
Contact the 3 Vallées ski schools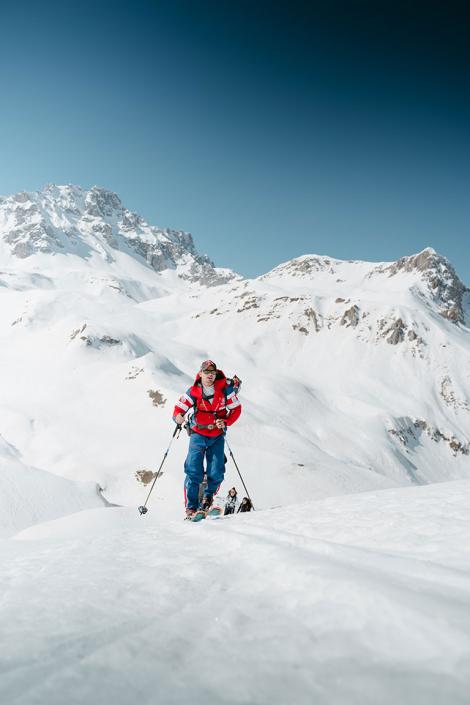 An unrivalled range of itineraries
Les 3 Vallées offer numerous ski touring routes which allow you to fully enjoy these vast landscapes and admire the spectacular views. Make you sure obtain up-to-date information each season as the itineraries can change considerably and, in this way, you can choose your itinerary according to your level. For example, la Camille in Val Thorens is 1.5km long with a 280m total climb and is dotted with old photos resort of the resort for you to look at while you take a breather. The Millet Ski Touring is 3.2km long with a 500m total climb, and the Plum KV from Courchevel-Le Praz is 5km long, and has 1,000m total climb.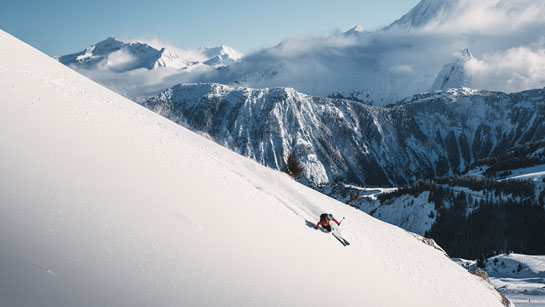 In some resorts, you can also use the summer trails, but note these are not marked or maintained during the winter season.
Experienced skiers in search of thrills will find happiness in the great off-piste sectors of the 3 Vallées such as Les Creux Noirs, Le Rocher de la Loze or La Dent de Burgin in the Courchevel valley, Le Mont Vallon, Le Col du Fruit or La Grande Rosière in the Méribel valley and Les Encombres, Géfriand or Le Lac du Lou in the Vallée des Belleville.
For an unforgettable memory of your holiday, set out from Val Thorens at 5pm to skin up the Dynafit Leopard Tracks under the stars. You will arrive at 2,500m at the Chalet de la Marine restaurant where a bowl of hot onion soup and a glass of mulled wine await you, after a magical ascent...

The joy of gliding in all its forms
Les 3 Vallées offers you a variety of snowsports which perfectly complement Alpine skiing. There is something to keep you busy every minute of the day!
An afternoon of laughter hurtling down snowy slopes at high speed on a sledge appeals to all families. Amazingly, you can also enjoy sledding in the middle of summer on the Speed Mountain sled-on-rails in Les Menuires.
Snowshoeing doesn't require any training or any particular degree of fitness. These gentle nature walks are within everyone's reach, and they are an opportunity to share convivial moments with friends in a majestic setting.
Biathlon is also a fun but more demanding activity to try, combining the physical effort of cross-country skiing with the calm and concentration of shooting. Why not choose some new activities to make your next summer or winter holiday totally unforgettable?
Connect yourself
An XXL off-piste
ski area
A vast high-altitude expanse combined with a huge network of ski lifts: that's the winning formula that makes Les 3 Vallées an extraordinary playground for off-piste skiing!