Les 3 Vallées Ski & Spa for relaxation
With children

With teens

Adults

For all

A wellness destination
Come on, let's take some time to relax...
Thanks to its beneficial effects on the body, water is the perfect complement to a ski holiday. On a sporty and rejuvenating break in the mountains with the girls, it makes for the perfect combo: exhilaration and skiing during the day, spa and relaxation in the evening.
Les 3 Vallées resorts have created the most beautiful havens for relaxation and treatments.
With one amazing turn after another on the slopes of Les 3 Vallées, you'll start to feel your thighs burn. Every cell in your body goes into action to carry you faster, and further.All skipasses
In the invigorating mountain air, your skin is exposed to the elements: the cold grips you, making you feel alive, tingling the tip of your nose and making your cheeks glow.
Prepare to be amazed surrounded by these unique panoramas, where wide open spaces and mind-blowing skiing go hand in hand. As your senses come alive, your levels of excitement, joy and happiness will reach new heights.
After having hurtled down the slopes of the world's largest ski area, what better way to finish the day than by immersing yourself in one of Les 3 Vallées' spas for a well-earned moment of relaxation?
From Orelle to Courchevel via Méribel, Brides-les-Bains, Les Menuires, Val Thorens and Saint-Martin-de-Belleville, Les 3 Vallées resorts have created the most beautiful havens for relaxation and treatments, inviting you to enjoy unique moments of well-being…. Before heading back to the slopes again the next day, feeling refreshed and energised!
A MOUNTAIN SPA FOR EVERYONE
Les Menuires Sports Centre
In the heart of Les Menuires Sports Centre, the AQUA-SPA and WELL-BEING areas have been designed with your relaxation in mind. Extending over 1,500m2, they feature a swimming pool, sauna, steam room, Jacuzzis, relaxation room, terrace, as well as treatment rooms for unique well-being massages.
Personalise your experience with the essential oil of your choice and choose from 4 ranges of body and face treatments: sport, silhouette, relaxation, or sports & energy.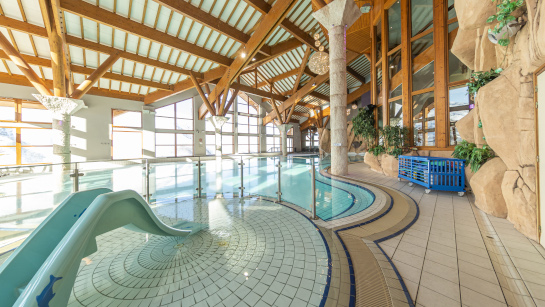 The Board in Val Thorens
The sports center in Val Thorens, the Board, has been completely renovated to offer you, among other things, a state-of-the-art aquatic and wellness area.
Discover the brand-new Board in Val Thorens, a reinvented sports center for an exceptional winter experience. At the heart of the 3 Vallées, enjoy a variety of activities, modern facilities, and passionate supervision. Glide towards unforgettable memories at the Board in Val Thorens!
Thermal Spa in Brides-les-Bains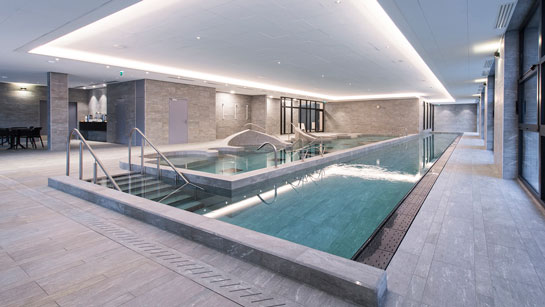 The brand-new Thermal Spa in Brides-les-Bains has reached new heights with 2,700m2 of treatment areas, along with slimming and wellness activities.
On the programme: a 600m2 aquatic area where, before or after specific personalised treatments, you can make the most of the 25-metre swimming lane overlooking the mountains, a recreational pool with water features, outdoor Jacuzzis and a herbal tea room... Welcome to paradise!
Aquamotion centre in Courchevel
The recently opened Aquamotion centre in Courchevel not only has indoor and outdoor pools, an open-air fun area, waterslides to enjoy with family and friends, a baby pool and a surfing wave... it also has a wellness area where you can escape into a sanctuary of total relaxation.
Succumb to the temptation of the wellness pool, heated to a delicious 32°, the many well-being benefits of the salt grotto, the caldarium, the bubbling baths... then finish off with a relaxing, anti-stress or detoxifying treatment!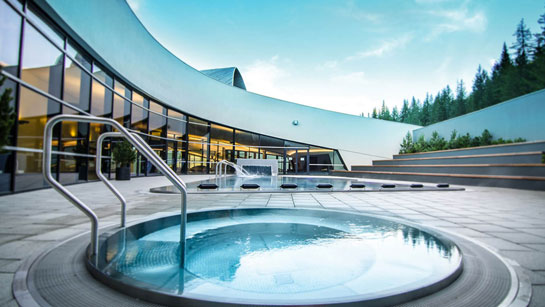 Orelle-Les 3 Vallées Spa
In Orelle, the Orelle-Les 3 Vallées Spa offers a wide range of wellness activities: swimming pool, sauna, steam room, Jacuzzi, massage... Who's in?
Swimming pool, Spa & Well-being - Les Menuires

Centre Sportif Menuires

Swimming Pool, Spa & Well-being - Brides-les-Bains

Spa Thermal

Swimming pool, Spa & Well-being - Courchevel

Aquamotion Courchevel

Swimming pool, Spa & Weel-being - Orelle

Orelle-Les 3 Vallées Spa
WELL-BEING WHERE YOU LEAST EXPECT IT...
Les 3 Vallées never lacks originality and will pull out all the stops to make you happy! The resorts have even come up with the most unusual places for a totally different kind of relaxation experience: in refuges nestled in the heart of the mountains!
The Trait d'Union - Refuge du Danchet, in the Belleville valley, accessible from Saint-Martin-de-Belleville.
It's a haven of peace located at an altitude of 1,725 metres. Easily accessible in summer and winter, it offers a welcoming getaway with its terrace, fireplace and breathtaking views.
As soon as you arrive, take a dip in the hot tub and soak up stunning views over the valley!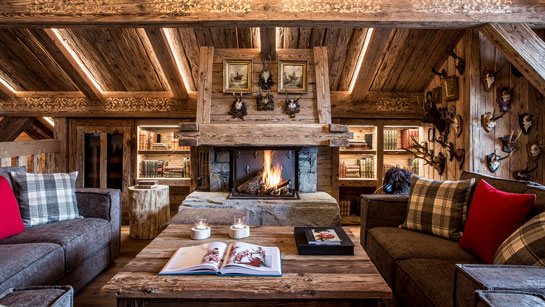 The Refuge de la Traye in Méribel is a real Garden of Eden, set in a clearing in the middle of the forest.
Entirely renovated in 2019, this paradise is the first top-of-the-range refuge in the French Alps. Mountain chalets rubbing shoulders with a small chapel and a sheepfold, traditional small mazot chalets nestling close to the wooden games for children, the terrace beckons for a gourmet treat in the sun... and in the middle of it all, you'll find a Spa!
With a milk bath, hay bed, Stendo (circulatory stimulation device), Mostleds (LED light therapy)... This is truly the very peak of well-being.
Recharge your batteries
Wellness
and relaxation
Escape to a place of peace and quiet made just for you. Up close and personal with nature and wide-open spaces, fill your lungs with pure mountain air, let a sense of well-being and relaxation take over. Skiing, hiking, yoga, spa treatments, the healing powers of the trees... nurture yourself in Les 3 Vallées.