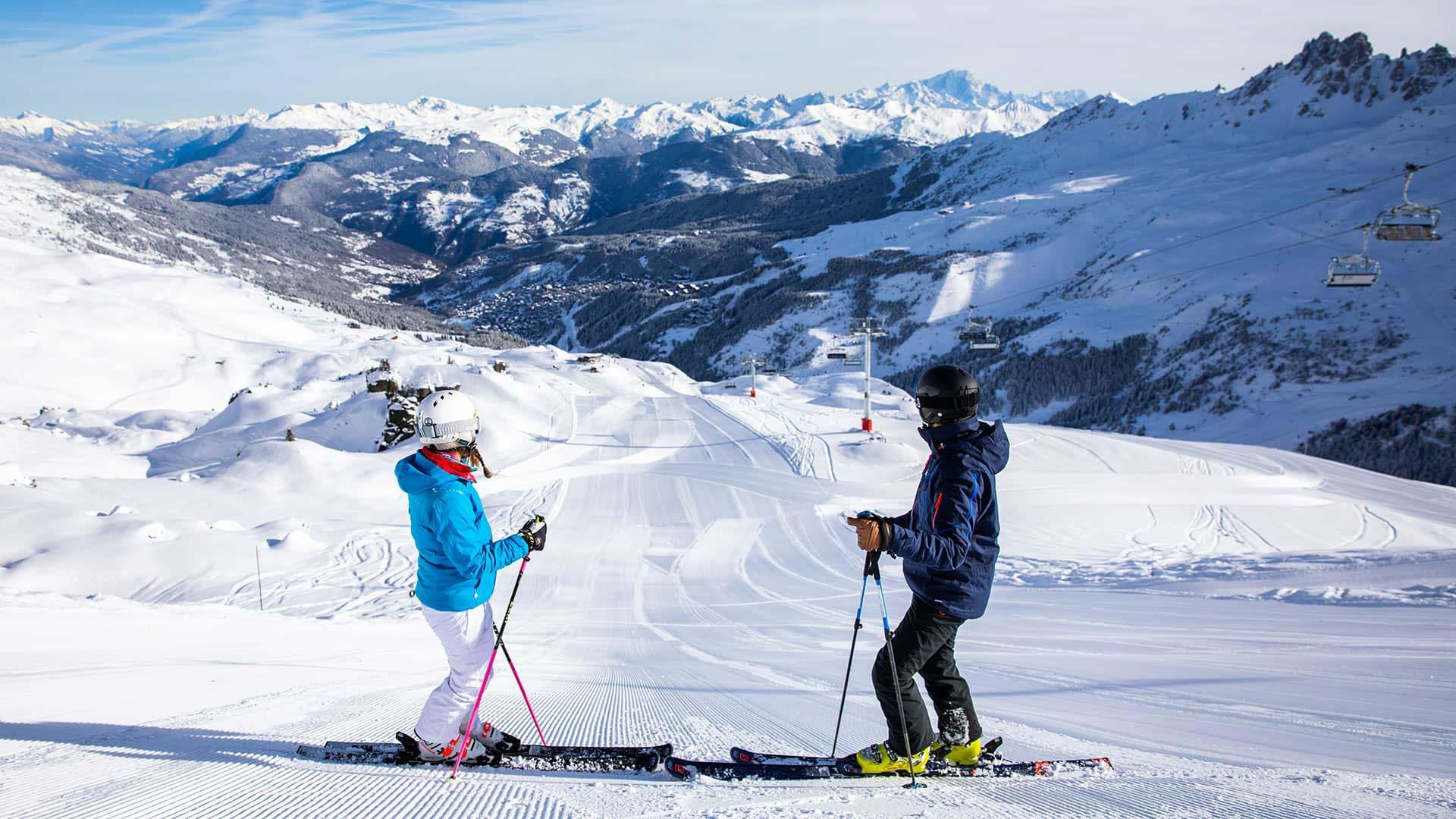 An itinerary to challenge your friends
Adults

Intermediate

The best of skiing
A 3 Vallées itinerary to challenge your friends
He spends his summers and winters either mountain biking or skiing over Les 3 Vallées, so Timy Théaux knows the area like the back of his hand. Timy's got an itinerary to challenge your friends, to be enjoyed in one go or over the course of a few days. You can make the most of the world's largest ski area well into the spring, tweaking your route according to snow conditions. Take a look at the names of the runs en route and learn a bit more about Les 3 Vallées.
On your marks, get set, ski !
3 VALLÉES ITINERARY WITH FRIENDS
The itinerary starts out from Val Thorens and boasts some (really) beautiful runs and marked routes. What they all have in common is their impressive vertical drops, taking in Les 3 Vallées' varied landscapes, from high-altitude rocky backdrops to forest runs. This road book is reserved for expert skiers, who'll enjoy a well-earned rest on the ski lifts as they soak up the scenery.
Starting out from Val Thorens, Cime Caron takes us up to admire the panorama at an altitude of 3,200 metres. The first run of the day is a black one, the Combe de Caron, with a nice vertical drop to warm you up.
Catch your breath in La Masse gondola lift before skiing the north face again, in good snow. On your way down, take the little drag lift up onto the steeper and quieter Dame Blanche black run.
At the top of Mont de la Challe, you'll find a great mogul field on the ungroomed Bartavelle run. Next up is Les Coqs, a lovely red that always has a surprise or two in store, followed by the quiet (because it's hard to see) Combe Laitelet.
Then it's time to take a well-earned break on a terrace in Méribel centre, before heading up to Col de la Loze to take on the Eclipse: created for the 2023 Alpine ski championships, it's a challenging run with an impressive vertical drop that finishes with a forest section in Courchevel le Praz.
In Courchevel 1850, the red Petit Dou is Les 3 Vallées' rollercoaster, due to its undulating terrain. On your way back to Val Thorens, you'll ski through Méribel Mottaret.
If you feel up to it, you can squeeze in one last descent from la Saulire – take your pick from either the Freeride Lab or the Vertical Xpérience couloirs – Tournier couloir is the most technically demanding marked itinerary in the ski area with a steep 37° slope.
The ideal pass for groups
How does a Tribu Pass work?
The Tribu Pass is the ideal pass for groups of three or more skiers planning between 6 and 21 days of fun in Les 3 Vallées ski area.

For this pass, you must buy together in one payment and choose the same duration. As a bonus, each person will receive a 20€ discount on the adult individual pass of the same duration, for example, you'll pay 355€ instead of 375€ per person for 6 days. The only hard part will be finding holiday dates that suit all the members of your group!
3 Vallées Tribu Pass
At the top of Mont de la Challe, the ungroomed "Back to the wild" run,
lives up to its name, and features an amazing mogul field.
YOUR 3 VALLÉES SKI BOOK

Val Thorens Caron cable car : Combe de Caron, Boismint and Plan de l'eau.
Les Menuires Masse 1&2 gondolas: Masse then Dame Blanche.
Roc 1&2 gondolas, Teppes: Bartavelle, Coqs then Combe Laitelet.
Méribel Saulire express 1 gondola : Loze, Dou des lanches then Eclipse.
Courchevel-Le Praz Forêt & Bouc Blanc chairlifts: Petit Dou.
Courchevel 1850 Verdons gondola and Saulire cable car: Freeride Lab or Tournier couloir.
Return route via Méribel Mottaret, Marmottes chairlift, then Plattières gondola and Cote Brune chairlift: Pluviomètre, leading into Val Thorens.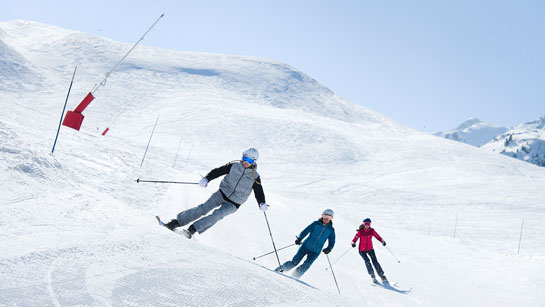 Exceptionnal skiing
Playground
for experts
Like the other connoisseurs who come from all over the world to glide on the slopes of Les 3 Vallées, you know that this is where you come alive, satisfying your need for vertical drops, quenching your thirst for ascent and descent, walls, moguls and powder snow…
Skiers of all abilities intending to come for between 6 and 21 days can choose a custom-made skipass to create the perfect holiday.