In Les 3 Vallées, wellness and nature are intimately linked and offer the guarantee of an unforgettable stay in the fresh air all year round. Between wide open spaces, breath-taking panoramas and rich nature, it's time to disconnect and recharge your batteries. Enjoy a meditative walk, a yoga class, a spa... To each his own!
The benefits of the mountains
Escaping to high altitude in the world's largest ski area is an opportunity to enjoy the benefits of the mountains. Surrounded by majestic peaks, luxurious forests and soothing streams, the body is fully recharged. Winter and summer alike, your days are spent outdoors, on the ski slopes or hiking. The ideal way to fill up on fresh air and vitamin D! With all five senses awake, the stress of everyday life fades away to make room for inner peace.
A plethora of wellness activities
To enhance the benefits of a mountain holiday, take advantage of one of the many wellness activities available in Les 3 Vallées.

After a day of sporting activities, treat yourself to a moment of relaxation in a spa. The muscular tensions of the day will melt away in the comforting warmth of a sauna, in the whirlpools of a jacuzzi or in the hot water of a swimming pool. Perfect your Zen escape with a treatment provided by professionals for absolute relaxation. There is a wide range of treatments and experiences on offer, whether you choose to visit the large spa centres accessible to all or the more discrete wellness areas of the hotels, relaxation is on the menu with something for all tastes and budgets.

Well-being also involves a deep relaxation of the mind, so award yourself extra time-out for a yoga class, whether dynamic or gentler, according to your level. Or, for a more unusual experience: a meditative walk in the forest, accompanied by a guide who will introduce you to sylvotherapy – the healing power of the forest. Compose the wellness stay that suits you!
Loréleï Rodrigo

, From the Manalaya yoga school Courchevel

You breathe pure air, not like in sweaty gyms, and your airways are completely clear. There is also a different concept of the space in which you can move, and a feeling of harmony with nature.

Magali Salles

, Certified teacher of Prana Vinyasa yoga and parent-child yoga in Méribel

When on holiday, yoga is also highly effective for aches, pains and other issues linked to intense days on the slopes. It is a chance to slow the pace of your day and foster actual rest.

Loréleï Rodrigo

, From the Manalaya yoga school Courchevel

As yoga is profoundly integrated into the environment, the place you practice can naturally make it a truly singular experience! As the biggest challenge of our time is trying to ensure our daily lives are in line with deep-rooted human and environmental values, the mountains offer an exceptionally powerful setting for changing and redefining our mindset. This is because they are so present, so solid, as if eternally immovable, and their particular temporality offers a far wider dimension in terms of space and time.

Loréleï Rodrigo

, From the Manalaya yoga school Courchevel

I offer a type of yoga that totally respects differences. These differences are immediately perceivable in the bodies and breathing of my students. By adapting to the vibrations of others, I strive to create unison, fluidity, and ease in the practice of yoga.
Les 3 Vallées
Skipasses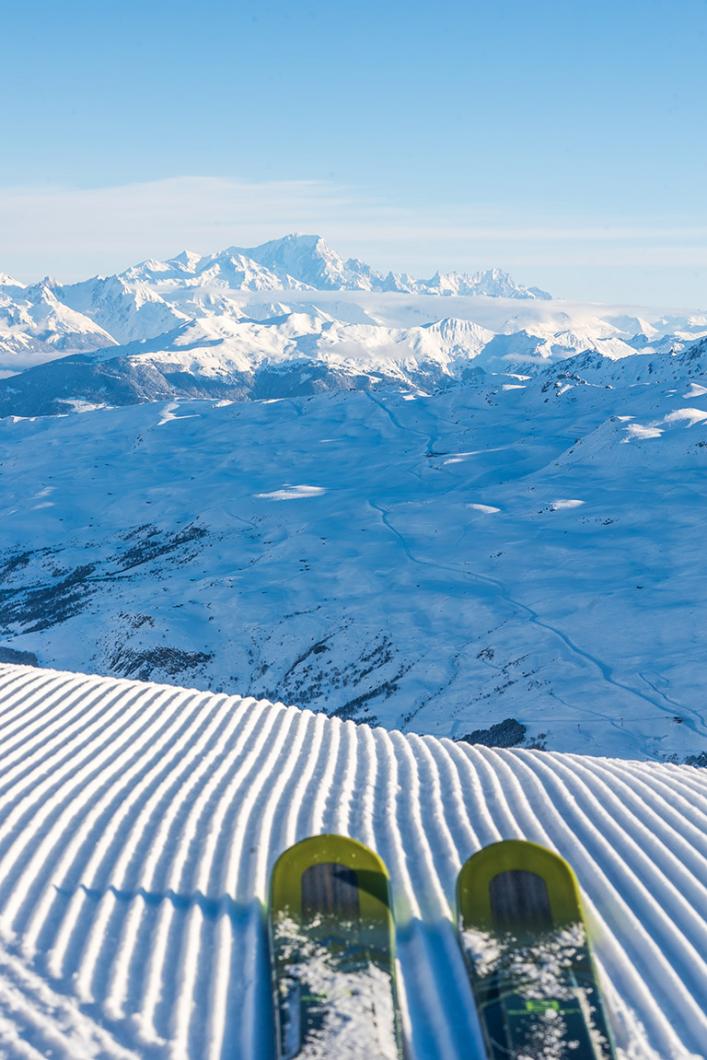 Twice as much time on the pistes ! Three valleys, seven ski resorts… make sure you don't waste a minute of your precious holiday time!

Before you set out on your unforgettable ski holiday, why not do the necessary admin online? Buy or reload your skipasses on the internet!
Buy your skipasses