In December in Les 3 Vallées
DECEMBER, when anything is possible
Winter has arrived in the mountains.
What better place than Les 3 Vallées to really revel in it to your heart's content? In December, anything's possible. Discover a ski area that is accessible to all, either on your own or as a family.
You'll love
1. Leaving the first tracks in the snow
One week after Val Thorens welcomes its early-season skiers (at the end of November), the other resorts open their doors at the start of December. In the lead-up to Christmas, the first days on the slopes are totally unique.
With freshly fallen, untouched powder snow, the wide-open spaces reveal their pure, authentic beauty. This is one of the rare moments where you might be lucky enough to leave your first tracks in the snow, sometimes even having the slopes all to yourself! Calling all snowsports enthusiasts!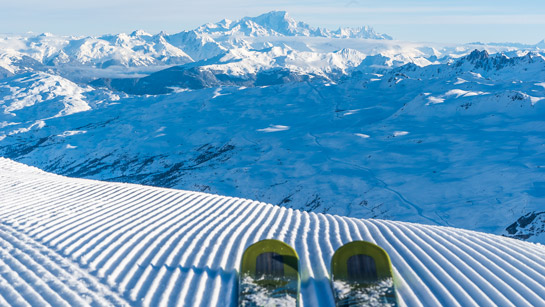 ---
2. Discovering top-quality skiing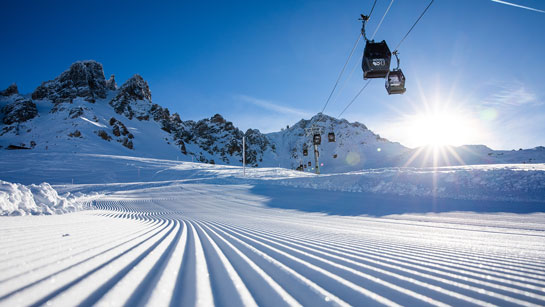 The first weeks of December, before the Christmas school holidays begin, are one of the best times to discover the ski area.
Prices are low, and the skiing is of great quality. You'll get to know the faces of all those who work together to make each day unforgettable for you (ski patrollers, ski instructors, ski lift operators, ski equipment rental suppliers…). This time of year is all about friends, weekends away and group trips. Magical moments to share.
---
3. Christmas in the mountains
Close your eyes and let your mind wander! Snowy fir trees, white as far as the eye can see, dancing snowflakes lit up by the street lights… The atmosphere in the resorts is magical, radiant... Chalets are adorned with twinkling fairy lights and lanterns glow in the streets. You'll hear children's laughter, as they play, and dream.
It's Christmastime and it's magical. Open your eyes, and soak up the atmosphere of Christmas in the mountains.
---
4. The New Year's experience
Seeing the old year out and welcoming the new one in from the world's largest ski area is quite tempting wouldn't you say? Les 3 Vallées is home to seven interconnected ski resorts, and with 600 km of runs, you'll be spolit for choice in terms of discoveries and adventure.
Explore the ski area that best suits your style and your needs, and pick from seven very different resorts that complement each other perfectly.
---
5. Après-ski vibe
Experience après-ski on and off the slopes.
Who hasn't ever fancied a delicious hot chocolate and a yummy crêpe after a busy day on the slopes?
Or a cheesy fondue, raclette or tartiflette after a day in the great outdoors?
December welcomes the return of foodies, getting together with friends over a mouth-watering array of Savoyard specialities to share.
On your marks, get set, SKI!
Friends, great skiing and good deals: the secret to a fantastic holiday!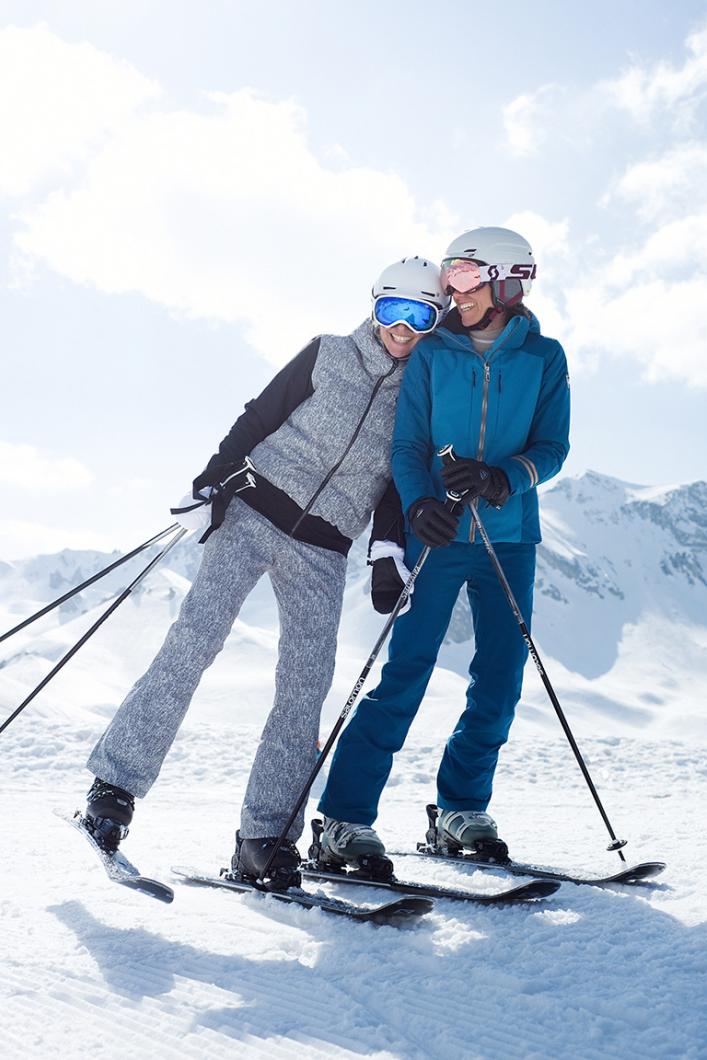 Imagine it is early December and the period of festivities and shared good times has just begun.

You decide to go to the mountains for a week to get some fresh air and recharge your batteries after a busy year. You're at the wheel of your car, your friends are with you, your bags are packed and finally you're off to Les 3 Vallées!

The largest ski area in the world welcomes you from the beginning of December when you can be first to enjoy the new ski season. For this opening week, you can expect lots of fun and exceptional conditions.
My week in early December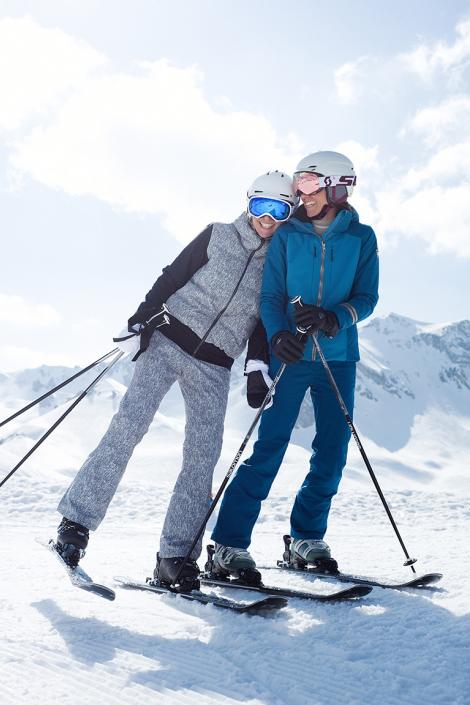 As well as
Discovering Fat Bike and other activities to take you off the beaten track.
Trying your luck at Brides-les-Bains' Casino.
Guaranteed snow, with 85% of the ski area located above 1,800 metres.
The uncongested runs of Les 3 Vallées, thanks to the best high-performance ski lift network in the world.
Christmas and New Year at the summit
Immerse yourself in the enchantment of Christmas and the celebration of New Year's in one of the seven ski resorts that make up the extraordinary domain of Les 3 Vallées: Courchevel, Méribel, Brides-les-Bains, Les Menuires, Saint-Martin-de-Belleville, Val Thorens, and Orelle. From sparkling fireworks to captivating torchlit descents, festive parades to dazzling Christmas decorations, everyone will find their joy during their family stay in this enchanting setting.