In September in Les 3 Vallées
SEPTEMBER, the sweet days of an Indian summer
The summer slowly evaporates with the autumn breeze. Nature changes its palette of colours as the soft light washes over the horizon, infusing the atmosphere with warmth. The rhythm of the seasons invites you to live life differently, to explore and soak up the beauty of your surroundings in a whole new way.
Take nature's lead. It's the perfect time to escape to the authenticity and sincerity of these vast open spaces.
You'll love
1. Hiking in total peace and quiet
It's the perfect time to discover Les 3 Vallées footpaths (link to hikes). Far from the hustle and bustle of the summer, the natural beauty of mountains unfolds before your eyes. Whether you're a sports enthusiast, looking for adventure or keen to admire your surroundings, you'll love the wealth of landscapes, decked out in their autumn colours.
Don't hesitate to contact Les 3 Vallées' mountain guides and leaders who will be only too happy to take you on some of the most beautiful hikes in the area.
---
2. Mushroom picking
Autumn is mushroom picking season! September is the time to search out and sample these delights of nature. In the quiet of the forest, get away for a few hours and hunt out the ingredient that will transform your dishes into a feast fit for a king.
---
3. Riding along the Tour de France route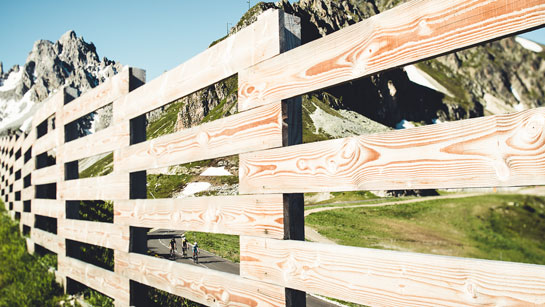 The mountains are a true gem for road cycling (link to road cycling activities) and E-bike enthusiasts (link to MTB & E-Bikes). With its cooler days and quieter roads, September is a great time to discover Les 3 Vallées's stunning mountain passes and itineraries. The Col de la Loze, Val Thorens, Courchevel…
Amateurs and cycle tourers can ride the Tour de France route for themselves.
---
4. Listening to the sounds of nature
Nature is a genuine tableau vivant. From the carpet of fallen leaves in the woodland, to the alpine pastures and the valley's highest peaks, the mountains' diversity never fails to amaze, inviting you to escape and explore. Recharge your batteries and discover the beauty of nature on foot or by bike, far from the madding crowd. It's the best time to meet those who live there, as you stroll along the footpaths.
---
5. Coming down from the alpine pastures
With the end of September comes the return from the alpine pastures. After summer spent high up in the mountains, the cows and sheep are herded back to the valley for winter.
Be a part of this authentic experience, surrounded by the men and women who keep the traditions of this alpine terroir alive.