On the greens with George-Henry Mauduit
With teens

Adults

For all

Unique adventures
golf courses in Les 3 vallées : a discipline practice in wonderful setting
If he's not in his Méribel shop, there's a strong chance you'll find him on Méribel's golf course. Especially at sunset, which is his favourite time of day to hit a few balls.
George-Henry Mauduit tells us more about this captivating discipline, that's even more appealing in this stunning setting.
Some have turned to yoga or meditation to help them catch their breath and find a balance in their hectic lives. Others have turned to golf.
Manager of Georges Mauduit Sports since 2007, following in the footsteps of his father and grandfather, that's what George-Henry Mauduit did. Winters spent in the shop renting and selling ski equipment are full-on and don't finish until early May... before the summer season starts, which although a little quieter, is particularly golf-focused.
In Les 3 Vallées, Georges Mauduit Sports is the only shop to offer the whole range of golfing supplies (equipment, accessories and clothing). It's the shop for golfing enthusiasts.
GEORGE-HENRY'S STORY WITH GOLF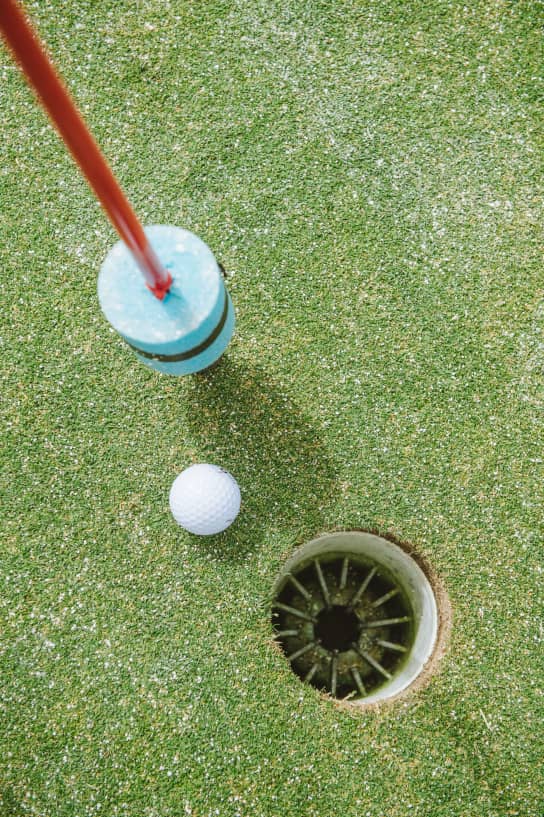 Introduced to golf at the age of 8 by his godfather, ex-professional golfer Gery Watine (one of the architects of Méribel's golf course), George-Henry put the sport to one side in his teens to focus more on competition-level skiing, following in the tracks of his father, a former member of the French ski team.
In 2007, when he was 30, and having taking on the family business started by his grandfather, he found his way back onto the golf course.
Falling in love with the sport all over again, this time it was a passionate affair, with golf becoming not just a sport, but a way of life, filling his days from June 15th to October 30th.
"I try to play at least three evenings a week, when I've closed the shop. Hitting a few balls at sunset gives me a chance to unwind. Sometimes I'll go at lunchtime, with my mum."

Not forgetting the weekends, when he enjoys spending precious time enjoying the game with his friends.
"There are competitions almost every weekend in Méribel. Admittedly, they're not national or international ones, but they are still a chance to get together in a friendly atmosphere, and to meet new people."
With his expert knowledge of the place, George-Henry loves inspiring others to play on this unique course.
"Olivier, who works with me in the shop during the winter, is also head gardener at the golf course in the summer! So together, we tell all of our skiing customers about it. So few of them know about the golf course, yet it's a stunning place to play, and to learn."
This former competitive skier sees many similarities between skiing and golf. The enjoyment of being in the great outdoors, in a natural environment and a re-energising setting to start off with.
"As well as the need to concentrate, to achieve the perfect movement, the friendly atmosphere as you share the experience with others..."
GEORGE-HENRY'S TIPS FOR GETTING STARTED
1. Make the most of these magnificent settings to have a go
George-Henry Mauduit

, Owner of Georges Mauduit Sport shop in Méribel and a keen golfer

The backdrop is stunning, and that alone is worth the detour. It would be a shame not to make the most of a trip to Les 3 Vallées to try your hand at golf on one of the two courses, whilst enjoying other leisure activities too. They are accessible in just a few minutes from the resort centre, when you can expect to drive half an hour to an hour in some parts of France.
2. Opt for instruction to start with
George-Henry Mauduit

, Owner of Georges Mauduit Sport shop in Méribel and a keen golfer

As is the case with all sports, you can teach yourself how to play, but as golf is technical, getting professional instruction from the outset can avoid any bad habits forming. You will learn how to hold your club correctly, and how to take the right body position to avoid placing any strain on your shoulder, back or spine. Perfecting your moves is one of the fundamentals to ensure your future enjoyment.
3. Be curious and don't let your preconceptions put you off
George-Henry Mauduit

, Owner of Georges Mauduit Sport shop in Méribel and a keen golfer

People often put up barriers, thinking of golf as an exclusive sport. Come and discover it for yourself, with friends or family, or as a couple, from the age of 7 to 77, and have fun in a friendly atmosphere. You'll see that golf is a lot more accessible than you first thought.
George-Henry Mauduit

, Owner of Georges Mauduit Sport shop in Méribel and a keen golfer

If you haven't got all the golfing gear yet, and just want to give the sport a go whilst trying the many other summer activities on offer in Les 3 Vallées, no issue! All you need is a pair of closed shoes, such as trainers, a pair of trousers or long shorts, and a t-shirt or polo shirt... After that, your instructor will provde you with the necessary equipment.
Playing on a high-altitude golf course. Two things to bear in mind:
The effect of playing at altitude,
The effects of altitude difference.
George-Henry Mauduit

, Owner of Georges Mauduit Sport shop in Méribel and a keen golfer

With less air density, the ball flies further. Between playing in the valley and playing up at 1,700 metres, you gain a distance of about 10%. Someone who has never played at altitude before may end up hitting the ball too far. It's a challenge for your reflexes!

George-Henry Mauduit

, Owner of Georges Mauduit Sport shop in Méribel and a keen golfer

There's an altitude difference of almost 250 metres between the highest and lowest points of Méribel's golf course. Not a huge difference for a hiker perhaps, but it certainly makes a difference when you're carrying a 12-kilo bag around with you. You can easily walk 8 km over the course, and many opt for a golf cart to lighten their load.
An exceptionnal territory
Unique
experiences
Discover a host of activities to share in this extraordinary territory! Push your limits, test new sports, discover new sensations... and above all leave with unforgettable memories.