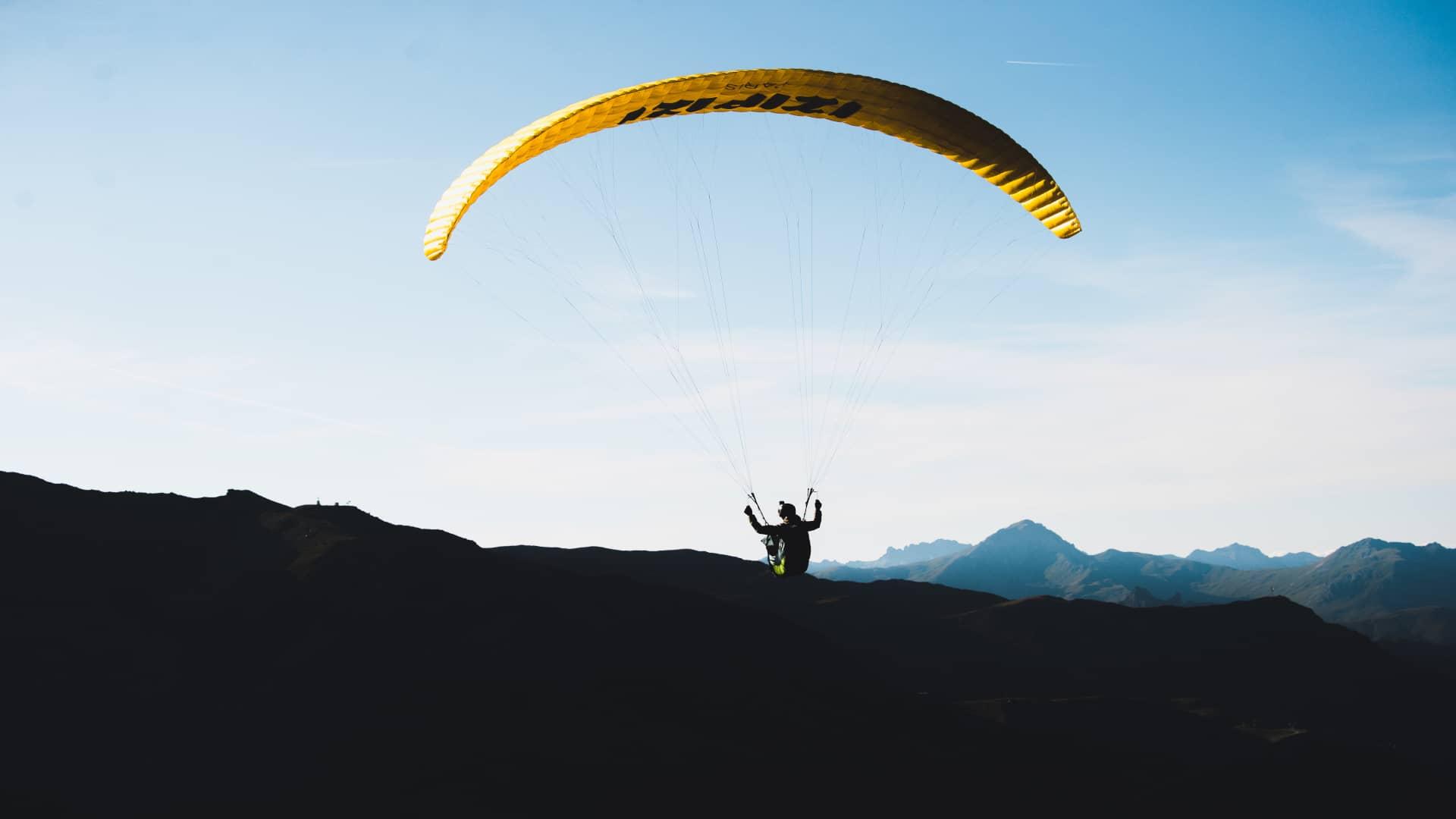 Head firmly on his shoulders, body and heart in the air
With children

With teens

Adults

For all

Unique adventures
Meet paraglider Jérémy Lager
The unique sensations that flow through you after your feet leave the ground, the feeling of ultimate freedom, satisfaction, and lightness, a quivering sense that lifts you away, your hairs standing on end with the delight and excitement…
Jérémy Lager has essentially made this state of fulfilment his day-to-day life.
And he's being doing so for quite some time. It's worth noting that this Méribel local discovered paragliding before he'd even learned to read.
"My father was an instructor too, so from the age of 4 or 5, he took me flying with him."
JÉRÉMY'S HISTORY WITH PARAGLIDING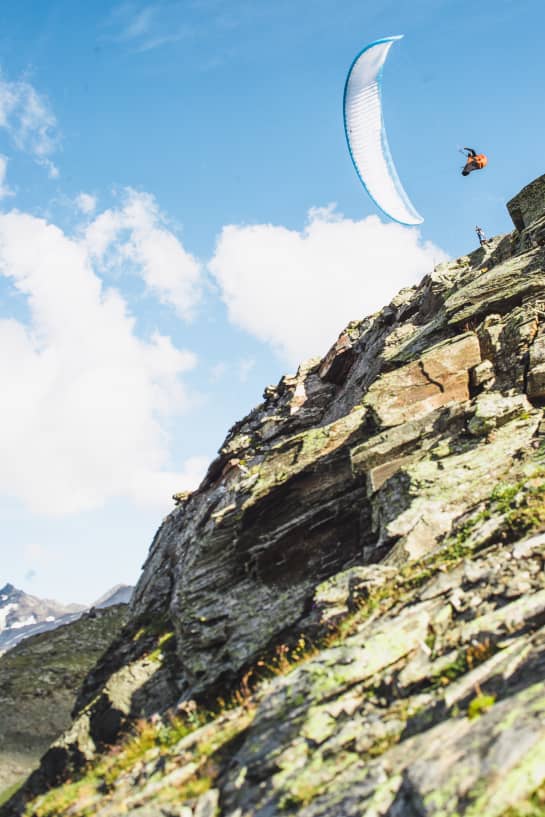 At the age of 12, when most young teenagers are meeting their friends to play football or video games, Jérémy embarked on his first solo flight.
Already independent, responsible and extremely enthusiastic, he quite naturally went with the flow.
Sports Studies, followed by Pôle France training for top-level athletes, before taking the next logical step of joining the French national team. For over ten years, this passion passed down from his father would become the discipline that filled his days, weeks and seasons.
Crowned with two World Champion and European Champion titles, as well as a team 3rd place in the Continental Championship, Jérémy took a step back to tackle different race formats more in line with his goals.
"In 2017, I started races such as the Red Bull Xalp, 1,400 kilometres of crossing the Alps from North to South, alternating between hiking and paragliding."
The perfect format for getting as close as possible to the elements, satisfying his taste for adventure and combining his two passions – flying and the mountains.
Currently readying himself to set off on a crossing of the Pyrenees, Jérémy now divides his time between his work as an independent ski instructor and a paragliding instructor in Les 3 Vallées - skiing and/or flying in accordance with the seasons and weather conditions.
"Choose a job you love, and you'll never have to work a day in your life" said Confucius.
Jérémy hasn't just chosen one. But two.
THE BEST SEASON FOR FLYING?
Jérémy Lager

, Ski and paragliding instructor in Les 3 Vallées

It's difficult to say because each of the 4 seasons has its own charm.

Jérémy Lager

, Ski and paragliding instructor in Les 3 Vallées

In winter, we say that the air 'is dead', with laminar conditions and very little lift. You descend in very calm air, but flying with skis on is always memorable.

Jérémy Lager

, Ski and paragliding instructor in Les 3 Vallées

In spring, there's a really marked contrast between the top and the bottom of the valley, the thermal conditions are more turbulent for beginners but personally, that might be my favourite season for going on long flights.
EXPERT ADVICE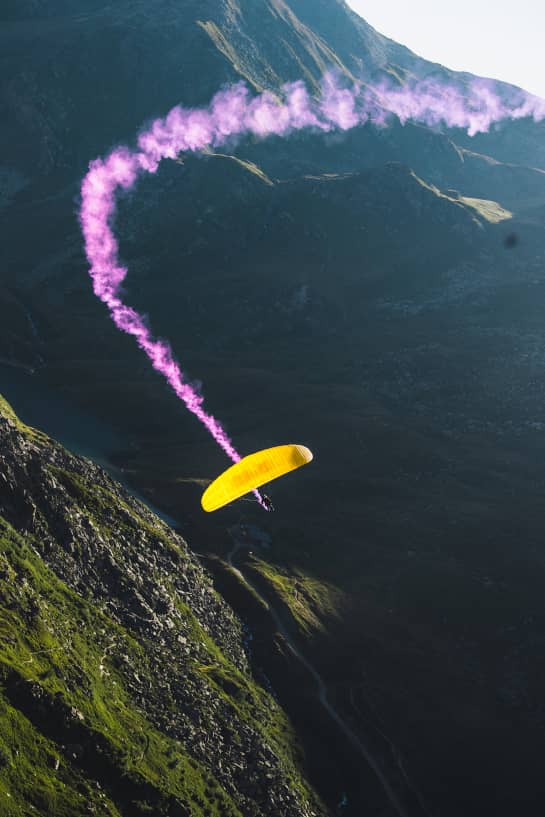 First flights and beginners: don't let a fear of heights put you off.
Because vertigo isn't a factor! Some instructors can't even climb to the top of a ladder, yet they're still excellent professionals.
Because you set off with your feet on the ground, a fear of heights doesn't come into paragliding - so don't be put off.
If, however, you suffer from an uncontrollable fear of wide-open spaces, that's a completely different issue.
Don't just tick off the training.
More and more mountain sports lovers are going on 3 or 4-day courses, buying their equipment and rushing out to fly. But you can't learn paragliding in just a few hours.
I see so many problems happen when people are just looking for a thrill and a new discipline, and they prematurely see themselves as independent and invulnerable.
They've forgotten about the whole theory side of things, the understanding you need to have of meteorology and aerology (studying the properties of the atmosphere's lower regions (troposphere and stratosphere), and the technical and analytical knowledge that's essential for being able to "read" and analyse situations.
Regularity is key.
Paragliding requires experience and expertise, as well as lots of practise.
You need to fly regularly to achieve and maintain the right levels of experience and progression.
Just like a musician regularly practises their instrument, you have to practise, practise, practise and not just content yourself with a week of flying a year.
HIS FAVOURITE SPOTS IN LES 3 VALLÉES?
Jérémy Lager

, Ski and paragliding instructor in Les 3 Vallées

Home ground. Predictably, without a moment's hesitation, I vote for Méribel, which I know like the back of his hand. It's not just local patriotism! Méribel is located at the heart of Les 3 Vallées. The Tougnète sector is perfect in the morning for its rising air currents and the Saulire/Col de la Loze side is perfect for the second part of the day.

Jérémy Lager

, Ski and paragliding instructor in Les 3 Vallées

For a bucolic flight: the Belleville Valley. Another recommended spot. It's not the best-known sector but it is really great. Flying over Saint-Martin-de-Belleville's Alpine pastures is a real contrast with Les 3 Vallées' other steeper, more vertiginous spots.

Jérémy Lager

, Ski and paragliding instructor in Les 3 Vallées

The spot: in winter or in summer, when the ski lifts are running, I love solo flights or accompanying first flights from the Col de la Loze. It's definitely one of the most beautiful views in Les 3 Vallées with a breathtaking panorama over the mountains of Courchevel, Méribel Mottaret, Méribel and La Tania!
Les 3 Vallées
An exceptional
territory
Discover a host of activities to share in this extraordinary territory! Push your limits, test new sports, discover new sensations... and above all leave with unforgettable memories.