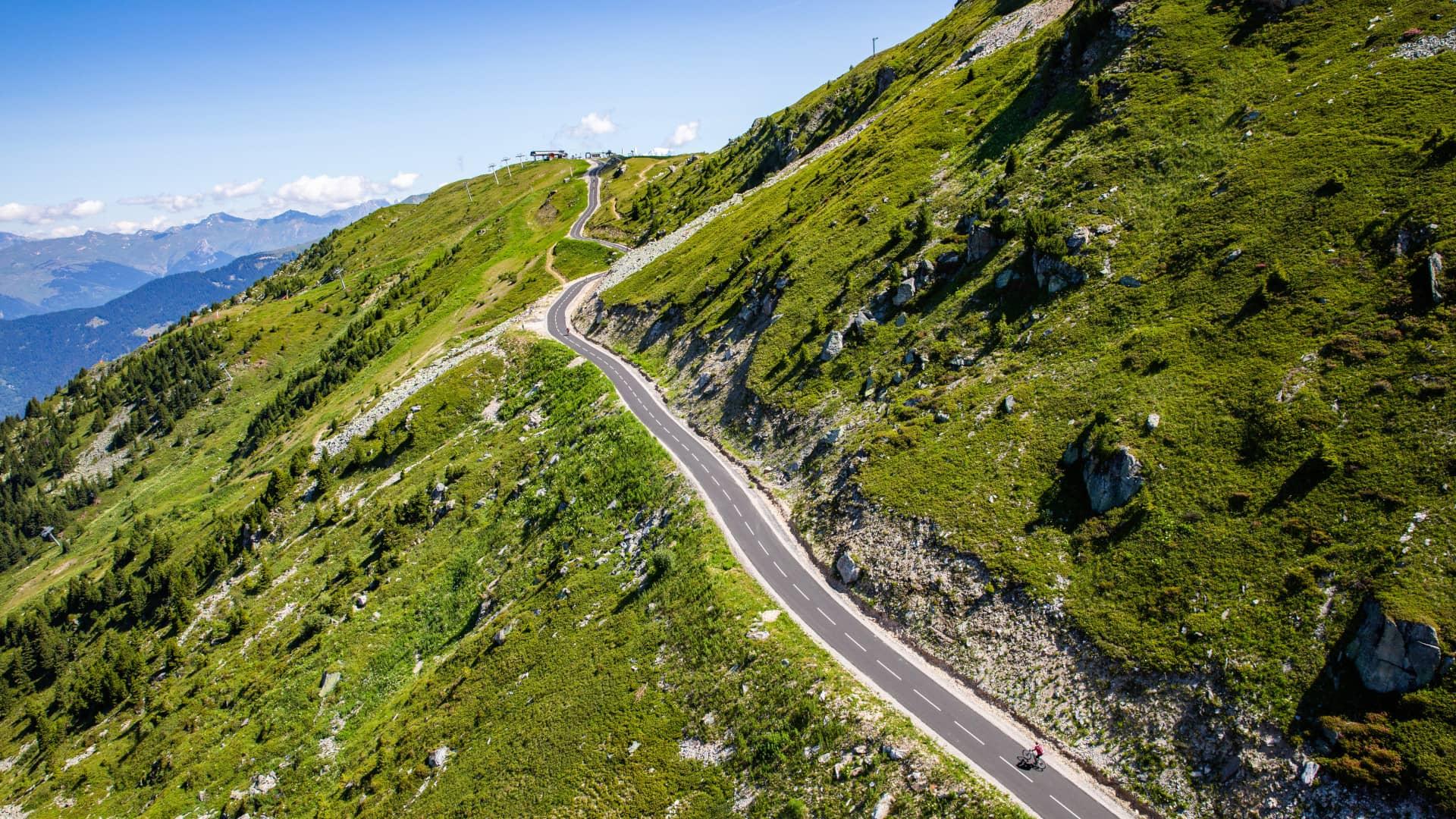 The Col de la Loze mountain pass with family
With children

With teens

Adults

For all

Explore on bike
Experience E-bikes with the family in Les 3 Vallées
Damien Laymond, ski instructor and 3 Vallées aficionado, explains his experience of electric bike in Les 3 Vallées.
A unique experience to live with the family on an extraordinary territory.
He is a road cyclist who tends to ride alone, but as a father he's always wanted to share his passion and amazing experiences with his wife and young son.
MY ASCENT OF THE COL DE LA LOZE WITH MY FAMILY
9 AM
9 AM
What equipment to plan?
After eating breakfast, you have to be sure to leave with the right equipment.
Provide two electrically assisted bicycles, one for the mother and one for the father,
Do not forget the small specific trailer for the child, which attaches to the back of the bike,
Sunscreen, water, a bicycle helmet, a little sweatshirt if temperatures are cold when you are at the top... and of course, don't forget a good picnic!
10 AM
10 AM
It's time to leave
In order to be able to enjoy the climb serenely, taking the time to admire the unique panoramas, it is good to put the first pedal stroke around 10am. But not later...
11.30 AM
11.30 AM
The reward
Once at the top of the Col, the picnic is appreciated in front of the incredible high mountain landscapes.
Damien Laymond

, Ski instructor and 3 Vallées aficionado

Setting off at 10am, kitted out with E-bikes and a little trailer for his son, the whole family were able to experience climbing a legendary mountain pass, in a tranquil atmosphere and a majestic setting.

Damien Laymond

, Ski instructor and 3 Vallées aficionado

There are no restrictions on this bike path. Because it's reserved exclusively to cyclists, there's no need to stress about cars, especially if you've got a child in a trailer behind you at ground level.

Damien Laymond

, Ski instructor and 3 Vallées aficionado

The electrical assistance makes the cycling much easier, even with the trailer! The bike path surface is smooth, which makes it easier to control the bike and your balance.

Damien Laymond

, Ski instructor and 3 Vallées aficionado

We admired the stunning scenery together, the three of us, and we even spotted a few marmots before quietly setting off for the ride back down. It was a wonderful experience to share!
Les 3 Vallées
A range of
activities
Discover a range of activities in this extraordinary territory! Push your limits, try new things, discover new sensations... and above all leave with unforgettable memories.