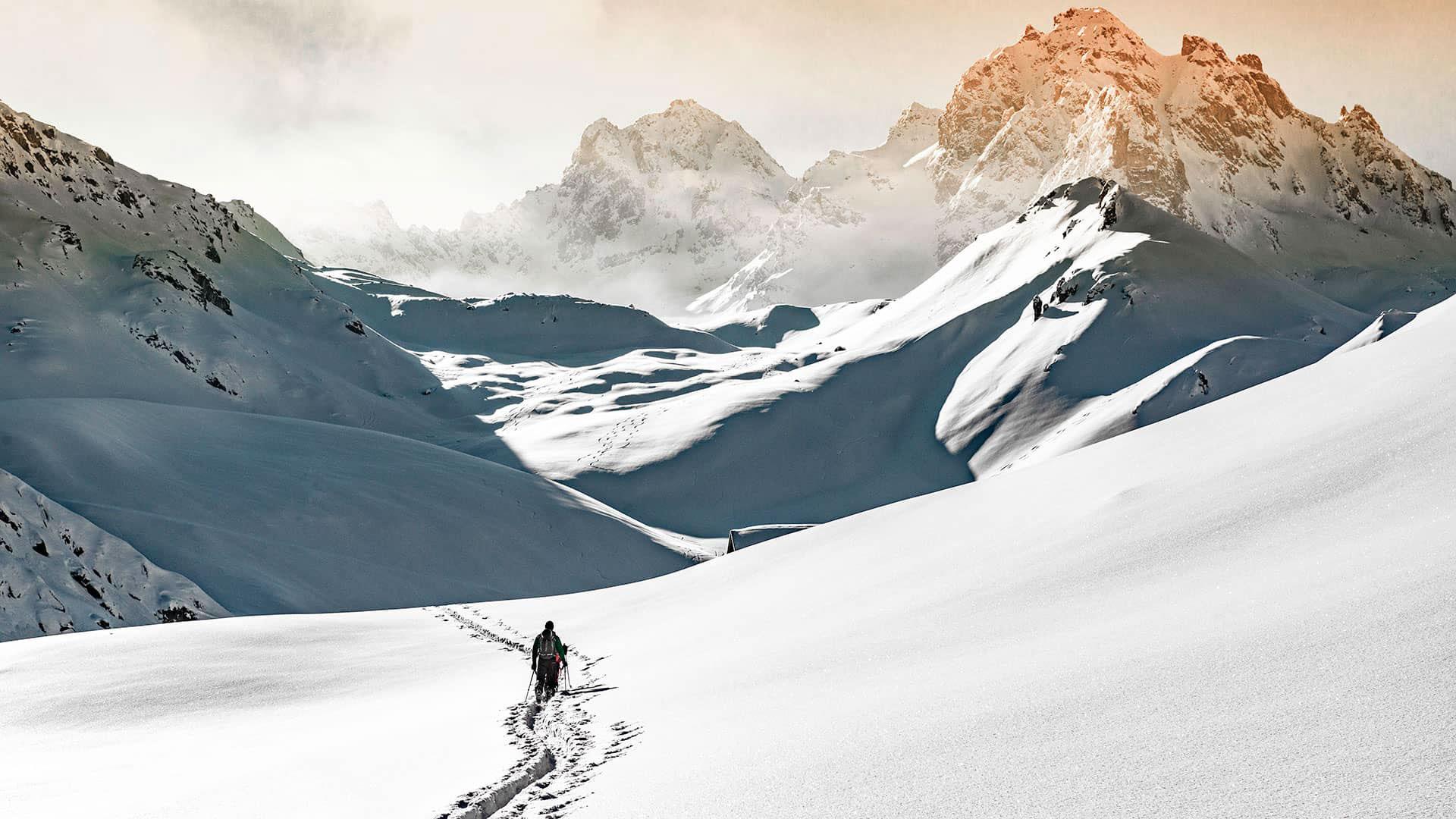 Ski touring : 5 ideas made in Les 3 Vallées
With teens

Adults

Expert

The very best of Freeride
5 itineraries made in Les 3 Vallées for Ski touring
In Courchevel, Méribel, Val Thorens, find our ski touring routes in Les 3 Vallées.
To live these adventures in total peace of mind, be accompanied by mountain professionals. The 3 Vallées instructors and guides will be happy to introduce you to these extraordinary experiences, they will be your best allies for a safe outing.
Courchevel, Mont Bel Air
A forerunner in the field of ski touring, Courchevel was the first French ski resort to create, in 2012, a groomed and secured ski mountaineering course running for 3.2km with 500m of elevation gain. Since 2014, a vertical kilometre course has also been set up: alpine and trail skiers can compare their performances on this trail, which is strictly identical in summer and winter, and during the Plum KV Courchevel hosts very busy night races every week!
Méribel-Mottaret, Glacier de Gébroulaz
In Méribel-Mottaret, a permanent ski touring route sets off from the Hameau, arriving on the plateau des Combes near a high-altitude restaurant. The most experienced skiers can also head off to discover the Glacier de Gébroulaz, by taking the lifts from Méribel to Val Thorens. Then it's time to put the skins on to gain the Col de Gébroulaz and then down to Lake Tueda, with or without passing over the Glacier du Borgne. Another variation is to descend to the village of Pralognan, from where you will have to return by taxi. Breathtaking views among wild and grandiose landscapes.
Val Thorens, la Camille
Departing from Val Thorens, the Camille, in homage to a great name of the resort, is a gentle climbing trail that allows you to discover archive photos of the resort. An instructive getaway of 1.5km and a 280m climb, sunny all the way!
Belleville valley, Lac du Lou
A must-see in the Belleville valley, ski touring enthusiasts feast on the scenery of Lac de Lou. For an even more unforgettable experience, it is possible to spend the night at the refuge before leaving in the early morning.
Val Thorens, Dynafit Leopard Tracks
In Val Thorens, the Dynafit Leopard Tracks are 100% nature climbs leaving at 5 pm, with skis and skins on the feet to make an assault on the Chalet de la Marine at an altitude of 2500m. An hour of climbing well rewarded by a mulled wine and onion soup before returning to the resort by starlight. This same route is practised much more intensely during the Dry Climbs organized by the Sports Club.
Ski School - Courchevel

esf Courchevel 1850

Ski School - Courchevel

esf Courchevel 1650

Ski School - Courchevel

esf Courchevel 1550

Ski School - Courchevel

esf Courchevel-La Tania

Ski School - Méribel

esf Méribel

Ski School - Les Menuires

esf Les Menuires

Ski School - Val Thorens

esf Val Thorens

Ski School - Orelle

esf Orelle
Les 3 Vallées Mountain Guides
Mountain Guides - Courchevel

Bureau des Guides de Courchevel

Mountain Guides - Méribel

Bureau des Guides de Méribel

Mountain Guides - Les Menuires

Bureau des Guides Vallée des Belleville
Connect yourself
An XXL off-piste
ski area
A vast high-altitude expanse combined with a huge network of ski lifts: that's the winning formula that makes Les 3 Vallées an extraordinary playground for off-piste skiing !