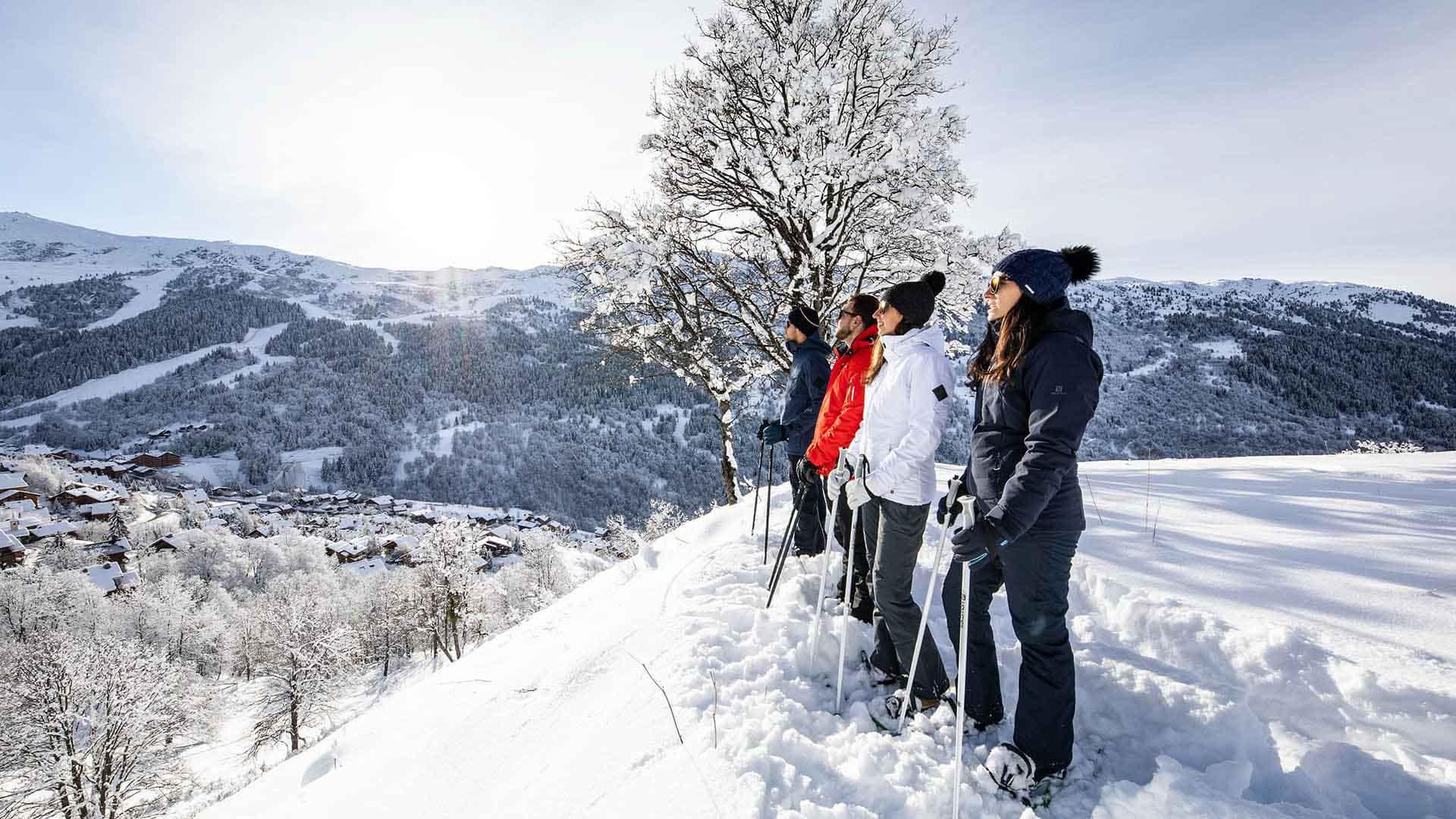 Snowshoeing and biathlon in les 3 vallées: enjoy the mountains in a different way
Downhill skiing, ski touring, sledging – there are so many ways to enjoy the mountains and the pleasures of winter sports in Les 3 Vallées. Why not discover something new on an outing that takes you far from the busy slopes? With a pair of snowshoes you can get off the beaten track and discover exceptional natural landscapes. Alternatively, test your stamina and concentration on a biathlon taster session. Dare to discover new activities and enjoy being surprised!
Sink step by step into fresh, deep snow. Set off to explore wide open spaces of untouched powder under snow-covered fir trees.
Snowshoeing in Les 3 Vallées: discover the mountains at a slower pace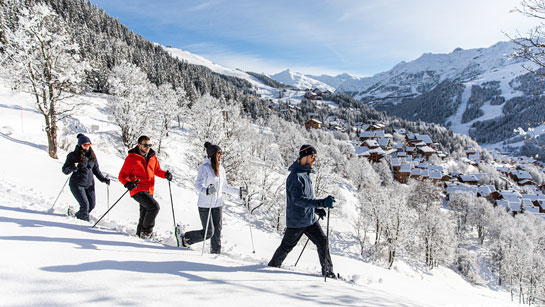 Follow the tracks left by animals in the forest... A nature walk on snowshoes offers you chance to escape into the 3 Vallées mountains, at a pace that allows you to savour every moment.
No special training or technique is required to get started. Everybody can discover the most beautiful, hidden corners of the mountains at the gentle pace of a snowshoe walk. It's a chance to get close to nature, either alone or accompanied by an instructor from the ESF (French Ski School) to guide you through this powdery paradise.
This is a wonderful opportunity to discover all the secrets of the local wildlife and plants, and learn about the traditions of the picturesque villages nestling on the mountainside.
As you walk at your own pace, the iconic landscapes of the world's largest ski area reveal all their natural riches.
Explore Lac de la Rosière in Courchevel-Moriond, or the Tueda Nature Reserve or the largest lake in the Vallée des Belleville and you will discover Les 3 Vallées in a fresh light. It's the perfect way to take a break from a busy ski holiday or to make the most of your holiday in Les 3 Vallées if you are not skiing.
Surrounded by mountains and forests, powdery snow and blue sky, time stands still. With a thermos of hot tea or a picnic tucked into in your rucksack, you can enjoy a rest while you admire the views of immense snowscapes.
On the way back down, you'll stride out and return to the resort fully refreshed by your immersion in nature. A delight not to be missed!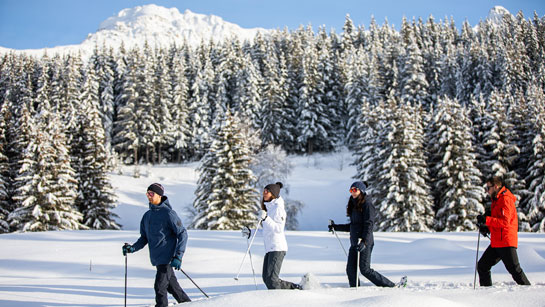 Fall in love with the mountains
Snowshoeing and biathlon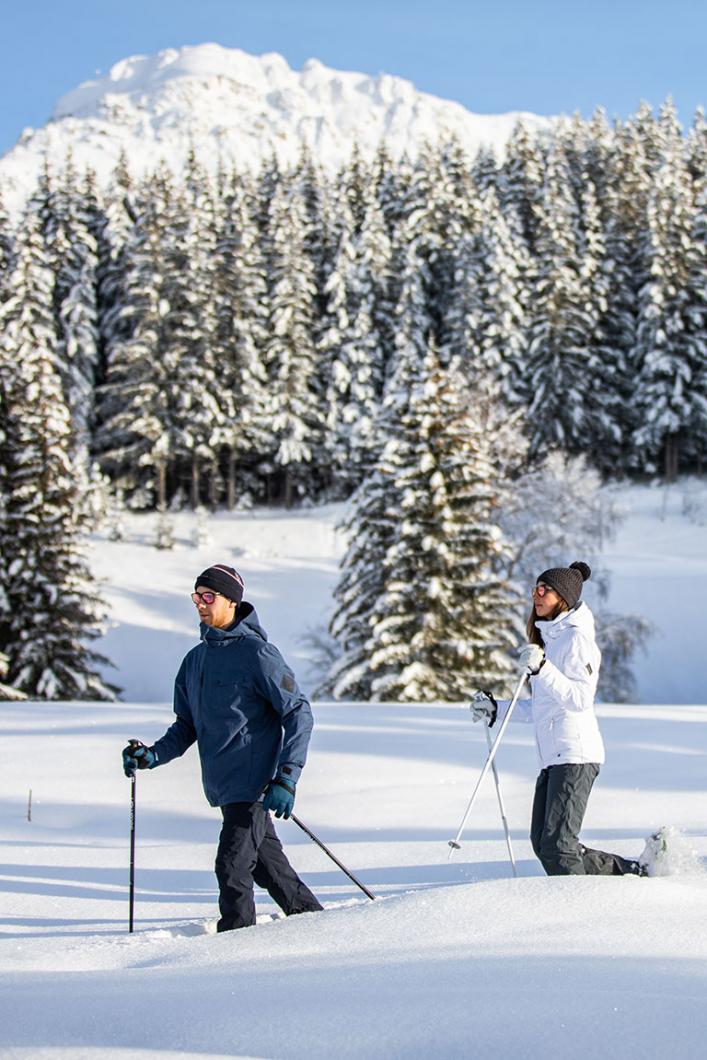 The world's largest ski area has many other delights for skiers!

You don't have to be naturally sporty to fall in love with the mountains and great outdoors: Les 3 Vallées offers a wide range of gentle and enjoyable sports that let you get close to nature. Guided walks, snowshoe outings, taster cross-country sessions – slow down the pace of life and enjoy the landscape in peace, far from the hustle and bustle of the downhill ski runs.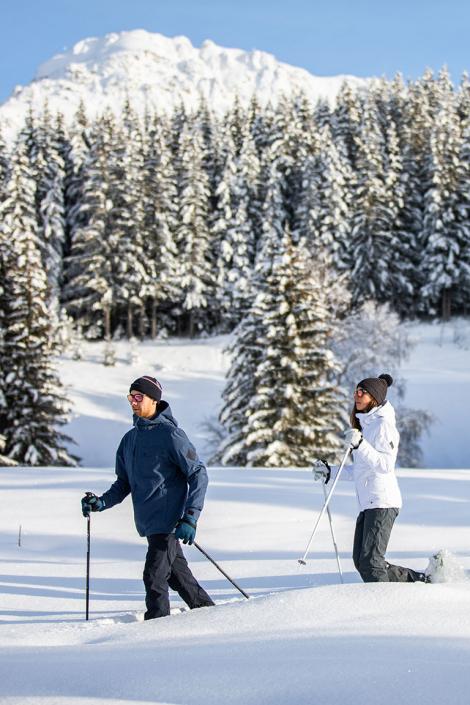 Biathlon in Les 3 Vallées: try an Olympic sport!
Whether you are a complete beginner or an experienced cross-country skier, you can try a very different way to enjoy Les 3 Vallées: biathlon!
The ski resorts of Méribel and Les Menuires boast special areas where anyone interested this Olympic discipline can try it out. Combining cross-country skiing and rifle shooting, this unique sport requires physical effort, stamina, concentration and precision.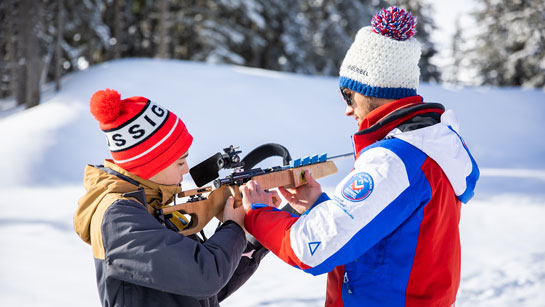 In the company of an instructor from the ESF (French Ski School), you can try biathlon for a morning, a full day or even a whole week.
You will find this sport fun, challenging and exciting. You will set off on the cross-country trails, skiing on exceptional snow, enjoying panoramic views and spectacular scenery! Your cheeks turn pink, your breathing quickens. Then you take your rifle from your back, take aim, and hold your breath as you lie on the snowy ground. Speed must now be replaced by finesse...
And then you must get going again, until the next shooting bout!
Biathlon can be discovered with friends or family or on your own. It's one of those unforgettable experiences that you will want to try again and again, and a great way to discover Les 3 Vallées far from the beaten track...
Les 3 Vallées
A range of
activities
Discover the many activities offered in Les 3 Vallées in the seven resorts that make up the area: Courchevel, Méribel, Brides-les-Bains, Les Menuires, Saint-Martin-de-Belleville, Val Thorens and Orelle. Discover new sensations...