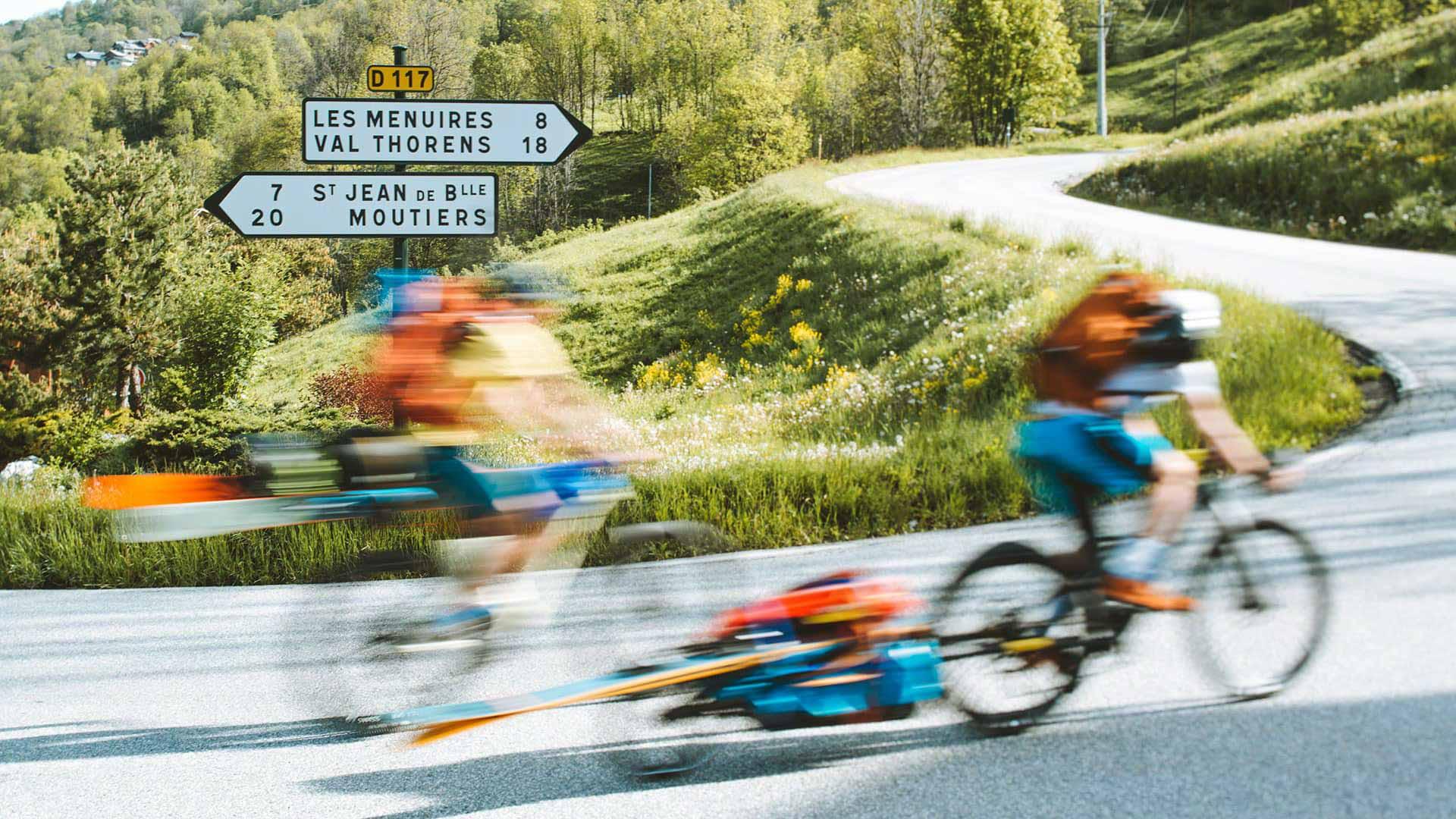 Sk'E-Bike: Les 3 Vallées, all year round!
With teens

Adults

For all

Explore on bike
Les 3 Vallées year-round, summer and winter, on skis and by bike
Yes, it can be done. A band of happy riders from Les 3 Vallées, driven by the desire to make the world discover the extent of possible activities in the heart of Les 3 Vallées, decided to put together a film containing fabulous spots in extraordinary alpine landscapes.
"Life with Timy THÉAUX and his crew of friends, who steer their skis just as well as their bikes…

Their idea? Quite simple: use electric mountain bikes to access and link up the ski area's five mythical couloirs and descend them by ski. Bicycles and skis complement each other and offer a coherent and intoxicating experience. The corridors of the ski area, where access is often complicated, make the electric mountain bike the optimal solution.
This team of riders, equipped with their drones and cameras will share their sports adventures in the movie "Sk'e bike" online on this page on December 16th !
Interview sequence
While waiting for the film première, we went to meet Timy behind this beautiful idea, whose greatest ambition is to enjoy their territory all year round.
WHERE DID THE IDEA FOR THE FILM COME FROM?
Timy THÉAUX: "A combination of observations and desires: many couloirs still offer good snow condition in May, but reaching them takes too long in a single day and the shelters are closed at that time of year. Mountain bikes can help reduce the approach time, but with the weight of the ski equipment, it isn't feasible. The solution was waiting for us: use e-bikes to access the snow. The second goal was to combine our two passions: skiing + mountain bike, by linking them up in one day and even more during the same descent. A true freerando + enduro combo."
WAS THE INITIAL AMBITION TO SHOW THAT WHERE YOU'RE FROM, IN LES 3 VALLÉES, WE CAN RIDE ALL YEAR ROUND?
Timy THÉAUX : "Not really, it was just to optimise our practice according to the conditions, especially when in spring it is still ideal for skiing and perfect for mountain biking. These sports can also be combined in the same way in the autumn."
WHAT IS THERE IN LES 3 VALLÉES THAT WE DON'T FIND ELSEWHERE?
Timy THÉAUX : "Les 3 Vallées are really well suited to this ski-bike combination because after our beautiful couloirs we could find beautiful "single tracks" to enjoy on our bikes in enduro mode. For the climb, we could also use 4×4 tracks suitable for getting up to the snow."
Timothée Théaux

, Ski instructor at Val Thorens & Professional freerider

In winter, the variety of altitudes and orientations mean it is always possible to find the best skiing for the conditions. In summer, the length of the mountain bike descents and the ever-changing landscapes from one valley to another.
WHICH ITINERARY WOULD YOU RECOMMEND TO SOMEONE WHO IS ONLY JUST DISCOVERING LES 3 VALLÉES IN WINTER? AND IN SUMMER?
Timy THÉAUX : "In winter, the off-piste glacier skiing from thesummit of Val Thorens down to Pralognan or Maurienne (guide mandatory).
In summer: the descent of Tougnette (St Martin de Belleville - Meribel link) to Moutiers, more than 2000m of descent with a splendid panorama at the heart of Les 3 Vallées."
WHAT IS THE MOST BEAUTIFUL SPOT TO TAKE A MEMORABLE PHOTO IN WINTER? AND IN SUMMER?
Timy THÉAUX : "In winter, from the top of the Saulire, looking towards the Dent du Villard.
In summer: Mount Jovet, a beautiful look-out point for all of Les 3 Vallées."
ONE WORD (AND JUST ONE!) TO SUM UP LES 3 VALLÉES?
Timy THÉAUX : "Accessible!"
In the crew there are also some great skiers whose names are not unknown in the valley and even a little further afield:
Jérémy PREVOST / Fabien MAIERHOFER / Flo ARTHUS / Kevin GURI / Victor GALUCHOT / Arthur BERTRAND (photographe)