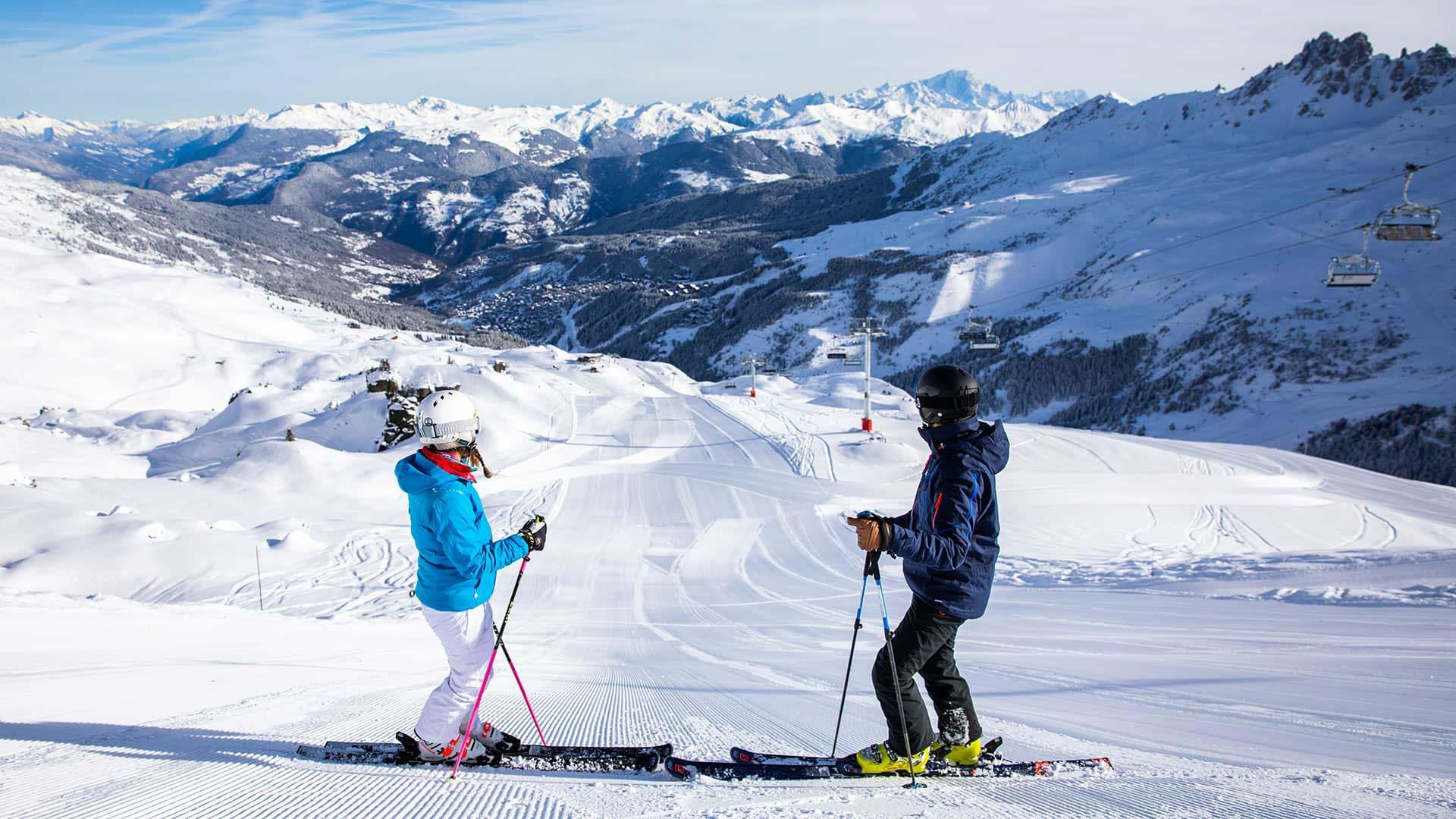 Duo Pass
€320.00 / person
For 6 days from the 18th December
6 days and more
2 persons
DUO PASS: it's better with two!
Whether you are friends, lovers, cousins, colleagues or neighbours, set out with your best ski-partner to discover Les 3 Vallées ski area with a Duo Pass in your pocket on a holiday for two!
Skiing is a sport to share
What's a Duo Pass 3 Vallées?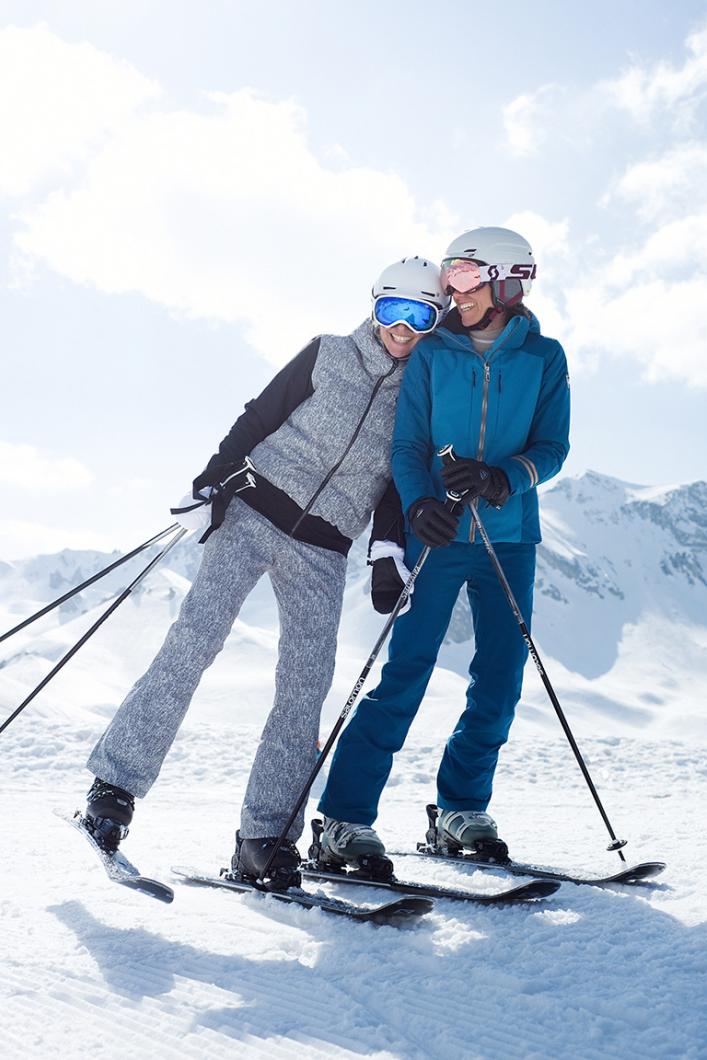 Skiing is a sport to share, which is why Les 3 Vallées offers a pass for best-mates: the Duo Pass. Available from 6 to 21 days, this pass is bought and enjoyed together and qualifies for a discount rate.

The rules of the game are simple: a 3 Vallées Duo Pass must be bought together, with a single payment for two people, and for the same duration. Your bonus is a 10€ reduction per person compared with a single adult pass, or 20€ per couple, for a pass of 6 or more days. You form a couple and we'll do the rest…
Our week skipasses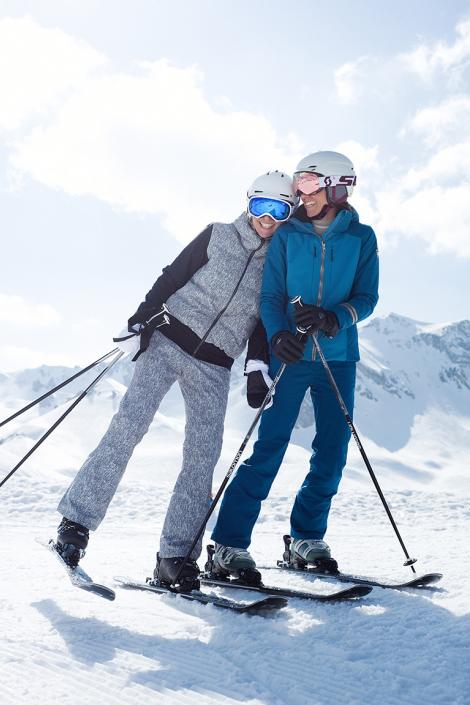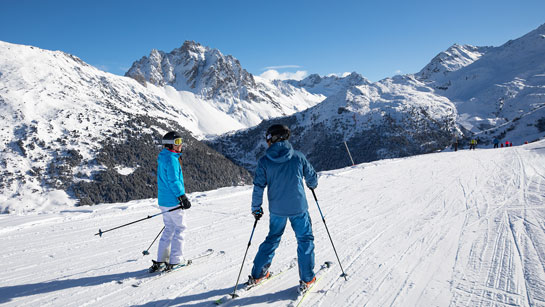 Twice as much time on the pistes
Three valleys, seven ski resorts and between 6 and 21 days to enjoy it together… Make sure you don't waste a minute of your precious holiday time! Before you set out on your unforgettable ski holiday, why not do the necessary admin online? The Duo Pass can be bought or recharged online with just a few clicks so there's no need for you to visit the lift office.
For your initial purchase, start by ordering your pass online. Within days, a rechargeable lift pass card will be sent to your home (in France or abroad) for no additional charge, or you can opt to pick it up in the resort. Skiers who already possess a pass card can simply recharge it online with the skipass of their choice and then place it in a pocket where it will be read hands-free at each lift.
Another benefit is that you can recharge your pass up to 5 minutes before you set out skiing or cancel your purchase up to your first ski day without cost. Spend a few minutes on your screen now, and you won't have to bother with it once you're on holiday!
20€ economy for the Duo Pass
Starting from 6 days
Same ski area, same duration: one payment!
Shared pleasures in the heart of the world's largest ski area
Give yourselves a Duo Pass: it's the gift of precious time away from it all, in a setting that's perfect for togetherness. Sumptuous landscapes, legendary ski runs, guaranteed snow above 1,800m…
Les 3 Vallées is something everyone can agree on! Expert, intermediate or beginner skiing, on Les 3 Vallées' pistes or off-piste: holidays here adapt themselves to the wishes of every skier!
Discovering (or rediscovering) the pistes is a wonderful experience for couples who can enjoy the views, the comfortable lifts and the freedom to ski from one resort to the next without ever having to take their skis off.
Your memorable holiday continues off the slopes, perhaps on a toboggan, or zip-wire, or ice-skates or in one of the many mountain restaurants in Les 3 Vallées ski area. Amongst these are 11 Michelin-starred restaurants for you to discover. It's the ideal break for lovers!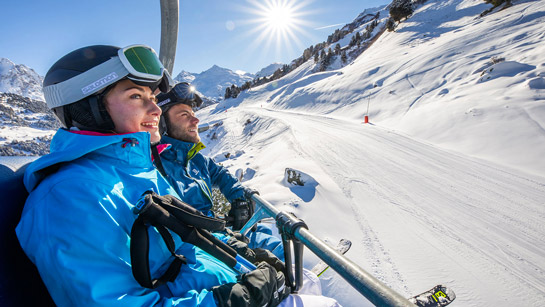 WARM UP : 10 TIPS FROM ADRIEN THÉAUX
Discover 10 tips from Adrien Théaux, member of the French Speed Skiing team from Val Thorens, on how to prepare for Alpine activities.
1. Ease back,
into an exercise routine at least one week before your holiday. Forget the lift, it's time to take the stairs! Goodbye public transport, hello bicycles and jogging!
2. A healthy lifestyle:
isn't just about exercise. As well as staying active, a nutritious, balanced diet and a good night's sleep are essential!
3. Check your equipment:
well- prepared and maintained skis, comfortable boots, a working helmet, a mask with protective lenses, the right- sized ski poles.
4. It never hurts,
to have a quick look at the piste map before your holiday. It will stop you having to get off and look at every ski lift!
5. In the morning,
bring a bag containing water, a snack, an extra layer in case of cold, and a pair of lightweight gloves if it's hot.
6. That reminds me,
did you check the weather?
7. Skiing is a sport for early birds!
The pistes are most enjoyable just as they open!
8. Before you set off on your first run,
ensure you have warmed up every part of your body, including neck, shoulders, arms, wrists and legs. Stretch your legs with 3 sets of 10 bending movements with a 90 second interval between each set.
9. Start with a couple
of easy downhill runs to get warmed up.
10. Remember that fatigue generally
hits and accidents often occur after lunch and at the end of the day. To get a head-start on your next day, use your après-ski to do some light stretching, stay hydrated and go for quick swim if you can!
Skiers of all abilities intending to come for between 6 and 21 days can choose a custom-made skipass to create the perfect holiday.
An exceptionnal territory
Unique
experiences
Les 3 Vallées is a limitless playground where anything is possible, where all your dreams can become true. Les 3 Vallées is not only about skiing, it's also a multitude of activities to practice alone, with family or friends...