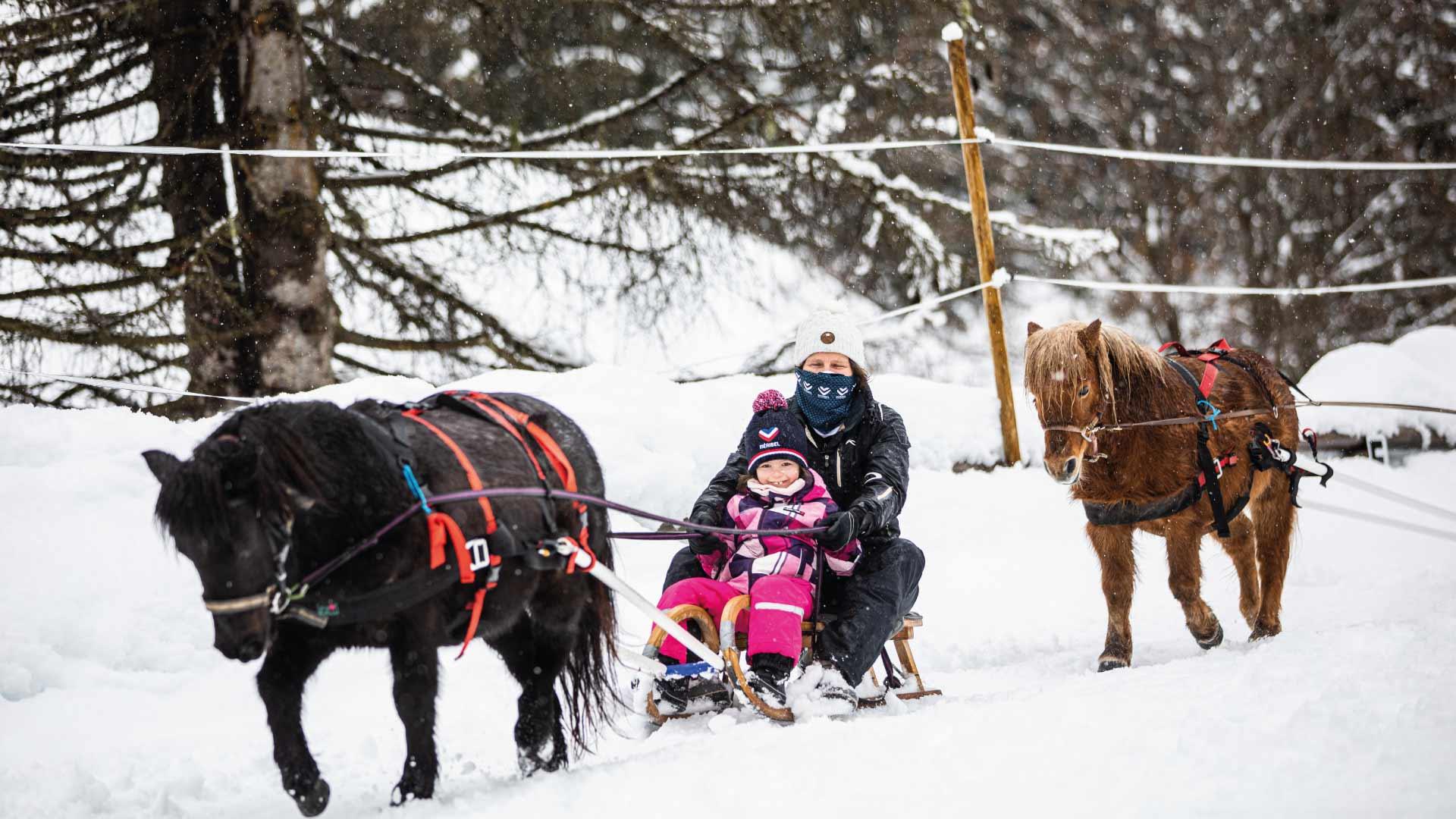 8 Activities just for your children
With children

With teens

For all

Family friendly
All kinds of activities for children in Les 3 vallées
Playgrounds for children, Ice Driving circuit, pony-tugged sled, swimming lessons, snowball fights … all kinds of activities for children to discover in the 3 Vallées resorts !
1. BB Ski and Parallel Slalom
Under-threes can enjoy ski lessons at the BB Ski Sessions in the Children's Village in Courchevel.
Children under 13 registered with the ESF ski school in La Tania can take part in a parallel slalom at the foot of the slopes every Tuesday evening during the French school holidays!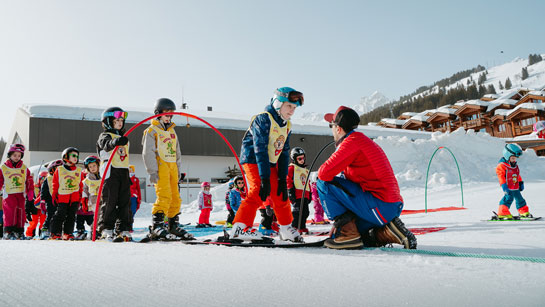 ---
2. Karting in Val Thorens
Kids over seven can challenge their parents on the track at the Ice Driving Academy in Val Thorens! A 15-minute session with two children and two parents: €200. There are also Mitsubishi initiation sessions accompanied by a professional racing driver.
---
3. Marina tells the tale of Clarine
In Saint-Martin de Belleville, Marina tells the tale of Clarine the little cow during the 1950s.
Children can experience mountain life from times gone by, learning about winters spent in the warm stables and summers enjoyed in the alpine meadows. For children between 3 and 10.
---
4. Ski-joring miniature version
Le Ranch Nordique des 3 Vallées at Le Bois d'Arbin in Méribel is perfect for animal lovers. Treat the whole family to a pony- drawn sled ride. Parents guide the animal while the child enjoys snow- covered landscapes, seated comfortably in a sled pulled along by a pony.
A miniature version of skijoring in Méribel, with children pulled along in a luge by a pony!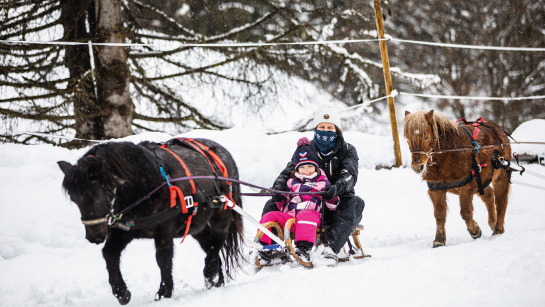 ---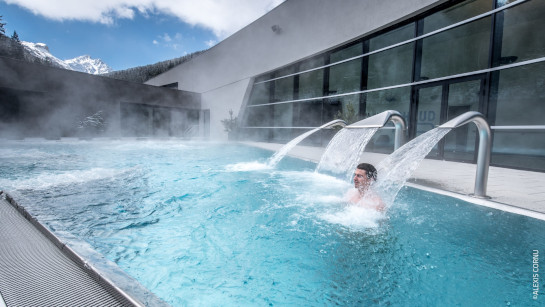 5. Kids' Adventure at the Aquamotion centre

The Kids' Adventure at the Aquamotion centre in Courchevel is a new way of learning how to swim while having fun. Led and supervised by a swimming coach.
The Aquamotion centre welcomes baby swimmers aged 6 months to 3 years, so parents and children can enjoy quality time together. With inflatable play equipment, a waterslide, ball games… your little ones will just love splashing around. The Ludiboo Club offers fun water discoveries for 3 to 6-year olds, as well as early learning water sports under the watchful eye of a dedicated swimming instructor (3hrs of supervised activities).
We love : the huge paddling pool (with "water jet flowers" and a waterslide), as well as the high chairs in the showers, the little bathtub and family cubicles with baby changing tables to keep family life hassle-free all the way to the changing rooms.

---
6. Fun park Les Menuires
Three zones at the Fun Park in Les Menuires are open to welcome children under three, between 3-6, and between 6-12, with :
---
7. Boukty Snow Camp Les Menuires
With snowball fights, igloo hide-and-seek, photoshoots and a chance to meet Boukty the mascot, there are activities for everyone at the Boukty Snow Camp!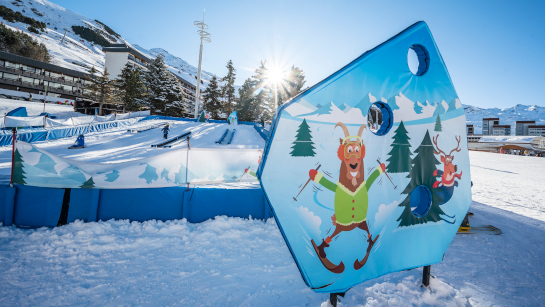 ---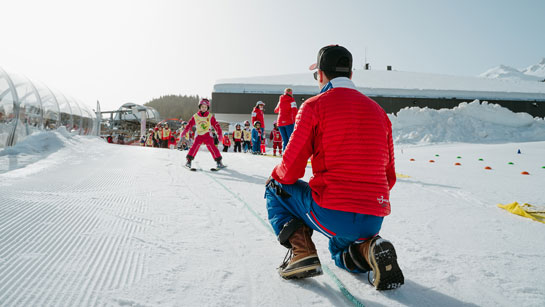 8. The Courchevel Children's Village
The Courchevel Children's Village and its half-a-million square feet of space have been decorated with a medieval theme. Your little skiers can now explore their mini-castles, and the button lift has been repainted and nicknamed "Dragovol".

Ski School - Courchevel

esf Courchevel 1850

Ski School - Courchevel

esf Courchevel-La Tania

Karting - Val Thorens

Ice Driving Academy

Tales - Saint-Martin-de-Belleville

Marina conte l'histoire de Clarine

Ski-Joering / Pony - Méribel

Ranch Nordique Méribel

Swimming pool, Spa & Well-being - Courchevel

Aquamotion Courchevel

Fun area - Les Menuires

Fun park

Fun area - Les Menuires

Boukty Snow Camp

Fun area - Courchevel

Le village des enfants
Sharing and reunion
To discover
with the family
The shared experience of a ski holiday is a highlight for any family, bringing its members closer together, withstanding the passing of time, filling photo albums and leading to many a funny story at family dinners… Skiing as a family brings you together somewhere else, allowing you to reach new heights !