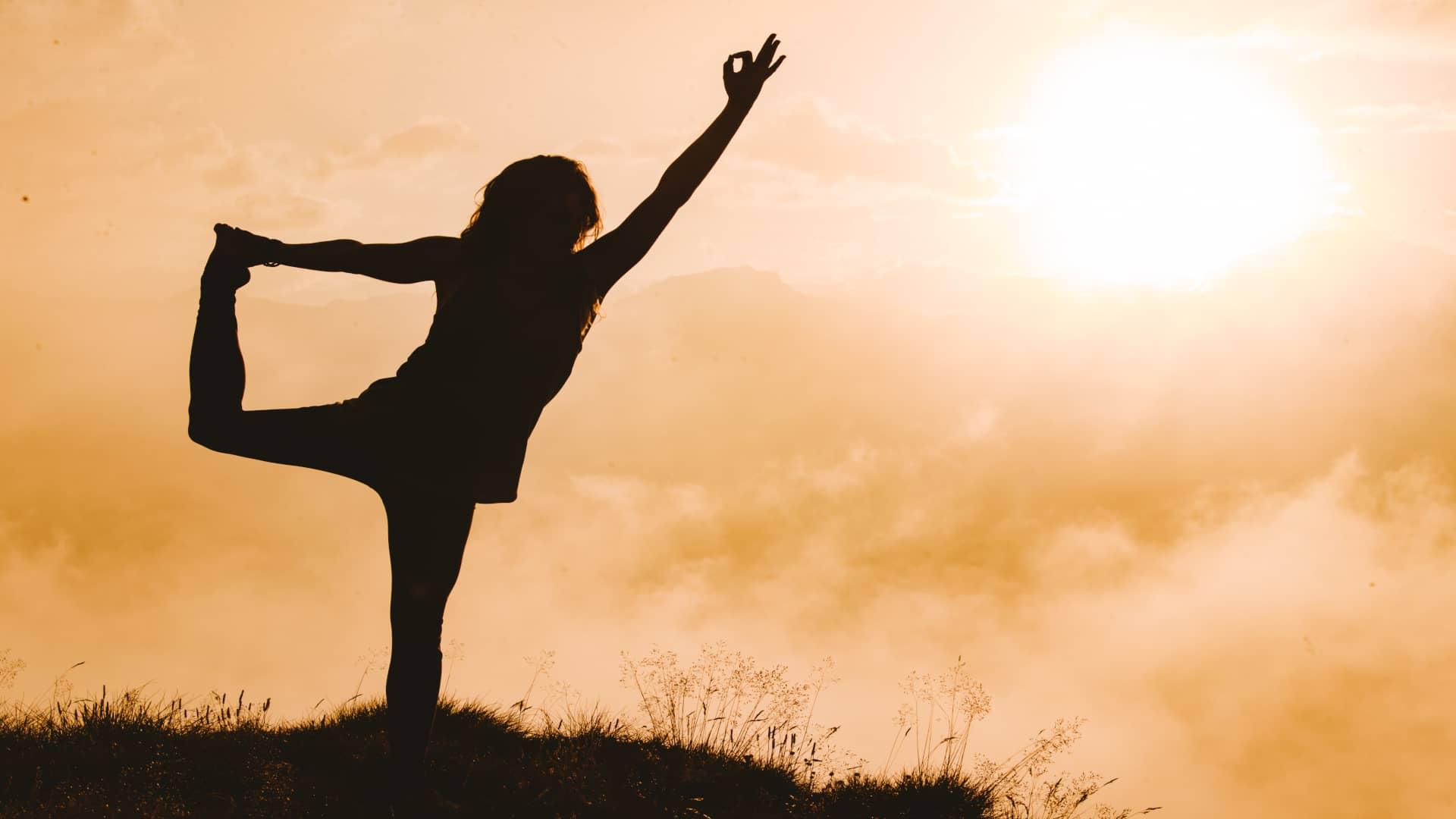 Namasté from Les 3 Vallées
Choose your spot. Roll out your mat. Admire, take a deep breath, unwind and recharge your batteries.
Whether you're a beginner or more experienced, yoga enthusiasts – and wellness enthusiasts in general - will find exceptional, even magical places in Les 3 Vallées in which to relax, reconnect with yourself and the elements.
It's an idyllic setting in which to practice your Asanas and Pranayamas, increase your Prana and improve your vital energy. In this gem of nature, where the air is pure, your red blood cells and vitamin D levels are given a boost thanks to the altitude and the sunlight.
Take nourishment from this privileged natural environment, making your sessions even more beneficial, for body and mind, whatever the season.
In a pure, wintry white decor, before majestic monochrome landscapes.
Connected to Mother Nature in spring, filled with wonder as the natural world awakens, soothed by the sounds of the leaves on the trees blowing in the breeze, and the sweet smell of the first flowers.
Soaking up the cool fresh air of the mountaintops in summer, taking inspiration from Les 3 Vallées' exceptional high-altitude and lakeside locations in which to practice yoga.
And finally, making the most of the unique autumn light, and this natural world as it prepares to rest for the coming months, whilst treating us to a breathtaking blaze of red, orange, yellow and green.
And throughout the year, a restorative breath of pure fresh air, as well as inspirational views, perfect for relaxation and meditation.

365 days a year for you to enjoy yoga to your heart's content across Les 3 Vallées, wherever you want, whenever you want, in total freedom and to the rhythm of the seasons, the weather and the ever-changing landscapes.
From the Belleville Valley to Courchevel, via Méribel and Val Thorens, the possibilities are endless, the atmospheres and scenery manifold. Just pick your favourite spot(s)!
Why not have a go, or improve your technique?
The unique atmosphere, and the sense of well-being yoga in the mountains can bring is enough to convert even the most sceptical, and those who feel the cold!
Even more so when it's done with yoga professionals.
Passionate about yoga and trained to teach all ages and levels, they provide many different options, from a simple taster session to a week-long course or longer.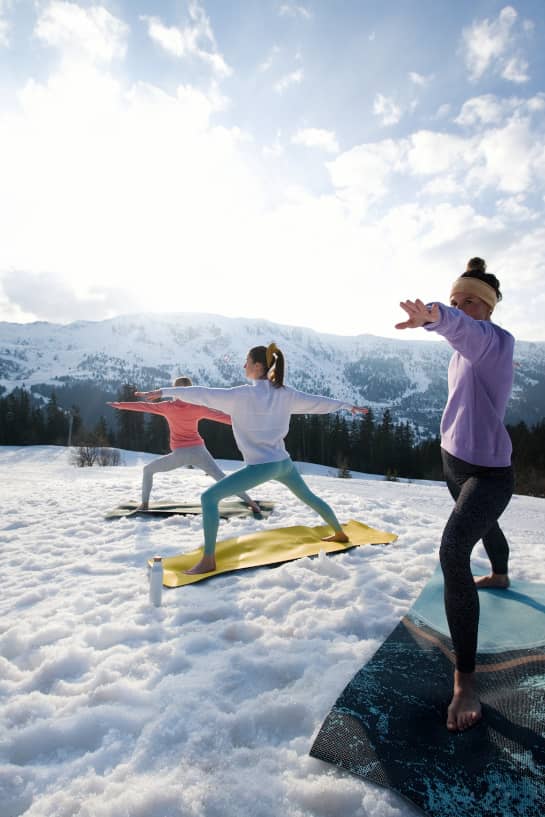 Take your yoga to new heights, effortlessly!
To get to the perfect spot, being able to practice your favourite discipline in breathtaking locations that you would never have dreamt of being possible, doing a series of positions and breathing exercises, at one with the elements….. why not use the ski lifts?
Your ticket to a magical session at the summit, effortlessly.
BE ACCOMPANIED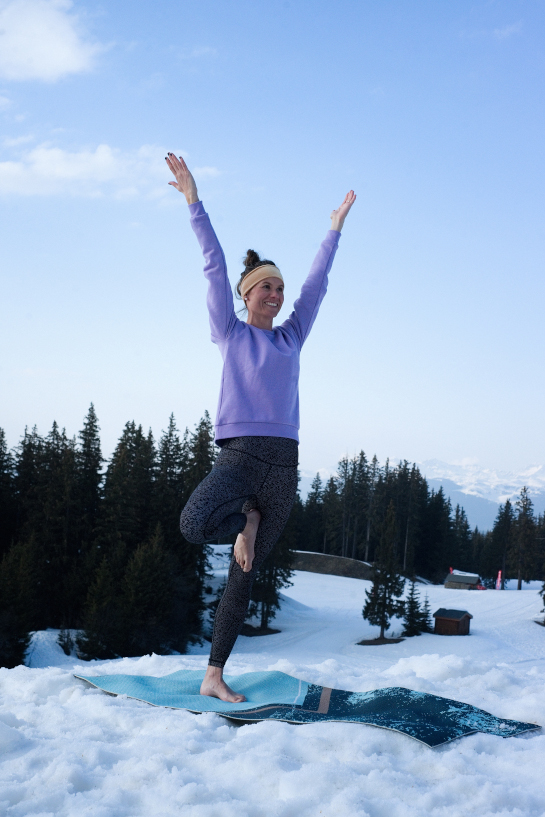 Yoga, sophrology and the mountains with Manalaya in Courchevel
Sophrologist, mountain leader and yoga instructor, Loréleï Rodrigo's three specialities are based on the same promise: "being present in your body through particular movements (yoga), focusing on your breathing (sophrology), and allowing Mother Nature to connect with you (mountain accompaniment). To reconnect with your true nature, radiate well-being and cultivate inner strength."
Also trained in pregnancy yoga, cold yoga and sound therapy, Loréleï offers a variety of different session types:
A 1-day mountain hike, yoga session and organic lunch,
As well as energising mountain treatments,
Beginners and advanced-level courses,
1-day mountain hikes with yoga and pranayma (breathing) on the summit, close to a lake or on a flat area.
4-season yoga and accompaniment to well-being with Marcela in Méribel / Courchevel
Born in Argentina, Marcela is a multilingual citizen of the world who speaks and teaches Spanish, English and French.
Having falling in love with our region, she's lived in the valley for more than 15 years, teaching group and private yoga lessons all-year-round, both indoors and in magical outdoor settings.
What's more, she is qualified in psychotherapy and talk therapy for those in search of greater well-being.
---
Group and private lessons with Yog'On and the Vingt Et Un studio in Les Menuires / Saint Martin de Belleville
A qualified Vinyasa yoga instructor, Manon works with all levels and all ages to provide classes that suit the needs of the individual, at home, as a group, and even for events such as hen weekends and sports competitions.
Through their Vingt et Un studio, Axelle and Pauline also run weekly group and individual sessions throughout the year. They provide holistic support, treatments and Tarot readings, and also specialise in energising candles. The duo work in Val Thorens as well.
Yoga classes in Val Thorens
In Val Thorens you have the possibility to take yoga classes with independent teachers.
The classes are of all levels, so no previous experience is necessary. The perfect opportunity to try something new.
During the Pranayama part of the classes, we focus on breath control to improve physical and mental well-being. In the Asanas, we do a series of postures while coordinating our efforts with those of the other participants and the rhythm of our breathing. And in meditation, we practice stillness and concentration to calm the mind and bring a sense of peace.
Another favourite is the "Zen snowshoe" outings where you can enjoy the benefits of yoga while exploring the beauty of the mountains on snowshoes.

Yogiski week in Les Menuires: an ode to slow attitude
A week-long event not to be missed!!!! Held in April every winter, Yogiski offers well-being enthusiasts a wealth of activities to choose from. Vinyasa yoga, laughter yoga, open-air sessions in idyllic settings, as well as sophrology, silvotherapy, qi kong, reflexology... with many different workshops to discover, free of charge.
For (very) short, medium length and long stays: the pedestrian pass is available for 1 to 21 days, at the same price for everyone, children and adults from December 10th 2022 to April 28th 2023!
Recharge your batteries
Well-being and
resourcing
In Les 3 Vallées, wellness and nature are intimately linked and offer the guarantee of an unforgettable stay in the fresh air all year round. Between wide open spaces, breath-taking panoramas and rich nature, it's time to disconnect and recharge your batteries.