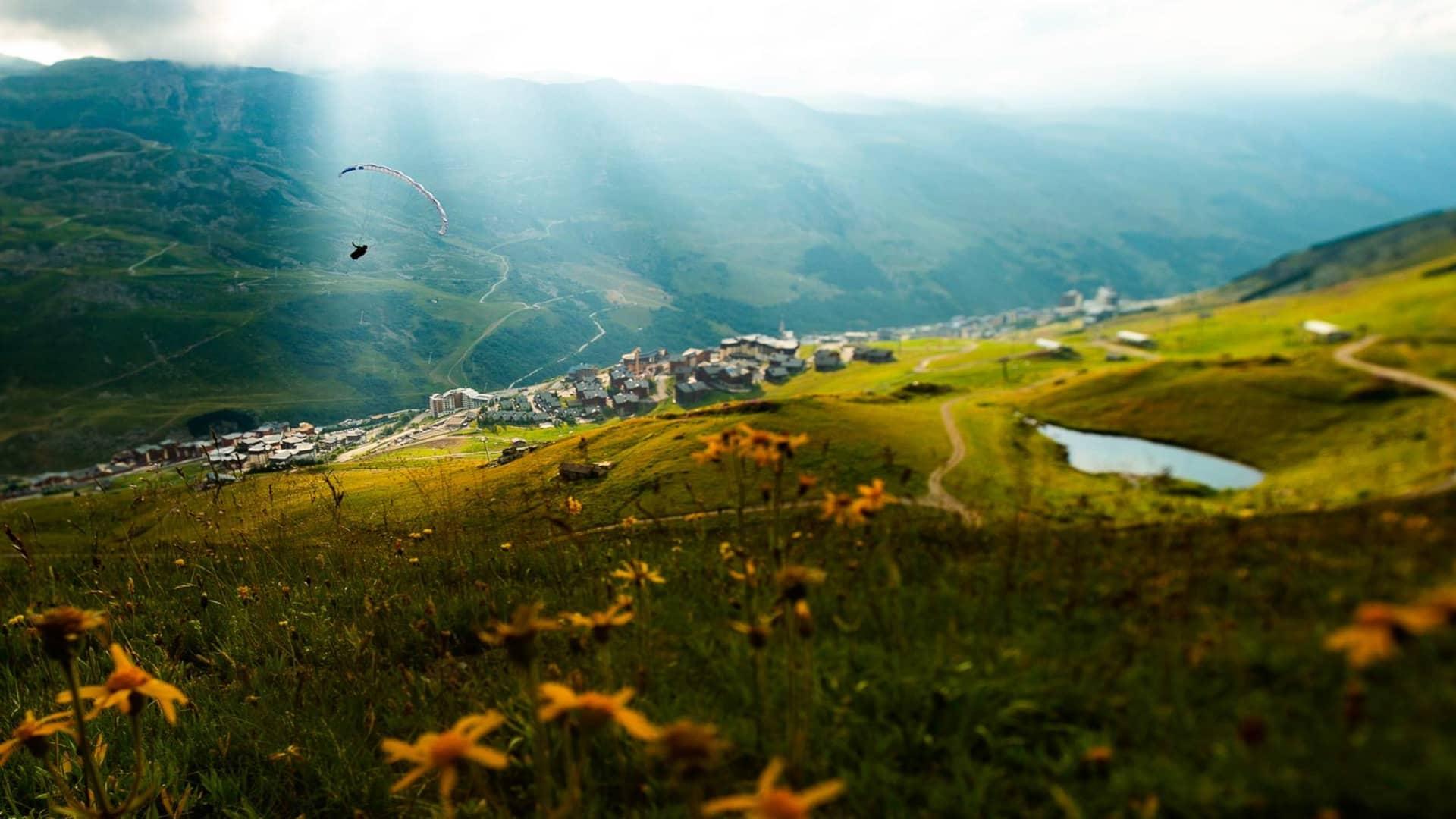 Paragliding in Les 3 Vallées
More than just a sport or leisure activity, it's an invitation to freedom, to contemplation and to fulfilment. It's a unique experience which, for a short while, transforms you into a bird. Bask in the delight of floating in the sky on air currents, and the few hundred fine threads (suspension lines) that connect the wing to your harness, in almost unbroken silence.
In harmony with the elements, stirred by the exceptional setting unfurling before your eyes, and leaving no trace behind in the environment that welcomes you.
A UNIQUE EXPERIENCE EVERY TIME
A totally unique activity, paragliding is quite definitely a 4-season experience:
In spring, to discover the contrasting landscapes and observe the awakening of the natural world;
In summer, to gently glide over the mountain landscape;
And in autumn, to marvel at the gradations of colour, which look even more dramatic and glittering from on high.
There's a huge range of options, each as attractive as the other, to enjoy in all four corners of Les 3 Vallées.
From Courchevel to Méribel, from Orelle to Brides-les-Bains, from Val Thorens to Saint-Martin-de-Belleville, passing through Les Menuires, the invitation to take flight and feel as if you're suddenly suspended in time is everywhere.
And if the atmosphere is made unique by the different seasons or times of day, it's also made unique by the appeal and character of the various sites dotted all over Les 3 Vallées. From more bucolic atmospheres at the bottom of valleys, to flying over glaciers from on high, one thing always remains the same: uninterrupted views over legendary Alpine summits.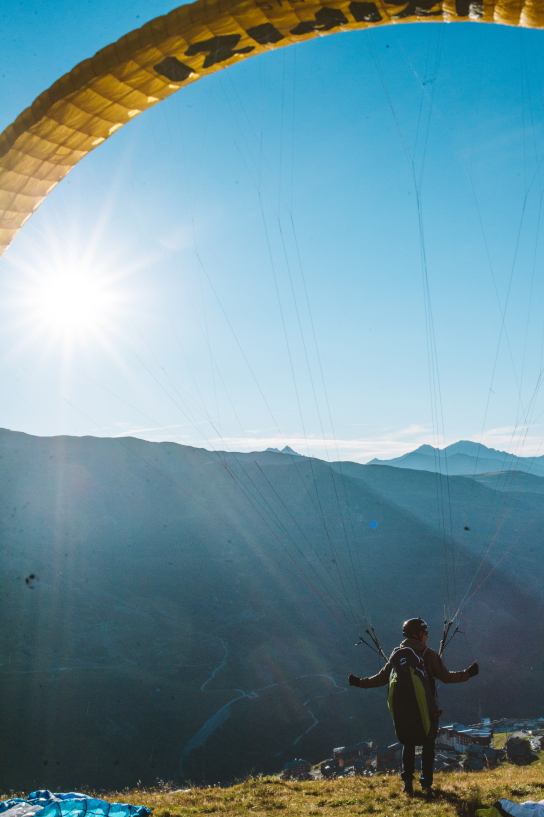 Infinity
A wealth of first-flight possibilities in Les 3 Vallées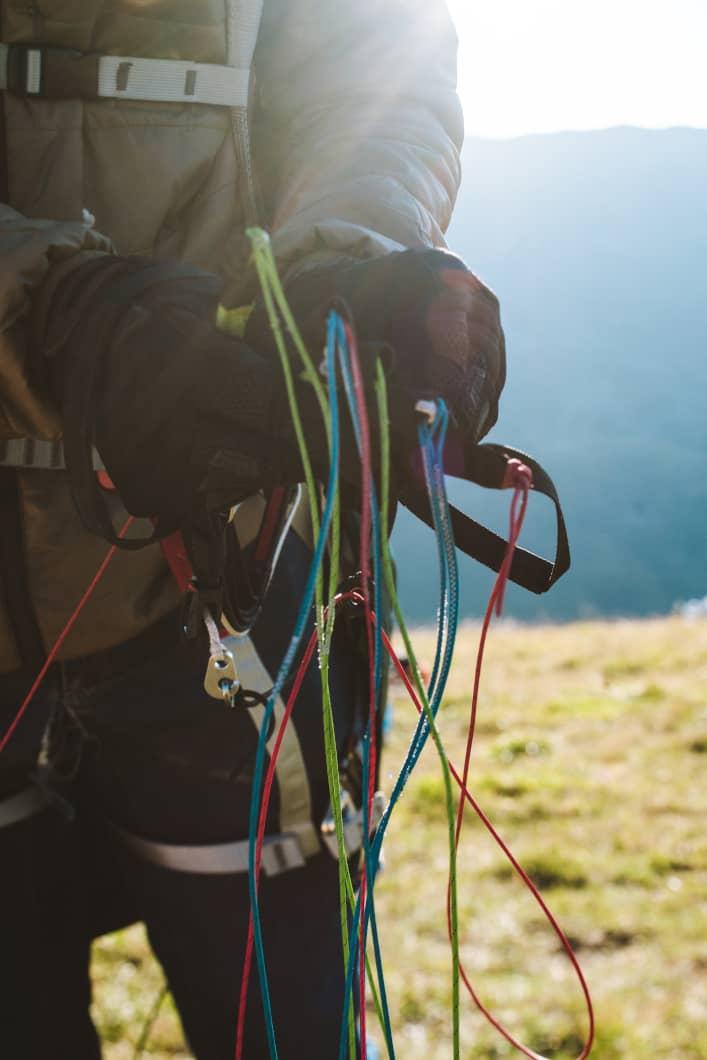 Clearly, you can't just carry out your first paragliding flight on your own. It's an activity that requires supervision. Luckily, the list of qualified instructors and organisations to help you get off to a safe start and carry out your first accompanied flight is ever-expanding in Les 3 Vallées!

There are so many, it's impossible to list them all here, but the Mountain Guides Offices in every resort, as well as private companies such as Adrénaline Parapente, Ateliers du Vent or Boz'Ailes in Courchevel, A Parapente in Méribel, Menuires Parapentes in the Belleville Valley, Evolution 2 and Oxygène on the Val Thorens side will introduce you to the thrills of paragliding, accompanied by experienced, enthusiastic pilots.

Choose a 15-minute accompanied first flight, or treat a loved one to a gift voucher… your guide will be delighted to film your 1st adventure in the air!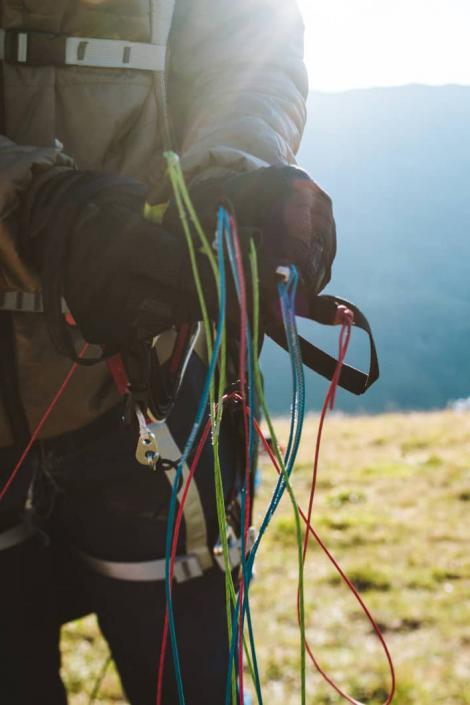 ALL THE POSSIBILITIES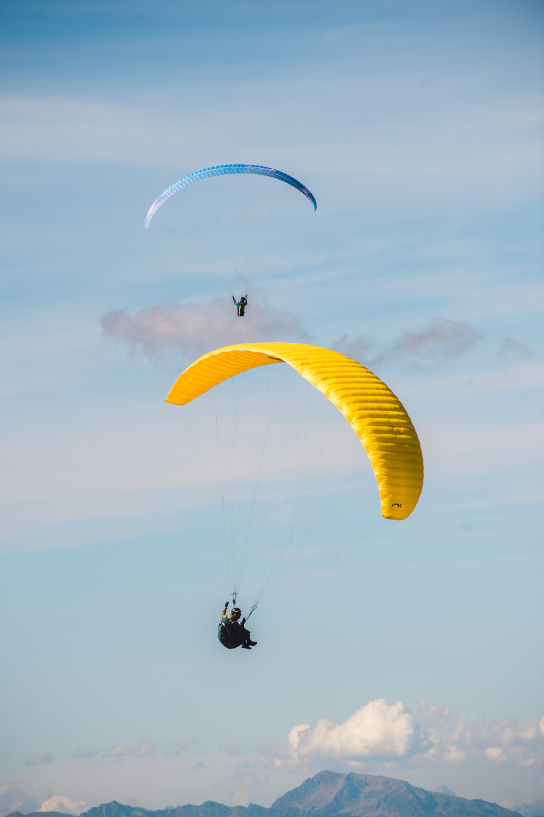 IN MÉRIBEL
Another unmissable spot in Les 3 Vallées is the home of world champion Jérémy Lager, with whom you might even be lucky enough to fly.
In summer, experienced paragliders are always euphoric about the idea of taking off from the legendary Dent de Burgin at the top of La Saulire (2,740 metres). A 15-minute accompanied first flight with a 1,000-metre vertical drop is totally unforgettable, as you soak up the contrast between the rocky high mountain environment where you set off, and the pretty Altiport forest, rich in wildlife and plantlife, where you land.
Another option that inspires similar enthusiasm is taking off from Méribel Mottaret. At the gateway to the Vanoise National Park, drink in endless views as you gaze over the splendid Lac de Tuéda.
A breathtaking natural scene into which eagles, does, deer and chamois goats regularly wander.
IN COURCHEVEL
The resort that boasts perhaps the most service providers for beginners!
And for good reason, it's one of the most leading spots in the Alps, an exceptional backdrop that invites you to fly over the Courchevel Valley and admire some legendary Alpine summits: Les Ecrins, La Vanoise, La Lauzière, Mont Blanc…
All while gazing down over the world's largest ski area!
A typically Alpine ambiance on one side, and a more wooded environment on the other, as you glide over stunning local forests with colours and atmospheres that vary from season to season, and at different times of day.
---
IN THE BELLEVILLE VALLEY
IN LES MENUIRES and SAINT-MARTIN-DE-BELLEVILLE
Another valley, another atmosphere and other attractions. Taking off for a typically Alpine flight through this valley is such a delight!
In winter, you'll love the first minutes plunged into the white landscapes that stretch as far as the eye can see, before gradually giving way to soaring over the picturesque village of Saint-Martin-de-Belleville, with its narrow streets and authentic slate-roofed houses.
In spring, the contrast between the snow-capped summits on high, and the flower-filled pastures below is even more marked.
Not to mention the gentle summer flights as you drift over 12 hamlets and view local pastoral life from a completely different angle…
À VAL THORENS
This is what they call "taking in the breathtaking views!" It's undeniably the most mineral and rocky spot in Les 3 Vallées, also the highest.
This departure from the highest resort in Europe, standing at around 3000m altitude, lives up to its reputation.
With our feet still on the ground, our heads are already in the clouds, mesmerized by the stunning 360° panorama of the entire Vallée des Belleville, seemingly pulling us in with every passing minute of flight.
There, the Vallée des Belleville and the Maurienne mountain range, and over here, the Tarentaise and Ecrins massifs... And of course, the star of this flight, the majestic Mont Blanc in the background, standing proudly.
The 4 questions you should ask yourself before your first accompanied paragliding flight:
What are the age and weight limits?
Children must be at least 7 years old and weigh at least 30kg. Passengers over 120kg make it difficult for the pilot to stay in control.
What level of ski ability is required for a winter flight?
To try the experience, you'll need to be able to ski down blue runs.
What should you wear?
Helmets are provided by your guide. In winter, wear ski gear and gloves. In summer, the air is still much colder at altitude, so wear trousers and a fleece and/or a windcheater. Don't forget sun cream and sunglasses either, so you can really get the most from the experience.
How can you be sure that the weather is right for a flight?
Just trust your guide. Qualified and experienced, they have all the information required on weather conditions, and in some cases may inform you that your flight has been postponed for obvious safety reasons in the event of unpredictable weather (strong or no wind, rain, storms…).
Practicing paragliding in Les 3 Vallées is a unique experience to live in an extraordinary natural setting.