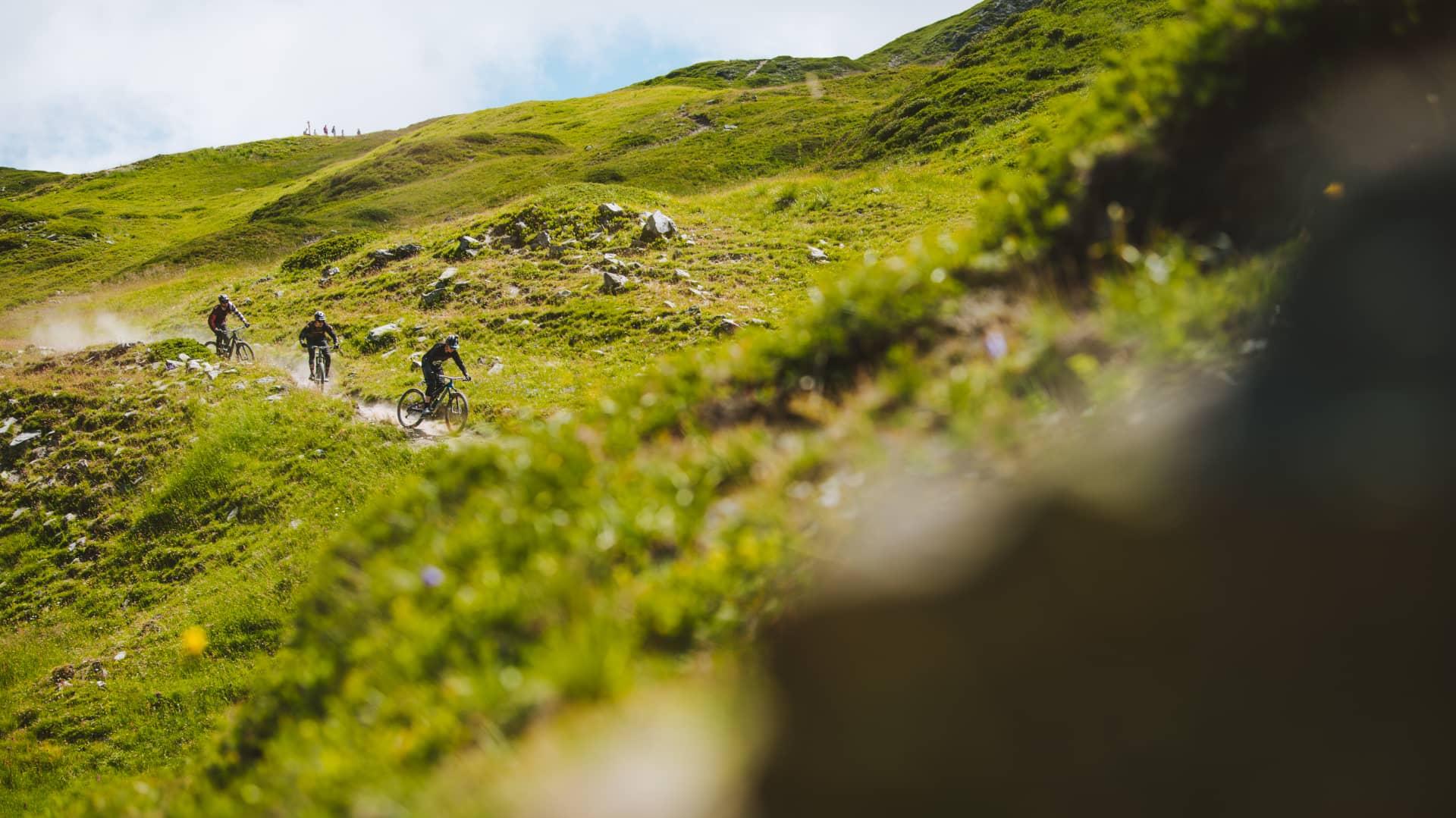 Enduro & Bikepark in Les 3 Vallées
Mountain cycling in les 3 Vallées: Valleys to hurtle down
Limitless cycling to explore an exceptional mountain playground. Denuded of snow, Les 3 Vallées' topology remains unchanged, which reveals the source of its natural wealth: its vastness and the ease of crossing from one valley to the next.
With or without ski lifts, with or without electrical assistance, cycling through this territory offers multiple options for all abilities and preferences.
Lush green Alpine pastures, shaded forests or rocky trails, there's also a huge variety of atmospheres allowing mountain bikers to speed around these perfectly maintained bikeparks to their heart's content.
MOUNTAIN BIKING IN LES 3 VALLÉES MEANS:
More than twenty downhill runs,
About 20 enduro itineraries,
More than fifteen electrically assisted mountain biking circuits,
More than fifteen ski lifts (chairlifts, gondola lifts and cable cars…),
As well as patrollers who navigate the length and breadth of the trails to keep them in good condition and provide assistance in the event of a problem. And finally, 8 cleaning stations dotted between the various villages.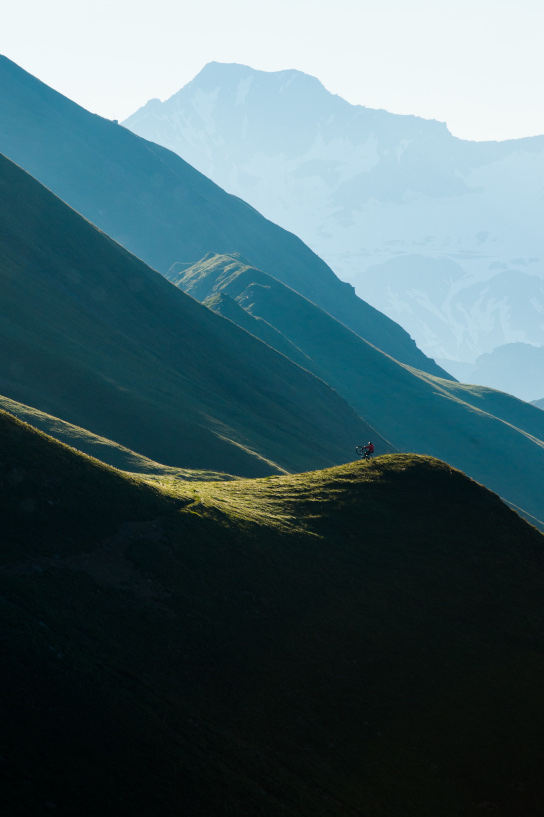 Take altitude
GETAWAY PERIMETER 3 VALLÉES MTB PASSES
Ascend to the heights with ease using ski lifts adapted to your bike, and then dart off in whichever direction to enjoy open air, panoramic views and the incredible natural space rolling by beneath your wheels with every joy-filled push on the pedals.

Downhill, enduro itineraries, cross-country itineraries and special itineraries for electrically assisted mountain bikes, all styles and all abilities can enjoy this specially designated, signposted area!

Find the lift pass that best suits you and enjoy ski lifts serving the vast network of runs and itineraries that form Les 3 Vallées' resort bikeparks.

Getaway perimeter 3 Vallées MTB pass:
- Introduction (3 hours)
- 1 day
- Liberty 3-day pass
- 1 week (7 days)
- Summer season pass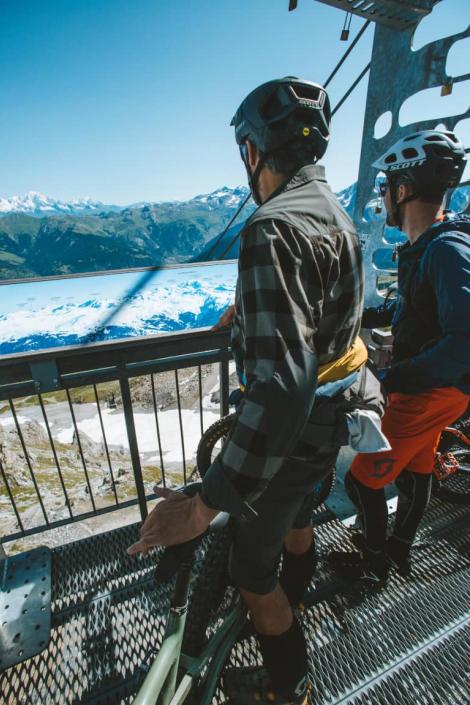 Why not make the most of our ski lifts to discover Les 3 Vallées in summer on mountain bike? A whole host of different MTB passes are available to fulfil your need to get away from it all.
---
COURCHEVEL VALLEY BIKEPARK
Family-friendly but also well-suited to dedicated mountain bikers!
Courchevel bikepark is perfectly equipped to satisfy all preferences and styles of cycling.
Visitors can also take a lighter approach on the 'Funny Tracks' which let you learn how to mountain bike and gain confidence in total safety and are accessible via the Les Verdons gondola lift.
The pump track located on the Courchevel 1850 plateau is also perfect for getting started or warming up.
And one of the best things is that the Courchevel and Méribel bikeparks are connected!
The Courchevel – La Tania sector offers stunning downhill trails going from La Saulire's summit at 2,740 metres to the village of Le Praz at 1,350 metres, with incredible views over the mountaintops… and Le Praz Lake!
You can even ride the trails downhill to Bozel.
Some numbers:
8 enduro itineraries: 1 green, 3 blue, 3 red and 1 black
2 red run downhill itineraries
7 electrically assisted mountain biking itineraries
3 "Funny Track" itineraries
Ski lifts: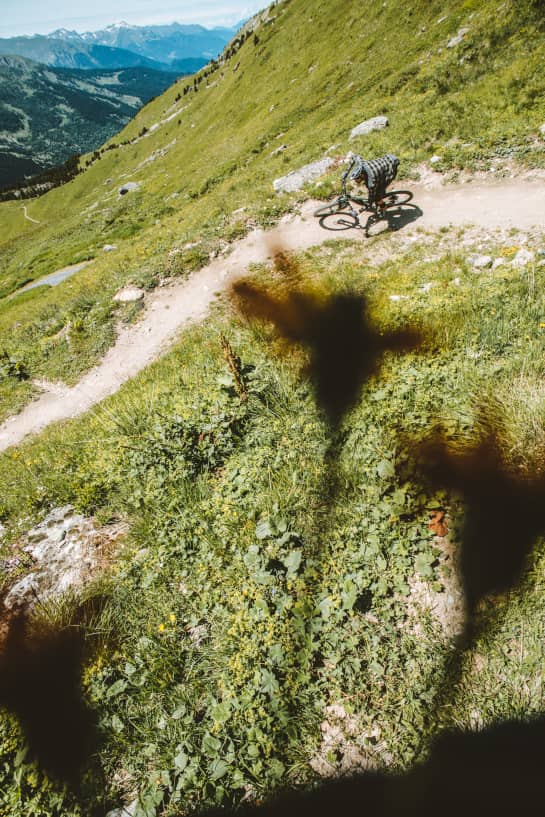 ---
MÉRIBEL VALLEY BIKEPARK
Méribel's bikepark is highly equipped and boasts a great reputation...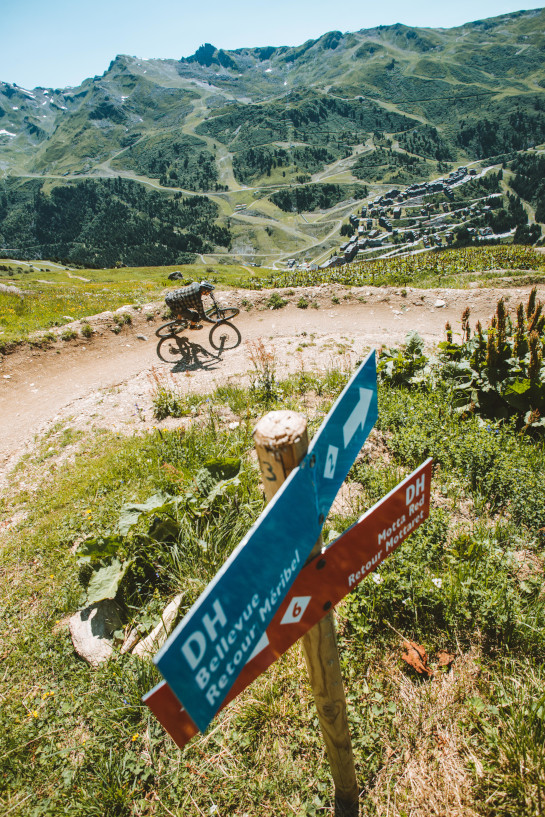 104 kilometres of enduro itineraries, easy-to-access via the ski lifts, 35 kilometres of pure downhill runs with a fantastic range of variants. This naturally beautiful terrain at the heart of Les 3 Vallées offers a multitude of options with breathtaking views.
The sectors of Tougnète and Pas du Lac allow you to move from one trail to another via the ski lifts, as well as escaping into the heart of nature, for excursions with a wilder feel.
The runs offer a real variety of profiles between wide tracks, banked turns and jumps, plus other more challenging modules for those who venture onto the red and black itineraries!
The enduro runs are also highly prized and brimming with vertical drop potential, such as Les Crêtes itinerary or single track, located at the Tougnète summit.
There are also gentler trails with fantastic viewpoints, lake access and bucolic routes taking you through hamlets, not to forget the Tuèda Natural Reserve and its spruce pine forest.
Some numbers:
10 enduro itineraries: 1 green, 2 blue, 3 red and 4 black totalling 104 kilometres of easily accessible itineraries via the ski lifts
11 downhill runs (DH): 1 green, 3 blue, 4 red, 2 black and 1 double black, totalling over 35 kilometres of pure downhill runs, with new variants every year
4 cross-country itineraries: 1 green, 1 blue, 1 red and 1 black
3 special itineraries for electrically assisted mountain bikes (VAE / VTTAE)
Ski lifts: 
Pas du Lac 1 and 2 Gondola Lift
Free, open access bike cleaning stations are available across Les 3 Vallées. These useful little areas mean you can maintain your bike and easily keep it clean after your fast-paced cycling sessions!
BELLEVILLE VALLEY BIKEPARK
Saint-Martin-de-Belleville village and the resorts of Les Menuires and Val Thorens are home to more than 30 biking itineraries.
What better way to enjoy panoramic views, perched high on a ridge overlooking Val Thorens at an altitude of 2,850 metres, or in the bucolic atmosphere of Saint-Martin-de-Belleville's little traditional hamlets nestled at 1,100 metres, alongside mountain streams and along the mountainside.
Les Menuires' kid zone introduces beginners over the age of 7 to a specially marked-out site at the Plan de l'Eau: modules, fun variations in terrain, crossing through streams between Alpine pastures and forests!
Downhill afficionados can get their head down and get stuck in to the famous Roc'n Bike that ends at La Croisette, while those who prefer a calmer downhill ride can opt for the Descente des Belleville which runs alongside the River Doron and crosses through the Valley's hamlets.
Enduro-wise, there's the famous La Dégage black route in Moûtiers, which has thrilled many a rider! From the top of the Saint-Martin Express chairlift, it takes in 2,045 metres of downhill and 250 metres of uphill cycling over 18.7 kilometres, running along the ridge crests before diving down into Moûtiers town!
Some numbers:
Downhill runs for all abilities: green, blue, red, black
5 itineraries specifically for electrically assisted mountain bikes
Ski lifts:
Saint-Martin 1 Gondola Lift
Saint-Martin Express Chairlift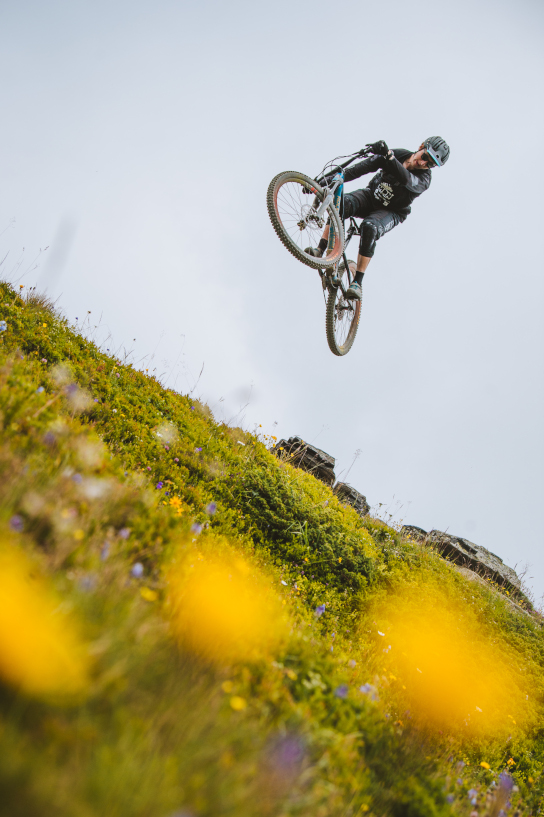 Your best allies
MOUNTAIN BIKING INSTRUCTORS AND SCHOOLS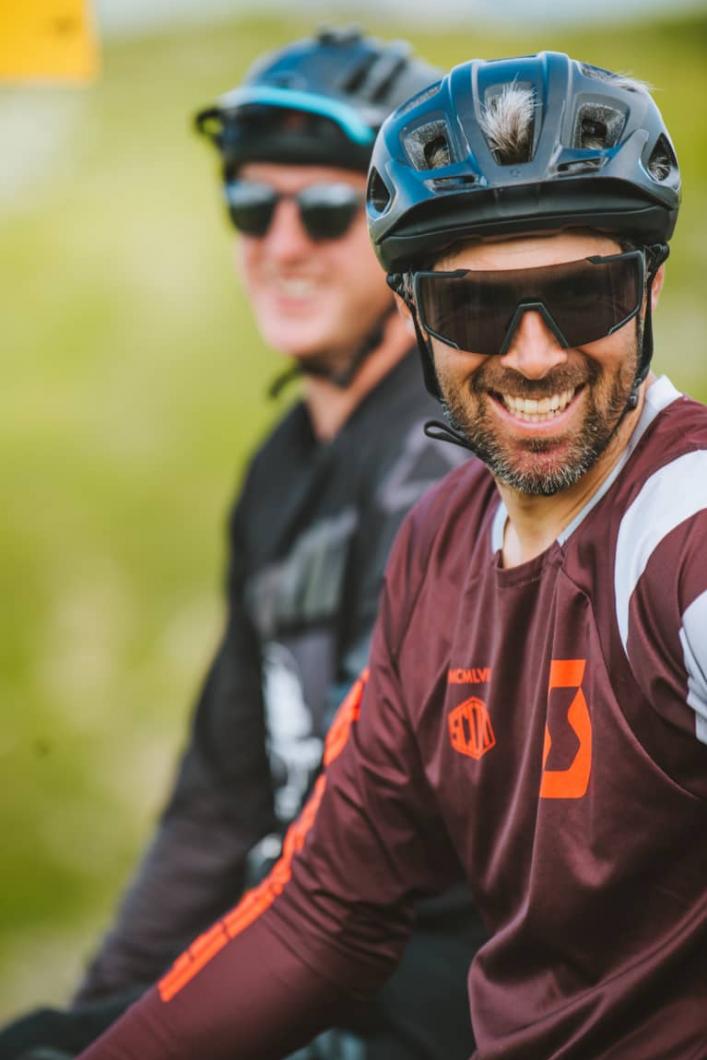 There are a great many establishments spread across the entire 3 Vallées territory to meet your needs.

Although most of us think we know how to ride a bike… tackling steep trails, getting your bearings, finding itineraries to match your ability, managing your energy levels and battery… there are so many different things to bear in mind!

Our mountain biking professionals are on hand to help!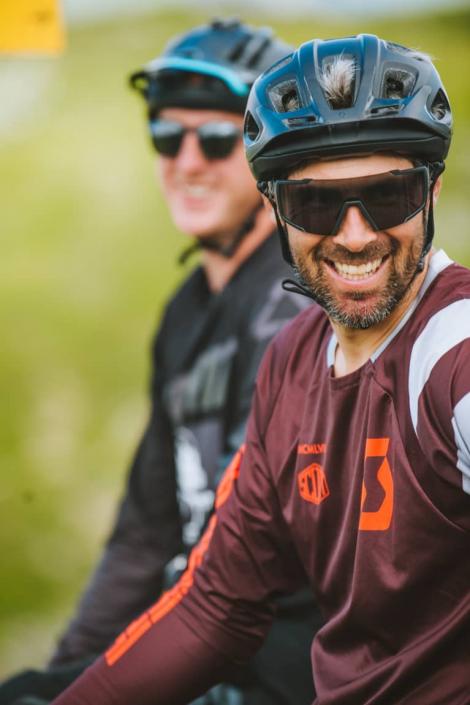 MTB / MTB-E-BIKE lessons and rental shops
Explore
Sensations
on two wheels
Les 3 Vallées may be best known for its skiing and pristine powder, but the world's largest ski area is just as attractive to cyclists. On a road bike, mountain bike or electrically assisted bike (VAE), enjoy the thrills and breath-taking views...