Yoga : 3 Vallées experiences that are worth the trip
Adults

For all

A wellness destination
Yoga and the search for harmony
While its recent rise in popularity was initially seen as a fad, yoga has proven to be an authentic, long- term practice for countless people. This discipline has also enjoyed a widespread boom because it offers real physical and psychological benefits in the daily lives of those who have continued with it. While on holiday in the mountains, far from your regular routine, if you really want to take a break from it all then we recommend keeping up with your yoga classes! They may be part of your normal day-to- day life, but will take place in a far different setting and with a set of new objectives.
High up in the mountains…
There are many yoga enthusiasts out there. Combining poses and breathing exercises, it's a great way to enhance both your physical and mental well-being, and it's something you can do all over Les 3 Vallées, both inside and out. Have you ever dreamt of placing your yoga mat in the snow, and doing your sun salutation facing the snow-covered mountaintops ?
"When you arrive at the top of a mountain, keep climbing." Tibetan proverb
As well as the advantages targeted specifically at skiing, yoga provides a number of other benefits in the mountains. Going even further in your approach to alpine yoga, considering the mountains to perhaps be a symbol of spiritual elevation.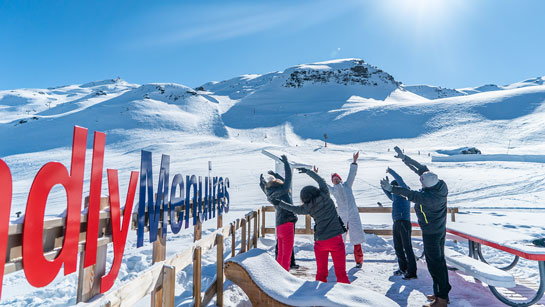 One for all, and all for yoga
Regular yoga sessions before your trip, with fluid, dynamic movements, can have great effects on your muscle chains to energize and oxygenate them while also boosting endurance, recovery, and flexibility.
Loréleï Rodrigo

, From the Manalaya yoga school Courchevel

You breathe pure air, not like in sweaty gyms, and your airways are completely clear. There is also a different concept of the space in which you can move, and a feeling of harmony with nature.

Magali Salles

, Certified teacher of Prana Vinyasa yoga and parent-child yoga in Méribel

When on holiday, yoga is also highly effective for aches, pains and other issues linked to intense days on the slopes. It is a chance to slow the pace of your day and foster actual rest.

Loréleï Rodrigo

, From the Manalaya yoga school Courchevel

As yoga is profoundly integrated into the environment, the place you practice can naturally make it a truly singular experience! As the biggest challenge of our time is trying to ensure our daily lives are in line with deep-rooted human and environmental values, the mountains offer an exceptionally powerful setting for changing and redefining our mindset. This is because they are so present, so solid, as if eternally immovable, and their particular temporality offers a far wider dimension in terms of space and time.

Loréleï Rodrigo

, From the Manalaya yoga school Courchevel

I offer a type of yoga that totally respects differences. These differences are immediately perceivable in the bodies and breathing of my students. By adapting to the vibrations of others, I strive to create unison, fluidity, and ease in the practice of yoga.
Snow yoga
There are as many types of yoga as there are people who practice it, and the teachers in Les 3 Vallées have fully understood this dynamic, adapting each of their classes to their students.
Some students are first-timers, and others are looking to improve technically or to untangle the mysteries of the self. Wherever it is practiced, yoga seeks to reveal personal potential by respecting the most precious teachings the leading yogis have passed down – the joy of the continuous breath of life present within us all…
A blend of skiing and yoga
Perhaps the mountains are a symbol of spiritual elevation?
Pranayamas enable you to start your day with a clear mind, stay focused for longer, and be more attentive to your surroundings.
Recharge your batteries
Wellness
and relaxation
Escape to a place of peace and quiet made just for you. Up close and personal with nature and wide-open spaces, fill your lungs with pure mountain air, let a sense of well-being and relaxation take over. Skiing, hiking, yoga, spa treatments, the healing powers of the trees... nurture yourself in Les 3 Vallées.