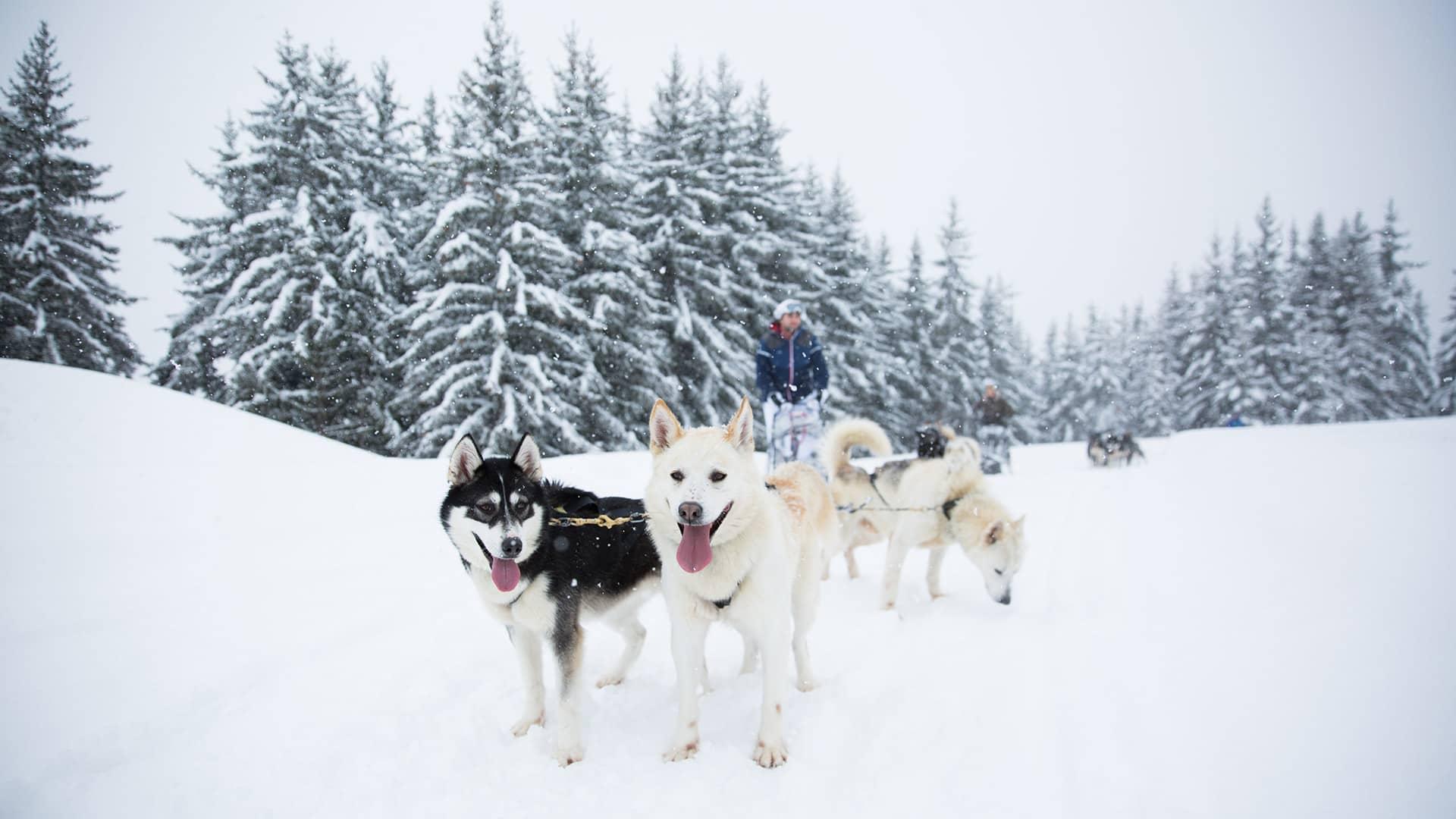 10 Unique experiences to live in Les 3 Vallées
With children

With teens

Adults

Intermediate

Unique adventures
discover 10 extraordinary experiences to live in Les 3 Vallées
Les 3 Vallées is not only about skiing, it's also a multitude of activities to practice alone, with family or friends: zip line, ice diving, snow groomer or themed luge piste, there is something for everyone!
In Family
1. SLEIGH DOGS
In Saint Martin de Belleville, Dany and his pack of snow dogs offer trips and initiations into the heart of winter. There are even night excursions lit by headlamps!
2. SLIP AND SLIDE
With the 2.5-mile luge piste with 22 Roc 'N' Bob turns, the 1,000-metre thrill-ride at Speed Mountain, and the downhill descents through the snow on a Fat Bike, your holidays in Les Menuires are sure to slip by in a flash!
3. YÉTI STYLE
The Yeti Park in Méribel- Mottaret is accessible via the Combes chairlift, and offers fun skiing for all. This year's park has a couple of extra circuits in store!
4. TOBOGGAN RUNS
A new luge piste in Courchevel Moriond spanning 1.9 miles and featuring 4 tunnels now links the top of the Ariondaz gondola lift to the foot of the slopes.
Dog sledding - Saint-Martin-de-Belleville

Office du Tourisme

Piste de luge - Courchevel

Moriond Racing

Fun slope - Méribel

Yéti Park

Rail luge - Les Menuires

Speed Mountain

Ski area like never before
5. HIGH-ALTITUDE BREAKFAST

Sit down at 3,000 metres of altitude and start your day with breakfast on the peaks with the ski patrol. The height of cool.
6. FIRST TRACK

The restaurant Les Pierres Plates at the top of La Saulire welcomes lucky skiers every Wednesday morning to watch the beautiful sunrise at 2,738 metres of altitude. This magical event is then followed by a hearty breakfast and a run down the freshly-groomed piste.
7. DRIVE A SNOW GROOMER

It's big, it's powerful, and it's usually out of bounds, but Courchevel Adventure offers the public one-hour sessions at the wheel of a snow-groomer and the chance to discover this exciting profession.
For those who love the mountain differently
High Altitude Breakfast - Orelle

STOR

First Track - Méribel

Restaurant Les Pierres Plates

Drive a snow groomer - Courchevel

Courchevel Aventure

Adrenaline junkies
8. MEGA ZIP-LINE
Fly for 1,300 metres at almost 62mph and experience pure pleasure for 1min45 while you admire the breathtaking panoramic view! Start at the top of the Bouchet ski lift in the Orelle ski area at 3,230 metres of altitude, and finish at the top of the Thorens funitel.
9. ICE DIVING
A timeless experience under the ice of the Lac du Lou, in a magical world of air bubbles and dancing sunlight.

Our tip: The ice is thinner and there is less of it on the surface during the spring. This creates a certain transparency that lets you see the mountain's reflection for a totally different experience…
10. LES 3 VALLÉES SEEN FROM THE SKIES

The highest resorts in Les 3 Vallées, such as Val Thorens, are perched at more than 2,300 metres of altitude, and their ski slopes let you get up close and personal with the peaks. But why not venture a little higher? With hang-gliding, paragliding, hot air balloons, and rides in planes and helicopters, you can admire this snowy paradise from the air. Information on the flights is available at your local tourist information centre.
And those looking for an experience filled with pure air and wild nature, Air Mauss Parachutisme has been organising tandem skydiving jumps in Courchevel for more than 20 years. Expect 45 seconds of freefall at 125mph with impressive views over the Alps and the Vanoise National Park!
For those who love adrenaline
Parachute - Courchevel

Air Mauss

Ice diving - Val Thorens

Aquaventure Ecole de plongée

Zip-Line - Val Thorens

SETAM
An exceptionnal territory
Unique
experiences
Les 3 Vallées is a limitless playground where anything is possible, where all your dreams can become true. Les 3 Vallées is not only about skiing, it's also a multitude of activities to practice alone, with family or friends...