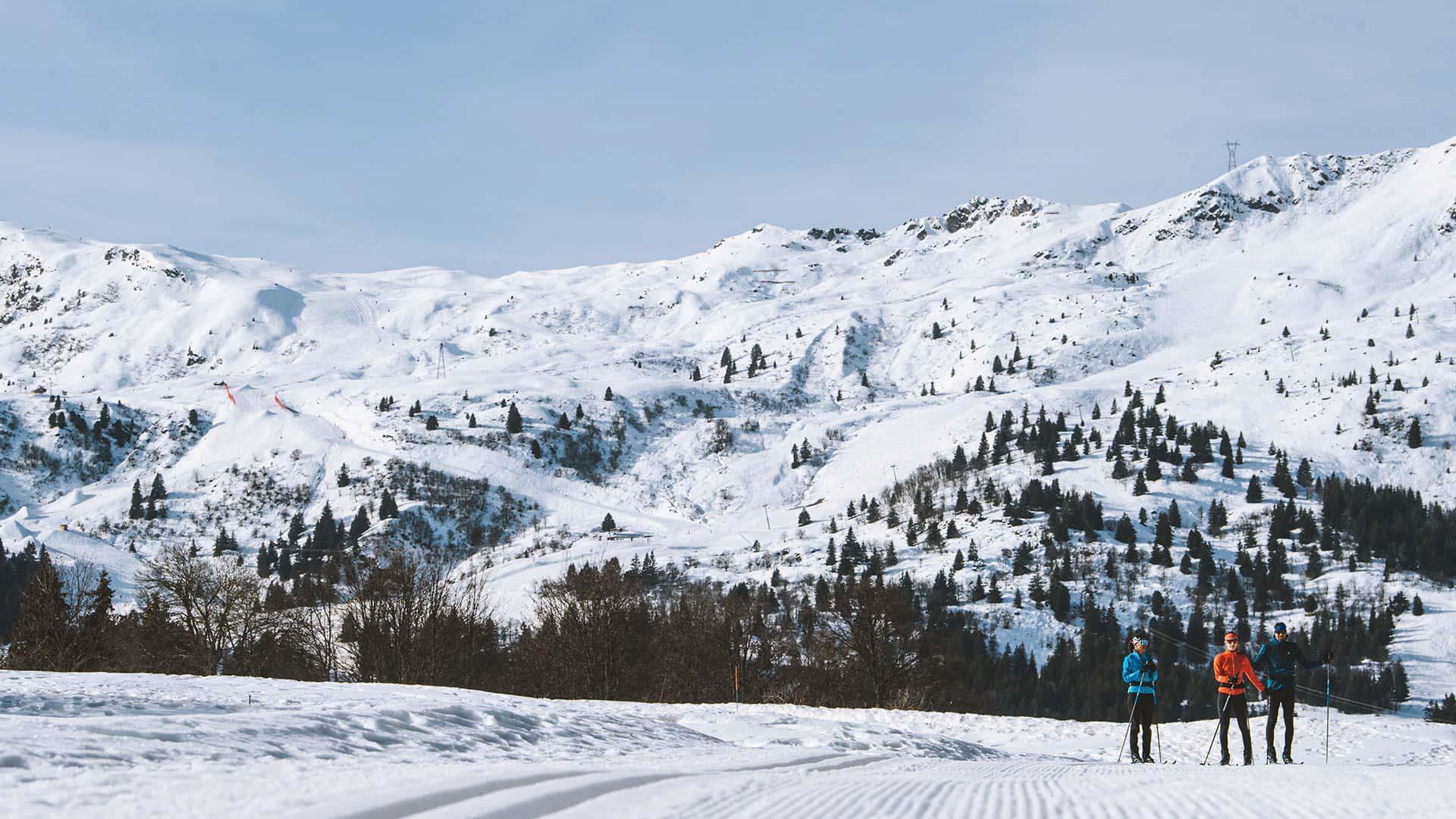 Cross-country skiing in Les 3 Vallées: great exercise in beautiful natural surroundings
Take the time to savour the beauty of the landscapes all around you and appreciate breathing pure mountain air while you work all your muscles... Everyone who tries it loves cross-country skiing, the endurance sport that takes place in a stunning natural setting!
It can offer you a period of calm to savour on your own or with others, or a chance to focus, or push yourself, or time to get close to nature.
Whatever their age, level or expectations, everybody can enjoy this sport and feel its benefits: well-being, health, a feeling of rejuvenation and time for contemplation! Take the time to lose yourself on Les 3 Vallées' many cross-country skiing trails and experience all its varied scenery.
Immense range of trails
An excellent complement to downhill skiing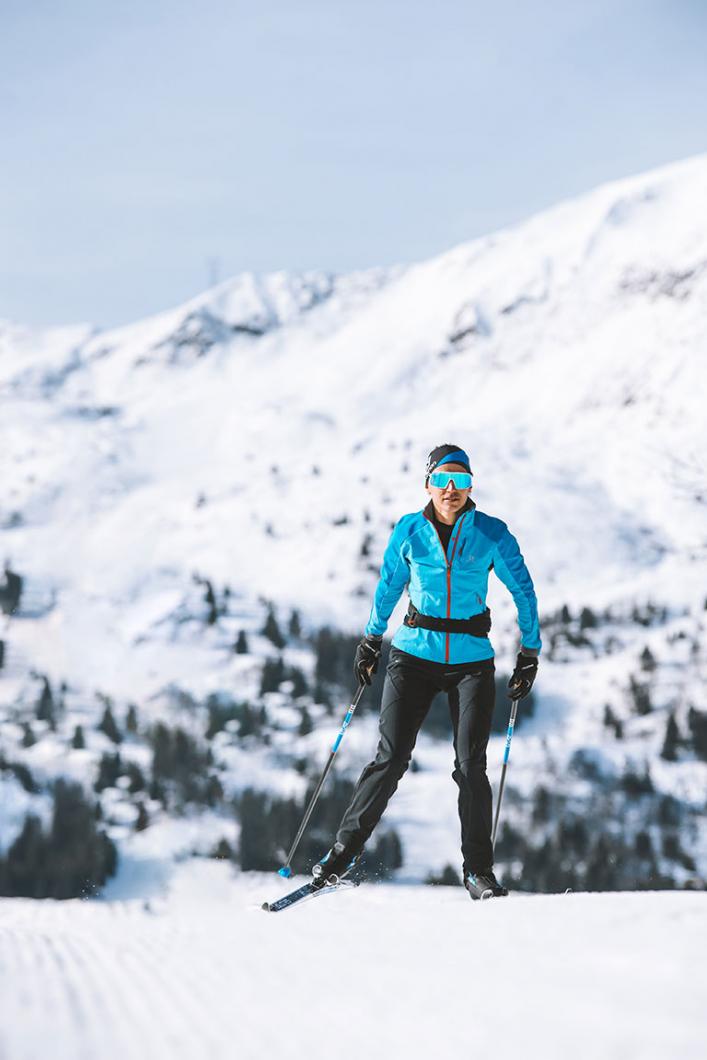 Cross-country skiing (also known as Nordic skiing) is ideal for spending fun and convivial time in a group, while taking advantage of Les 3 Vallées' immense range of trails and varied landscapes. It is a fun activity to do with the family to add variety to your holiday, or do alone at the end of the day for a workout or just to watch the sunset.

Experienced cross-country skiers will want to try the long, undulating trails through the forest in the Courchevel Valley, or head towards the lake at Saint-Martin-de-Belleville. The ski area is also ideal for beginners thanks to its numerous gentle trails such as the one around Lake Tueda in the Méribel valley which offers spectacular scenery or the Plan de l'Eau in the Belleville valley where you can recharge your batteries and commune with nature.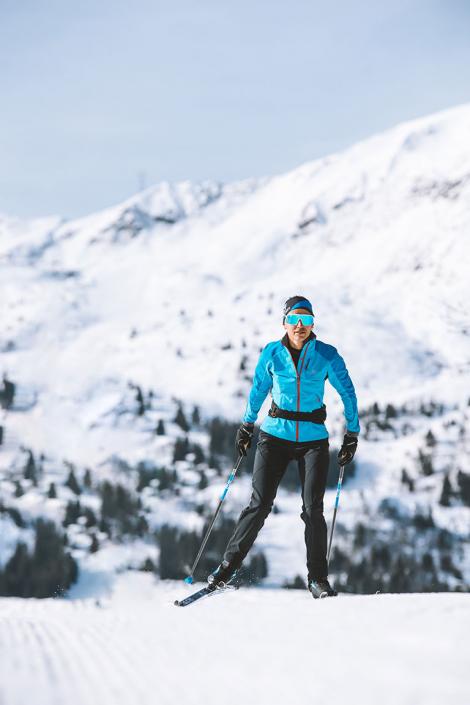 A fantastic ski area with something for all tastes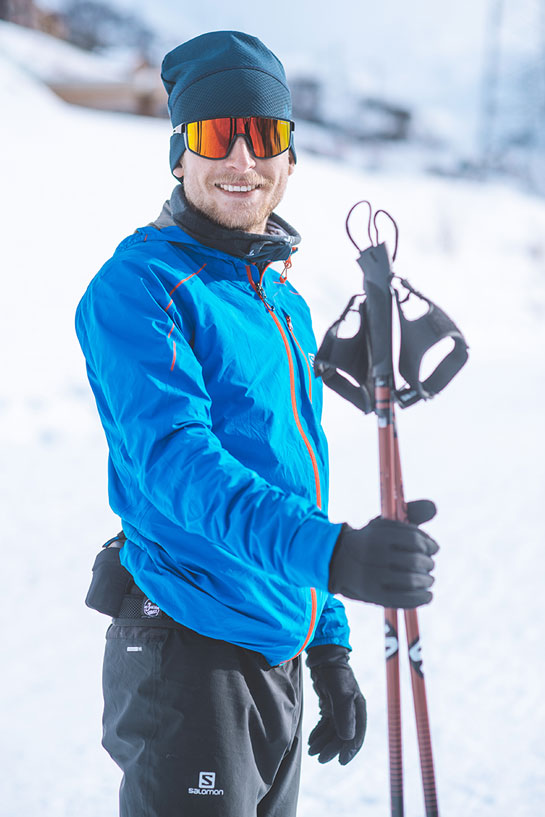 Les 3 Vallées ski area offers a wide choice of cross-country skiing to suit all levels, with one common feature: plenty of snow!
Some parts of the cross-country skiing area rise to over 1,850m, so quality snow is assured and you can enjoy your sport for 5 months of the year.
In fact, the highest cross-country ski run in France is found here, on the Tourbière plateau in Orelle, which you can also reach with a walkers' pass via the 3 Vallées Express gondola lift. It is the perfect setting to enjoy the open air before you set off on the skating track.
Whatever your level, you can enjoy Nordic skiing, skating or biathlon in this ski area. It is an ideal playground for beginners thanks to its numerous green and blue trails where you can learn in peace while you enjoy the wonderful views. However far and high you want to go, there are trails to suit. It's a good idea to plan your outing and check the 3 Vallées weather forecast in advance
Some skiers will choose to admire the Vanoise glaciers and view of Mont Blanc on the Col de Loze loop (2.5 km), while others will prefer to ski the 3 circuits in Courchevel-Le Praz which were used for the 1992 Olympics.
Learning the basics
Cross-country skiing: follow the guide!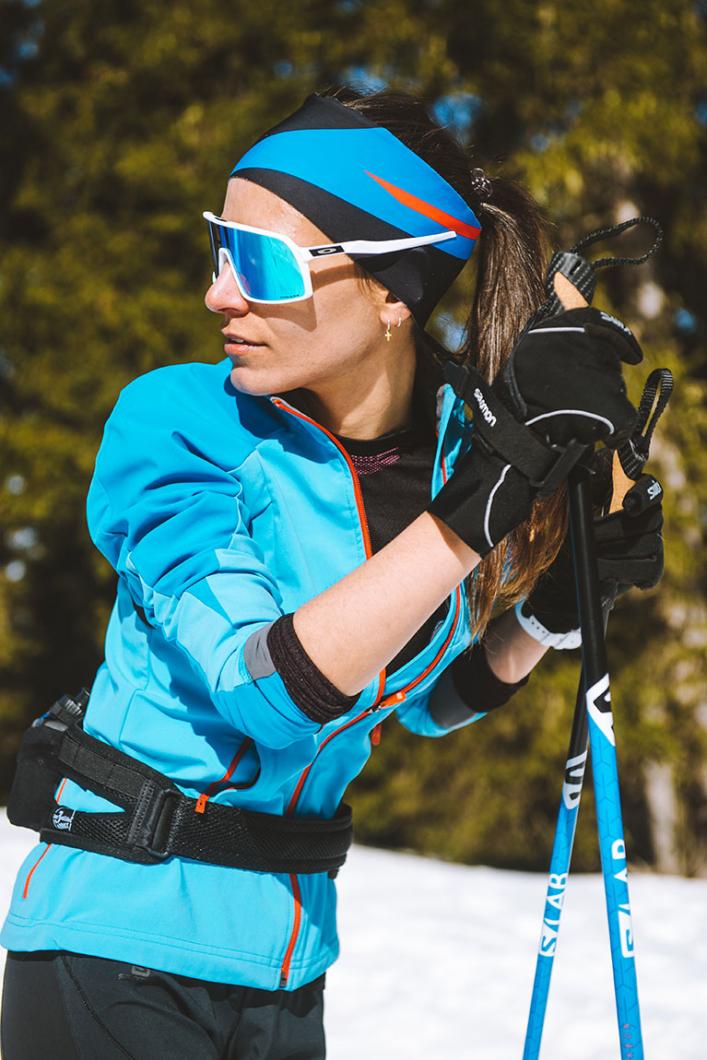 As with any sport, it is worth learning correct technique from the start. Let the instructors of the French Ski School accompany your first attempts, or take you on a longer outing, or perfect your technique. Individual or group lessons will help you to learn or improve in a relaxed and friendly atmosphere.

Whether you decide to stick to the cross-country tracks or set off in "skating" mode off the the trails, cross-country skiing is a sport in its own right that is good for body and mind. Learning the basics will allow you to enjoy your next outings more and get the most benefit from the sport. Try it once, and you'll be hooked!
Contact the 3 Vallées ski schools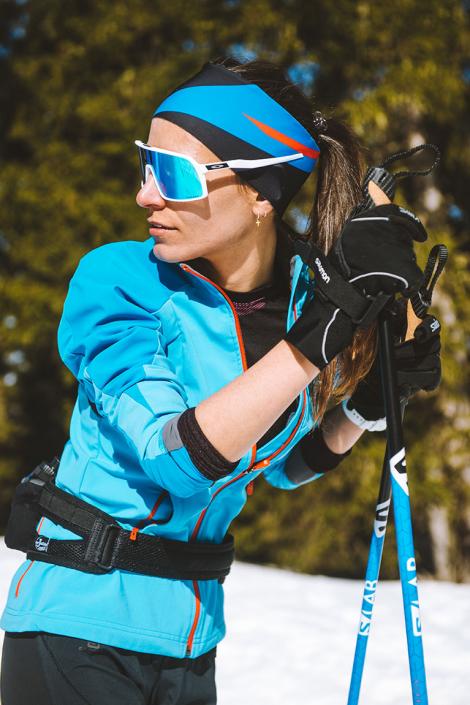 Are you ready to try winter sports? If you are still unsure, Les 3 Vallées has everything prepared and ready for you! Take a look through our range of winter activities and create your own list of experiences to try.
Endless possibilities
Discover
other activities
In Les 3 Vallées, you can enjoy the pleasures of the mountains all year round! As the seasons change, the vast natural expanses are alternately covered and uncovered by a thick white coat, revealing breath-taking landscapes.