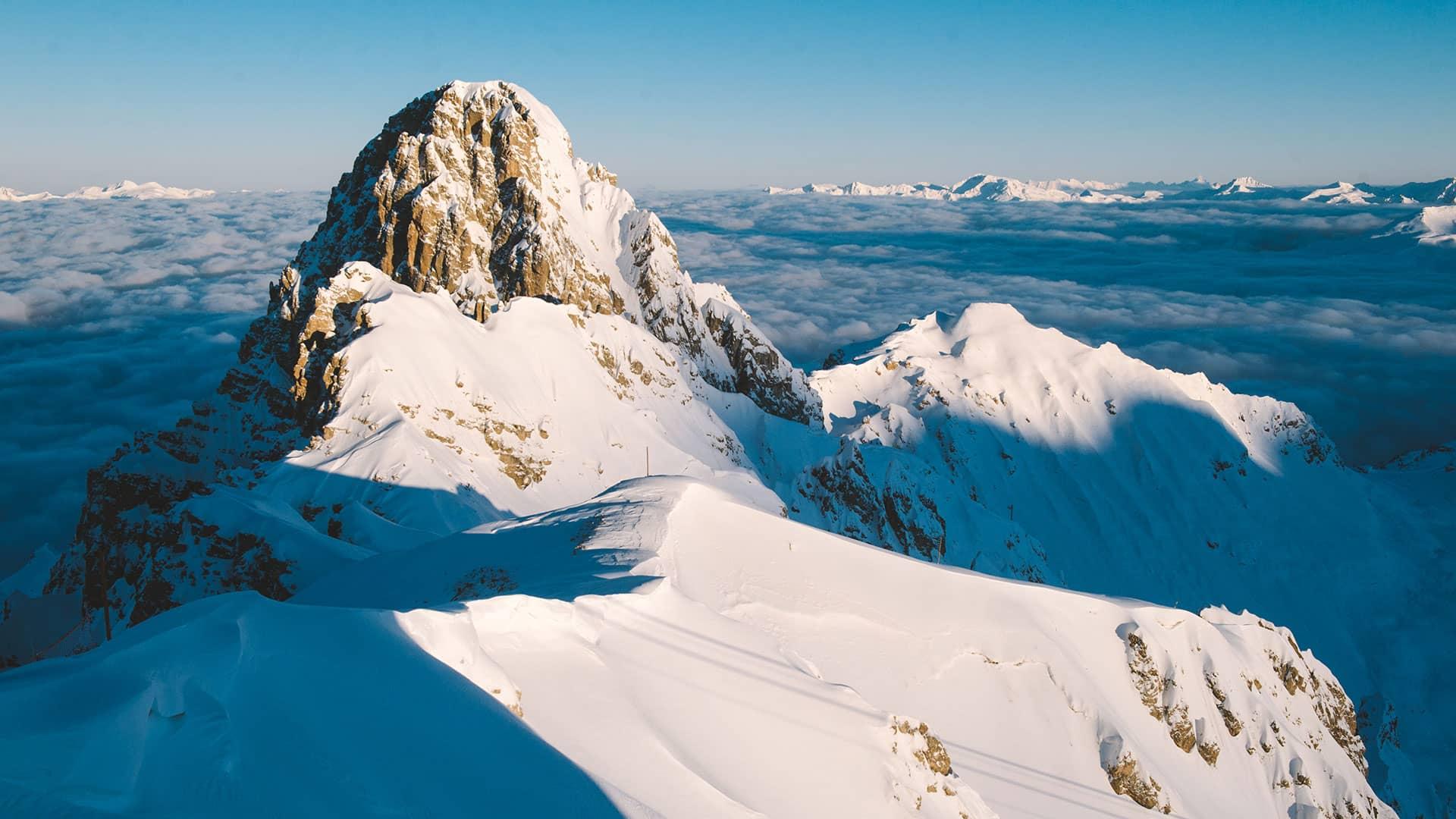 GLIDE INTO ANOTHER DIMENSION
It's all a matter of new perspectives, a different way to approach and experience the mountains, to explore them, escape into them, go higher and further.
Freerando (a contraction of Freeride and 'Randonnée', which means Hike) shakes up snowsports tradition and pushes the boundaries of skiing and discovery. Make use of the ski lift network and then carry on with a short sealskin climb towards… the vastness of the sublime, and absolute freedom. Freerando is a recipe for happiness for experts in the great outdoors, and Les 3 Vallées seems to have been tailor-made for it.
This hybrid discipline, in which you climb the mountain using a combination of ski lifts, ski touring skis and sealskins, means that it takes just a few strides to access totally wild areas and the best facing mountainsides that are out of reach of other skiers.
This modern style of snowsport, fulfilling a need for purity, nature and beauty makes your heart beat that bit quicker and that bit harder. It also appeals to a familiar desire to really push yourself, in managed bursts, so that what follows feels even sweeter… a long downhill glide in the silence of these huge snow-white spaces, where each turn carries the scent of adventure.
The territory of Les 3 Vallées seems to have been tailor-made for Freerando!
A great combination
Ski lifts + ski touring = Freerando
Ski touring equipment now offers the same comfort and thrills as Alpine ski equipment. The specialised skis, bindings and boots let you descend runs and powder-snow fields, but also climb back up them using the power of your calf muscles simply with the addition of sealskins.
With the right equipment, freerando fans can take advantage of ski lifts to get some altitude before climbing a few hundred metres higher on their own to access undeveloped mountainsides beyond the ski area.
The perfect territory
Les 3 Vallées has proven to be a unique destination for Freerando. The ski area is already renowned for its vastness and the quality of its ski lift network. Combine that with ski touring and it opens up incredible possibilities in this dream territory!
The 158 ski lifts allow skiers to pass very easily from one valley to the next and to reach 25 summits ranging all the way up to an altitude of 3,200 metres… Imagine the potential that offers ski tourers, thrust right into the gigantic Vanoise massif, facing a multitude of summits, mountainsides, and altitudes within reach of their skis.
These wild itineraries offer magnificent routes between glaciers, valleys, and National Park land before descending towards Orelle, Saint Martin de Belleville and Brides les Bains, to get back to civilisation and enjoy a return to basecamp that's made all the easier by this network of efficient ski lifts.
Roaming in the heart of nature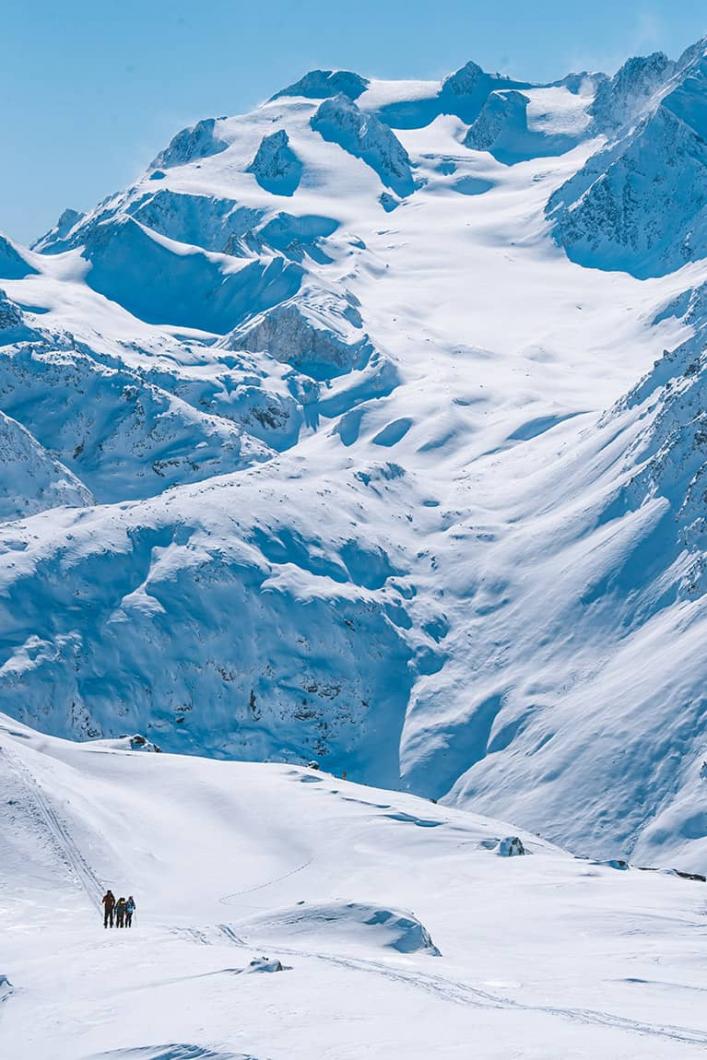 Freerando is a bold route into the virgin mountains and into roaming in the heart of nature with your snowsports companions. It's also a perfect way to learn about, build upon and share your knowledge of the mountains, snow, and topography.

Watched over by timeless summits, you're free to glide towards infinite possibilities…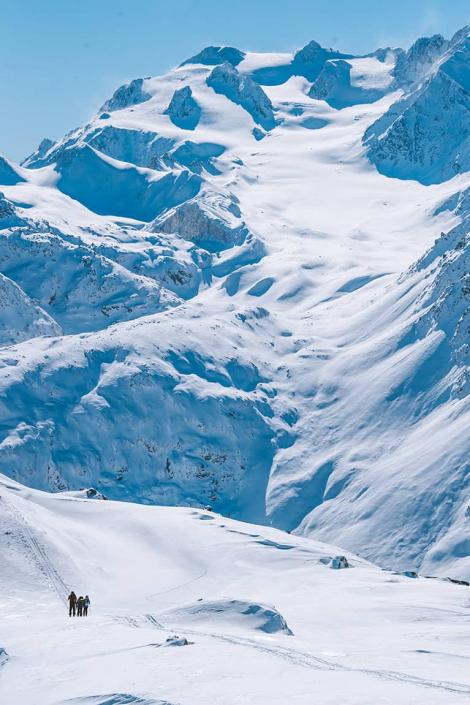 Itineraries on the edge
That means you don't have to go far to find yourself totally apart from other skiers… as if you're the only person in the world.
Val Thorens, legendary itineraries
The lofty Val Thorens ski area lends itself particularly well to the discipline, with legendary itineraries on the Péclet massif, such as the one that regular freerando fans have nicknamed "our very own mini Vallée Blanche", as a nod to the well-known route in the Mont Blanc massif. At the summit of Val Thorens' ski runs, from Le Col chairlift which takes skiers to altitudes of more than 1,300 metres, a sealskin climb up to the Col de Gébroulaz provides access to a glacial zone that offers a breathtaking change of scenery. The descent, which is one of the wildest, can take freerando enthusiasts all the way to Pralognan la Vanoise! Just a few cable lengths from the chairlift and you're immersed in the pure mountain vastness and glacial environment (requiring professional supervision). From Pralognan, a few minutes in a taxi and you'll be back on the Brides Les Bains gondola lift… then off to Les 3 Vallées' ski runs and villages.
Les Menuires, wild valleys
The area around the top of La Masse in Les Ménuires is also well suited to the Freerando concept. Facing the Massif de la Lauzière, dive into the wild valleys of Les Encombres and Geffriand to reach Saint-Martin de Belleville via a long descent on an undulating, lovely terrain, only putting your sealskins on once. The summits overlap in front of your eyes: La Saulire, Grand Bec, Grande Casse and the Peclet Glacier de Peclet…
Courchevel / Méribel, legendary views
From the top of the Vizelle gondola lift on the Courchevel side, or the Saulire lift on the Méribel side, it's only a 100-metre climb to reach a wonderful south-facing descent with views over the legendary Aiguille du Fruit, as well as the Gébroulaz glacier which runs alongside it… one of the most beautiful panoramic views in Les 3 Vallées.
Courchevel, its hidden valley
And then there's also Courchevel, with its hidden valley that takes no time at all to access. From the Courchevel 1800 side of the Chanrossa chairlift, or the Courchevel-Moriond side of the Roc Merlet chairlift, it takes just 10 minutes to reach a rocky shoulder before turning off towards the Lacs Merlets refuge and diving into the magnificent Avals valley with everything it has to offer on the outskirts of the Vanoise National Park. On your way down this canyon-style valley, you won't fail to be moved by the views over the legendary and unique Dents de la Portetta.
The full extent of Freerando itineraries in Les 3 Vallées is impossible to list here…
you'll just have to let the local guides and instructors tell you all about them.
Introduction to Freerando
In Courchevel, the protected Freeride Lab area offers access to a ski touring climb of around 150 metres, before skiers hurtle down a 300-metre descent on ungroomed but safe snow.
An excellent way to make an independent start with Freerando: from the cardio training of the climb up, to the technical powder-snow descent, including use of the equipment you'll need to swap from one to the other, and avalanche victim search training in the DVA park.
A complete program!
TIMOTHÉE THÉAUX

, Ski instructor at Val Thorens & Professional freerider

As soon as you get away from the ski runs and the serious off-piste using your sealskins, there's really hardly anybody else around.

Freeriding checklist
Ski instructor and Les 3 Vallées ambassador, Timy Théaux specialises in freeride and freerando. He's giving us his "equipment checklist" for an off-piste session.
EQUIPMENT
Wide skis adapted to powder snow skiing
Poles with wide baskets to help you push properly against deep snow
AVD, Avalanche Victim Detector charged up and with you (must-have items for going off-pistes)
Waterproof, breathable ski clothing
RUCKSACK
Shovel & probe (must-have items for going off-pistes)
Fully charged mobile phone
Water & Snacks (cereal bar, dried fruits...)
Sticky tape, string, Swiss army knife
Connect yourself
An XXL off-piste
ski area
A vast high-altitude expanse combined with a huge network of ski lifts: that's the winning formula that makes Les 3 Vallées an extraordinary playground for off-piste skiing!